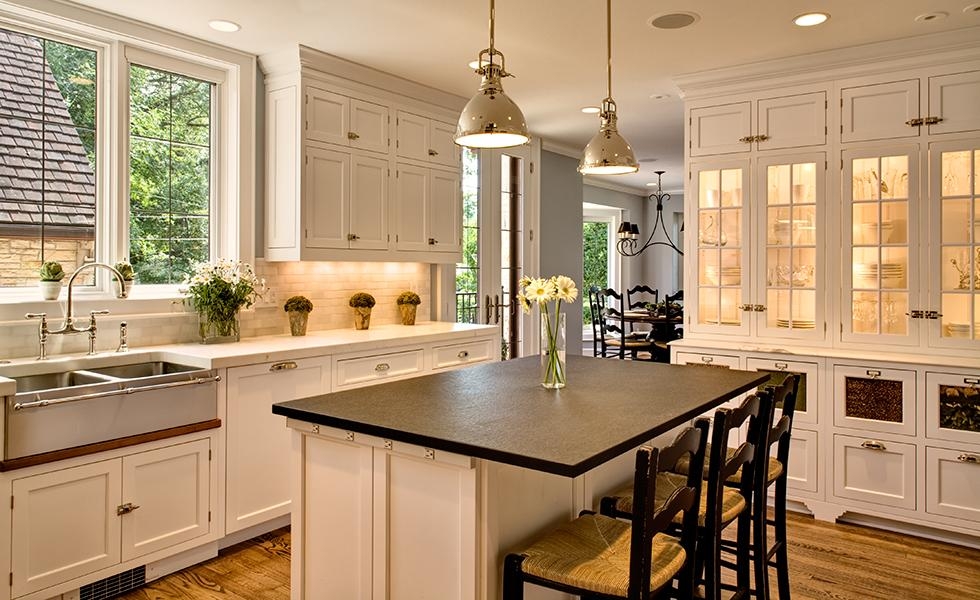 Traditional Kitchen Remodel: 12 Amazing Remodeling Ideas 2023
Traditional kitchens carry this unique lived-in vibe that's super inviting. These kitchens are full of character and intricate details that make them different from the usual. Despite their elegance, however, they are well-functional with a lot of storage too.
In fact, these details can be easily spotted in the cabinetry, counters, and backsplashes where every element is dipped in a distinct flavor. Your kitchen may be Old World or Mediterranean or Coastal, yet the styles share some basic elements that make them traditional. For instance, traditional kitchens use features like turned legs for the island, dark-paneled wood pieces that many a time hides a refrigerator. The typical shape, and molding of the custom hood surround etc. remain the same too.
Essentially, a kitchen that's been done in the traditional style has a lot of embellishments all over. Yet, somehow, the best are the ones that feel layered rather than loud and overbearing. Having said that, if you too would like to bring its charm to your kitchen, consider a traditional kitchen remodel. And we have got just the best ideas for you to do that with ease!
1. Glazed Cabinets
A traditional kitchen usually has many personal decorative touches. Glazed cabinets and plastered walls convey an old-world charm and have this very warm quality about them. A beautiful hand-painted tile backsplash completes the picture.
2. Tuscan Influence
A traditional kitchen remodel tends to be deeply influenced by the Old-world Tuscan design. The design can be imbibed in a number of ways.
Firstly, you can mix dark and light cabinetry, and treat it with a glazed finish to give the kitchen a timeworn appeal with a rustic touch. Next, you can further the style by having weathered and glazed ceiling beams that create an aura of old-world-character. Above all, you can go for a wooden island countertop and bronze-finish light fixtures to lend a suave and reminiscent touch.
3. Defining Traditional Kitchen Remodel with Color
Generally speaking, colors define a house's historic origin. In this case, you can mix some Victorian touch with the Scandinavian style by using blue cabinetry. The paint speaks of a traditional style.
4. Kitchen Cabinets with Glass-Front
Traditionally remodeled kitchens are all about displaying collections and personal treasures. To capitalize on that, you can add glass-front cabinets that showcase your best dishes or sentimental heirlooms. Those add a personality to your kitchen. Be sure to have some windows behind the cabinets to add a unique style, while also welcoming an outdoor view and some natural light.
5. Add Custom Details
While contemporary kitchens are characterized by clean lines and sleek surfaces, traditional style employs interesting details and plenty of embellishments. A kitchen offers maximum scope to flaunt the various details. Counters, cabinetry, and backsplashes provide great opportunities for adding special personalized touches.
A mahogany hued island with walnut veneers and carved brackets is one of the perfect instances of a traditional style. Add to it carved detailing on the hood, an elegant marble backsplash that's inlaid with decorative tiles and complemented with leaded-glass cabinet doors to contribute to the kitchen's traditional flair.
Large windows, fabrics in eclectic mixes, coffered ceiling, specific molding details characterize a beautiful traditional kitchen.
6. Raised-panel Doors
Whereas modern kitchens are often spotted with flat-panel doors and classic kitchens with Shaker doors with a bead mold, traditional kitchens are known to flaunt a lot of ornamentation.
Raised-panel doors often define traditional kitchens where the shadow lines created by the detail are a special characteristic of a typical traditional kitchen.
7. Add a Farmhouse Sink
Traditional kitchens are more than often seen sporting farmhouse sinks. The sinks also known as apron-front sinks have deep basins that allow plenty of dishwashing besides overhanging fronts that eliminate sharp countertop edges that you may bump into.
They lend a great design statement to your room bringing in a classic, country vibe. While the style can be easily created with the good old white ceramic basin, the shape is available in unexpected finishes like a black hue or stainless steel, and double bowl sizes.
8. Traditional Kitchen Remodel for a Spanish Colonial Kitchen
The traditional style influences a great many architectural styles around. For instance, a kitchen in Spanish Colonial Home can be touched with the traditional essence by incorporating a few details.
Start with Mexican tiles that have been carefully hand-painted to add color, pattern, and texture to the kitchen's backsplash. Similarly, you can use Mexican clay tiles for the flooring to add a 'cantina' vibe. Finally, you can add a turquoise-painted for the ultimate visual punch to your kitchen.
9. Add Blue Accents
You can never go wrong with blue when it comes to adding color to a traditional-style kitchen.
Also, a white kitchen wakes up to style with a Delft-style tile backsplash. You can add the blue all over the room in decorative accents like the pendant lights and barstools.
10. Select Luxurious Countertop Materials
Your countertop needs to be luxe to have traditional written all over it. Materials like walnut butcher block, Calacutta and Statuary marble, quartzite, and light granites in pure white, light grey, light tan, and gold work well.
Our personal favorite when it comes to charm remains Marble, though. Marble infuses an old-world feel that draws many looking for the traditional style in particular. Walnut butcher block is another material that typifies comfort and warmth and is very traditional. You can either use it for all your counters or an expansive kitchen island. You should opt for honed or other non-shiny finishes in a traditional kitchen.
11. Ornate Lighting
You know those ornate and decorative lighting that you're likely to see more in the dining room? Bring that to your traditonal kitchen.
Your best options are copper chandelier in a white kitchen, coupled with cabinet lighting. You can alternatively go for large custom-made linear light that can be made the focal point in the kitchen. Or if you fancy antique pendants and spotlights, they can be a distinct feature within the space too. Consider a classic crystal chandelier and contemporary pendants for a kitchen with a neutral design.
Spruce up your kitchen with island lights, minimalistic lantern type lights, elongated shades over rectangular tables, ball basket chandelier, and bell jars to build up the traditional style.
12. Molding and Trim
Molding, trim, and appliqués are a few essential details that mark a traditional style kitchen. Instead, extend the molding up to the ceiling, cabinet, door, and window. You can also combine molding strips for an added effect. Use Corbels and appliqués to accentuate your kitchen cabinets as well as the range area to build up the traditional character.