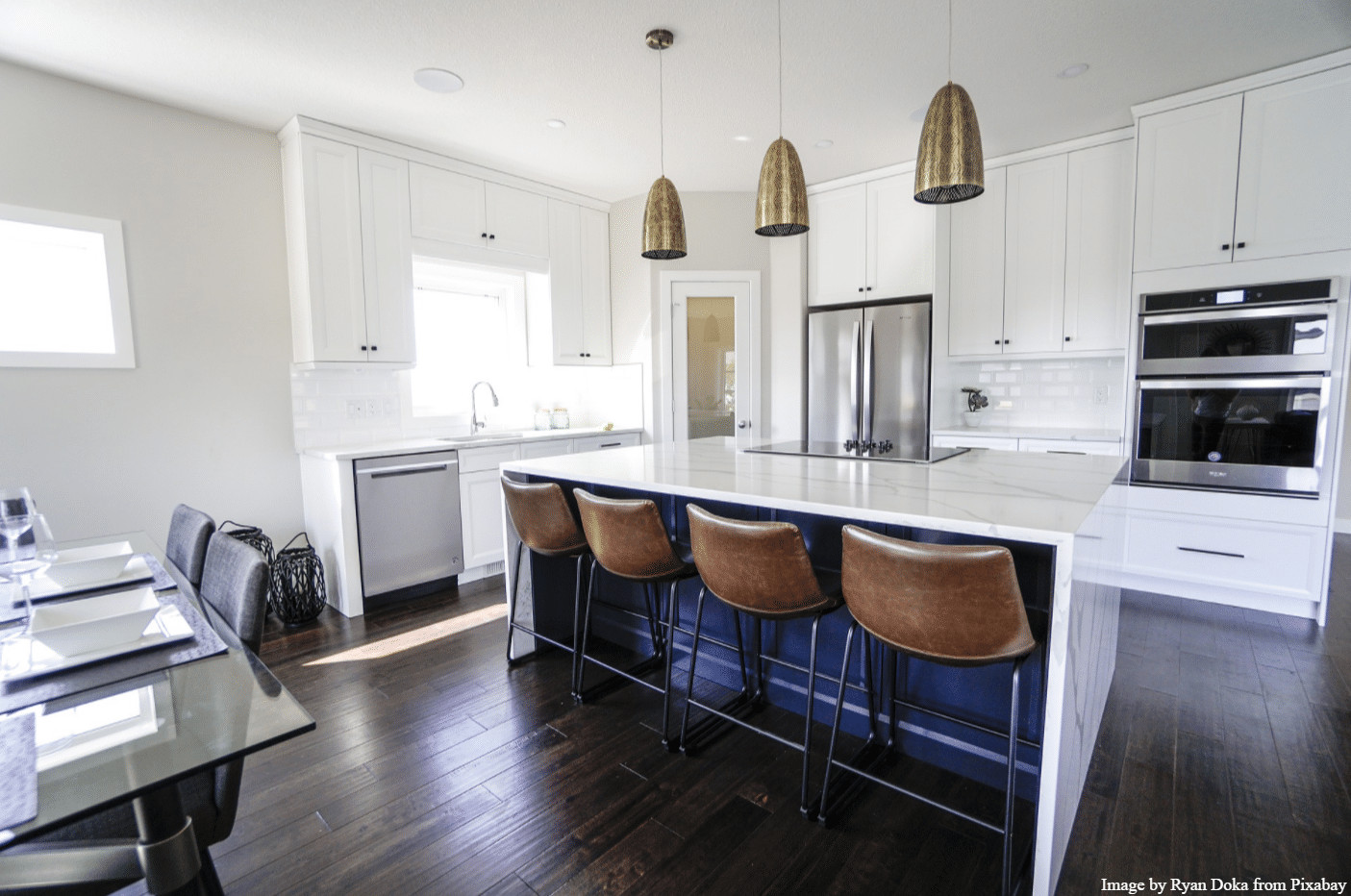 Avoid These Kitchen Remodel Mistakes to Have a Hassle-Free Remodel
Renovating or remodeling your kitchen is a significant financial commitment. It uplifts your house's practicality and aesthetics and lasts you for years to come. Even though it is a necessary expense, homeowners overlook many kitchen remodel mistakes that lead them to spend more money in the long run. 

Before embarking on the renovation journey, the first thing to do is consider your family's lifestyle. This will help you plan the space in the most appropriate way possible. 
Since you decide to remodel your kitchen only once in many years, you might want to do it perfectly without adding any extra expenses. Here are the most common kitchen remodel mistakes you must avoid.
Overdesigning the Kitchen

Many people make the primary mistake of incorporating a plethora of design ideas, especially in these times, full of Pinterest and Tumblr mood boards. Doing so into one single space without thinking of the outcome leads to a cluttered look.
If you want to introduce modular appliances, wallpapers, colorful storage options, alluring flooring, seating spaces, frames, etc. In that case, you will end up making the kitchen appear crowded and uncomfortable.
The idea is to take one design theme or a focal point and craft the kitchen's entire space accordingly. It could be the wall's color, the flooring, the platform's design, or the seating area.
Stick to one theme and let it shine instead of inserting multiple designs. When you introduce various designs in a single space, it makes the kitchen appear small, crowded, and also not functional to work.
It is also important to figure out where to stop with the remodeling design, so you don't end up overdoing it. Let there be some empty spaces for the kitchen to appear big and spacious. 
Going Over Budget
This is the result of every other error on this checklist. The fear of overspending on renovations is arguably the most common concern among homeowners. Although there is no one-size-fits-all answer to this issue, keeping your expectations in check can assist. The average cost of a kitchen makeover in America is around $21,000, however, this might vary based on your goals and location. 
If you believe you'll be moving soon, consider how much more value a new kitchen could add to your home. That involves determining whether or not it is a sensible investment and, if so, how much you should spend at the maximum.
Set attainable goals so you don't lose resources dreaming about a kitchen you can't afford. Always have a backup plan. You'll need to set aside some money for unexpected expenses. It's possible that this will take the shape of a credit card. 
There are nearly always unanticipated extras that arise. Make sure you have extra finances on hand to deal with unanticipated complications so that your renovation does not come to a standstill.
Not Going With the Flow 
One of the most important things to consider while remodeling your kitchen is never to keep your kitchen's three busiest areas adjacent to each other, that is, the stove, sink, and refrigerator. If you keep any of these elements side by side in a kitchen layout, it will be impossible for multiple people to work in the kitchen simultaneously. 
For instance, if one person uses the stove, the other person must have the space to take things out of the fridge or wash the utensils/veggies whenever required. 
Rather than placing all of them adjacently, create a triangular design, and keep all three of these things separate to make the kitchen more functional. This will ensure an efficient workflow inside the kitchen with more than one person at the same time. 
Incorporating Excessive Trends
Many kitchen design ideas last for generations, while others are only popular for a year or two. Choosing a completely new phenomenon from your beloved kitchen remodeling magazine or Pinterest page when it comes to color, design, and material can be dangerous.
You don't want to be ashamed four years from now when the trends are outdated. Styles that are out of date can make it more difficult to sell your property for the price you want. Experts in kitchen remodeling can advise you on timeless design options.
Choosing the Wrong Size 
Whenever you plan to introduce any new item in your kitchen, always make sure you pick the right size that fits in and blends in perfectly. Using the things that do not match the size can make the entire kitchen appear uneven and incomplete. 
If you are picking the lights, stools, containers bigger than the size allotted to the kitchen, it will be difficult for you to make it look seamless. Always measure the entire kitchen, available slots, the electricity sockets, the storage, and more before making any purchases. A bonus tip is to keep a measuring tape handy from the first stage of planning to know the exact measurement. 
Overlooking Storage 
You need a lot more storage in your kitchen than you anticipate. From cabinets to drawers to tray dividers to roll out storage, incorporate as much internal space as you can. A lot of people tend to overlook the storage requirements and focus too much on aesthetics. Your kitchen space functionality will die down if you do not have enough storage space to store all the necessities. 
Keep separate areas for separate categories of items if you want to make the working smooth and easy in the kitchen. Also, try and hide away all the stored goods without overexposing them. The more the display of the items, the cluttered and crowded it's going to appear. 
Use seamless drawers and cabinets, which will make the design more alluring. It will also keep the insects, moisture, and dirt out of the kitchen's stored goods. 
Not Paying Attention to the Appliances 
Another most common kitchen remodel mistakes that we are guilty of making is choosing appliances at the last minute. If you are renovating the kitchen, then chances are you might already have the appliances intact. 
Some people also prefer buying all the new appliances to match the new theme in the kitchen. But if you leave the shopping for appliances for the last minute and do not fit in the new cabinets or drawers, it will be a massive waste of money. 
Know the utensils' measurements and the appliances in advance. After this, you can leave the appropriate space in the cabinets and other storage spaces. 
The Devil is in the Details 
A lot of homeowners focus too much on the main design, layout, flooring, countertops, backsplash, storage, and more. However, people tend to forget the minor details that have the biggest impact.
These little things might seem insignificant while planning, but once the whole remodeling is completed, they can stand out most beautifully or even break the entire look. If not done well. 
It could be a simple placement of a plant in the kitchen, the cabinet handles, lighting, etc. Give attention to these elements while designing the whole space, and you will see a vast difference compared to the old kitchen space. 
Know the Purpose of Your Remodel
The kitchen is one of the most important spaces in a household. Many people consider the main space for socializing and place the dining table in the same room for family meals and gatherings. 
Your kitchen is a space that holds the most memorable moments, dinner parties, coffee conversations, and more. Each member of the family also uses it for their daily routine. Before remodeling your kitchen, you have to figure out the purpose of your remodel.
Pay extra attention to seating arrangements, maximize the walking space inside the kitchen. Plan your entire kitchen keeping each member of your house in mind. 
Make sure you stick to one design from start to end and do not make the changes in the middle of the remodeling phase. If you are indecisive about any renovation aspect, it can lead up to added and unforeseen expenses. Not just that, you will also end up spending a lot of effort and time on the same thing. 
Kitchen remodeling can be a daunting and stressful task, but if you do it right and pre-plan in advance, it can quantify your home well. Ensure you avoid the aforementioned basic kitchen remodel mistakes, and you will have a brand new looking kitchen under your budget and time.