AS SEEN ON
You can find more information about our company, products and services on the following resources.
All the people involved in the project were professional, from the scheduler to the installers. Marco is great at his work and runs an honest business. The quality of work is excellent and we are really satisfied with the end result. Thanks to everyone at Kitchen & Bath Shop. We definitely recommend them to anyone looking for a remodeler in Alexandria.
Quincy Breland
2022-07-28
My husband and I were skeptical of getting our kitchen remodeled as we didn't want to alter the old design. At the same time, we also wanted to change the look and install an island. After much consideration, we decided to go ahead with Kitchen and Bath Shop. The first meeting itself hooked us and the designer was able to understand just what we needed. We were particularly impressed by how responsive the team was, they were almost always available. They even suggested decor ideas which could add a modern touch to our kitchen. It was more than what we asked for. The finished product was better than we expected. We now have a sleek marble island with pendant lights. We've received endless compliments too! You can't go wrong with Kitchen and Bath Shop, take our word for that. Five stars to the entire team!
Kimberley Dale
2022-06-30
We hired Kitchen & Bath Shop for our master bath, hall bath, and powder room remodel, and the experience was way better than we could have ever imagined! Marco and Melissa guided us throughout the entire construction time. Melissa kept us informed every step of the way. Marco designed beautiful bathrooms and a powder room for us. We chose a free-standing bathtub for our master bath and got a frameless shower door and custom double sink vanity precisely how we wanted it to be. We went with a bathtub-shower combo and a custom double sink vanity for the hall bath.The star in the powder room is the tiles. They are stunning. It was absolutely a blessing to find every single item at Kitchen & Bath Shop's showroom. We didn't have to go elsewhere to pick up any materials. They have the best quality materials, and the selection is very up-to-date.Our project manager Max, constantly updated us with the schedule and the process so we would know what to expect. We always felt that our project was as important as if it was his very own house. The job site crew, Jose and his team, were fantastic! They kept the mess to a minimum, allowing us to live and work comfortably. Thanks to the entire Kitchen & Bath Shop team, we love our new bathrooms! We would use them again in a heartbeat! Everyone was very hard-working, skillful, and respectful of our home.
KBS Alexandria recently finished the kitchen in my home. The original layout was pretty bad and made it difficult for me to visualize how to better utilize the space. I spoke to several contractors before going with KBS. Melissa's design was fabulous and she really accounted for my need for more cabinets/counterspace and opening up the kitchen to the rest of the house. Ali and Wilbur are hands down the most responsive contractors I've ever worked with. Ali was always available to answer questions by text. Anytime I had a concern or questions about how the project was going, he responded right away and fixed any issues that arose. The quality of Wilbur and his team's work has been amazing and I was always so impressed with how clean they left the place every day despite it being under construction. I'm so glad I went with them. If you're interested in a kitchen renovation, I'd highly recommend KBS!
Adrian and his crew were responsive, detailed and thorough in their work remodeling a bathroom for our old house. The job was completed on time and not only do we highly recommend them, we are considering them for future remodeling work for our house.
We just completed our master bathroom remodeling with KBS Alexandria, and we are very happy with the results. We really liked what KBS recommended for materials and design. Our Project Manager, Adrian, was a delight to work with. He managed the whole process, from beginning until the end, and communicated with us on a daily basis to make sure everything went well. Adrian and his crew were diligent, and we had our bathroom completed ahead of the proposed schedule. Adrian also was flexible to accommodate changes we requested. As we liked working with Adrian, we are now starting another project with Adrian, on remodeling another bathroom, and there will be many more to come! Attached are our new bathroom pictures, which say a lot more than words! We highly recommend KBS and Adrian and his crew!
Kitchen & Bath Shop of Alexandria just completed the remodel of our Master Bath. We couldn't be happier. From Melissa the designer, to Adrian our project manager, and the crew that completed the work, they were all responsive, professional, and on schedule. The work itself and attention to detail was excellent. I would definitely use them again!
Kitchen & Bath Shop of Alexandria just completed the remodel of our Master Bath. We couldn't be happier. From Melissa the Designer, to Adrian our Project Manager, and the crew that completed the work, they were all responsive, professional, and on schedule. The work itself and attention to detail was excellent. I would definitely use them again!
Complete gut and replace of my kitchen and bathroom. Beautiful work and Exactly what I wanted and was looking for.
Wonderful experience! We are so in love with our new kitchen. Kitchen & Bath Shop did a perfect job renovating our old kitchen in our Old Town Alexandria home 🙂 Marco was great, detail-oriented, and patient with our last-minute changes & add ons. He gave us a lot of good advice and helped us immensely make decisions. We met with the crew member on the day of demolition. Every member was a respectful professional from start to finish.I would use the Kitchen and Bath shop in future projects in our home and recommend them to all my friends and family in the DMV area.
Our Remodeling Services
Kitchen and Bath Shop is an award-winning house renovation company in Virginia Beach. We love transforming houses, whether it's with a basement remodeling, deck build, and renovation, or home additions. We strive to tailor all remodels to the homeowner's budget & requirements and create a home that's easy for you to manage and looks great.
Why Choose Us
Kitchen and Bath Shop in Virginia Beach is this town's largest remodeling shop. With our unparalleled one-stop shop experience, we are providing excellent bathroom and kitchen remodeling services to our community.
You don't have to find a designer, look for contractors, shop around and waste your time getting permits and cross your finger that installers will do a good job. We are here to take over every step of the hassle-heavy remodeling process. What we sell is convenience — the idea that we can provide a turnkey bathroom renovation solution in a headache-free process.
We take care of your design, cabinets, appliances, countertops, lighting, flooring, permits, installation and final touch-ups. The only thing you need to do is to call us, agree on the design and materials. We provide complimentary in-house and online design and estimate and the hybrid of the two.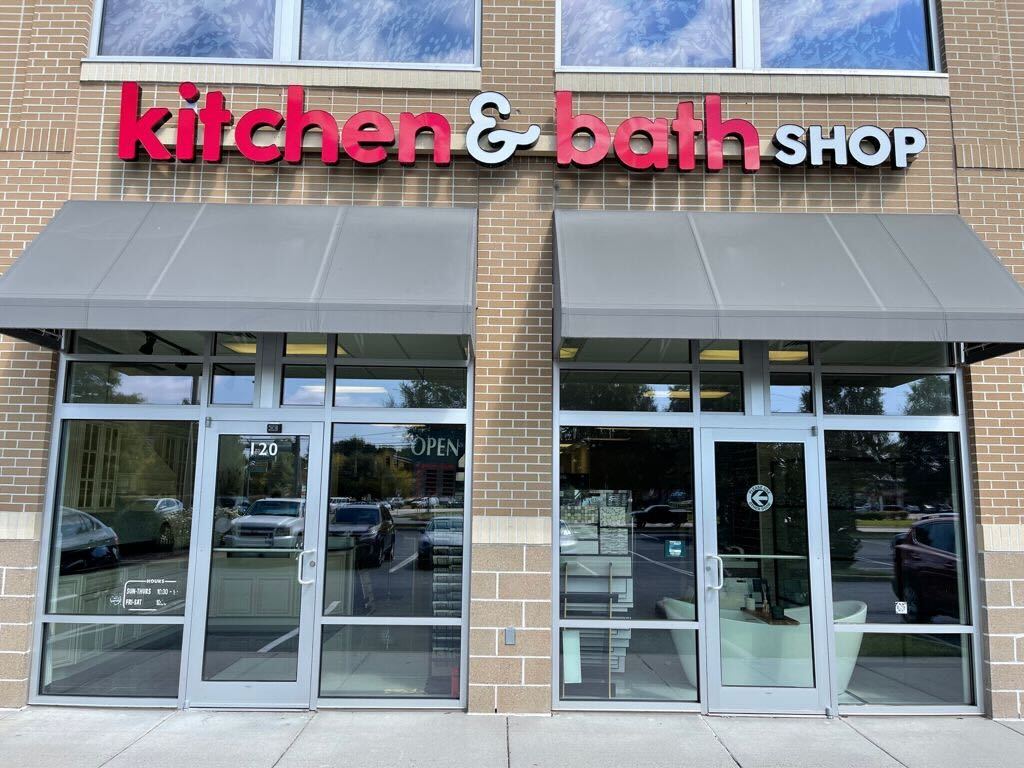 We also build custom closets and do basement finishing.
We are providing services in these towns and beyond: Virginia Beach, Dam Neck, Woodhouse Corner, Princess Anne, Pungo, Sigma, Salem, Greenbrier East, Chesapeake, Albemarle Acres, Ocean View, Chic's Beach, Bayside, Bay Island, Janaf Military Circle, Norfolk, Portsmouth, Bower Hill, and Ghent.