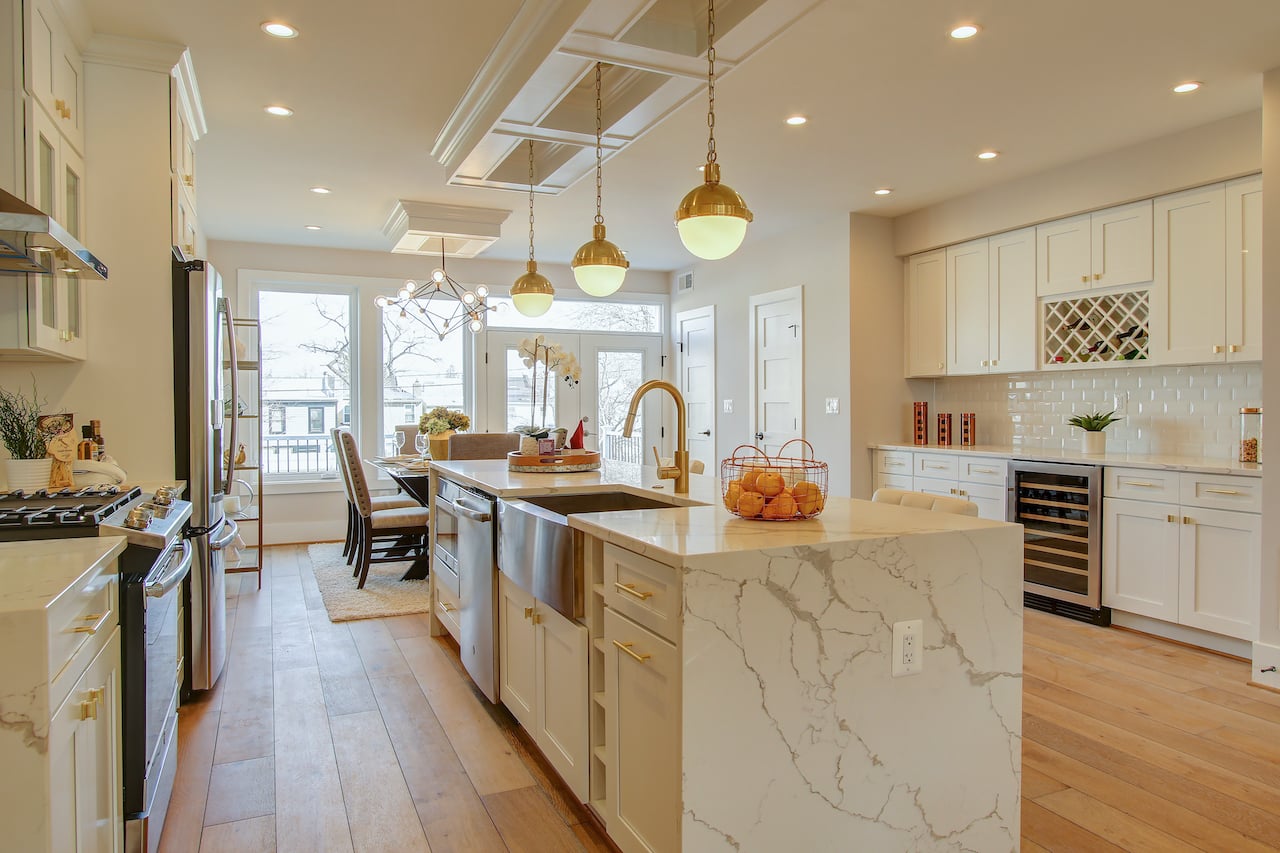 Kitchen Remodel Ideas That Pay Off in the Long Run
Remodeling your kitchen is a huge investment. You need to consider several factors before you begin the kitchen remodeling process. One such aspect is maximizing your investment by selecting kitchen remodel ideas that pay off. Would your kitchen remodeling projects add to the value of your home or depreciate it?
To begin with, keep the basics in mind and resist trends if you want to get the most value out of your kitchen remodel. Trends are exciting, but consumers are more knowledgeable than ever before. 
They value strong elements like cabinets, shelves, better ventilation, and good lighting more. Let's go over a few ways on how to implement kitchen remodel ideas that pay off.
Refresh With Paint
The essence of life in the kitchen is the color. Choosing the right color not only creates a vibrant, friendly environment, but it's also a cost-effective way to get a lot of bang for your buck. You can significantly increase the wow-factor in your kitchen for nothing more than the cost of paint and a few types of equipment. 
Also, with an all-white kitchen color scheme, keep your kitchen elegant and classic. Alternatively, opt for a sleek look with a black kitchen. Colors influenced by Feng Shui will keep things calm, happy, and neutral in the kitchen. There are no restrictions; the color of your kitchen is only limited by your imagination. 
Update Your Cabinets

 
You never want to hear the word "dated" when it comes to your kitchen cabinets. So, if you want to choose kitchen remodel ideas that pay off, prioritize cabinets.
Changing your kitchen cabinets does not require ripping out and replacing your existing cabinets. But in some cases, a complete replacement might be necessary. 
On the other hand, painting your kitchen cabinets is an easy and affordable way to update your kitchen. Similarly, try your hand at some fun, inexpensive kitchen DIY projects, such as handcrafted wooden shaker cabinets.
Cabinet refacing is a step up in terms of both cost and buyer appeal. Cabinet refacing entails replacing the cabinet doors and drawer fronts entirely. But they are the most visible parts of the cabinet. 
A contractor applies solid hardwood veneer to the cabinet boxes' sides. New cabinet fixtures are the finishing touch that ties the project together.
Make A Bold Statement With The Backsplash
In terms of investment, a kitchen backsplash is a perfect feature to install or update because the initial price is minimal while the overall appearance is high. The cost of installing a backsplash is usually low during a kitchen remodel because most backsplashes are do-it-yourself projects. 
Sparkling glass or metal tiles are sure to catch the eye, and you can build most with only a little tiling experience. Wallpaper, tile decals, laminate flooring planks, or veneer stone are all easy-to-do and affordable, innovative do-it-yourself backsplash projects you can achieve in a day or two.
The best part is that you won't have to break the bank to find stylish and modern backsplash mosaic options too. 
Install Quartz Countertops
Laminate, concrete, stainless steel, solid surface, and a host of other kitchen countertops battle for the title of "best countertop." Quartz countertops, on the other hand, are still at the top of the list. 
Quartz is the practical material choice for countertops since it is a blend of minerals and resins. It even appears to be natural stone but is much stronger.
It's as impervious to water like solid surface countertops, but it won't scratch as easily. This surface can also adopt several personalities, ranging from a classic stone-like appearance to a fashionable and modern concrete look. Quartz countertops are pricey, so make sure your home's estimated sale price will recoup the cost.
Install Spectacular Pendant Lights 
Kitchen lighting, which is often forgotten, deserves to be highlighted. A well-designed lighting system can become a center of interest besides illuminating your lovely kitchen. 
Unlike recessed lighting, which is another kitchen staple, pendant lighting commands attention. The best piece of advice for kitchen pendants is to go big and bold. While you're choosing the type of kitchen lighting, you should avoid occupying the room and scale the pendants to the size of your kitchen.
Highlighting the Hardware
Upgrading current hardware is a quick and creative way to remodel a kitchen on a budget. At the same time, you'll give your favorite room a unique look and personality. 
It's possible that the hardware in your kitchen is obsolete, or that you don't like it any longer, or that you've discovered an alternative that would look better with your cabinets, countertops, and appliances. Then don't be afraid to swap it out.
Stainless steel or metallic hardware, for example, will give your kitchen a sophisticated and modern look. It can also help you build a transitional kitchen with traditional cabinets that perfectly complement a contemporary look. 
On the contrary, a traditionally styled kitchen can benefit from black hardware with classic lines. You can also choose between a high-gloss or matte finish, which gives the space a distinct look and feel. 
Hardware may also help create a specific mood. Gold hardware, for example, will bring warmth and coziness to the kitchen, while black or silver will help you add contrast and enhance the trendy aspect of a kitchen remodel. Lastly, selecting hardware made of metal, brass, or nickel will add a special charm to your room. 
Add Bits Of Tech
For modern kitchen remodels, home automation systems are a must-have. Smart-home technology, whether it's anything as essential as a voice-activated device or full house automation, will make life a little easier.
From lighting and entertainment to unlocking doors and heating the space, your smart kitchen can have a single point of connectivity to monitor all elements of modern lifestyles.