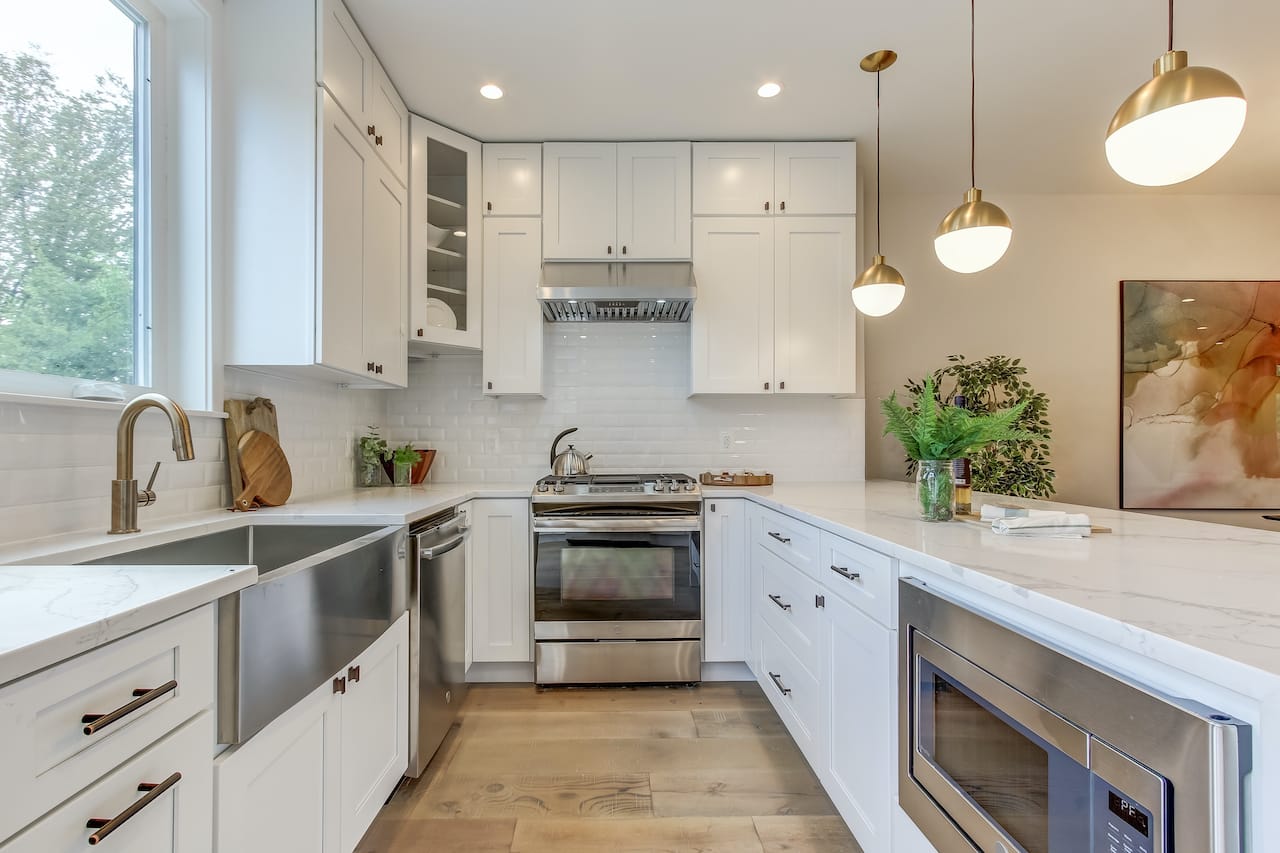 Kitchen Lighting You Can Choose For Your Remodel 2023
The kitchen is a very task-intensive room. You use it for everything from food prep and cooking to entertaining, dining, and more. The types of kitchen lighting you choose will make a lot of difference to the functionality and design while remodeling your kitchen.
Similarly, you need a specific type of lighting for each purpose the kitchen serves. Gone are the days where one kind of lighting was enough for the whole room. Hence, depending on your needs, you must layer different types of lighting in your kitchen. The decision for your kitchen lighting will include ambient mood, task, accent, and decorative lighting as a part of your kitchen remodeling process.
Ambient/ Recessed Lights
Ambient lighting is the full lighting that helps make the room look inviting. It's also the basic lighting that will help you navigate your way around the kitchen. 
Well, they are overused these days, but hidden light options in the kitchen somehow make sense. You can achieve good ambient lighting by installing recessed cans evenly spaced around the perimeter of the kitchen. 
A general rule while remodeling your kitchen is one light for every four feet of counter space. Also, you can position them to light the entire room, not just the area with no task lighting. 
Mood lighting
Same as ambient light, this type of kitchen lighting idea sets the tone for your kitchen. It can add warmth to your space to make your family and guests feel right at home. 
The ideal location for mood lighting is the space between your cabinets and the ceiling. Also, strategically placed recessed lighting in that space will work as well. 
Functional Task Lighting
While mood lighting is wonderful, it doesn't do much when it comes to adding functionality to your kitchen remodel. That's where task lighting comes in. For functional task lighting, you'll want to illuminate kitchen counters and islands properly. Doing so will give you enough light to work by. 
Besides, task lighting is just what it sounds like. It directs light for tasks like food prep, reading, washing, working, or doing homework. It is also an opportunity to bring your style into the space, be it modern and low-profile or more traditional. There's plenty of options to suit your tastes. Moreover, another place ideal for changing lights during a kitchen remodel is under the cabinets. 
Under-Cabinet Lighting 
Use under-cabinet lighting to brighten the area. You can also choose a shadow-free light, and since you won't see the light source, it will truly emphasize your kitchen's layout and design. 
Almost all under-cabinet lighting these days is LED, and installing it is a fairly easy DIY job. Also, you can use LED strips alone or join them together to cover larger spans. 
Oversized Pendants
Big oversized pendants over kitchen countertops are the hot designer look. They are also the simplest yet most effective way of helping any kind of kitchen (big or small) appear brighter and more luminous. They not only Illuminate a larger area but also make a grand style statement. 
Furthermore, you need to hang oversized pendants from a particular height from your ceiling. Installing them may require the expertise of a professional. However, if you're an expert, you can easily install them yourself. 
Moving on, choose a dramatic shape for a high-end designer effect. Ensure that these lights are spaced evenly and are all hung at the same height. 
On the flip side, you can use sleeker pendants in groups to provide both style and function. The reflective nature of clear, crystal and chrome pendants will provide intense sparkle to your kitchen. 
Accent Lighting 
Now, you may want to think about what you want to show off in your kitchen while selecting the types of kitchen lighting. It is where accent lighting can help. Accent lights accentuate focal points like a beautiful tile backsplash. 
Similarly, if you have a glass cabinet displaying your favorite China, or maybe you have artwork from the local artist that you love, you can use accent light to highlight these pieces and make them stand out. Low-wattage spotlights, wall sconces, or LEDs work well for this. 
Decorative Lighting

 
Once you're done with the main elements, you can focus on decorative lighting. Decorative lighting is pretty self-explanatory. 
As kitchens become more popular places to spend time, they're being decorated like the rest of the house, complete with lamps and other accessories. While it adds light to the space, it is more about making the aesthetic of your kitchen perfect. Think pink chandeliers over the table, pendant lighting above the island, and maybe a stylish lamp on the server. 
Suppose you've already included the other lighting sources mentioned above. In that case, all you need to worry about here is — choosing the right decorative fixtures and how amazing they'll look in your space. 
On-Trend Fixtures 
Some on-trend fixtures to watch out for are — Large pendants with cutouts and open cages that have a geometric look to cast intriguing shadows. 
Farmhouse, western, and rustic fixtures are a great look, and it expresses a refined comfort. If the mid-century style inspires you, make an artsy, elegant statement with vintage lighting. 
Matching finishes? That's old school. Instead, select designs with a mix of metal finishes or pair various fixtures together to reflect your spirit.
You can incorporate glitz, glam, and gold with shiny crystal chandeliers and feminine pendants. 
Add Some Control
Add tech-savvy wall dimmers that let you adjust the light for every task you're in the mood for. If you have LED lights, make sure the dimmers you install are LED compatible. Usually, a few older versions are not, and you may have to replace them. 
Another option is smart bulbs and controls. You can even look for options that are app or voice-controlled.