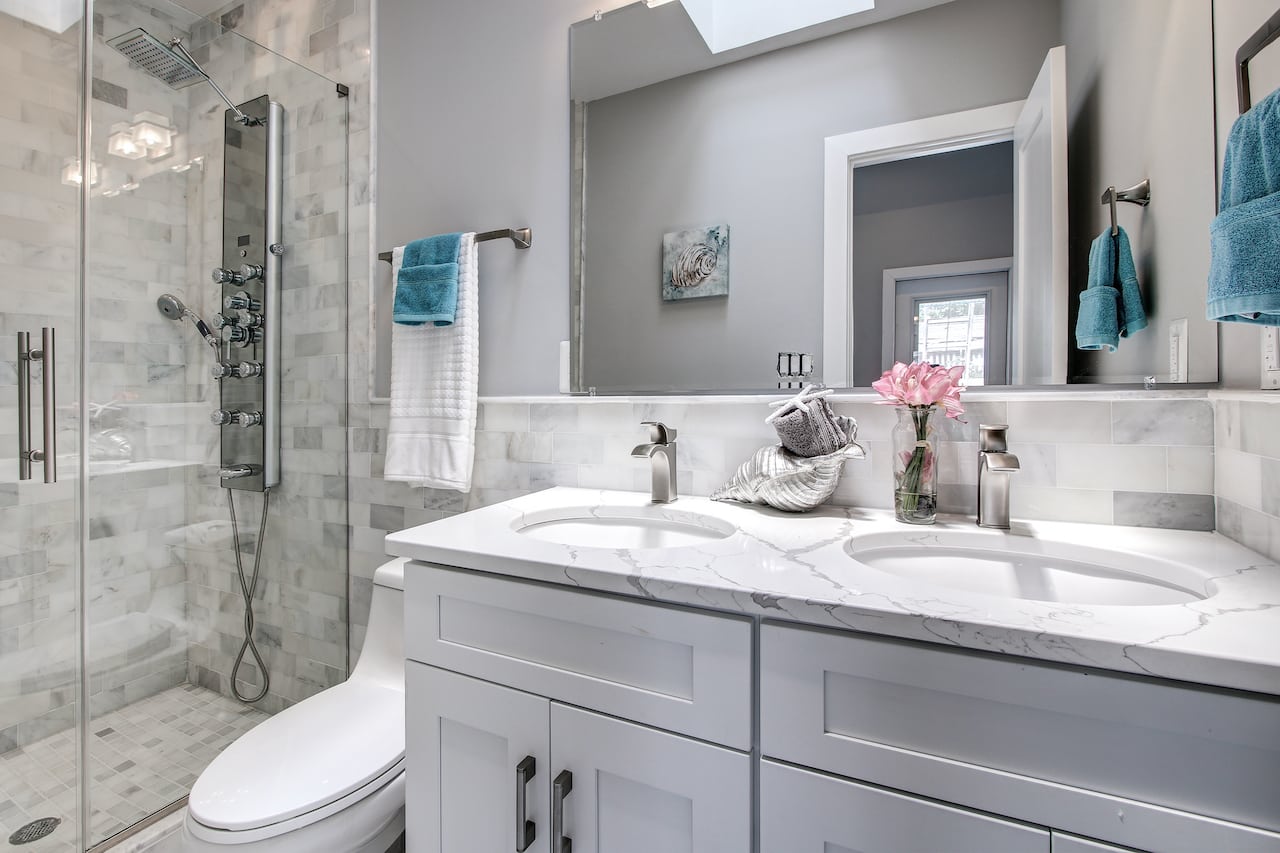 Bathroom Vanities Cost: 2023 Complete Breakdown
The cost of bathroom vanities ranges anywhere between $500-$3800 which may or may not include the installation costs ranging from $200-$1000 per unit. If you're going with a stock bathroom vanity, it may come under $2600. And if the same vanity is customized to your taste, the final cost may fall between $500 and $2800.
However, the above price tags won't show you the real picture. Below is an approximate breakdown of the total cost of bathroom vanities you'll need while finalizing one. Plus, this will also help in estimating the total bathroom remodel costs and planning your budget accordingly.
What Is a Bathroom Vanity?
A bathroom vanity is an umbrella term that makes up your bathroom's sink or basin, and cabinetry around it, and conceals vanity plumbing. The cost you can expect to redesign or replace it varies depending upon an assortment of factors like its size, design, the material used, etc.
While choosing a bathroom vanity, here is the breakdown of the various costs that you need to consider.
Average Cost to Install a Bathroom Vanity
The cost of bathroom vanities can range from as low as $300 to as high as $3800. This gives an average cost of around $1500, which is dependent on several factors. 
Premade Bathroom Vanity Vs. Custom Bathroom Vanity
Like the various other bathroom elements, you get the freedom to create the perfect vanity by choosing between the premade vanity and the custom vanity. 
However, remember that both will have different pricing and their pros and cons. Let's first learn about the premade bathroom vanity.
Premade Vanity for Bathroom
If you're looking for premade vanities, prepare to spend anything between $100 to $2600. This cost will include all your expenses like the size you chose, the material, and every other add-on. However, the main cost is just for the bathroom vanity top.
A premade bathroom vanity is available in multiple sizes like 2.5′, 4′, 5′, and so on. If your premade vanity is without any top, you can opt for the top of your favorite material, which shall cost you anything between $50-$200. 
Custom Vanity for Bathroom
Building a bathroom vanity is a bit more expensive than its premade options. So, while designing a custom bathroom vanity, prepare yourself for expenses between $500-$2800 that may/may not include the installation cost.
Depending upon the various parameters a custom bathroom vanity incurs a cost, here's its breakdown. For every square foot, get ready to spend $5-$135 along with the additional installation cost of $200-$1000. 
You may require a plumber who will cost you around $45-$200 per hour for the plumbing part of your vanity. 
Cost of Various Bathroom Vanity Tops
The average cost of a bathroom vanity cost falls in the range of $35-$135 per square foot. This price varies as per the material you will choose, the number of sections, and the type of sink, i.e., built-in or separate. 
Below are the top bathroom vanity top materials and their related costs.
Granite
It is available in two forms, granite tiles, and granite slabs. In the case of granite tiles, the cost is $5-$15 per square foot, while it's $40-$60 per square foot for the slabs. This is because granite slabs are much better in various aspects and less porous. 
Quartz
Since quartz has better water-resistant properties than granite, quartz is often preferred over granite. Due to this, you may need to spend around $75 per square foot in case of a quartz bathroom vanity top.
Cultured Marble 
Cultured marble is a better choice than normal marble in terms of quality, colors, and patterns. Also, you are more likely to find cultured marble tops in the premade vanities. For custom designing, it's less than $65 per square foot for the material.
Concrete
The vanity tops made from concrete are much heavier, easy to maintain, and highly durable than other materials. Hence, their cost is $65-$135 per square foot.
Composite
Composite stone vanity tops include a mix of different crushed stones with hard resins. It's glossy, hard enough, and easy to clean. That's why it cost $75-$120 per square foot.
Corian
Corian is a composite material consisting of metal with plastic resin. It's non-porous, available in different colors, and is easy to clean. Hence, you may need to spend $42-$65 per square foot for a Corian vanity top, making it a top choice among affordable bathroom vanities.
Laminate
Laminate is an affordable option with a smooth surface and nice texture. Its cost is $53 per square foot. 
Ceramic or Porcelain
Tiles and slabs made of ceramic or porcelain also hold popularity among homebuyers. They cost something between $6.50-$19 per square foot. Out of this cost, it's $0.50-10 per square foot for the main titles, and the remaining cost is for the material to set the tiles over the vanity.
The Average Installation Cost of Bathroom Vanities
The installation cost of bathroom vanities incorporates various costs for chores like preparing the vanity space, installing the plumbing lines (for the sink, faucets, etc.), cabinet size, etc. For the labor expenses, it can range from $100-$150 per hour.
The total cost during your bathroom remodel will also depend upon how experienced and professional the plumber is. 
Cost to Install the Vanity Sink and Faucets
Installing a vanity sink involves a series of processes that determine the total cost you'll pay at last. These processes include attaching the sink over the top, attaching the faucets to it, connecting the plumbing lines to the sink, and final testing of the unit.
All this, plus other factors like the number of sinks, number of faucets, etc., can make you spend $380 on average. 
Additional Costs While Installing a Bathroom Vanity
If your bathroom is not ready for a quick installation, it'll need to be prepared first. This involves cutting the wall space to prepare the vanity space at $1000 and installing the new plumbing lines, which will cost you another $1000.
If you wish to have a bathroom backsplash, its average cost is $1.50 to $30 per square foot. 
Costs of Replacing the Old Vanity
The old vanity replacement includes removing the old vanity, replacing or changing the old plumbing lines, and installing the new vanity. All these can incur costs around $665 to $3300.  
However, make sure to get all the tasks done while replacing the old bathroom vanity to avoid regretting it later. 
Are you planning to change your Leesburg home bathroom vanity? Remember these tips that we shared so you can make better decisions for your home remodeling. Happy remodeling!