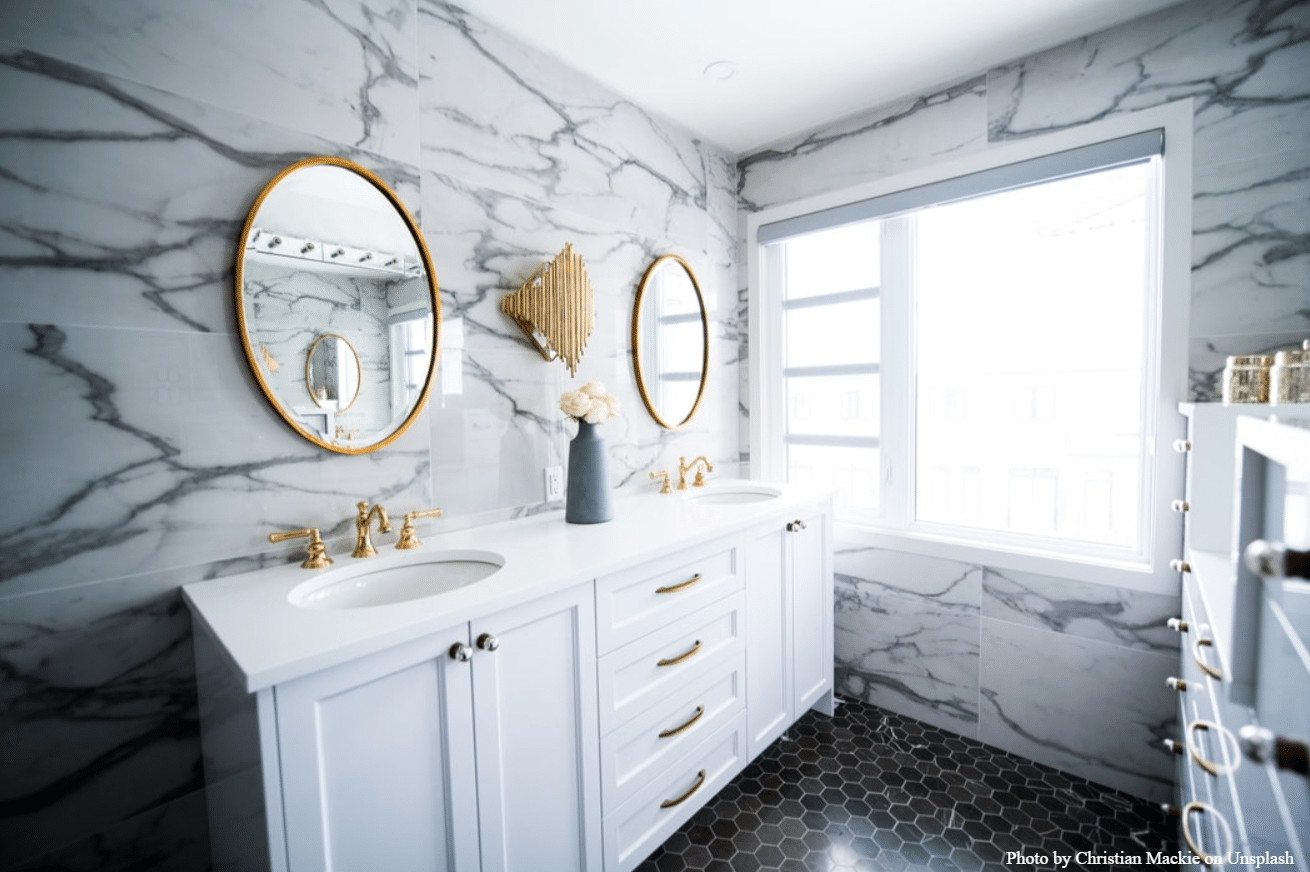 Bathroom Vanity Design Ideas and Tips
Are you remodeling your bathroom but cannot decide on the right bathroom vanity? While considering several bathroom vanity design ideas, you have to think about your aesthetic, color, budget, and space. 
A vanity is a focal point in any bathroom. It can elevate even the tiniest bath spaces without doing much. Adding a vanity will also help you organize your space better. Before you get started with bathroom vanity design ideas, you have to look at some crucial deciding factors.
Choosing the Right Vanity 
First things first, how do you choose the right vanity? You need to consider two things when selecting your new bathroom vanity; the location of the plumbing doors and other bath fixtures and how much room is available for the vanity cabinet. 
The bathroom layout and where the vanity will fit are also factors that should be considered while choosing your dream vanity. Let's talk about plumbing; moving the plumbing and changing the layout can get expensive, so your new vanity should probably be in the same spot as your old one. 
Another thing to think about is the clearance of all the doors in the bathroom. If you have a hinge or pivot shower door, you'll want to make sure all the doors can open fully without bumping into the vanity. 
Similarly, make sure you have enough space between the vanity and your toilet. Perhaps even the shower and the vanity so you can stand comfortably and operate the vanity drawers and door. 
Remember, not all bathrooms are going to be large, square, and spacious. You might have your vanity right across from your bathtub or your toilet. It is important to space out your plan so that your space functions well. 
There should be a minimum 21-inch gap from the vanity to your bathtub so that you can get in-and-out of the tub freely. If your vanity is next to your toilet, make sure to allow a 4-inch gap. 
Vanity Measurements

 
For your vanity measurements, determine your maximum width. Once you have it, the width is an appropriate place to start your search. This way, you can weed out vanities that are too long or too short. 
If you're going wall-to-wall in your installation, it is best to allow any overhang of the vanity top. It can add inches to the overall measurements. 
Alternatively, you want to ensure you have enough walking space between the vanity and other fixtures for the vanity depth. The most common vanity depth is around 18 inches. There are options for even the smallest bathrooms with vanities as shallow as 9 inches. 
On the contrary, in guest bathrooms and powder rooms, it's typical to choose a vanity 32-34 inches from the floor. For the master bath, a slightly taller vanity is preferable (around 36 inches), which is almost the same as the standard kitchen countertop. 
Bathroom Vanity Design Ideas
This no-fuss, stand-alone piece of panache goes beyond its simple presence. Freestanding vanities are perfect, even in a small bathroom. 
It is quick and easy to install too. You can even add two separate vanities for 'His & Hers', so you don't step on each other's toes. Here, you can choose from several styles and materials. You can opt for a concealed or pedestal sink to save up space. 
You can also spice things up with contrasting mirror panels and metallic faucets. Also, you can add shelves and baskets to keep the clutter at bay. You can add your desired light fixtures to brighten up the vanity space. 
This traditional style vanity provides abundant storage and counter space. With the right size, it makes for a great addition to any bathroom decor. 
It's a seamless addition that will stand out for years to come. Cabinet-style vanities will bring a warm, welcoming feel to your bath. 
They are attached down to the floors and have broad tops and cabinets. You can even DIY them after a couple of years to update its look. You can paint, spray or stencil your desired print for a unique style.
To spruce things up, you can upgrade the vanity hardware for a more contemporary look. 
Bathrooms need not feel traditional and worn out to be functional. If you're looking for a sleek and modern vanity, installing a floating vanity is perfect. 
They are chic and minimal and provide an exquisite touch to your bathroom remodel. Floating vanities are easy-to-maintain and clean. You can also use the floor space to place your bath slippers, baskets, bins, and other storage needs. 
Floating vanities can provide an illusion of more space. They are ideal for small bathrooms as you can mount them directly on the wall. Since these vanities have limited storage, you can add floating shelves to elevate your overall design. 
Did someone say, His & Hers sink? Double Sink vanities are spacious, comfortable, and a luxury in today's time. If you're someone who doesn't want to share your space first thing in the morning, then this one's for you. 
They're truly one-of-a-kind and glam with a timeless feel that is nevertheless clean and modern. On the contrary, double sink vanities require a significant amount of space and are not the best choice for a small bathroom. 
They are ideal for a master bathroom where each person has a separate sink and counter space. You can opt for a rustic, glam appeal, minimal cabinet-style, or from another modern bathroom vanity design ideas for your newly remodeled bathroom.