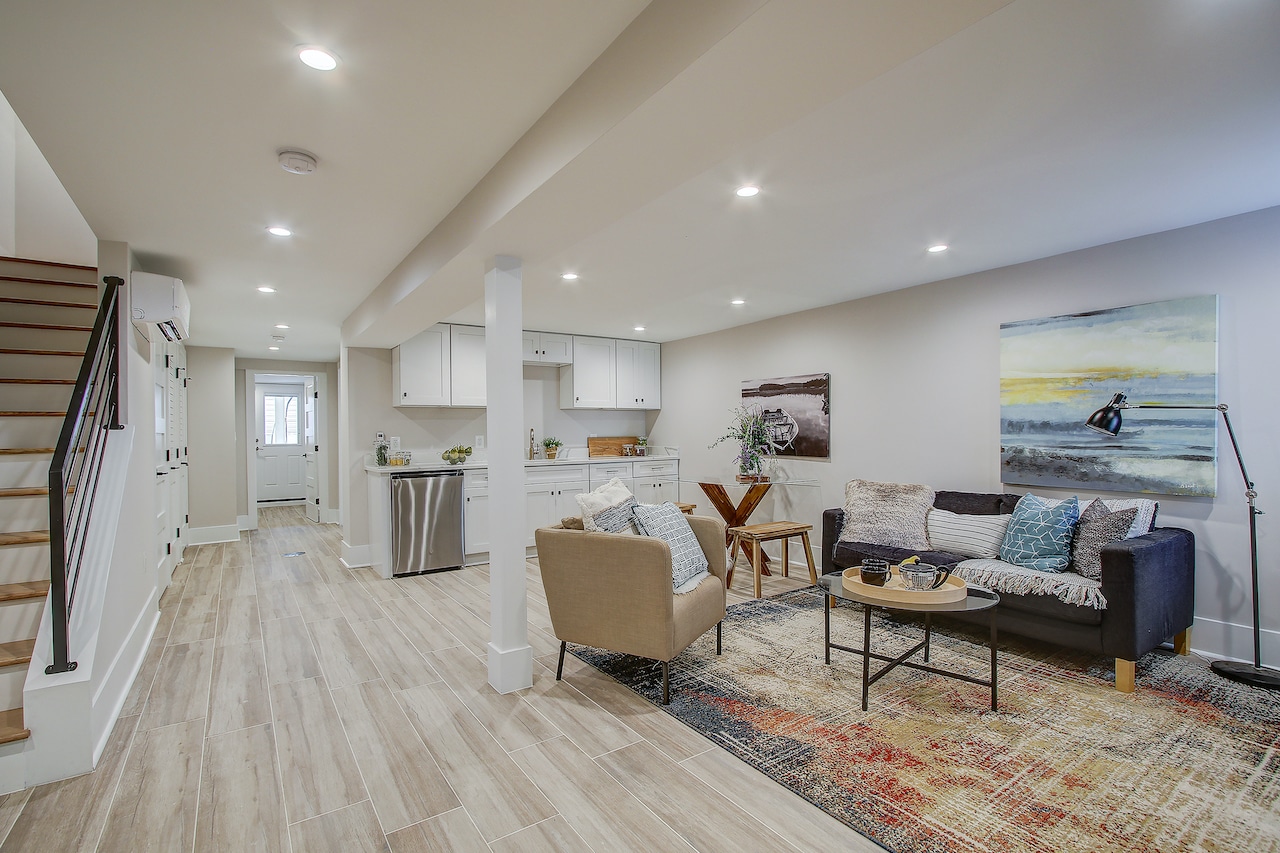 Wood Flooring Guide: Everything You Need to Know
You can't go wrong with wood flooring if you're thinking about installing them. Hardwood floors come in various styles and colors, and they work with any design – modern, traditional, country, you name it. You can use hardwood flooring in any space, but kitchens and basements require special attention.
This wood flooring guide will walk you through the various varieties of available wood flooring, including laminate, engineered wood, and solid wood.
Laminate Flooring 

Cost
Prices for laminate flooring start at $3 per square foot. However, keep in mind that the cheapest options are smooth and lack realism. Beveled edges, a more diversified assortment of images, and embossed details like knots will create a more natural look and feel, but they're more expensive. 
Premium choices include wood variants for about $13-$32 per sqft. 
Where To Install?
Living rooms, studies, and kitchens are examples of high-traffic spaces that require frequent cleaning. According to manufacturers, some items include a watertight core, making them suitable for bathroom remodel and kitchen remodels. 
If you do plan to install laminate wood flooring in these rooms, make sure you read the instructions carefully before purchasing to ensure you won't damage it. 
Pros of Laminate Flooring 
Cheap and long-lasting 

Installing click-lock designs is straightforward 

There is a large selection of imitations of natural-looking materials. 
Cons of Laminate Flooring 
Even the greatest laminates can't match the look or feel of the real thing. 

The laminate is easily swollen by moisture. 

Joints wear out with time. 

It's difficult to repair a damaged surface once it's been harmed. 

It can be a turn-off if the laminate installation is sloppy.
Engineered Wood 
Each engineered wood floorboard comprises three or four layers of wood that are put together to form a 14mm thick plank. It includes a real-wood veneer on top that is about 4mm thick, so if it gets scuffed, worn, or broken, you can sand it back and treat it to restore the original look. 
There are 'click-and-lock' variants available too that eliminate the need for adhesive. However, you'll require glue for tongue-and-groove versions.
Cost
As per our wood flooring guide, the cost per square foot ranges from around $19 to more than $166 for more premium timbers. 
Where To Install? 
Living rooms, dining rooms, bedrooms, and kitchens are just a few examples. While it is less prone to warping than solid wood, it is still best avoided in areas with a lot of dampness, such as the bathroom flooring. 
It's also best avoided when laying on stairs, as it's time-consuming and fiddly. It's also difficult to get a decent finish around corners, such as around sink pedestals.
Pros
Engineered wood flooring is much more durable than hardwood flooring due to its design and is less susceptible to temperature and humidity shifts in the room.

It has the potential to be more appealing than laminate flooring.

Comparable solid-wood boards are more expensive.
Cons
Installing tongue-and-groove planks is more difficult than installing click-lock planks.

It's possible that it'll be a lot more expensive than laminate.
Solid Wood
Hardwood flooring is obtained from a single piece of 18-20mm thick wood. However, as per our wood flooring guide, the most common method of installation is tongue-and-groove. 
Every type of wood has a hardness rating that reflects how quickly it can be chipped, cracked, or worn over time. The number of times you can sand solid wood flooring to maintain the finish depends on how deep you place the tongue from the top of the board.
Cost
Prices range from $15 per square foot for the cheapest alternatives to $82 per square foot for select tropical hardwoods, based on the value of raw wood.
Where to Install? 
Anywhere with a fairly constant humidity level. Especially in places like corridors and living rooms where you can flaunt it.
Pros
It has a classic appearance and feel to it. 

If you decide to sell or rent your house, it will appeal to buyers and tenants.
Cons
Solid wood flooring expands in wet situations and contracts in dry conditions. 

Because you must nail or glue it down, solid wood is difficult to install. 

As the individual boards change shape after they are produced, it can be difficult to fit them together. 

The initial cost of new solid wood flooring is more than that of other wood flooring options. 

Rugs are a fantastic alternative if you have solid wood floorboards upstairs because they can amplify sound.
Reclaimed Wood
Reclaimed wood flooring is wood that's been recovered from another old property and refurbished. If you live in an old house, you might be fortunate enough to find perfectly preserved original flooring beneath a decades-old carpet. If not, you can find old planks on your own.
Cost
Prices differ based on where you purchase them. On sites like Facebook Marketplace and eBay, you might discover individuals giving these away for free or inexpensively, but boards at salvage yards start at around $25 per square foot. Depending on the quality, age, wood, and thickness of the boards, it can cost well over $100 per square foot.
Pros
One of the more environment-conscious flooring solutions is repurposing old wood.

Vintage wood is attractive and adds to the overall value of a home.

You can use any color to repaint, sand, or stain on reclaimed wood.

In general, they are a very long-lasting and durable kitchen flooring option.
Cons
Costs four to five times as much as new floors.

You should avoid asymmetrical holes and wood that crumbles when you touch.

Unless you get it from a company that will process it for you, it may contain hidden threats such as projecting nails.

Rugs are a fantastic alternative if you have solid wood floorboards upstairs because they can amplify sound. 
Which Finish Should You Opt For?
This is largely a matter of personal choice. However, you can bring samples home to see how they look in different lighting and with the rest of your decor. Wood flooring is available in three finishes: oiled, lacquered, and unfinished. Oil provides a more natural finish that develops a sheen as it ages, whereas lacquer is a strong varnish that preserves the wood while also adding a lustrous sheen. 
In conclusion, this wood flooring guide is enough to help you choose the right type and style of flooring for your beautiful home.