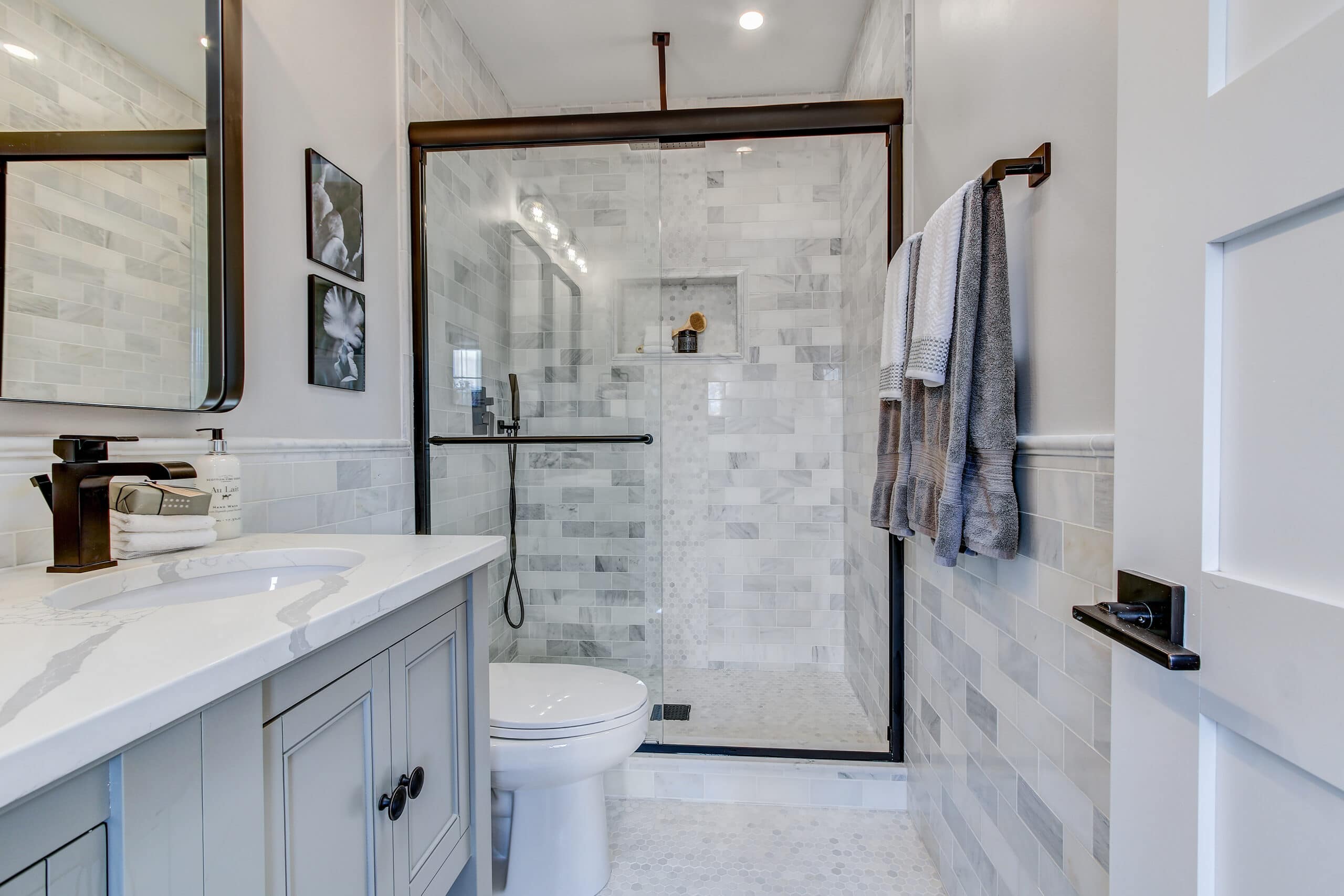 Bathroom Remodel Guide: Everything You Need to Know
When you plan to remodel your bathroom, there are several things you need to focus on. You must evaluate your needs and desires, set a goal for your bathroom, find the inspiration to give yourself a clear picture. You should also pick the right materials, and finally look for a good contractor. Seems a lot? Don't worry! Our bathroom remodel guide will explain everything.
A bathroom remodeling project can cost you a fair amount of money, time, and energy. A good bathroom remodel guide will help you work your way through the entire process by giving you detailed guidelines and inspirations. It enables you to understand the tips and tricks to spend your money smartly.
The key to a good bathroom remodel is to choose upgrades that align with lifestyle and daily routine without worrying about the expense. 
A bathroom remodel can cost you up to thousands of dollars, but if you stick to your everyday needs with a little spruce up, you can go a long way. Ask yourself if you need a tub, a wall niche, or two sinks. 
While choosing these, you must emphasize their functions. If they are nothing but luxury, you may not want to shell out hundreds of bucks on them. A good bathroom remodel is not only palatial but also utilitarian.
So here is a bathroom remodel guide that will help you plan, design, and furnish your bathroom exactly the way you have always dreamed of it.
Ask Yourself Some Questions
Before you start falling in love with some design you wish to recreate, you need to ask yourself some questions. It will help you realize the worth of your inspiration. Irrespective of whether you hire a contractor or go DIY, these questions play an essential role in your bathroom remodeling project.
For instance, you can ask yourself some questions such as "What is my daily routine?" "What is my budget?" "How much storage do I need?" "How many people need to use this washroom?" "What do I like about the current bathroom layout?"
All these questions will help you propose the new layout, budget constraints, and the materials you will need for your modern bathroom. After answering these questions, you may go ahead and start acquiring inspiration from different design elements to know the must-haves and nice-to-haves for your bathroom remodeling project.
Pick the Right Materials
After deciding on your bathroom design plan, you can buy the right materials for your bathroom. The materials depend on the budget you have set for yourself, so do not hurry to pick anything out. Take your time and inspect every material, its cost and durability, and whether it meets your needs and complements your home style.
Tiles: One of the materials for your bathroom that are highly durable and pocket-friendly is subway tiles. They are the perfect go-to for a bathroom remodeling project. If not subway tiles, you can also go for something similar like zellige.
You may also want to avoid tiles like penny and hex. Subway tiles cost as little as $5 per square foot and are very reliable for the bathroom's wet environment. They are an excellent alternative for the costly natural stones.
Wallpaper: Yes, you may not know that, but you can use wallpaper in the bathroom! If you wish to use wallpapers in the bathroom, ensure that you have placed them out of the splashing range. Similarly, ventilate the bathroom enough to avoid building up moisture. It is an extraordinarily cheap and fun method to get the design you want for your bathroom.
Stone: If your budget is considerably high, you can go for the bathroom's most favorite, natural stone. Natural stones like granite do well in the bathroom's wet environment, with the help of the right sealant. They can be quite expensive but very aesthetic, so choose wisely.
Apart from these, there are other materials that you need to pick out. For instance, cabinets and vanity, backsplash, bath fixtures, countertops, accessories, etc.
Understand the Basics
For the next part of our bathroom remodel guide, you must be clear with the shower/tub basics. You need to know your top priority if your bathroom is roomy enough to have a big, luxurious tub and a shower cubicle separately, good for you!
But in most average-sized bathrooms, it is tough to accommodate both. Therefore, it is best to get a shower-tub combo. Spacious, walk-in showers are the real deal, but if you can adjust a tub in there, it could not hurt any less.
Now that it is clear how crucial showers are, you need to focus on the enclosure. Choosing the right enclosure for your shower makes a huge difference. So here are a few options for you to choose from.
Basics of a Shower Remodel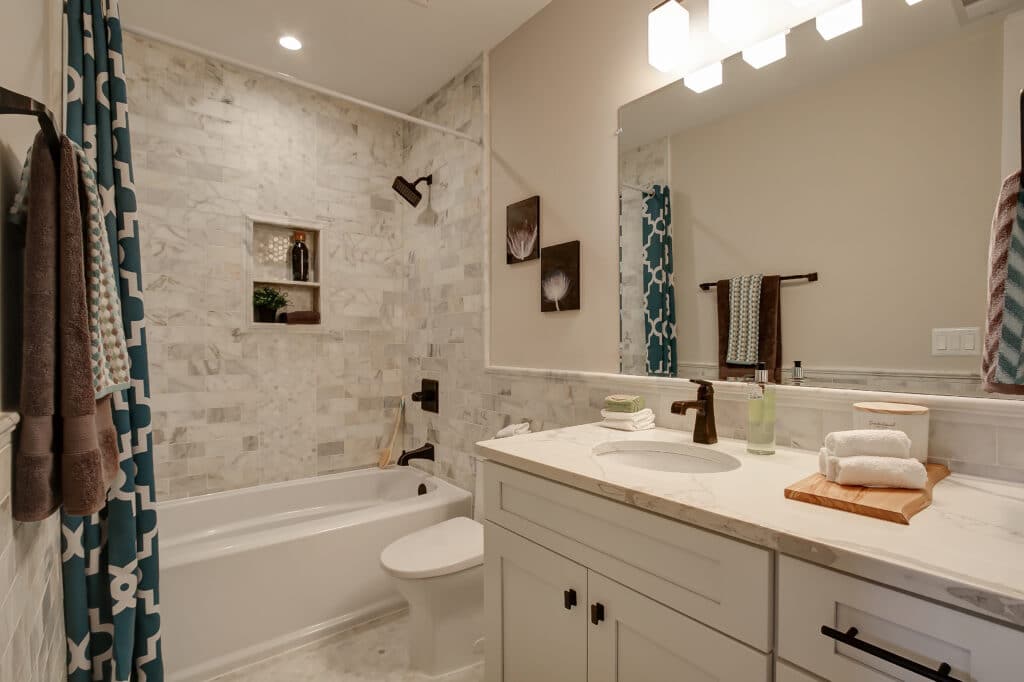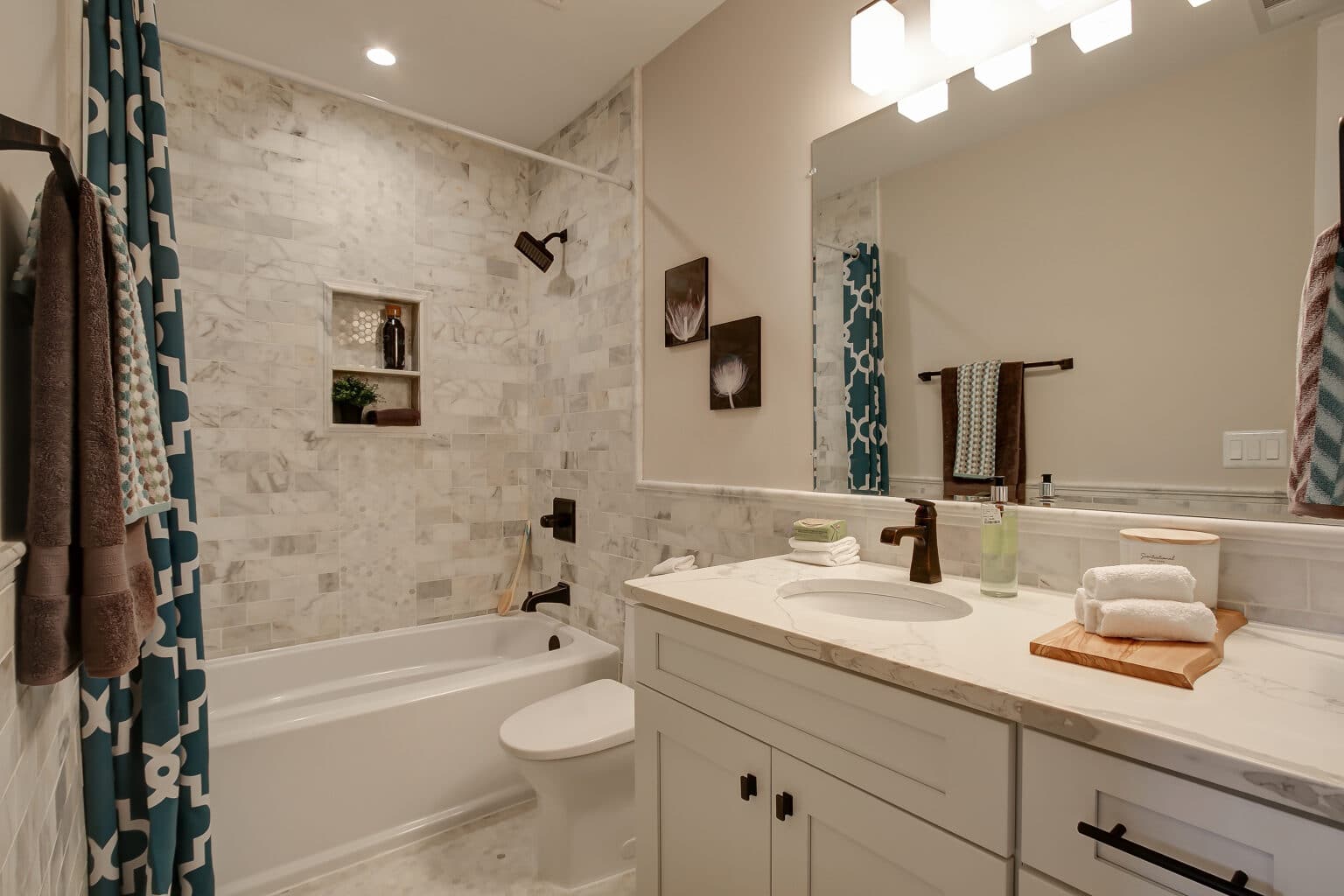 Curtains: The best option for shower-tub combos is a curtain. It is easier to install, as well as replace. If you have a house with children, installing curtains as an enclosure is the best option for you.
Glass Doors: If you opt for a walk-in shower instead of a bathtub or a shower-tub combo, glass doors are highly preferable. They can make the shower area look more spacious. Likewise, you can even make the glass look luxurious with finishes such as metal grids, framing details around the entrance, and pretty hardware.
No Doors: If your bathroom is considerably small, you may not want to include an enclosure at all. So go for waterproof surfaces and a central drainage system that will help avoid mold and mildew.
After you have decided on the enclosure for your shower, you must focus on the right fixtures for you. You can add particular gadgets in your shower to give your bathroom a state-of-the-art feel, apart from adding standard faucets and drawer pulls.
Thermostatic Shower Valve: A thermostatic shower valve maybe a little over the budget, but it is worth it! You must keep your budget a little flexible and go for the valve because this gives you the perfect bath water temperature in any weather condition.
A Good Showerhead: If you do not wish to go for a complete bathroom overhaul, there are minor changes that can make your bathroom look better and fancy. The handheld showerheads not only look posh and high-end, but you can also easily install and remove them without any significant plumbing trades.
Storage is Essential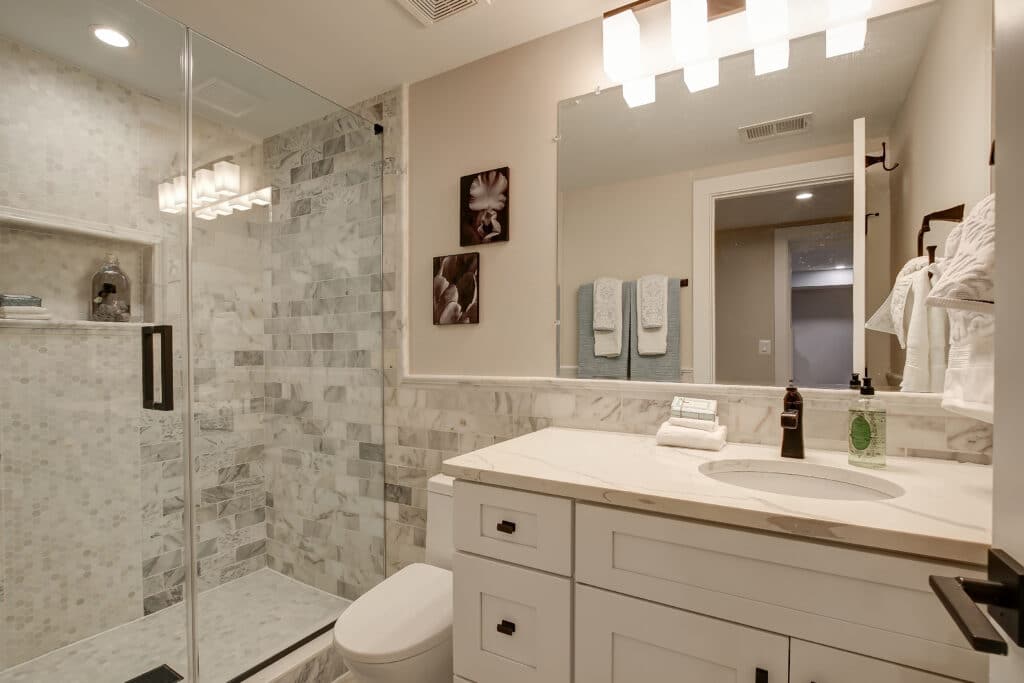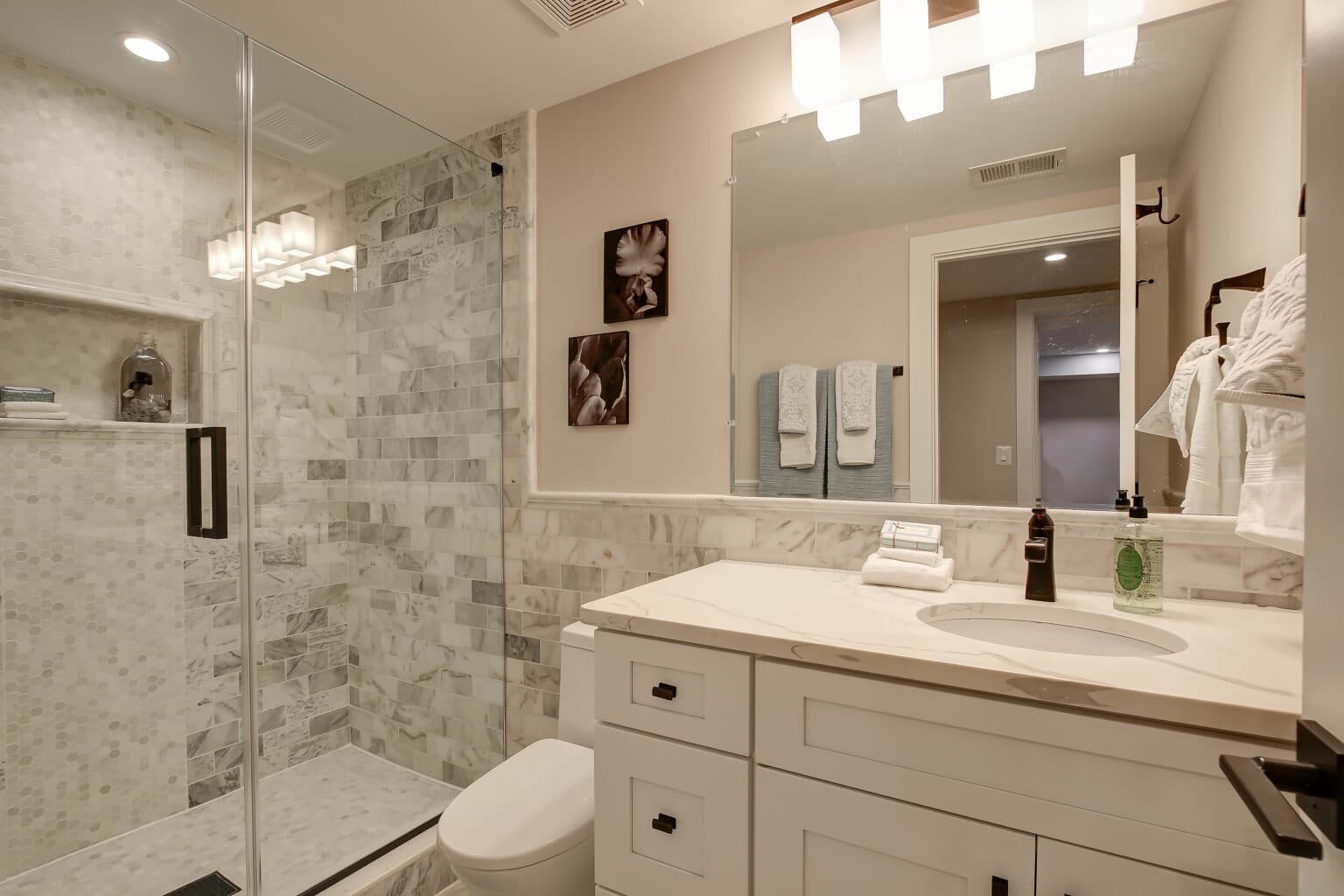 A bathroom requires a lot of storage, even if you do not realize it in the beginning. So you should decide the storage spaces for your items beforehand. Since the bathroom is already small, you may not have additional space to make it into a storage space, so you may have to adjust in the already given areas.
In the shower: Since there is restricted space in a washroom, you need to try and fit your essentials wherever possible. Hanging up glass shelves above the tub or in the shower cubicle to keep your cleansing products is a real space saver.
Vanity storage: If you are on a budget, go for a vanity that will not require you to meddle with the plumbing. You can either build yourself a vanity or get a store-bought one. A vanity is helpful as a storage space in a bathroom.
On the walls: If you don't have extra space in your bathroom to have small cupboards or full-length racks, go for floating shelves, wall cabinets, hooks, and frames, and maybe an in-built closet for the linens.
Don't Forget the Trends
When you plan on remodeling your bathroom, it is also essential for you to follow the trends that suit your lifestyle. Following the trends help in upscaling the value of your home in the market. A few trends, both budget-friendly and expensive that will never go out of style and make your bathroom look extravagant are:
Smart Showers: An increasingly popular trend is the smart shower. You can control the water temperature, play music, and much more with the voice and Wi-Fi controlled showers.
Heated Floors: Heated floors are the new trend in luxurious bathrooms. They help avoid post-shower chills and also dry up faster than unheated flooring.
Body Jets: Shower body jets are huge at the moment and also make a bath super convenient. If you wish to install one in your bathroom, keep in mind the placement and the height before installation.
Non-slip flooring: make your bathroom safer for use with slip-resistant flooring, with a rating of 0.42 or more.
Drawer Chargers: Loose wires and items strewn around make the countertop look cluttered. Vanity drawers with outlets are a great way to avoid such a mess in your bathroom. Similarly, it can also make it look sophisticated and classy.
Choose the Right Toilet
Last but not least, this bathroom remodel guide suggests that the best way to save some funds. You can buy your toilet and then install it yourself. This helps you cut back on labor costs. With the money you have saved, you can spend it on a new, self-cleaning toilet, which is not very expensive.
`