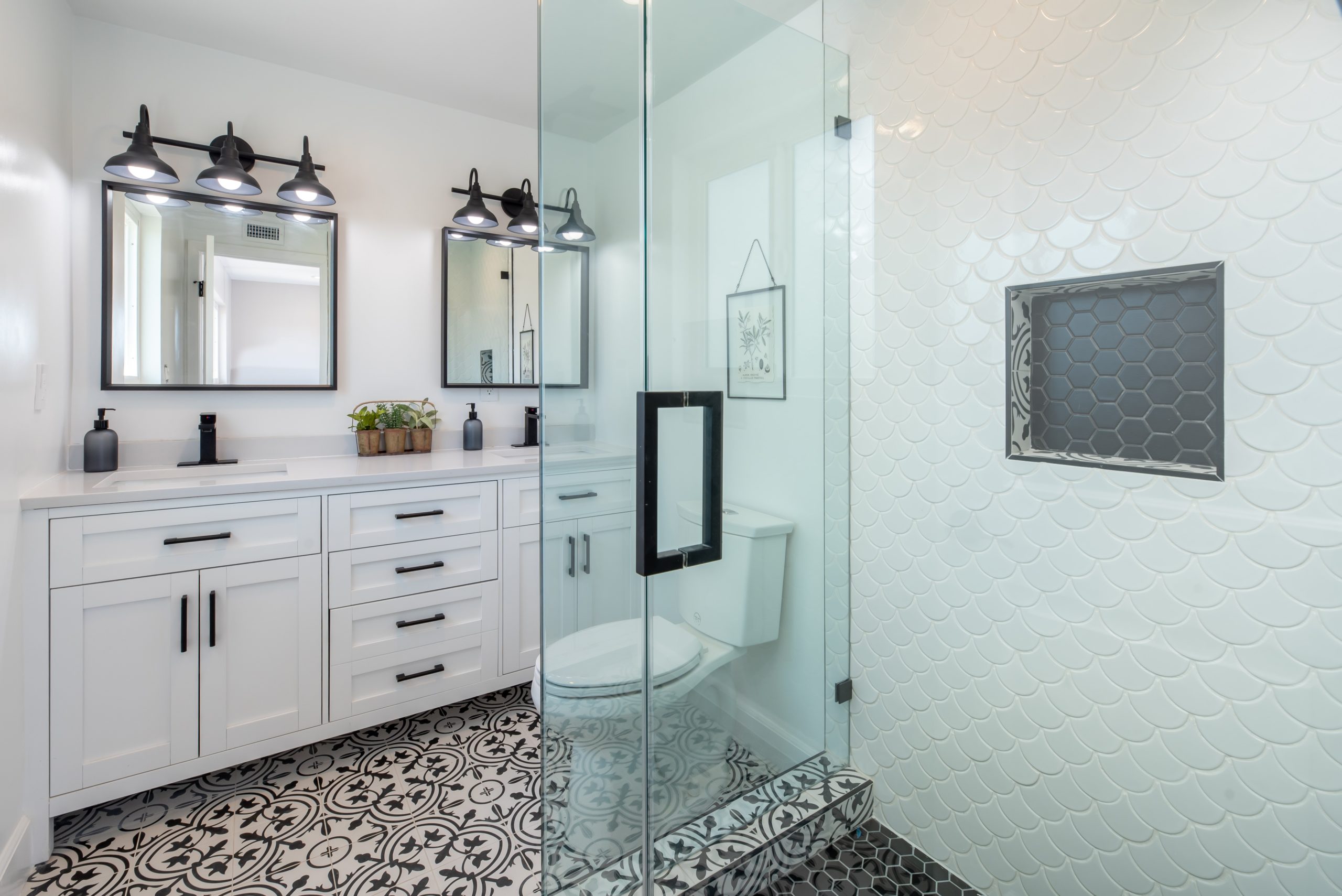 Modern Bathroom Remodel Design Guide: Everything You Need to Know
Because a bathroom design is much more than choosing a tap or tiles — it's always good to have some handy resources with you. Follow the right course and you'll be rewarded with a beautiful and functional space. Get it wrong and you will find yourself saddled with a space afflicted with impractical niggles, or, even worse, that needs to be done all over again. To help you, we have created this modern bathroom remodel design guide that covers everything you need to know.
Why a Modern or Contemporary Style Bathroom?
If a modern bathroom remodel is on your mind, you might be weighing the pros and cons of having a contemporary bathroom.
The reasons are many, but essentially they are timeless living spaces with stunning pared-down aesthetics. Characterized by minimalistic shapes and clean lines, modern designs personify "Less is more". Think of geometric shapes, minimal colors, and mid-century furniture. The style is all for a clutter-free ambiance, using up the available space efficiently and letting you mix and match your favored styles.
If you think it might be the right fit for you and your family, be sure to follow through with these do's and don'ts.
Do's and Don'ts of Modern Bathroom Remodel Design
1. Don't Allow Your Door to Open to the Toilet
That's a bathroom remodel design mistake most renovators make while planning the layout of their bathroom.  Never ever allow your bathroom door to face the toilet directly. It's a complete style blunder besides being unnecessary.
Instead, Do…
Make sure to place your toilet behind the door or at a spot that doesn't face the bathroom door when you open it. More importantly, make sure to include a separate toilet in your main bathroom to avoid a commotion outside the bathroom when it is in use.
Try to inculcate cabinets, a mirror, and, a basin in your powder room. It will take off the burden from the main bathroom and create an extra room for family members who may want to get ready in the mornings.
2. Don't Stinge on Storage
Aesthetics are important in your bathroom remodel, but there is no reason to ignore the functional aspect of your space. Well-designed storage keeps your bathroom looking stylish and clutter-free (Another important feature of a modern bathroom)
Instead, Do…
The basic purpose here is to add space to stay organized.
Hang a floating shelf to store and create an airy feel.

If you aren't keen on shelves, pick up stylish baskets to place under the sink for a great rustic look.

Pull in bar carts that aren't closed with cabinets or shelves. They can be rolled around and work as a great asset for retrieving essentials when in shower.

Do not ignore the ladder towel rack. It is a huge statement-maker and an out of the box idea to hang your towels.

Create a niche in an unused corner to house floating shelves. Use it to store towels and display your best fragrances, soaps, and even candles.

Flaunt a stylish medicine cabinet that stores and adds to the modern theme.
3. Don't Compromise with Lighting
Poor lighting stems from placing too many downlights over the vanity, shower, or toilet. It leads to the entire bathroom being overlit that kills the entire ambiance. At the end of the day, we want our bathrooms to play the role of soothers, and not distracters. Besides too much overhead lighting will lead to shadowing when you look into the mirror and interfere when you put make-up or shave.
Instead, Do…
Modern bathroom design vocabulary is all about great lighting inspiration. Think of orb chandelier that injects modern industrial style into your bathroom. Lantern pendants above full-length mirrors and the basins are a complete visual treat. Try Hollywood style bulb lights around your bathroom mirror. The lights infuse a glam and timeless look. Ever tried a neon glow for your bathroom? They give your shower space a fun and funky edge.
4. Don't Push the Fixtures along the Perimeter of the Room
It is a design blunder that you can spot, especially in bathrooms, with plenty of space. What generally happens here is that all the fixtures find themselves placed along the perimeter of the kitchen leaving empty space in the center of the room.
Instead, Do…
If your bathroom is big enough, do divide it into separate zones for bath, shower vanity, and toilet. The setting will enhance the design language of your bathroom and give it a more luxurious semblance. Besides, creating separate zones will give a full (not cluttered) feel to the space that is flattering enough.
5. Don't Ignore the Existing Plumbing Points
A new layout must necessarily relate to the already existing plumbing points or infrastructure.
Instead, Do…
Do consult your plumber to figure out if the new layout of your bathroom will fall in with the current plumbing points and infrastructure. If you do not want to relocate the plumbing points, consider changing the planned layout. On the other hand, if you are thinking of moving the plumbing points to suit your new layout, remember that the step can blow out your budget.
What to Do and What Not to During a Modern Bathroom Remodel Design
Laying modern bathroom remodel design can be grueling both in terms of the cost and the effort involved. You want to make sure that it delivers the needed functionality all the way. Every design element when viewed in isolation can give you a high but it is the final arrangement in a perfect layout that gives your space its real meaning.
It is recommended to start with full clarity of your design decision that will ensure a flawless space that you can enjoy for years to come.