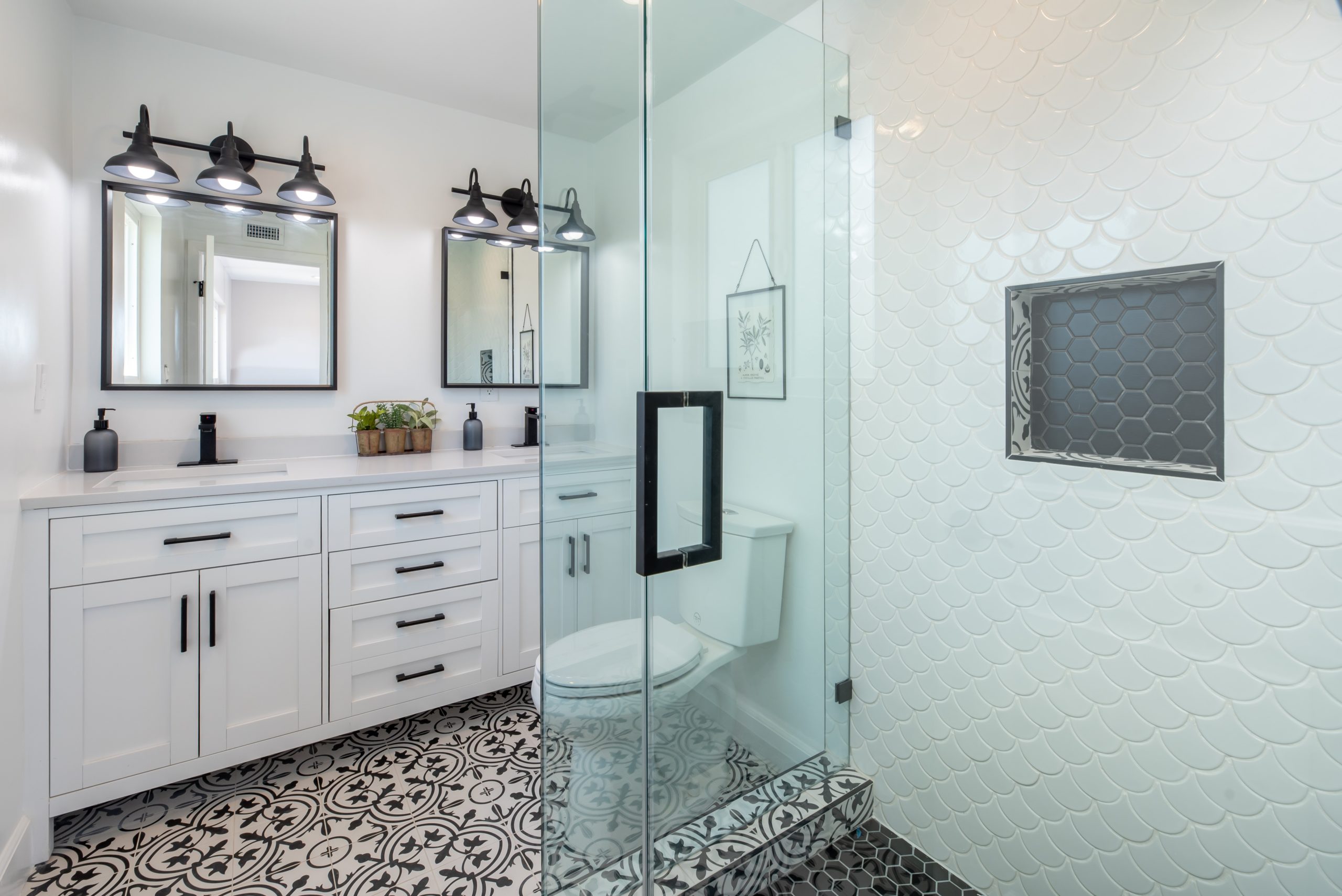 Selling Your House? 11 Bathroom Remodel Ideas That Pay Off
Looking for bathroom remodel ideas to increase your house resale? Keep reading!
Bathrooms can make or break the deal in a home resale. 
No, this is not an exaggeration. As one of the most important spaces of your home, an all-new bathroom goes a long way in inspiring great offers on your house. And bathroom remodels play a key role in sprucing up your property for that. 
But how do you expect to lure the buyers by updating the usual detail? You don't have any leverage as opposed to other homeowners if your bathroom has the same old all-white theme. Give your buyers something new or preferably exciting to think about in addition to a few regular updates with these bathrooms remodel ideas, and then you create your own leverage. Not only do you stand to gain more in terms of money, but you might also expedite the resale process too.
But what you do matters with all these bathroom remodel ideas just as much as the vision. You don't need a jacuzzi in your bath to benefit here. Some key updates can do the trick for you without you needing to spend so much.
According to the current home improvement industry trends, this list of bathroom remodel ideas enumerates the top bathroom updates in terms of ROI.
1. Replace Your Bathtub 
Get rid of your old tub and invest in a nice sunken down bath by lowering your tub that will definitely increase your house's resale value. The idea is to erase the line between the waterline and the floor for an exotic spa-like ambiance. The tubs are available in a range of shapes and sizes, and can turn a simple bathroom into an exotic retreat.
However, before making your mind to infuse the idea into your bathroom, consult a professional contractor who will advise you if you have the right space in your bathroom to incorporate it.
2. Incorporate Doorless Showers
Doorless showers add a host of style possibilities to your bathroom. 
Consider converting your extra bathroom into a relaxing zone by eliminating all barriers between vanity, tub, and the shower. A ceiling suspended rain showerhead will further enhance the appeal besides directing the water away from the other elements in the bathroom. Think of an interior transom to light up and ventilate the shower, especially if your doorless shower has no exterior window. 
3. Update Glass on Windows
Consider replacing the old, stained glass look on your existing windows in the bathroom with frosted glass. The change will ensure that enough light enters the bathroom without exposing the users.
Remember, not every update in bathroom remodeling services has to be expensive to create that killer look in your bathroom. 
4. Consider Updating Bathroom Doors
Go creative and classy with the bathroom door. You need something exclusive rather than the regular paint and polish to attract the prospective buyer. Remember that the ordinary bathroom door that you have been living with for years is not going to add any bucks to your property unless you add a new element like a barn door.
Whether it is rustic wood for a minimalist look to warm up the space, or a salvaged old door with a fresh coat of stain for reviving your bathroom — everything works! Many like to hang their regular bathroom doors with barn doors hardware to create an exciting theme.
5. Update Your Bathroom Tiles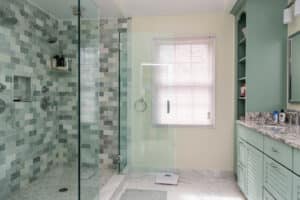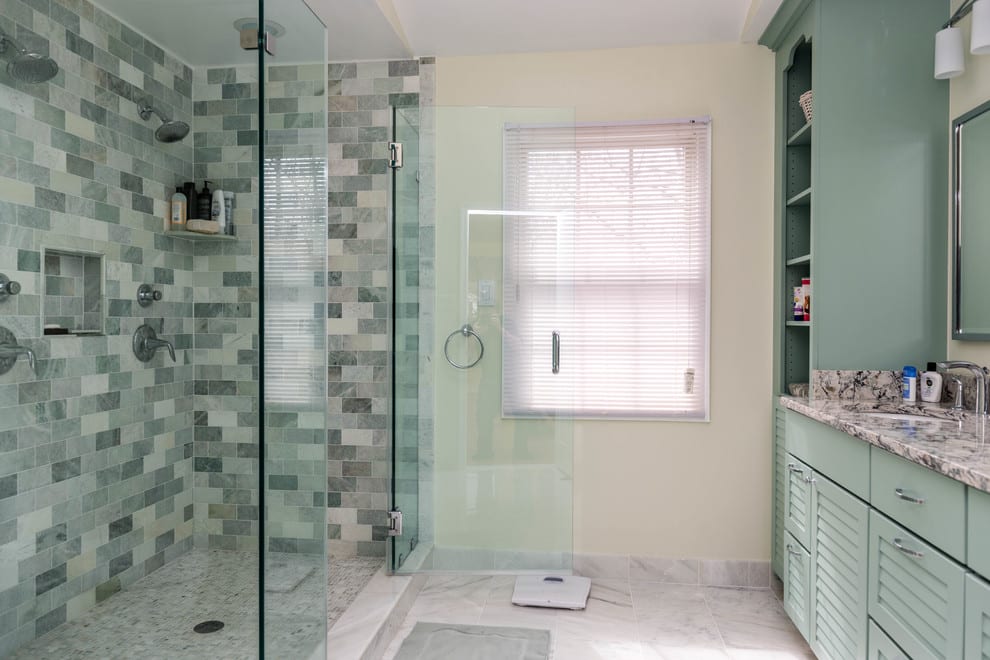 Selecting the bathroom tiles can be an excellent way to be artistic with your bathroom.
Sounds farfetched? It's not. Ever seen those dazzling patterns on the floors of some high-end bathrooms? They are much easier to replicate than you'd think. A pop of color, for instance, goes a long way. You might be obsessed with your all-white bathroom look, and probably find it hard to part away from the subtle tones. But there's always room for a change. Especially to make a place for the bold and the beautiful in your life.
Be it shower or the tub or the floor or even the wall, there's a plethora of colors and tones you can choose. Opt for a mix of white and black marble for a decidedly different look without being too loud. Herringbone tiles on the floor make an elegant statement too. Penny ties on the wall bring in an absolute freshness to your bathroom as well. You can also use faux wood tiles to infuse wood accents all over your bathroom for an exotic feel.
6. Repaint Your Bathroom
Repainting your bathroom is probably the cheapest option around to get rid of the tired and the stale ambiance playing the spoilsport in your bathroom.
Depending upon your taste, give a makeover with tints and hues. Honestly speaking though, neutrals are considered safe from the point of resale. 
7. Enhance House Resale Value With Added Bathroom Storage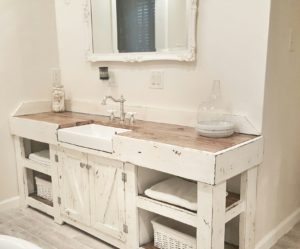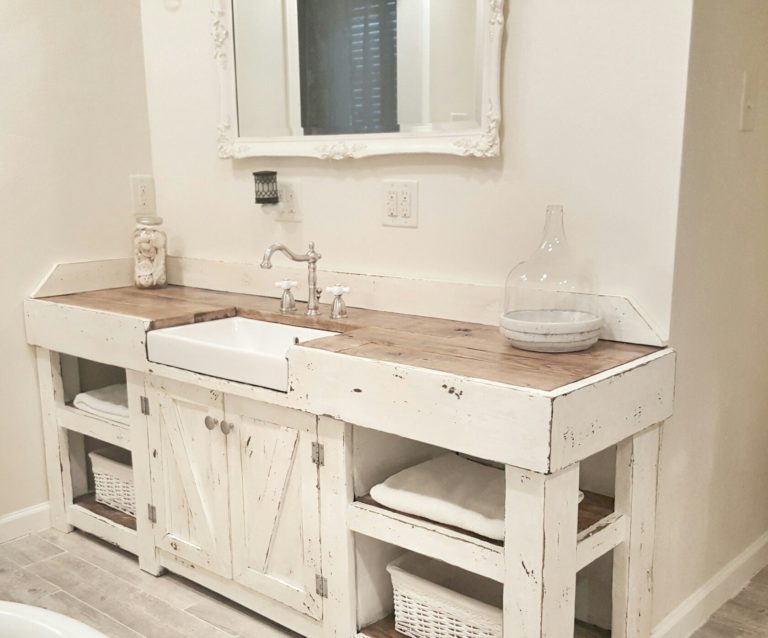 With the change in lifestyle and needs, the need to have enhanced bathroom storage is pronounced today more than ever.
And most bathrooms are notoriously famed for not having enough storage space. So it goes without saying that if you are seriously looking to add brownie points for your bathroom, add as much storage as your bathroom will allow. 
Use up the vertical space for storage, especially if your bathroom sports a single vanity cabinet. Think of storage on the walls. Open shelves, cabinets with sliding doors or push to open feature, or corner cabinets with drawers for storage. This extra storage room will be a huge favorite among the buyers, especially.
8. Cover Your Laminate Sink with Concrete Overlay
Laminates are so passé, but if you are stuck with a laminate sink at all, consider covering it with a concrete overlay for a sculptural and bespoke appeal.
Basically, you are using a relatively inexpensive material and giving it a unique finish. Smooth, rustic, cracked, and chiseled-like-stone are a few finishes you can choose from. Besides, color pigments and liquids can give you endless color options to indulge in to create a classy statement in your bathroom. 
9. Update the Plumbing Fixtures
Updating fixtures can instantly revamp your bathroom space, making it look more inviting.
Opt for popular ones like the brushed nickel or satin finish that go with most of the tile styles. If you prefer a more classic style, think of chrome, though it may leave water spots for you to deal with.
10. Upgrade Your Vanity Tops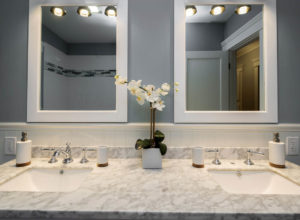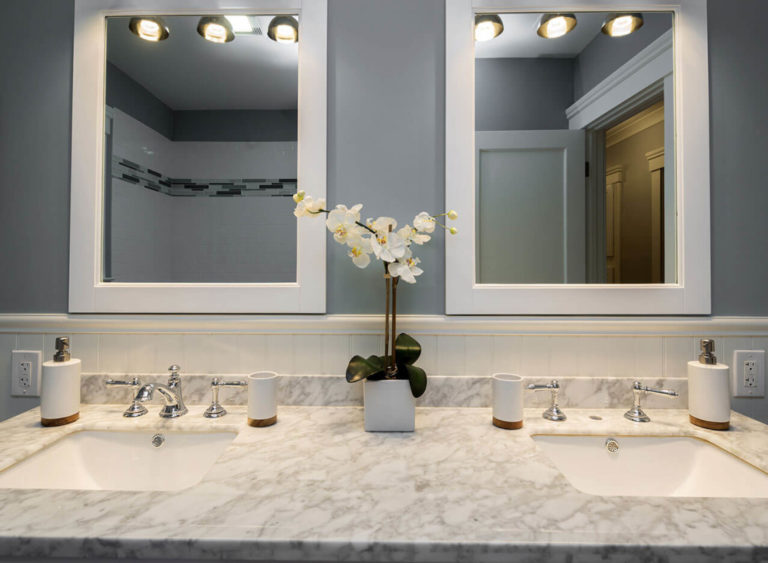 Bathroom vanity countertops grab attention quicker than any other element in your bathroom. Outdated vanity tops, on the other hand, create a drab statement in your bathroom, pulling down the appeal of the space. This won't help you when you are selling your house. 
If you are looking for an update, natural stone is a good option for a countertop as it is both durable and gives a luxurious façade to your bathroom. 
Granite countertops are our favorite among all natural stone options, though. Granite is a beautiful material besides being durable. It lasts through time with the potential to create that pull that brings in buyers. On the other hand, if you prefer something more contemporary, Quartz countertops are very "in" at the moment too.
Fire Up Your House Resale Value
These ten bathroom ideas will significantly increase your house's resale value in a highly competitive resale market. These affordable bathroom upgrades won't break your bank and will add value to your house when you sell it. You can check out our bathroom remodeling packages that are perfect if you want to completely transform your bathroom without spending too much.