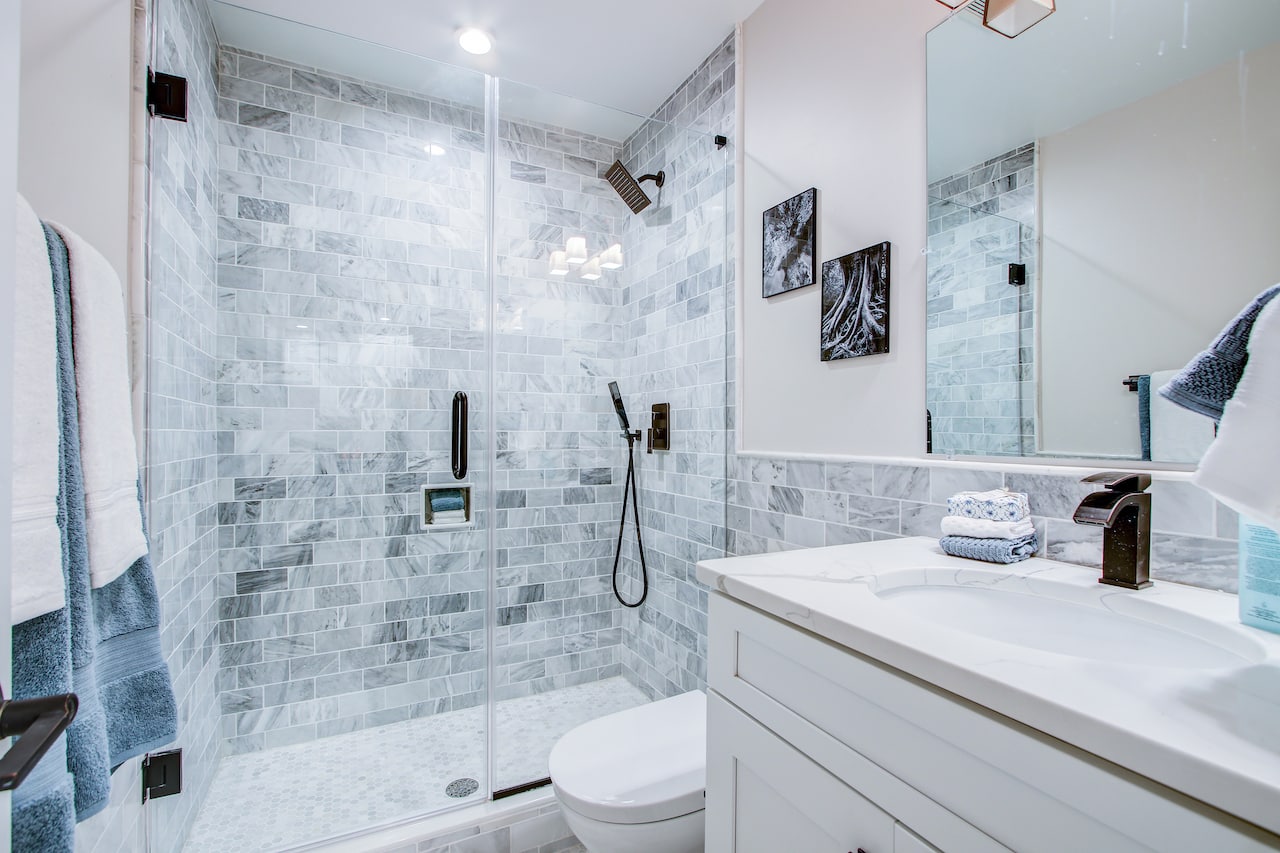 Traditional Bathroom Remodel Ideas For Your Next Upgrade
When it comes to traditional bathroom remodel ideas, you have endless options to choose from. From the bathtub stone to the lacquer, from the tilings to the wooden cabinet, and so on, everything has its say in defining a charming privy. 
The traditional bathroom designs have ruled over everyone's mind, and why won't they? Such bathrooms are classic in appearance and feel more like an indoor spa oasis with super luxury touches all around. 
The bathroom design is an important aspect of the entire bathroom remodeling process. If you are someone who's a fan of the classic aesthetic, a traditional bathroom layout design is definitely in your favor.
Below is an exclusive assortment of the top and most sought-after traditional bathroom remodel ideas you can't afford to overlook. 
Add Texture to the Bathroom
It's a well-known saying that a well-designed bathroom fills the entire home with the right vibes. To amplify these vibes, add textures to your washroom. For this, you can go for crown molding, smooth wainscoting, and a tiled floor. 
Regarding the tiles, pick one that contrasts with the bathroom and is a little bit textured enough to feel with bare feet. Furthermore, for the walls, go for textured wallpapers and add one or two pendant lights to light up the entire area. If possible, some chrome work would elevate your bathroom design.
Furniture Is a Must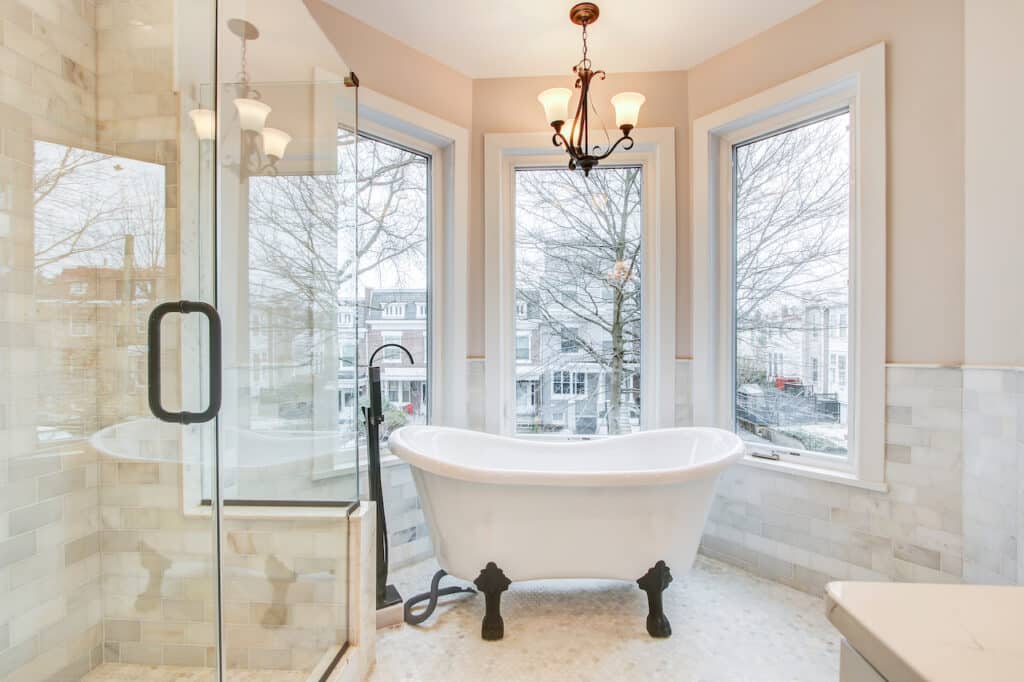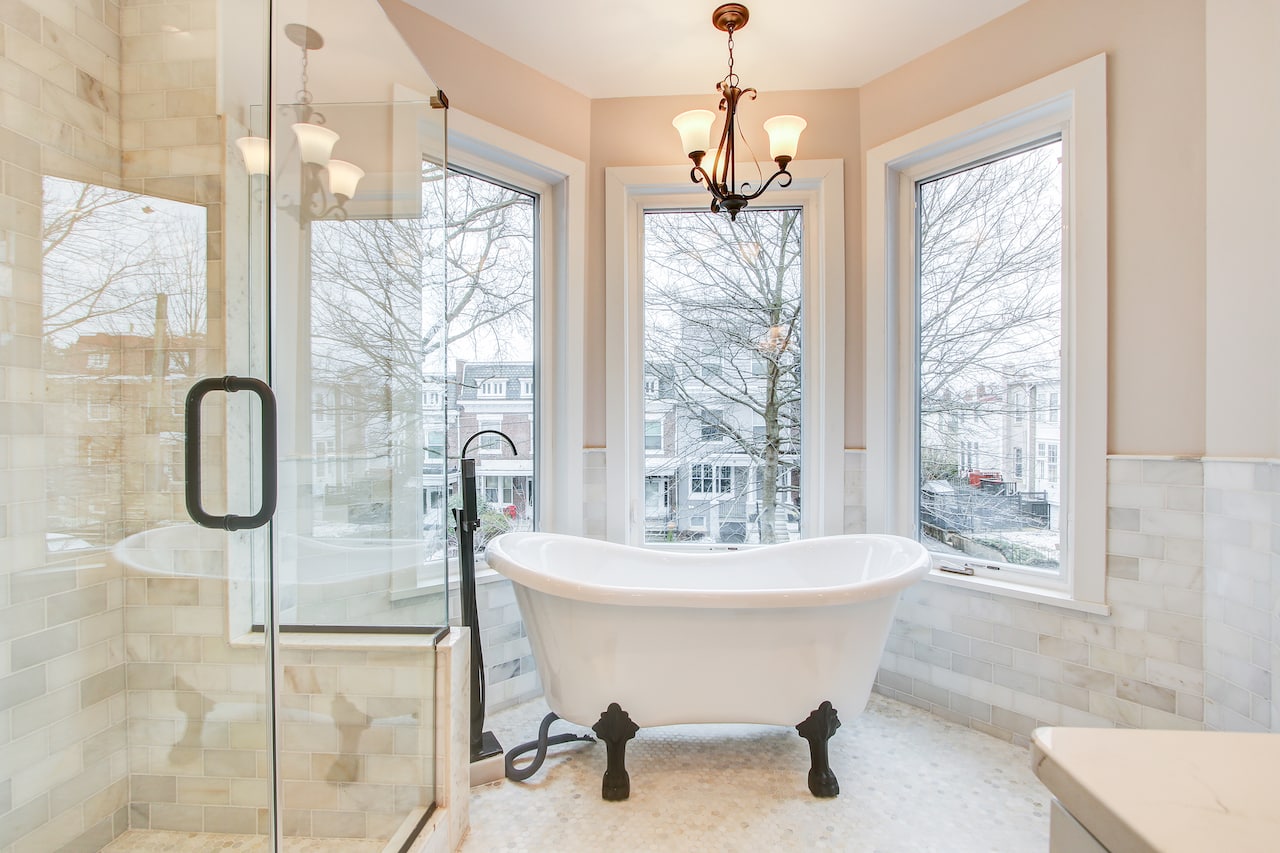 Most of the traditional bathroom remodel ideas will incorporate decent woodwork, and why won't they? Modern-day bathrooms should resemble those found in France as it boasts some of the startling washrooms than others. 
Woodwork enhances your bathroom's overall appearance and provides ample storage space without cutting out the elegant ground space. Use your creativity and brainstorm about cool bathroom cabinets with varying depths as an alternative to the traditional cabinets.
Use Blue as Much as Possible
Regarded as a calming yet sophisticated color shade, blue is mostly preferred for bathroom color options. Its bold and bright look enriches the bathroom and blends perfectly with almost every element of a standard bathroom remodel. 
Be it fresh blue flowers peering from a corner or the bright blue tiles underneath you, it will add a different aesthetic to your bathroom. As an add-on, a blue-themed giant pendant light will fill the remaining voids to lend you the most vivid bathroom.
Add a Built-In Dressing Table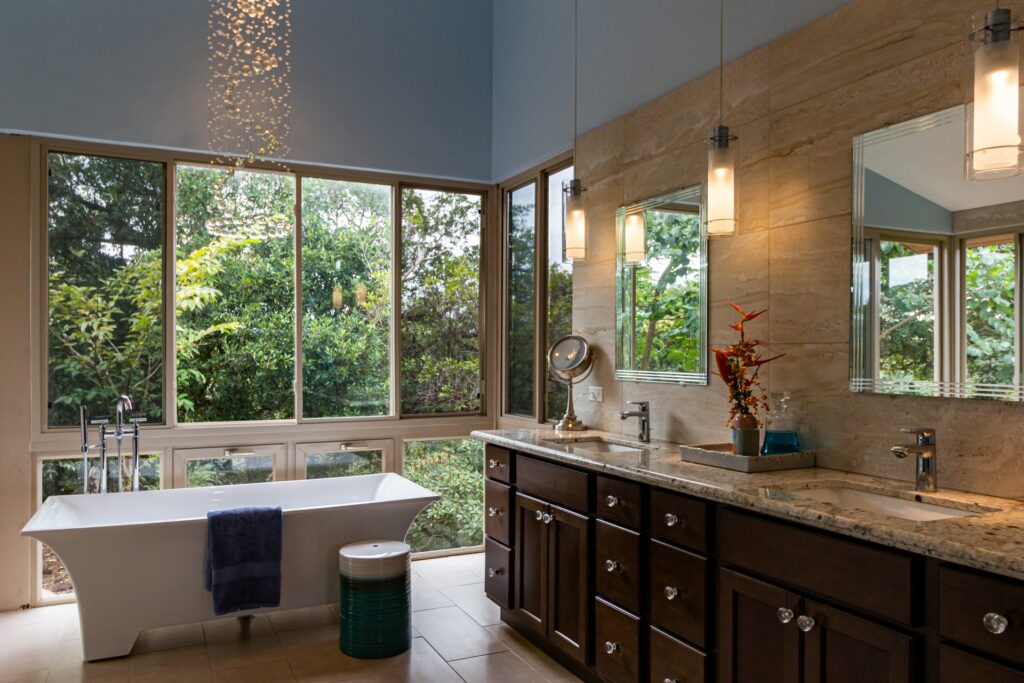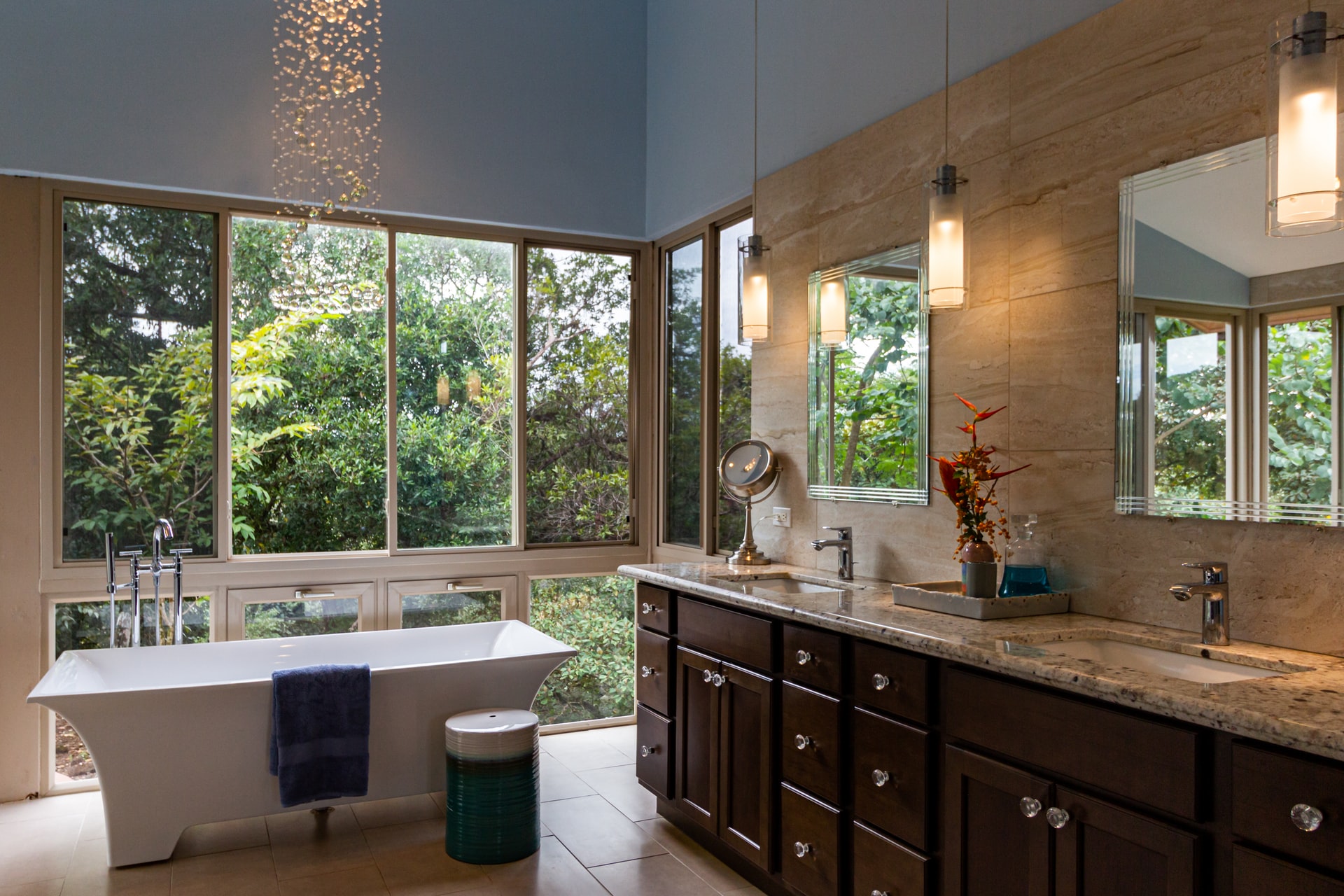 Ever thought of having a built-in dressing table within a bathroom? If not, you better have one in your plan this time. Though traditional bathrooms have all sorts of amenities one would usually ask for in his/her bathroom, a built-in dressing table is what it usually lacks!! 
So, this traditional bathroom remodel idea involves setting up a dressing table inside the bathroom itself. A subtly shaded cabinet with multiple drawers of equal length and a giant mirror in the front completes the dressing area. 
However, make sure to decide the storage space as per your needs to avoid compromising on the storage later on.
Can Wood Paneling Replace Walls?
You may wonder that wood paneling instead of proper walls may not form an ideal option for a bathroom; however, that's what modern-day bathrooms need. Wood paneling inside a bathroom furnishes it with a timeless look. You can select your wood style among the various options available in the market. 
One of the commonly preferred paneling is the rich cherrywood with a matte finish for a sophisticated yet elegant appearance. A coating of any water-resistant material would complete the job to keep it away from moisture or water. 
Pebble Floored Walk-In Shower
Traditional bathroom remodel ideas are incomplete without a walk-in shower. Now, a walk-in shower may seem like a common feature of tons of bathrooms, but the one with a unique bathroom flooring idea like a pebble floor isn't. 
Yes, replace the usual bathroom tiles of your walk-in shower with pebbles, and its column just behind the shower will make you feel like you're on a beach. Besides the pebble flooring, you can also look for some marble finish in the remaining corners of the walk-in shower.
Walls With Forest Wallpaper
If you're tight on your budget yet gather the best looks for your bathroom, go for wallpapers. Preferably, forest wallpaper is what is becoming everyone's choice these days. 
A forest wallpaper with lithography and black & white art forms makes you assume yourself in the center of a forest. 
It also enhances the etched personality of your bathroom to a great extent. Hence, go for walls with forest wallpapers while remodeling your traditional bathroom.
Waterfall Theme Walk-In Shower
Ideally speaking, a waterfall theme walk-in shower is something everyone should include in their traditional bathroom remodeling ideas. 
You must have experienced or dreamt of showering under a waterfall amid a forest. If yes, you must have dreamt of the same inside your home too.
Then why not bring it in this time? It takes just a translucent glass slider, one slate wall, and one natural stone wall to design the perfect shower for your bathroom. For the waterfall, there's a built-in horizontal slot on the stone wall. 
Subtle Decor Pieces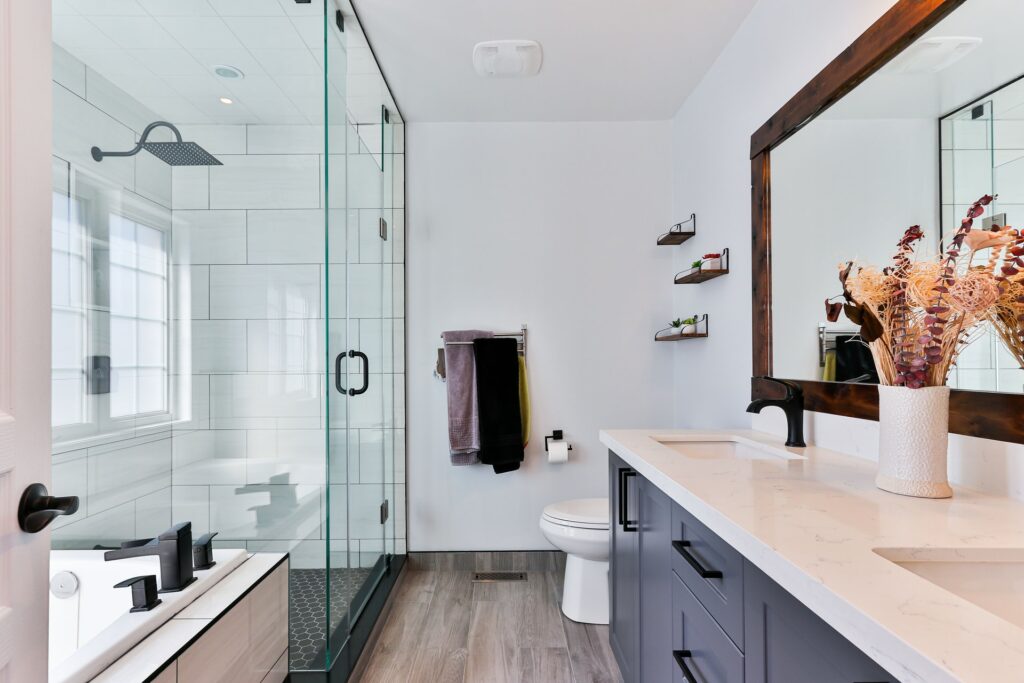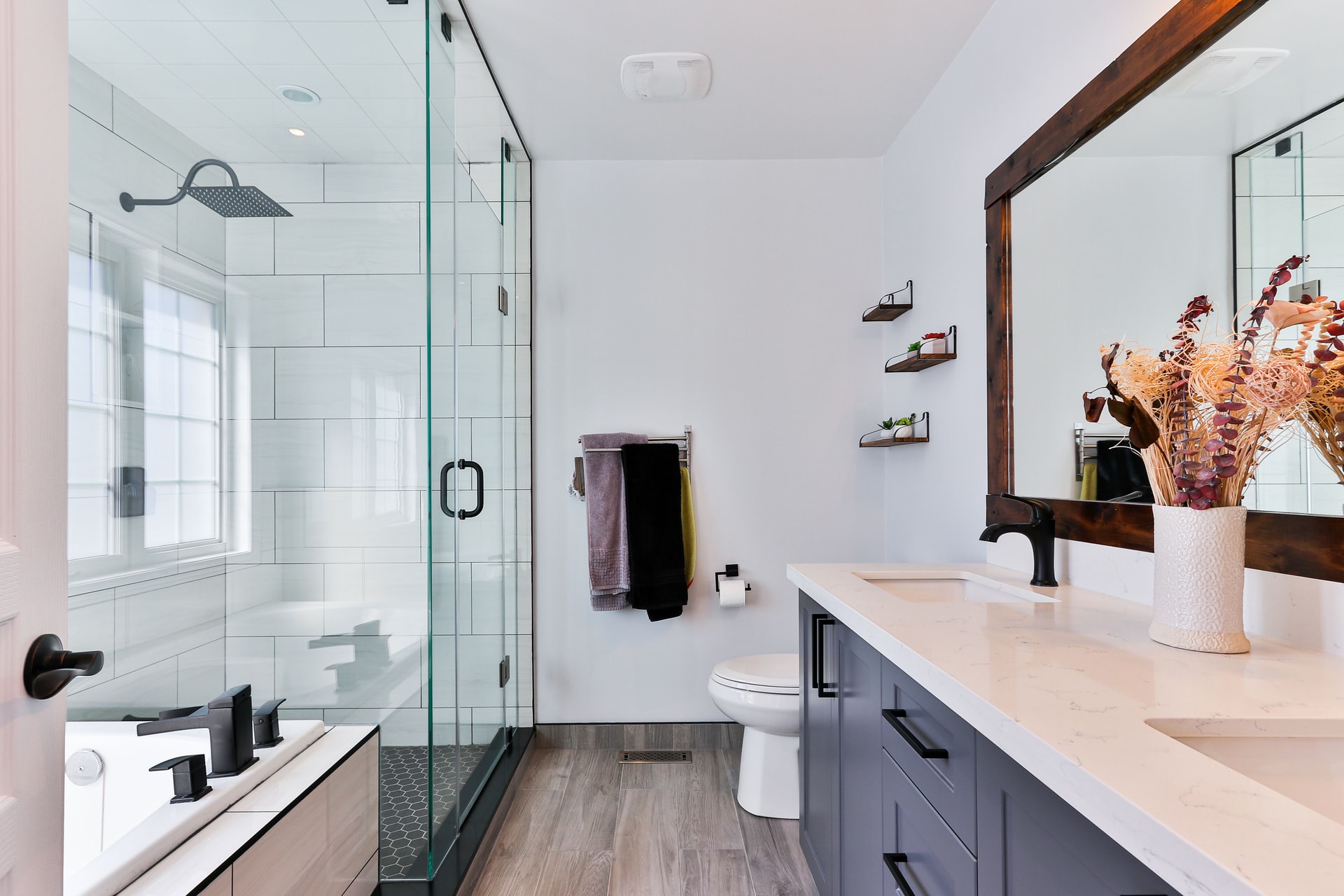 When you are talking about the traditional bathroom remodeling ideas, how can you forget about the 21st century subtle touches? Besides elegance, they are eye-grabbing too. A medium-sized mirror with rounded corners and a golden-legged stool sitting in front of it pops out primarily. 
For the background, go for the dominance of the black & white striped design. A cylindrical white marble sink will go very well with the entire setup. The key to nailing your traditional bathroom design is to keep things simple. Simple fixtures go a long way and help you make the most of your design plan.
Honeycomb Tiles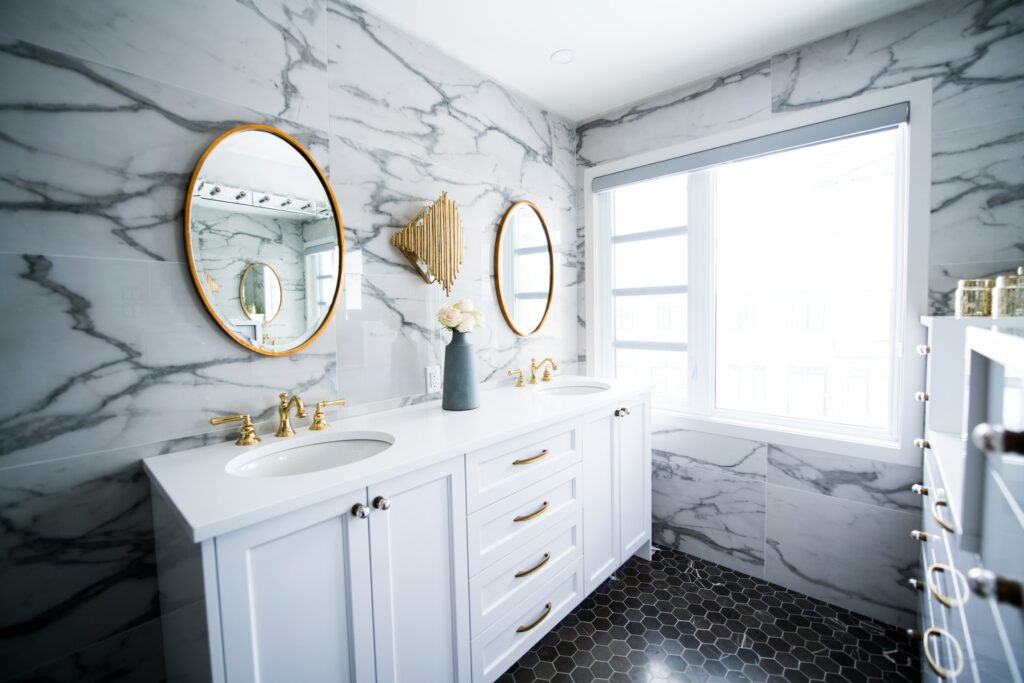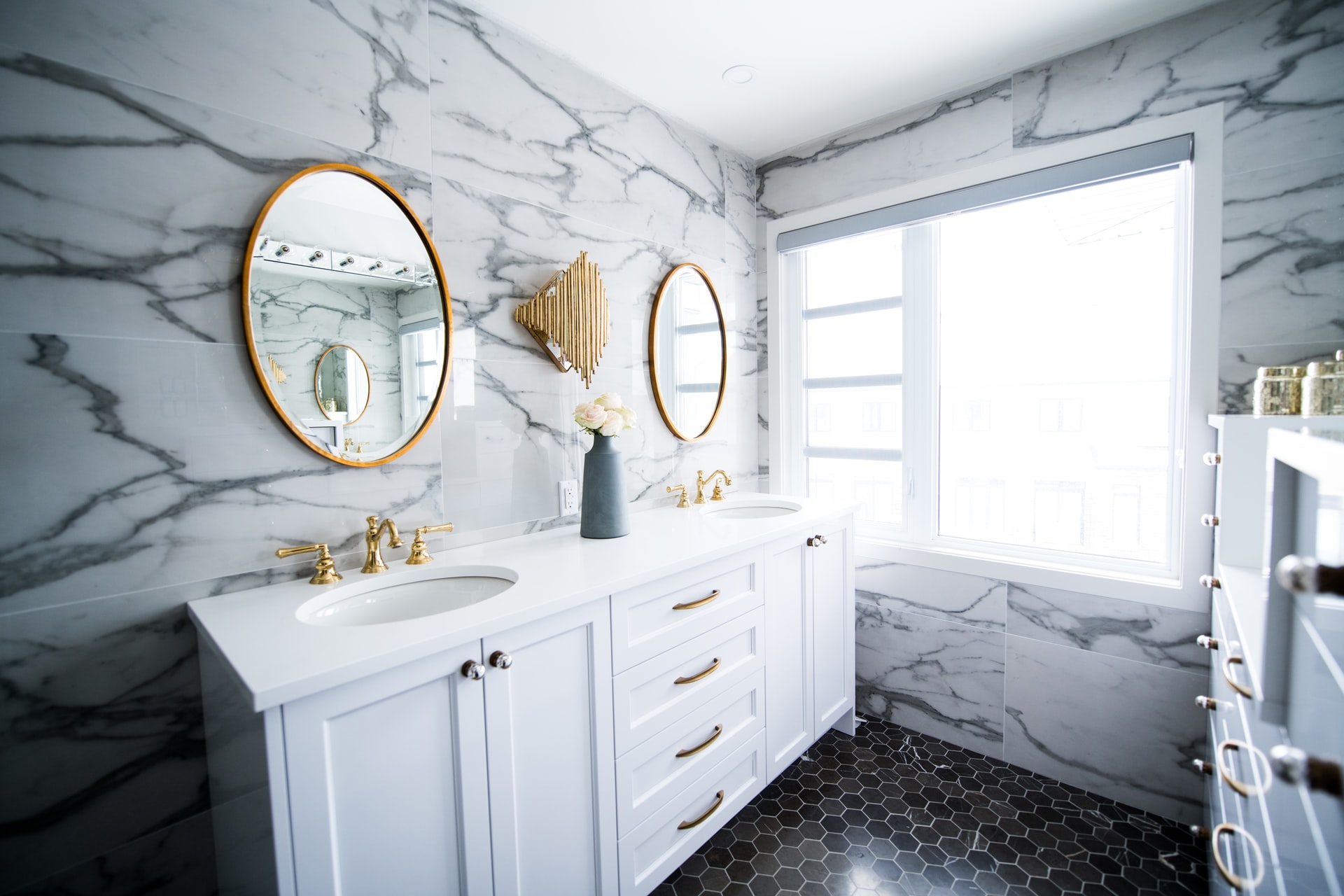 For a narrow bathroom space, honeycomb tiles are the best option. The honeycomb tiles not only widens the limited space but also give your bathroom a luxurious touch.
You may include brass or golden faucets to complete the formality of the honey theme too! However, for a better look, go for a black and white honeycomb structure for your bathroom remodel.