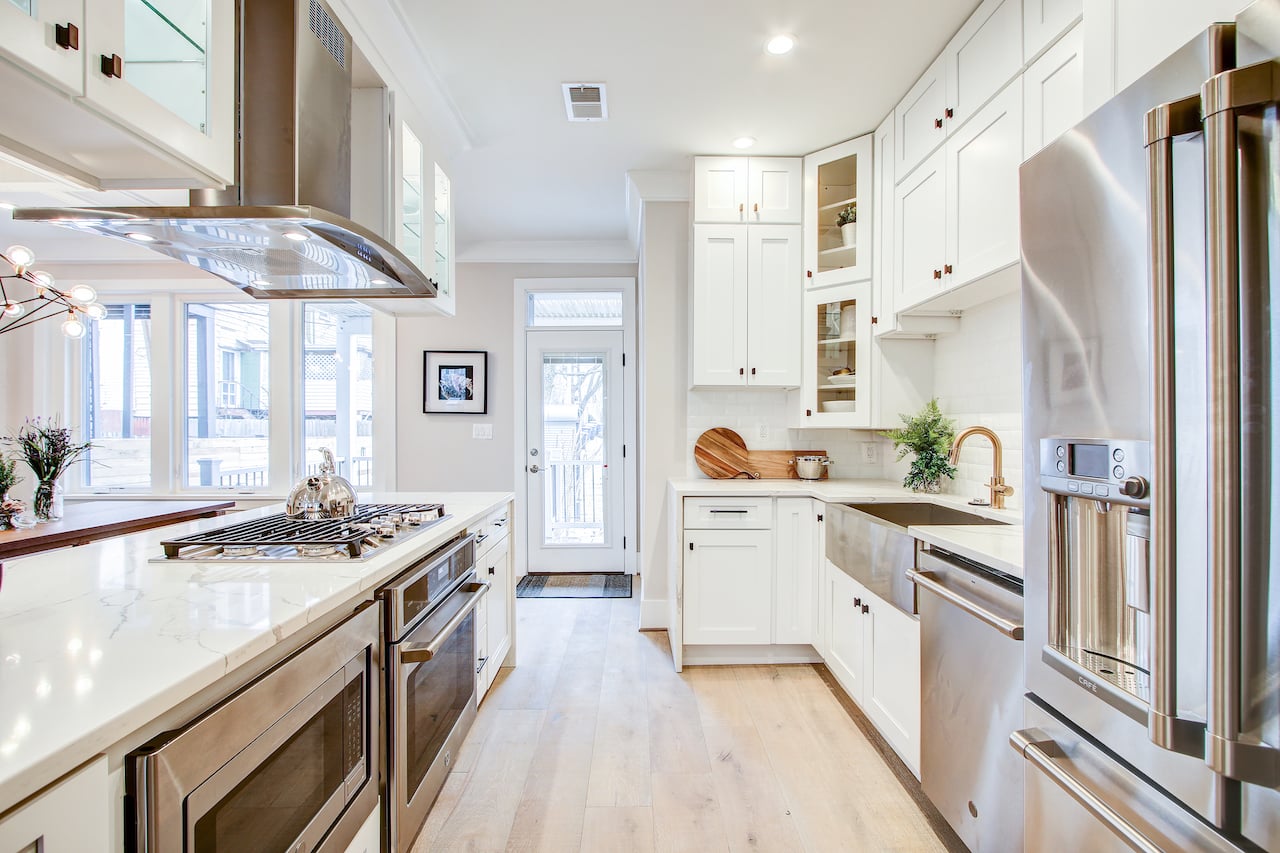 Understanding A Small Kitchen Remodel Budget (With Cost Breakdown)
Admittedly, the small kitchen remodel budget is considerably less than that of larger kitchens. Still, it is a significant investment and, on average, a small kitchen remodel costs between $17,500 and $21,000. That's considering the dimensions to be around 70 square feet. At this rate, the per square foot cost for a small kitchen remodel comes about to be $250. 
But again, it's a rough estimate. Nevertheless, a minor project between $7,000 and $12,000 may include painting walls, upgrading the sink, and refacing cabinets. For a high-end remodeling project, prepare to spend between $35,000 to $56,000 as that will include custom cabinets, granite counters, high-end appliances, redoing the plumbing, and installing hardwood floors. 
How Much Does a Small Kitchen Remodel Cost?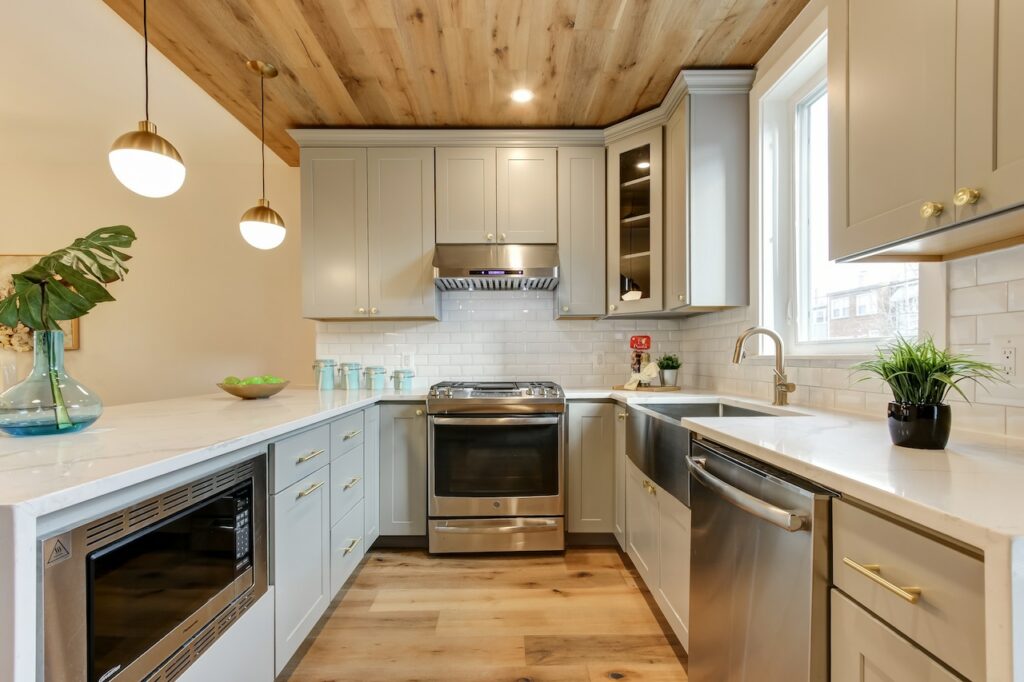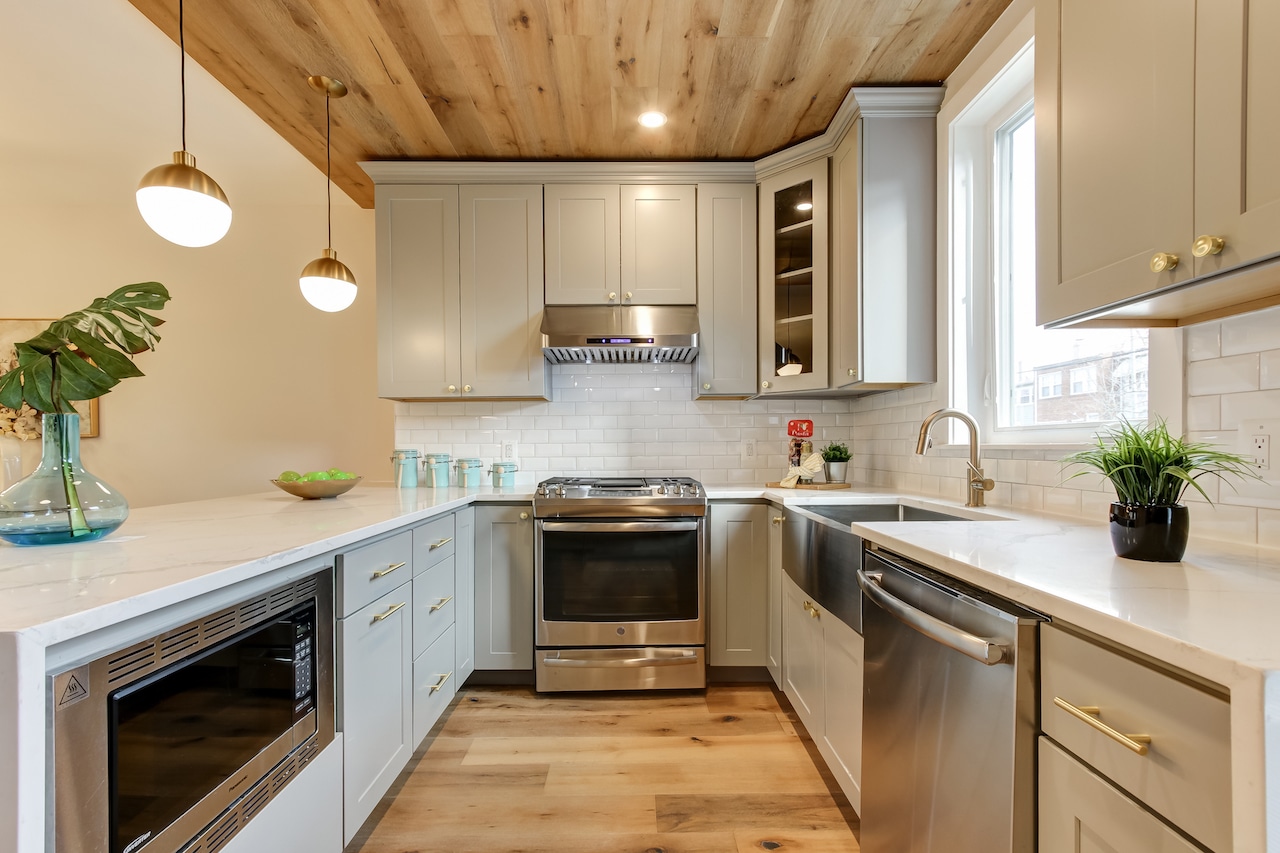 For a simple remodel of a small kitchen that does not introduce drastic changes to the layout, expect to spend between $150 to $250 per square foot. However, at this price range, you could only afford a new floor and repainting of walls.
For a small kitchen of 70 square feet, the average remodeling price will come around between $10,500 to $17,500. Furniture replacement may not be possible at this price; however, repaint will bring a refreshing new look. If you can't settle with the old furniture and want to replace it, the price will rise to around $400 to $500 per square foot, which will finally amount between $28,000 to $35,000 in total.
Further, if you want a complete overhaul of your kitchen with new pieces of equipment, redo the plumbing and electricity, be prepared to spend around $600 to $800 per square foot. In total, for a 70 square feet small kitchen, the total small kitchen remodel budget will come out between $42,000 to $56,000.
From a refreshing touch to a major overhaul, a small kitchen remodel cost can vary significantly. You should note that the prices above are indicative only. The actual price can vary depending upon several factors, including the quality of materials, region, and labor cost.
Scale of the Kitchen Remodel
As mentioned earlier, the kitchen remodel cost depends upon the extent of changes you want to apply to your kitchen. Based on these principles, a kitchen remodel project can be divided into three subcategories, namely – a minor kitchen remodel, a mid-range kitchen remodel, and an Up-Scale kitchen remodel. 
Let's look at the average cost of each category of small kitchen remodel to have a better idea.
Minor Small Kitchen Remodel Cost – $17,500
As the name indicates, a minor kitchen remodel aims to freshen the look without any significant changes or additions to the layout. On average, a minor kitchen remodel will be $17,500 in price. In this budget, you can go for repainting and fresh flooring.
Cabinets and other furniture are often lofty expenses, therefore not possible at this scale. However, money-saving measures like refacing the cabinets are possible at this scale, brightening the room and bringing a fresh look to space.
Mid-Range Kitchen Remodel – $35,000
A mid-range remodel involves significant changes to the existing kitchen. The average cost will be about $35000. You can go for new flooring, upgraded lighting fixtures, a new sink, and countertop as well as decent cabinetry.
If you can cut some expenses, you can even get semi-custom cabinetry matching the dimensions of your kitchen.
Up-Scale Kitchen Remodel – $56,000+
Up-Scale kitchen remodel involves a complete overhaul of the kitchen with a focus on luxury and specialty addition. An upscale kitchen remodel starts from around $50,000, but there is no upper limit.
Some modern kitchen designs with high-end furniture and appliances can even cost an upward of $100,000. The existing layout can be altered with new plumbing and electricals. 
Besides, high-end appliances, custom-made high-quality furniture, and premium material countertops are all possible on this scale.
Breaking Down The Small Kitchen Remodel Budget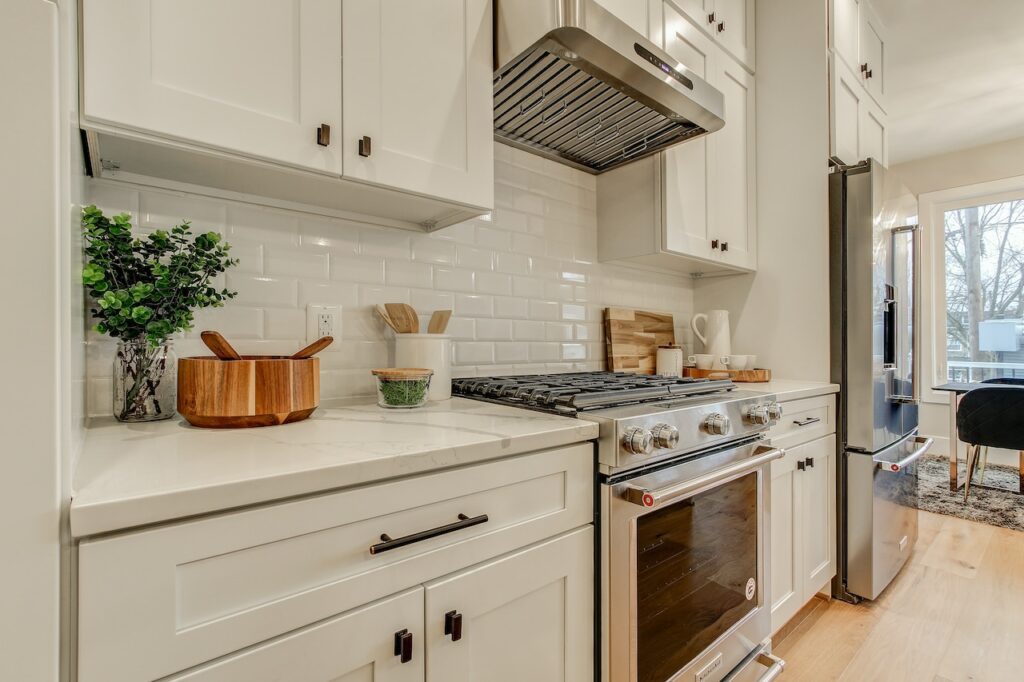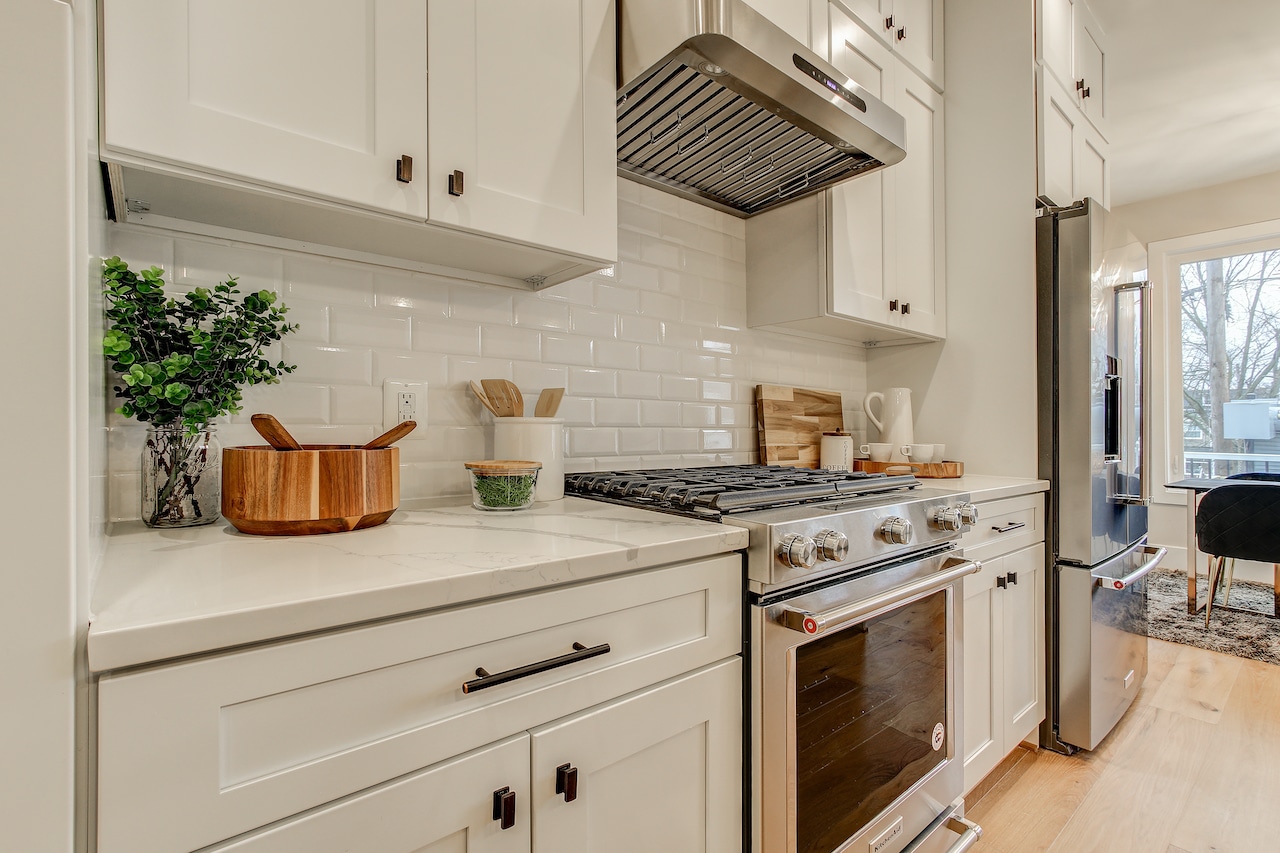 Several expenses will come your way when remodeling a kitchen. Further, the small kitchen remodel cost will shoot north if you want to remodel it from scratch completely. 
Let's break down the cost of a small kitchen remodel based on the key elements that go into the kitchen.
Kitchen Units and Furniture
Significant portions of kitchen remodel costs include the cabinets and other furniture. Entry-level furniture with a DIY installation costs between $1,200 to $2,000.
If you want to move further up in scale, with more choices regarding materials and design, plan a budget between $3,400 to $7,500. However, if you go with custom-made options, perfectly fitting the dimensions of the kitchen, be prepared to burn around $9,000.
Kitchen Flooring
The cost of kitchen flooring is another crucial element of kitchen remodel. Numerous tiling options are available in the market, ranging from $20 to $70 per square foot. 
Entry-level, low-quality porcelain tiles costaround $15 to $20, while high-end custom-made tiles will cost upwards of $50 per square foot.
Kitchen Countertops
The countertop is the focus of any kitchen and therefore involves a significant investment. On average, the cost of kitchen countertops is around $30 per square foot. 
Less expansive materials like tiles will come for $20 per square foot, while premium materials like stone or quartz will be about $70 per square foot.
Labor Cost For Small Kitchen Remodel
Whatever the scale of your small kitchen remodel, labor cost is going to eat away nearly half of your remodel budget. Therefore you must keep at least 50% of the assigned budget for labor costs.This makes it one of the most expensive aspects of a kitchen remodel.
However, the price will also vary depending upon the extent of the kitchen remodel. If you plan to completely change the layout of your kitchen with new plumbing and electrical, it's going to cost you more. On the other hand, labor costs can be kept to a minimum for a minor kitchen remodel.