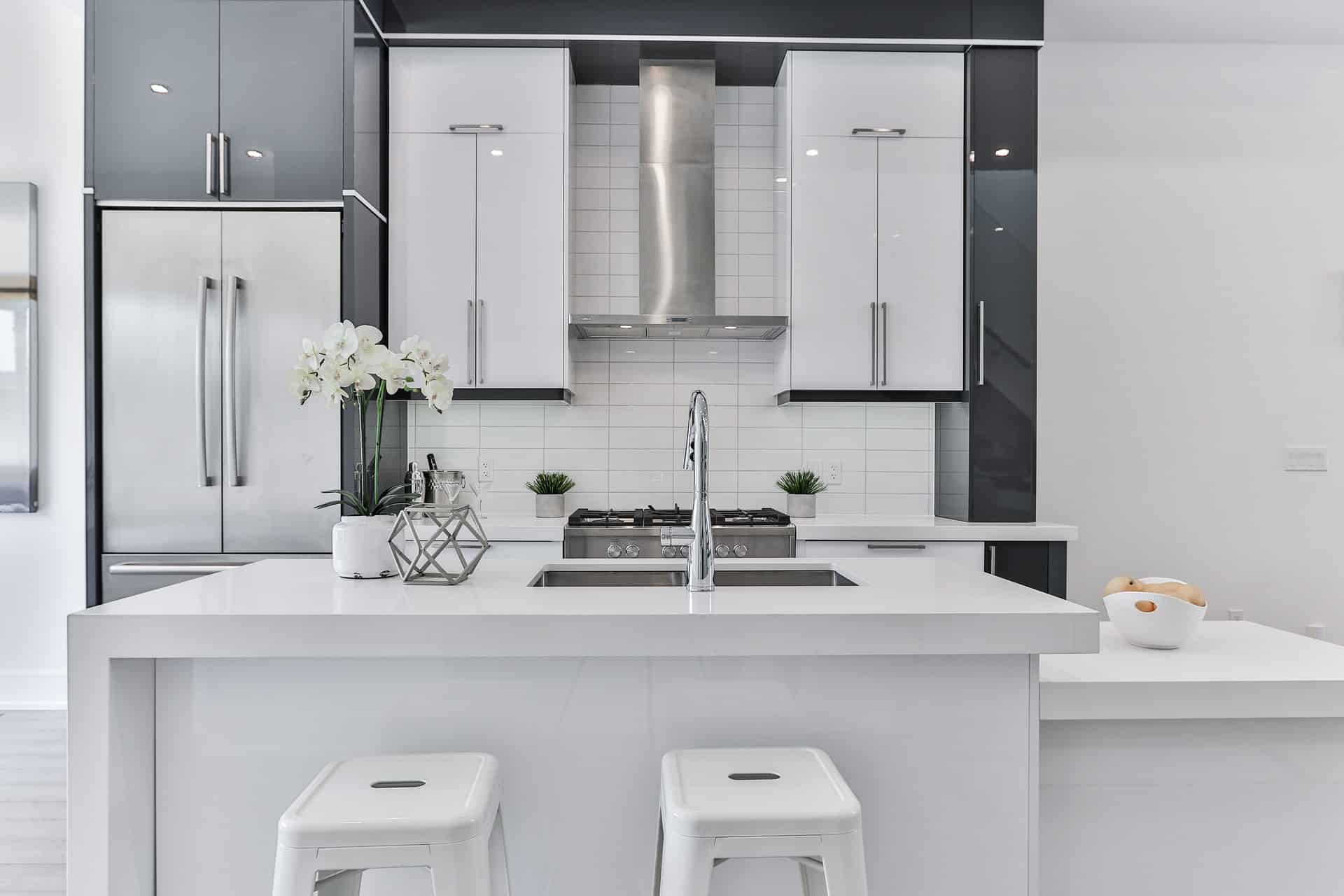 What is the Cost of Kitchen Countertops? Experts Reveal!
Once you've finally agreed on a budget for your kitchen remodel, the next move is to choose the right kitchen countertop styles that will work within that budget. Knowing how much different countertops cost will help you figure out which countertop material will fit within that budget and, if necessary, rework your plans early in the kitchen remodeling process.
In this guide, let's go over the different costs of kitchen countertops so you can select the best one for you. You can figure out the cost of a kitchen countertop by the quality and how much you need to cover your counter space and kitchen island.
Average Countertop Costs
There are several countertop options for any budget, with prices varying from about $15 per square foot (with installation) to more than $200 per square foot.
However, the emphasis of this guide is on the cost of kitchen countertops. This kitchen countertop guide offers a lot of data, including countertop pros for all material choices, if you're still exploring.
Here's a rundown of countertop price comparisons, other factors involved, and how to save money on each material without compromising on quality while figuring out kitchen remodeling costs.
Cost of Marble Countertops 
Marble is luxurious, but it requires a lot of maintenance. Marble countertop will keep its stylish good looks for the life of your home only if you know how to take care of it.
The most critical aspect is to follow while choosing marble countertops is the manufacturer's instructions for sealing, usage, regular care, and cleaning. They're not the best for heavy usage and places where young children may not act with care to minimize discoloration and chipping.
Countertops Cost: The cost of a marble countertop ranges from $75 to $250 per square foot. Typically, it can cost you between $1,050 – $9,650 with installation.
Maintenance: The overall maintenance cost of marble is super high.
How to Save Costs: You can save money on marble countertops in several ways. For example, instead of using a slab, use marble tile. You can also choose marble grades, shades, and more affordable colors.
Just because they are an affordable option, it doesn't indicate the material is less attractive. Some of the more popular colors are thought to be the most attractive, though personal taste differs. Also, you can reduce the maintenance and repair costs of your kitchen countertops if you take care of them from the beginning.
Cost of Granite Countertops 
While many homeowners are put off by marble, granite is a practical alternative. The cost of kitchen countertops has become more affordable as popularity has grown, especially for granite tile. While using granite, follow the care instructions (which are more versatile than marble's), and you'll also have everlasting countertops.
Countertop Cost: Granite countertops range in price from $45 to $200 per square foot.
Typically, it can cost you between $2,000 – $4,500 with installation.
Maintenance: Granite requires moderate to high maintenance costs.
How To Save Costs: Instead of slabs, use tiles; if you must use slabs, choose a granite color and style that is more natural and matches your aesthetic too. You can also install a wood edge to protect your granite countertop from chips and scratches.
Cost of Quartz Countertops
Quartz is among the most popular engineered stone countertop options. Though it can't quite match granite's natural elegance, it provides a wide range of colors and can also hold up well in certain conditions.
One huge benefit of an engineered product is the ability to create a broader variety of colors than natural stone by adding a pigment. However, unlike buying natural stone countertops, the color is consistent rather than free-flowing. Here, the polymer and resin binders blend with 90% ground quartz to create a glistening, non-porous, and highly durable kitchen countertop.
Countertop Cost: Quartz countertops range in price from $55 to $155 per square foot. Typically, it can cost you between $1,500 – $12,000 with installation.
Maintenance: Fairly low-maintenance costs
How to Save Costs: Similar to other materials, Quartz tiles cost significantly less than slabs. However, the cost of kitchen countertops you save is partially offset because tile installation will take more time and supplies, which will raise the cost of labor.
Cost of Slate Counters
Slate isn't as common as granite countertops, but it doesn't back down in aesthetics. Slate requires less upkeep than other natural stones.
You can also find slate slabs, but they are expensive. Slate tiles are less costly and more appealing. You might have seen similar slate tiles grace European architecture for generations and are still doing their work, so slate countertops are long-lasting.
Countertop Cost: Slate tile countertops cost $50-$65 per square foot; slate slab countertops cost $100 or more per square foot.
Maintenance: Low to moderate maintenance costs.
How to Save Costs: You can pick tiles over slabs. Look for discounted/clearance items that are just as attractive but may be limited in supply.
Costs of Soapstone Countertop
When all your friends have granite, soapstone is an appealing choice for those who want to feature a natural stone. It has a more rustic and casual look, making it a good match for traditional/ farmhouse kitchen designs.
In slabs and tiles, muted white, off-white, and gray tones feature prominently. Also, here are two reasons to consider Soapstone: high durability and low maintenance. However, this is a costly choice.
Countertop Cost: The cost of a soapstone countertop ranges from $60 to $185.
Maintenance: Low-maintenance costs
How to Save Costs: Similar to other countertop materials, tiles are just as attractive as slabs but far less expensive. Also, trying to replace a single broken tile, if possible, is much less expensive than replacing or restoring an entire slab.
As you can see, prices differ considerably, and they can change even more depending on where you are in the region (or the country!). Natural stone products are incredibly durable, and if you're far from the quarry, you can expect to pay a premium.
Nonetheless, it's a smart option to hire a reliable contractor if you want to replace or repair your countertops. If you're more of a do-it-yourselfer, you can upgrade your current countertops by bullnose-ing the edges to get them up to code. It's impressive what re-polishing your natural stone countertops can do for its visual appeal.