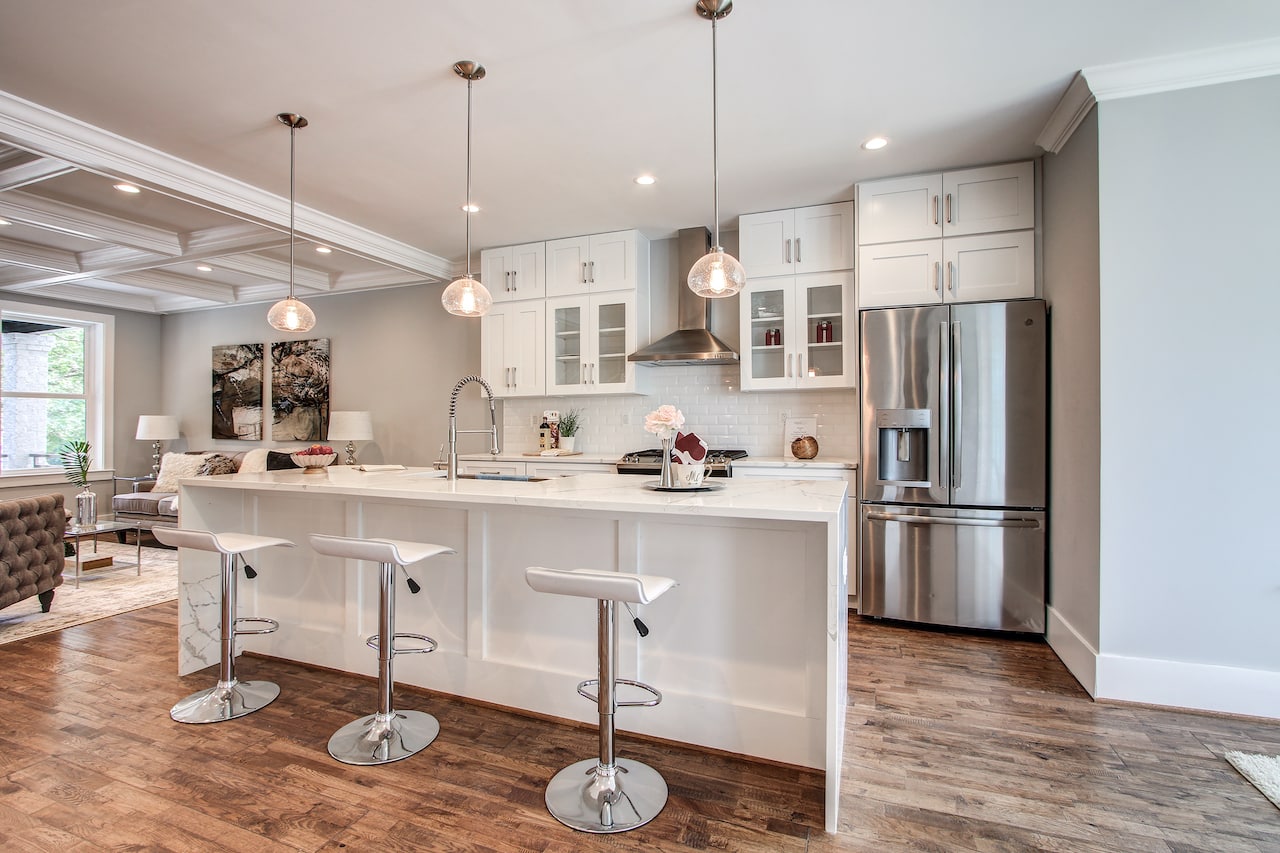 Kitchen Remodel Costs: Everything You Need to Know
One of the most important aspects of the kitchen remodeling process is understanding the cost and planning a budget . The average  kitchen remodel costs about $14,000 to $100,000. 
Depending on what are the dimensions of the kitchen and the quality of the materials, a smaller kitchen remodel project can cost you around $10,000 to $15,000. While it does include painting of walls, cabinets refacing and installing a tile backsplash. A complete makeover will make you invest $50,000 in overall kitchen remodel costs.
Many people also look for an exact estimate of the expenditure that they are looking at. After all, this is often our attribute to be prepared for a hit or miss outcome. However, remodeling estimates are not that easy to calculate. 
Nevertheless, these figures are just averages but are equally essential to note that your kitchen's size can significantly affect renovation cost. For instance, it could cost as little as $5,000 for remodeling a small kitchen and $60,000 to undertake a standard or extensive renovation.
 Let's take it step by step and understand all aspects of the costing and planning process.
Learning about Cost Vs. Value Reports
Homeowners who are inspired to transform their kitchens use specific assessments to measure the expenditure pattern. This assessment method is understood because of the Cost vs. Value report issued by the Remodelling Magazine. 
Furthermore, this magazine addresses the prices throughout the state. Even the regions are mixed with engendering generalized numbers that homeowners can expect while they set out to transform their kitchens.
While we do recognize that the Cost vs. Value report method is indeed worthwhile. It eliminates an individual's reasoning process and preferences, making one question the notion of cost all over again.
Homeowners need to be combat-ready to take a more measured passageway. For instance, consider an approach in their holistic views rather than just the cost estimates by a piece of paper. To begin with, you need to analyze the data with the cost you estimate carefully. Then take a decision that matches your financial standing.
Moreover, the worth quoted in magazines figure to be about tarting costs $18,000, the quality-price range to be $25,000 to $40,000, and the premium price range to be $50,000 to $100,00 and above.
Things to Consider Before Remodeling Your Kitchen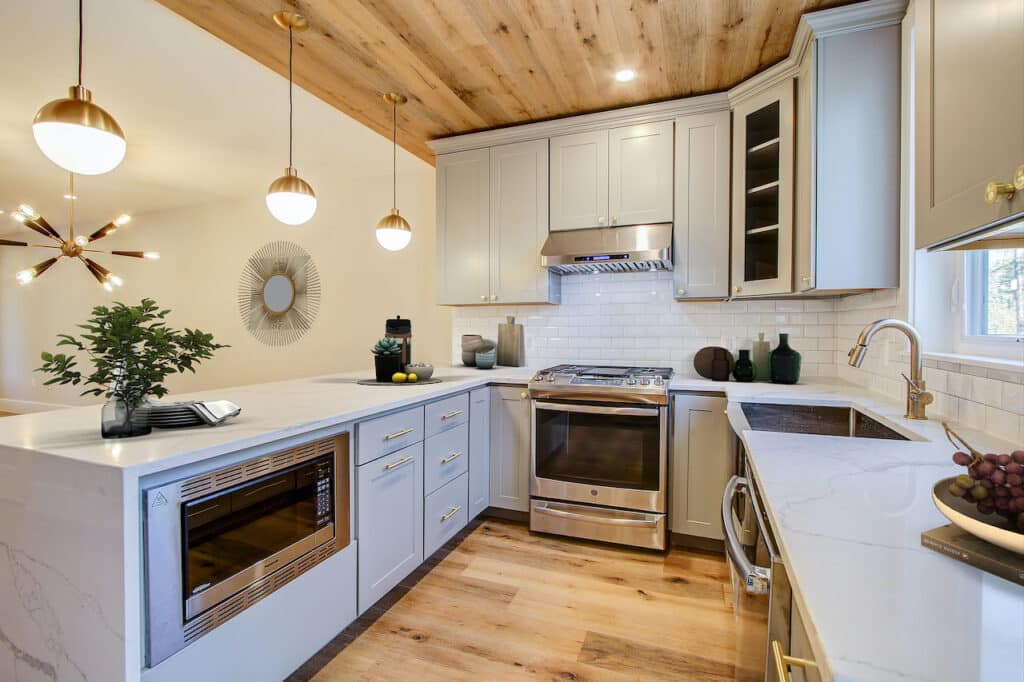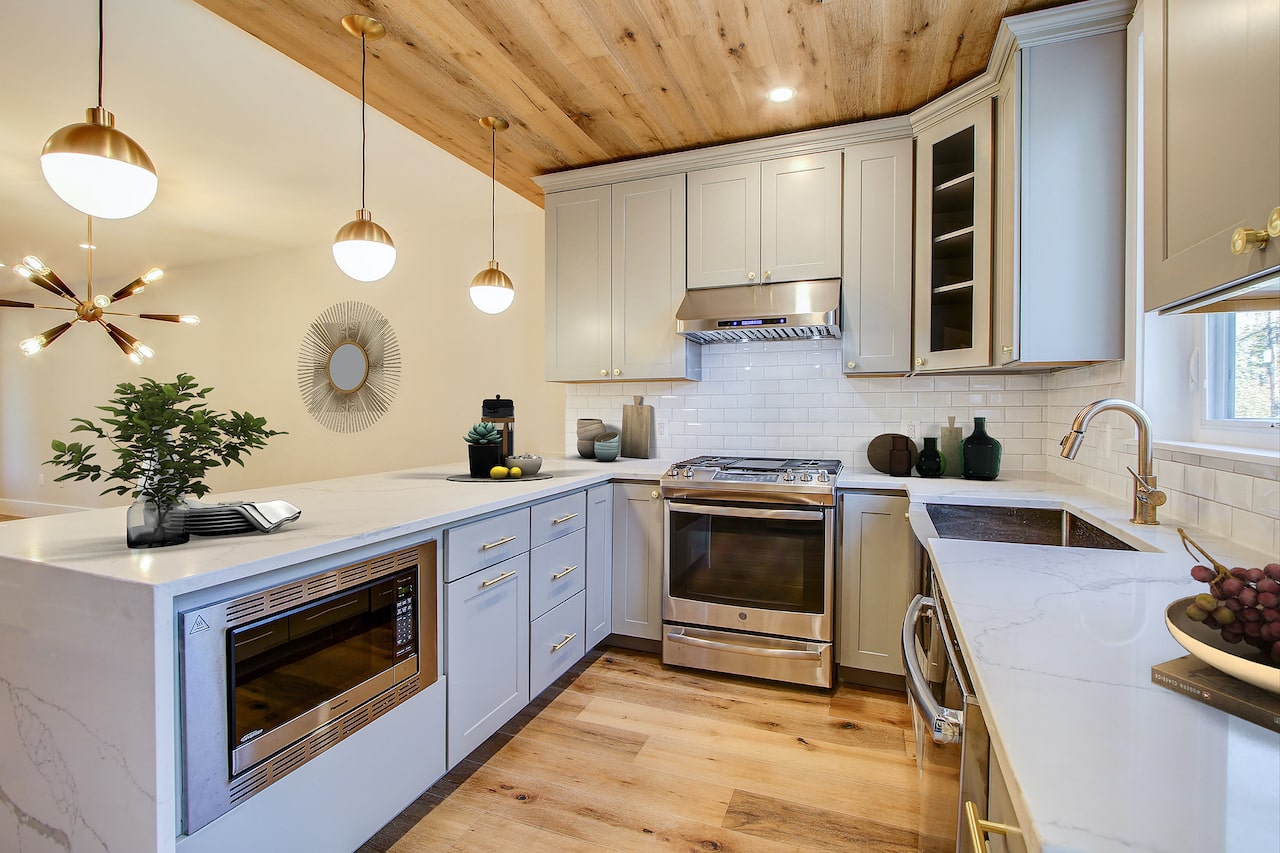 Before you start envisaging the perfect kitchen aesthetics like taps and tiles, you need to contemplate and understand the space you will remodel. Only after that, you must weigh how do you want it to look like and function. Let us now see the factors to consider:
Budget and Resale Value
Kitchen remodeling, while fascinating it needs some thought. Budget and resale value is something you would like to ask yourself and what proportion you're willing to spend. If you are thinking of moving out and sell you need to remodel it accordingly.
Nevertheless, if you are giving your unit for rent, then you need to remodel it differently. All in all, it is imperative to keep your home's resale value in mind while considering costs.
This means that you would be spending nearly 3 percent to 8percent of your unit's value. This percentage is considerable because you need to ensure a profit if you're planning on selling your house soon (5 years or less).
Consequently, keeping the average house prices that are within the US standing. The prices are at the brink of $250,000. From this, we can easily gauge that a typical homeowner spends around $20,000 on kitchen remodeling projects.
Low Budget
We understand that not everyone has the same financial standing. So, if you still share the dream to have a kitchen remodel project, we have you covered. 
In terms of alternatives that give your kitchen a new look, you can reface or refinish your cabinets. Besides, you can refinish your appliances. All in all, changing a few things in the surrounding will help you achieve the aesthetics you need.
Design and Layout Process
Design and layout are a crucial part of the entire kitchen remodeling experience. If your project features a massive change within the layout, the value is sure to be significant.
We estimate that the bottom kitchen remodel costs will begin to be $30,000 a minimum. But that is not all; you need to get in touch with a registered contractor. Who will guide you on how to file a permit for your kitchen remodel with your local council.
Moreover, before any significant layout changes, you would need to carefully understand the building codes and laws. Now, we know that a change in the layout is a revolution in your kitchen's entire framework.
Hence, the cost implications of adjusting an existing framework and footprint will contract additional labor and material prices. Along with that, plan and permit filing fees of around 10% to 15% also will add up to the entire project estimation.
Important Considerations
While it is good to have a pre-considered design and layout in mind, some people forget that the kitchen's size and shape will determine the most suitable design for the kitchen remodel.
It is always a wise idea to consider the classic work triangle when thinking of the layout. This concept is a conjecture to attenuate effort and walking distance between the three segments of the kitchen work triangle. They are the stove cooktop, sink, and refrigerator. Moreover, this proposition operates excellent with most kitchen layouts.
Understanding Kitchen Remodel Costs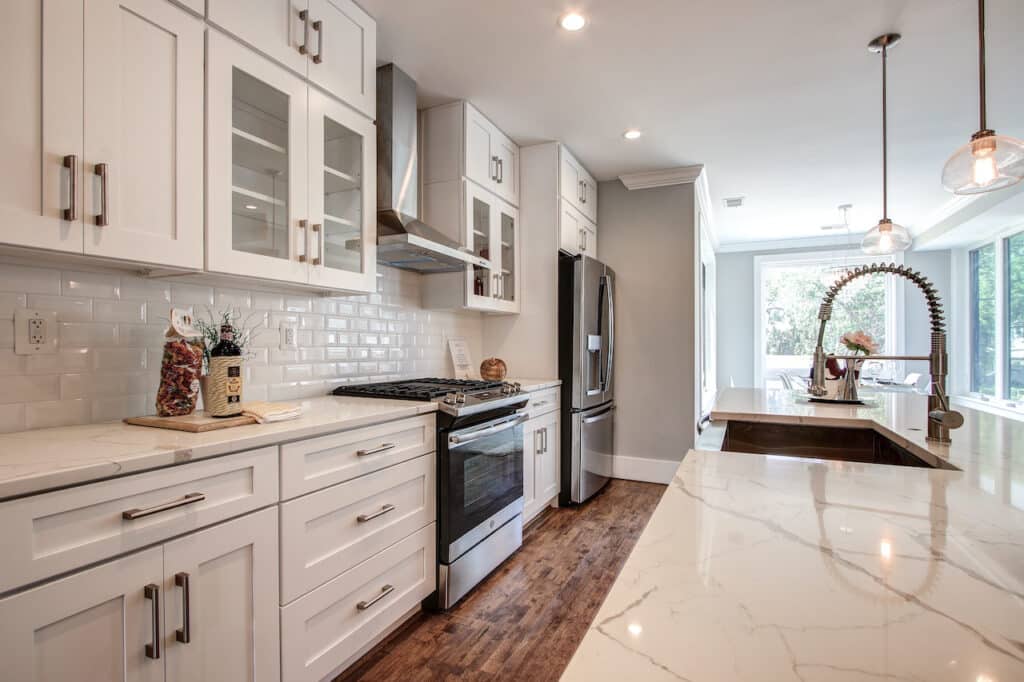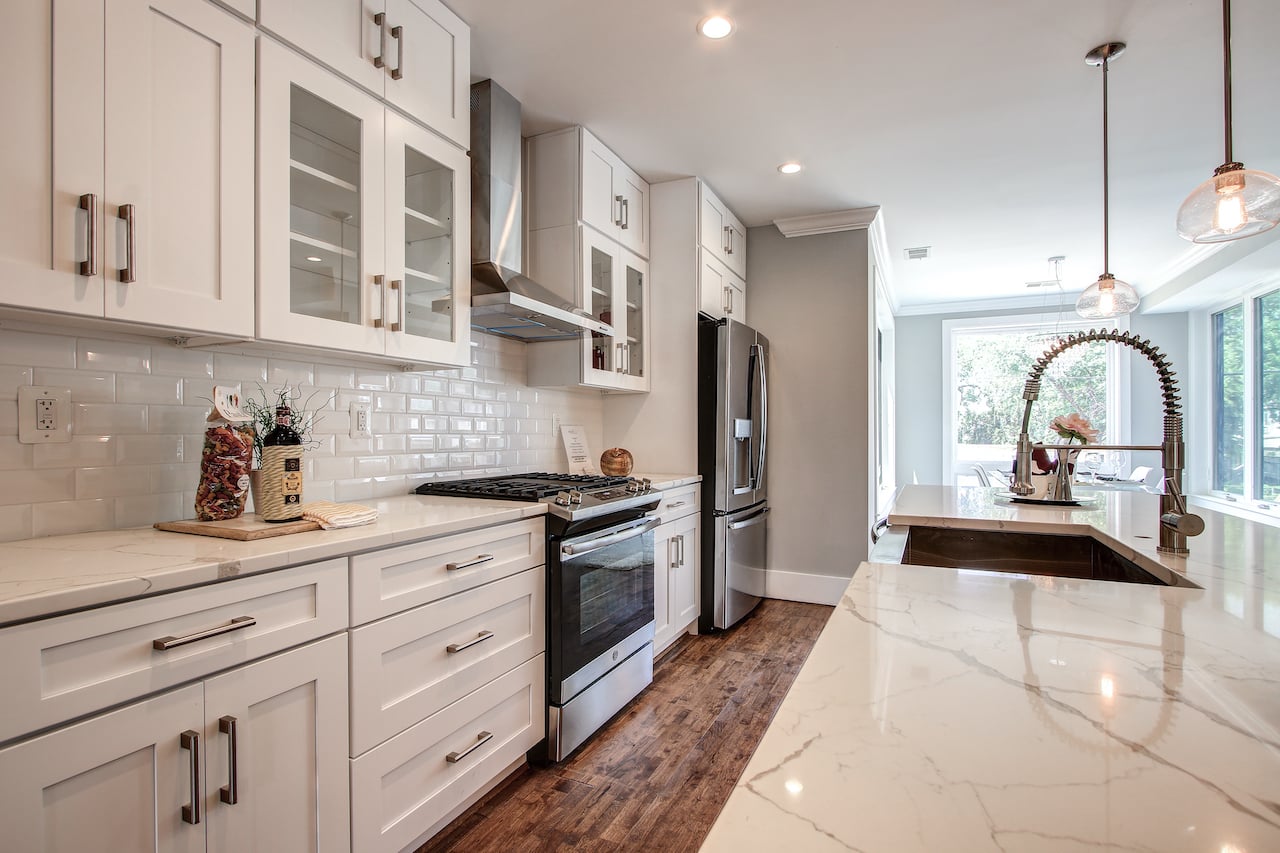 The needs of the kitchen remodeling project alongside the value are often broken into three imperative parts. They are cabinets, benchtops, and detailing. It is after which we add the additional costs of labor and other materials considered.
Cabinet Costs 
Kitchen cabinets are indeed the game-changers in the industry. From keeping all the consumable products safe and hygienic to being a creative storage unit, Cabinets need more recognition than we give them. However, cabinets alone are responsible for a share of 30% in the overall budget kitchen remodel. 
Yes, there are stock cabinets that you can buy for $80 to $400. These are readily available on the shelf of home centers. Additionally, semi-stock cabinets of the highest essence cost around $150 to $1,000 per cabinet. Moreover, if you would like a whole custom cabinet, you should foresee paying about $500 to $1,500 per cabinet.
Benchtop Costs
Benchtops are referred to as a horizontal surface within the kitchen. They're frequently installed upon and supported by the cupboards we mentioned above. 
Benchtops, as you might have understood from the text, are very important while in a remodeling project. They typically amount to approximately 10% of your total budget. 
Material costs range dramatically per square foot. Also, the style of the edge you choose of the counter bulks up the total kitchen remodel cost.
Detailing and Final Touches
Now that the large expenses chare settled, the important style comes within the sort of detailing or final touches. Appliances can take space, so budget around $1,000 to $5,000.
A tile backsplash is beyond imaginable, and therefore the options are endless; however, the typical backsplash costs around $1,800. Interestingly, kitchen lighting makes an enormous difference, and recessed lights cost around $150 each to put in.
Labor Costs
Even if you're just remodeling fixtures in your kitchen, you would need to think about labor costs. Moreover, it's essential to plan unexpected costs. For instance, if the remove the wall tiles, you'll discover that plasterboards require maintenance. During this case, it'll cost around a mean of $2,000 to strip off the space before installation.
Last but not least, put aside one-tenth of your budget for any unexpected problem that arises during the remodel. This is often your insurance to assist you to cover those extra costs for mending the termite damage and plumbing leaks. Sometimes mold, once you cheat your old cabinets.
Cheap vs. Steep 
Countertops
If your kitchen's central focus is the kitchen countertop, you might want to invest some more. A stone countertop will bring charm and value to your renovation, but it will cost several times more than a laminate countertop. 
In reality, the material you choose can influence cabinetry, color palette, and furniture such as stools. But keep in mind that beauty is subjective. A buyer may be underwhelmed because their taste doesn't align with yours.
If you're on a tight budget, there are ways to get a beautiful finish. Granite, for example, comes in a variety of types (rated 1-5 or on various scales depending on the manufacturer). Consider a grade 2 instead of a grade 5, as you'll get a greater return on your investment.
In addition, certain laminate items are half the price of granite and have a similar appearance. You won't be able to put a hot pan on that surface, but you'll get the desired effect. With today's laminate countertops, you can also add an undermount sink.
Pick a good statement material for the island, such as a remnant piece of rock with a beautiful design, if you want to invest a bit.
Kitchen Cabinets
Shipping, vat, and installation are some of the factors that can increase cabinet prices. Drawers, roll-out trays, additional shelves, and cabinets that stretch to the ceiling all add to the cost. Fitting out the corner cabinet would also be a breeze. A Lazy Susan can boost your budget by $1,500.
A few must-haves include investing in a waste-recycling facility and selecting cabinets with soft-close drawers and doors, which have gone from a luxury to a "need" for comfort and future sales value. The place to splurge is on functionality. 
Base cabinets with drawers are more ergonomic and have easier storage access; spending more to install wall cabinets to the ceiling will provide you with significantly extra storage. 
Hardware
Knobs, handles, and pulls will completely transform the look of a kitchen on a shoestring budget. Cabinet accessories come in all price ranges, from $1.25 a pull at a local hardware store to $100 or more from a luxury manufacturer.
Ultimately, upgrading cabinet hardware is a quick and inexpensive way to update the look of your cabinet. If you want to save cash, match your existing knobs and pulls. 
In terms of finish, you can save money by replacing polished stainless steel hardware with more on-trend oil-rubbed bronze, pewter, and other weathered, weathered metals. If your faucet is silver and your drawer pulls are bronze, don't be concerned. A few variations make the kitchen more intriguing. 
Tile
Ceramic tile is perfect for backsplashes, but porcelain tile is better for floors. Porcelain tile is a popular choice for budget and durability because it will avoid chipping and cracking. It has the potential to be a fantastic low-cost alternative to natural stone.
Purchase a porcelain tile that resembles granite to save costs. For a backsplash, go for deco bits like glass-tile mosaics. Only make sure they're evenly spaced in the design; otherwise, the installation cost will skyrocket.
Backsplash
An elegant, white subway tile, for example, will never go out of style in a kitchen. Natural stones and neutral-colored tile fall into that category.
Know your goals before you start your project so you can spend your time and money wisely. Other tips from the National Kitchen & Bath Association to help homeowners save money on kitchen projects include:
1. Plumbing, mechanical structures, and walls are examples of structural improvements to avoid. 
2. Do not change your mind once you order all the items and installation has begun.
3. When comparing prices, be precise to make sure you're comparing identical items, as costs can differ depending on model and even finish.
4. Do not make purchasing decisions solely based on the Internet; instead, go to retail stores and see the items in reality.
Kitchen Remodel Costs: Key Takeaway
While there are tons of things to think about once you begin to remodel your kitchen, you must also keep in mind the changes and the needs of your house. Many people exert themselves financially, which is beyond their means.
Yes, we do agree that the kitchen remodel costs might overload your senses. However, it is an investment worth doing even more from the point of view of change. 
During a kitchen remodel cost debate, it is worth noting that the social implications and quality of life are often overlooked. We suggest discussing kitchen remodel costs should involve frank conversation of labor wages, work safety, and proper business practices. 
Needless to say, remodeling a kitchen remodel represents an investment in the homeowner's quality of life. These costs will help you plan your remodel the right way and get you one step closer to the kitchen of your dreams.