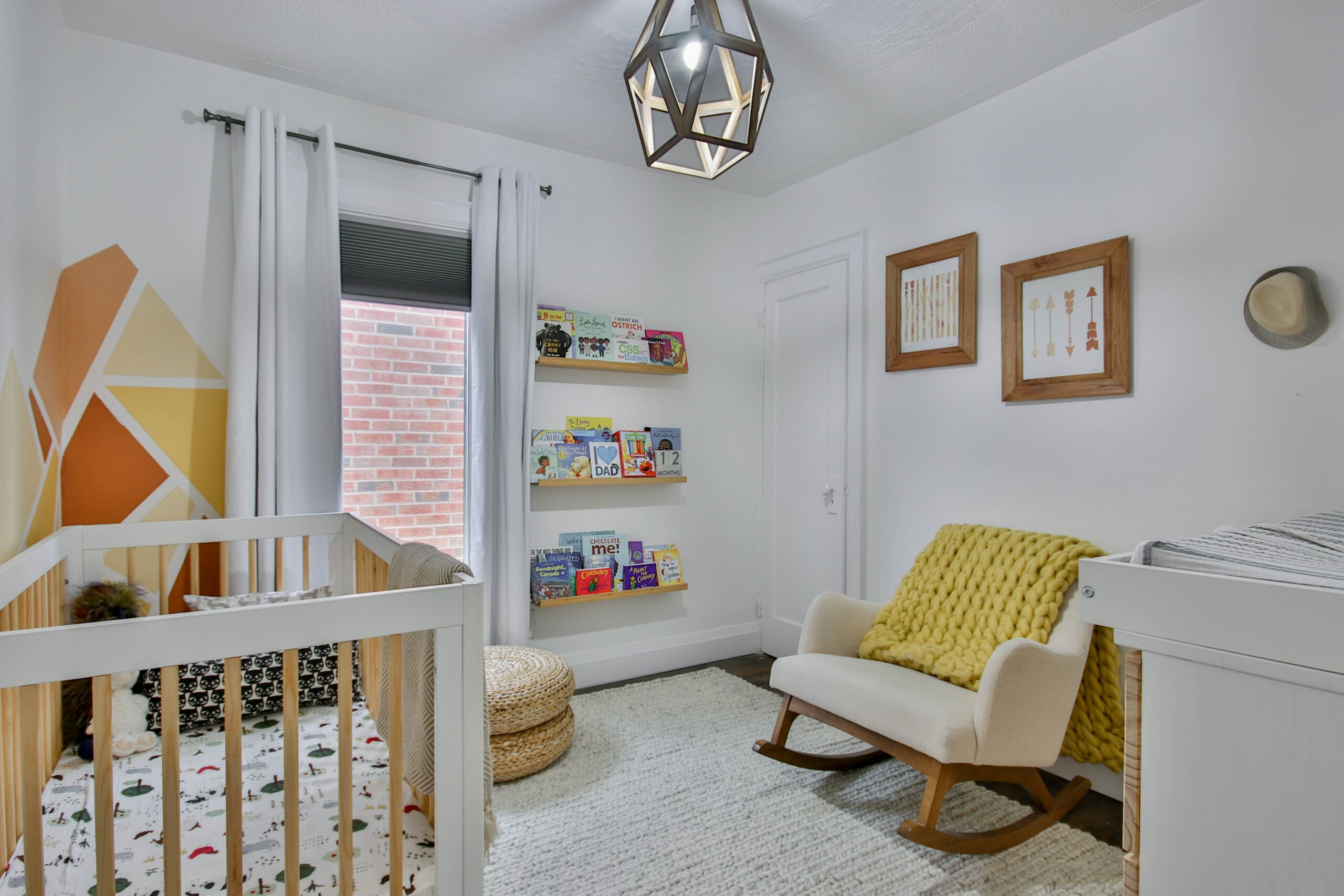 How to Remodel a Baby Room and Nursery The Right Way
For parents-to-be, how to remodel a baby room is a huge question. However, transforming a room that was once crammed with boxes or office supplies into a soothing environment appropriate for a baby might be a daunting task. Moreover, the room for your kid must also be functional and comfy for you. So have a look at these ideas to remodel a baby room and the advice below to help you change your spare room into a nursery with less hassle. 
Disclaimer: Classic pastels, neutral color scheme, and modern twists ahead! 
How to Remodel a Baby Room? 
Find The Perfect Space
A nursery doesn't need to be huge; all that is essential is that it be full of love (and baby wipes). Examine the layout of your current home to see if there is a corner that might be turned into a nursery. 
The obvious solution is the spare room (along with a pull-out couch bed for the lounge), but don't be scared to look outside the box. Perhaps you could make your former study into a pleasant nursery by downsizing it from a big room to a nook in the lounge that can be tucked away with sliding doors. 
Is it really necessary to have a second lounge? Perhaps not. A baby room is also a great way to modernize your traditional home with the right ideas.
Baby Room Remodeling Costs
According to sources, you'll spend around $2,000 on everything you'll need for your new nursery. Your nursery design ideas, on the other hand, will be determined by your wants, your taste, and your remodeling contractor.
Most big-box retailers, for example, sell cribs for $150-$400, whereas cribs at baby boutiques will run around $3,000 or more.
Cost Breakdown:
Crib ($200)

Changing table ($150)

Dresser ($500)

Glider ($400)

Diaper pail ($35)

Carpet or area rug ($200)

Lamp ($20)

Bookshelf ($200)

Sheets ($50)
Don't Forget About the Function
It is essential to have a room that is both useful and comfortable for both the baby and the parents. Make sure there are enough storage options to keep things tidy and place furniture in a logical fashion. For example, situate the dresser and diaper bag beside the changing table, and next to the glider, set the lighting and bookshelf! 
On really difficult evenings, a bed or couch allows mom or dad to get a bit more rest. Blackout curtains and a white noise device will help bring on pleasant dreams. 
Get Creative With Paint
It's time to get creative after you've established where your nursery will be. Paint a blank canvas into a space suited for a little king or queen. Traditional color palettes include blues and pinks, but don't be afraid to branch out with your kid's bedroom decor. Also, if you're looking for new ideas on how to remodel a baby room, you can consider sticking to a theme if you're feeling extremely inventive. 
To create a completely new realm within four walls, use tester pots to draw a wall mural, decals, or wall prints. What's more, the best thing about paint is that it allows you to express yourself. It takes very little work to transform a basic baby's room into a lively toddler's room. 
Pay Attention To The Flooring
It's important to pay special attention to this area during remodeling because babies and toddlers spend more time on the ground. Pick a color that won't draw attention to spills and stains if you're going with carpet. 
If you have wooden floors, a colorful rug or two will not only provide a splash of color to the area, but they will also keep it warmer and cushion any falls.
Think About Lighting 
A decent lamp or night light will help immensely for new parents who will spend countless hours in their child's nursery at all hrs of the day and night. Consider using dimmer switches to control the amount of light in the area based on what you're doing. 
When it comes to natural light, keep in mind that your child must sleep in his or her room at all times of the day. Day or night, a nice set of blackout curtains will help you create the ideal bedtime routine.
Invest In A Heater
It is no surprise that if a baby gets cold, they cannot simply put on a sweater or fetch an extra blanket. A good heating plan is crucial in every room of the house, but it is particularly important in a nursery. 
Hopefully, your home is well-insulated; if it isn't, now is the time to examine your choices. Heat transfer systems and panel heaters will warm up a space, while updated dual glazing will keep the heat in and the cold away.
Don't Skimp On Storage 
Babies, despite their tiny stature, arrive with a lot of "items." You'll be able to keep their nursery orderly and clutter-free with the help of great storage solutions. 
Install shelving if your wardrobe has a lot of empty space. Build or acquire a shelving unit with a variety of spacious storage baskets if there isn't one in your wardrobe already.
Remember Your Deadline
If you're going to remodel a baby room, do whatever you can to complete the project with plenty of time to spare – after all, you only have 9 months. You cannot bring a baby into an unfinished nursery because of obvious reasons. Similarly, you do not need to be worried about a remodeling project with your due date approaching.
Lastly, if you're still struggling with how to remodel a baby room, you can always modify these tips according to your preference and ensure your baby has the best space. Remember, the most enjoyable aspect of remodeling the ideal baby room is envisioning your new baby growing up in it.