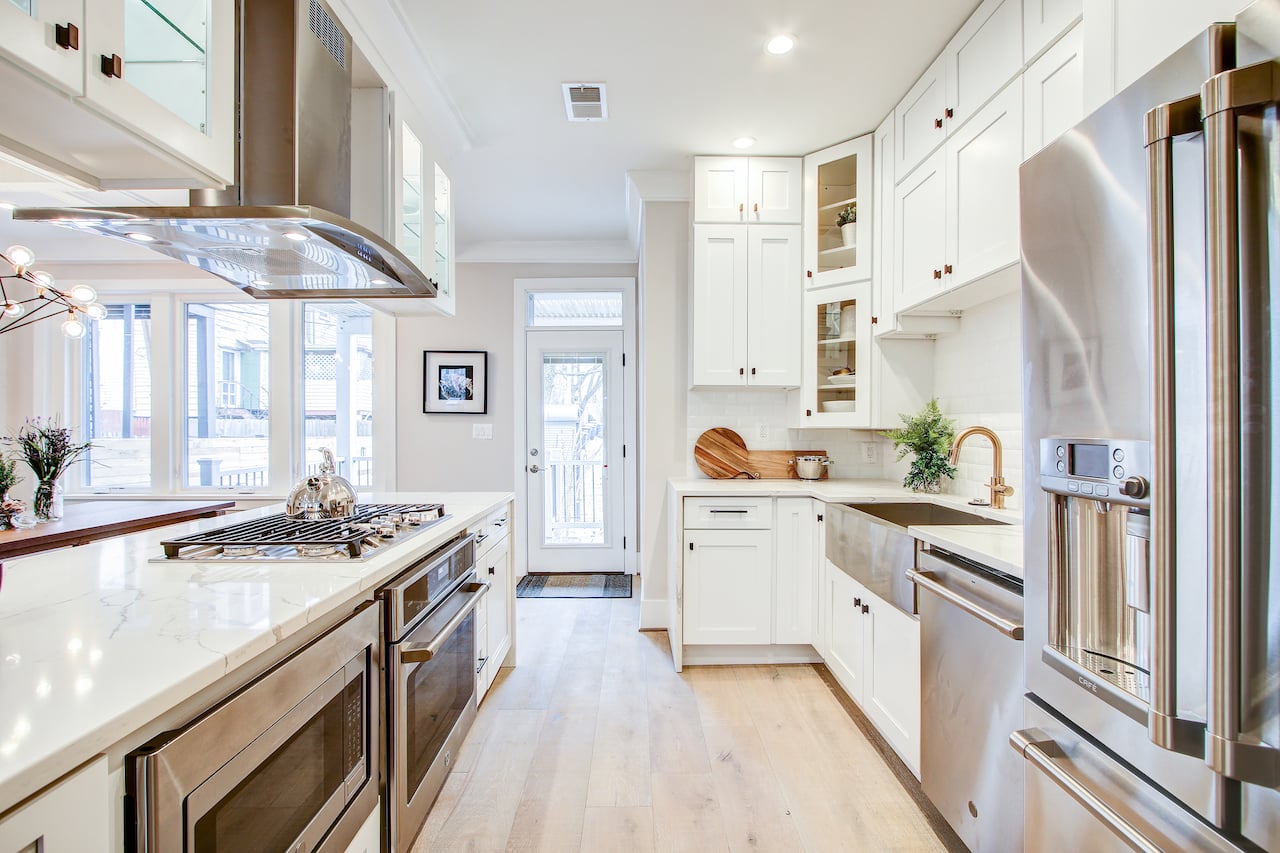 What Are The Pros and Cons of Popular Kitchen Countertop Materials?
On any given day, your kitchen countertop can serve as a chopping board, a hot pad, a work desk, a cooking surface, a salad bar, and the headquarters for the kitchen. You'll need a surface that's long-lasting, appealing, and convenient to work with. When remodeling your kitchen, it's essential to consider all pros and cons of popular kitchen countertop materials. Similarly, you also need to hire a professional kitchen countertop installer near you to ensure that the countertop you choose is fit correctly.
Keep the following instructions in mind when selecting from different kitchen countertop ideas:
Tips To Select The Right Countertop 
Worktops and installation will account for 10 to 15% of your kitchen remodeling budget. If you pay significantly more or less, you can end up with countertops that don't match the rest of your kitchen's style.
Consider using several styles in different colors and patterns. Professional cooks may want to include a wood section for cutting, and pastry chefs may want to include a stone section for rolling pastry. You can accomplish differentiating workspaces and adding interest by using a different color top on an island than the rest of the kitchen.
Solid surface and engineered stone countertops are very durable and uniform; you'll get precisely what you see in the store in your kitchen. This uniformity appeals to some individuals. Granite, on the other hand, is a more natural-looking choice. Colors and patterns come and go, but most of these ultra-durable countertops last 15 to 20 years or longer. Nonetheless, before you order the bright blue top, give it a second thought. 
There are several pros and cons of popular kitchen countertop materials. Some are durable, while others can scratch or stain easily. 
Furthermore, some materials are significantly more expensive than others. Let's look at a few common pros and cons of popular kitchen countertop materials: solid surface, engineered stone, concrete, wood, and granite.
Granite Countertop
Granite countertops have been a popular choice among kitchen remodelers for decades. With a few drawbacks and many plus points, it's among the most popular choice for kitchen countertops. Let's have a look at some of the top pros and cons of granite.
Pros
1. Granite is available in many colors, patterns, shapes, and widths, and you can personalize it to suit any kitchen design. 
2. These counters are very long-lasting. 
3. You can only scratch it with a few materials, and it is impossible to break or chip. 
4. Furthermore, hot pots and pans seldom cause harm to this natural stone.
5. Granite is often thought of as a high-end choice for a kitchen remodel.
6. On the other hand, granite comes in different price points to fit every homeowner's budget.
7. Granite countertops are available for anywhere around $25 and $140 per square foot. 
Cons
1. Since granite is porous, spills may harm the countertop if you don't clean them promptly. Fortunately, sealers have made great strides and will now secure your granite from water damage and discoloration for up to a decade.
2. Another disadvantage to porous materials is that you must reseal them. Work with your granite supplier to see how often granite countertops you need to reseal them.
3. No two granite slabs are the same. 
4. Ensure you purchase your granite slab from a reliable source, as cheaper slabs will not be of the same quality.
Quartz Countertop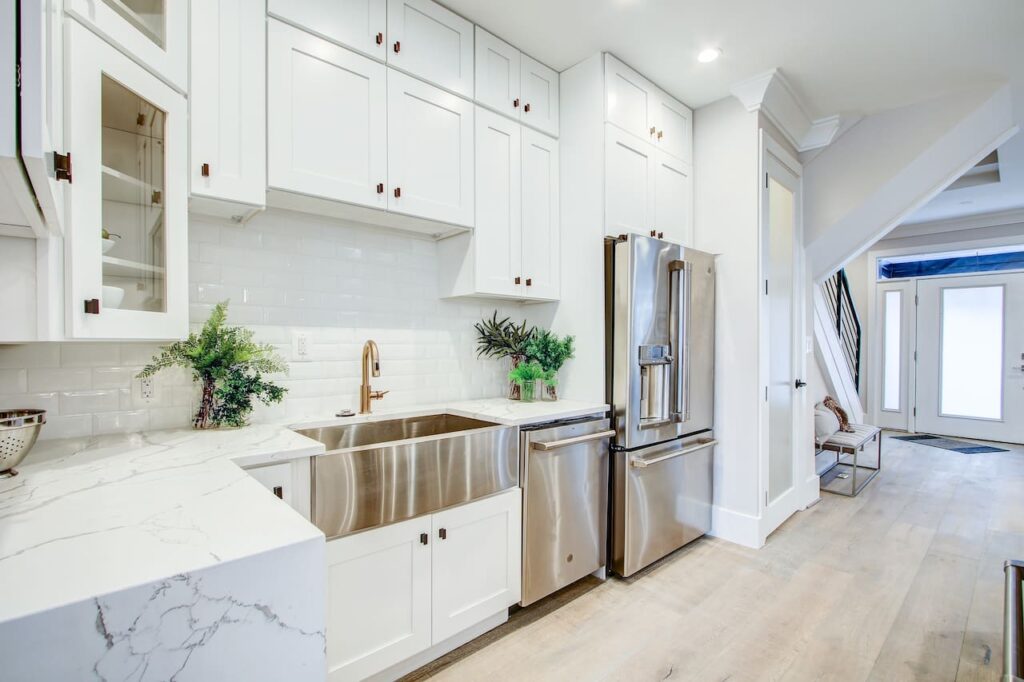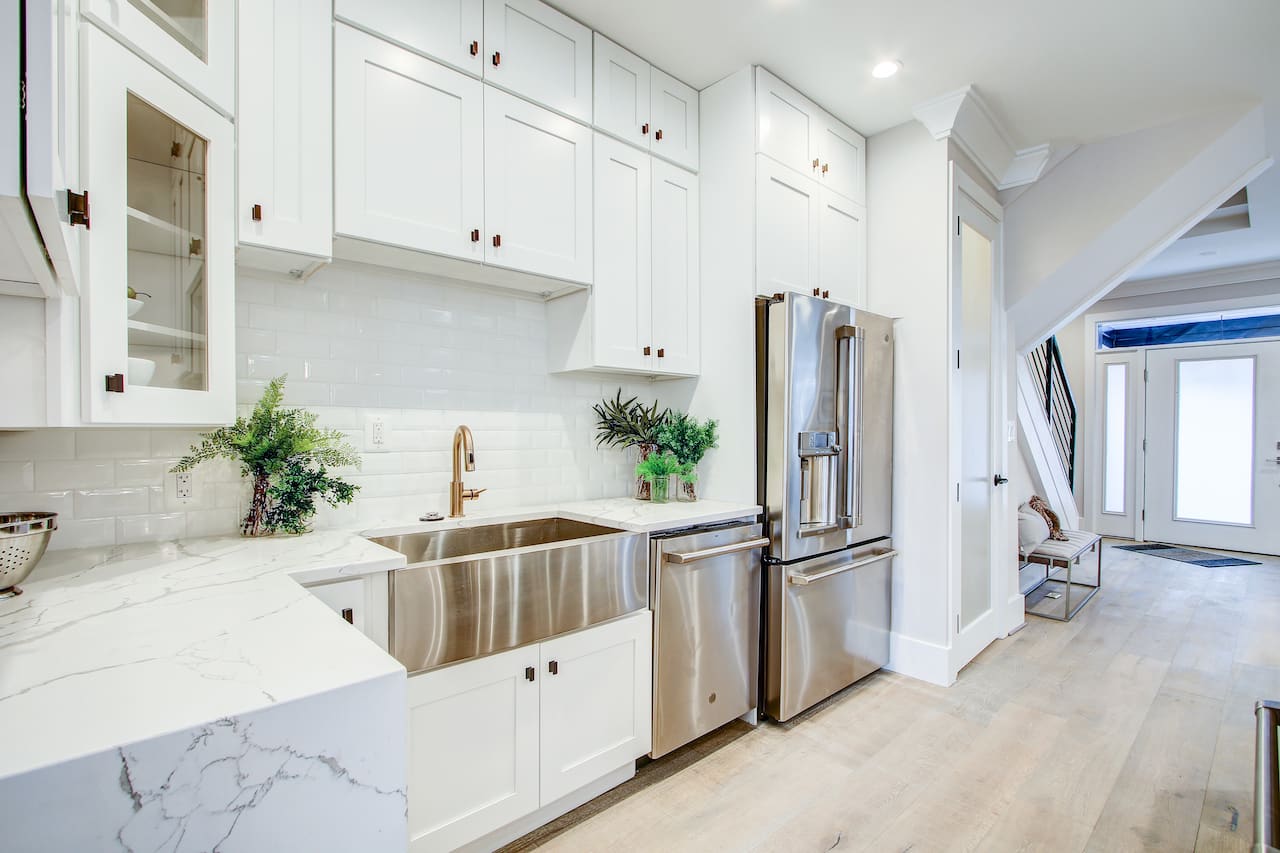 Despite years of undertaking kitchen remodels, several homeowners frequently confuse granite vs quartz. While they are similar in certain respects, you should consider each choice separately while evaluating the pros and cons of popular kitchen countertop materials.
Pros 
1. Quartz, for example, is available in a broader range of colors and customizable choices than granite. 
2. Since it is man-made, your sample would be very close to the actual piece you get. 
3. Because quartz is solid and non – porous, it provides additional durability and consistency.
4. Moreover, choosing quartz is gaining popularity because the costs are usually equivalent to those of granite.
Cons
1. Although quartz closely resembles natural stone, some homeowners can spot the difference and choose granite and marble's unique veining.
2. Quartz is more expensive to build than other materials because it is heavier.
3. Quartz reveals more prints than other natural stones because of its smooth, nonporous finish.
Solid Surface Countertop
Solid surface is often considered to be a more affordable version of quartz. Engineered stone has the same smooth look and style as natural stone, but it is not as durable. Damage, on the other hand, can typically be sanded out. 
Pros
1. It's stain-resistant.
2. Seams are almost untraceable.
3. You can quickly repair any damage with sandpaper.
4. Multiple colors and patterns are available.
5. Sink/countertop models with integrated sinks are available.
Cons
1. The cost is moderate, making it an affordable countertop material.
2. Hot pans can cause severe damage to it.
3. You cannot install it yourself; professionals must do all the installation work.
Wood Countertop
Wood countertops have a nice warm appearance and come in several styles and textures. Hardwoods such as maple and oak are still the most commonly used wood for countertops. 
Pros
1. Maintenance and cleaning are relatively easy.
2. When handled appropriately, it will last a very long time.
3. As and when required, you can sand and reseal it.
4. In most kitchens, it provides a cozy country charm.
Cons
1. Wood countertop material is quite pricey.
2. Knives can nick and scrape this surface.
3.Water and oil stains can cause damage in the long run.
4. Bacteria can be a threat if you don't keep them in check.
5. If not treated properly, wood may crack; you should oil and seal it regularly.
Concrete Countertop
Concrete countertops will help you stand out from the (granite and quartz) crowd in contemporary design. You can even dye the material in several colors, and it is much more sturdy than any other options. 
However, since it is extremely heavy, changes to the cabinet structure and higher installation costs will have an impact on the total cost of your kitchen countertop. 
Pros
1. It may be color-tinted.
2. Immune to heat and scratches. 
3. It offers a robust and unique appearance.
4. Decorative colors and textures are possible. 
Cons

 
1. You cannot DIY install it. 
2. Over time, cracking can occur.
3. Because of the customization, the costs are high.
4. The surface is porous, and you must seal it regularly. 
5. Future homeowners can find the appearance too "industrial."