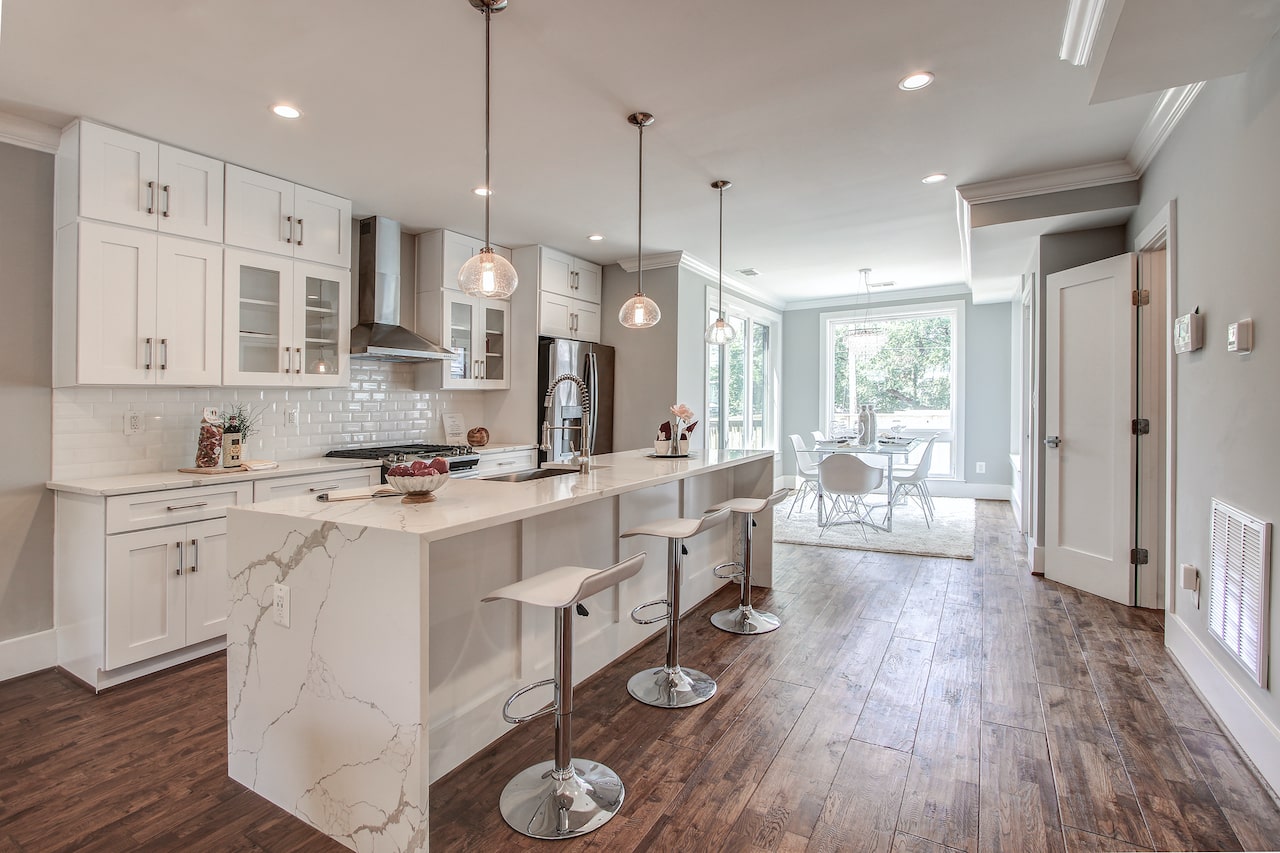 Kitchen Countertop Ideas to Choose From For Your Next Remodel
Kitchen countertops are an essential element of the kitchen. And choosing the right countertop for your kitchen is a crucial decision to make. The material that you choose for your kitchen countertop has an impact on your kitchen's functionality, the look, and your kitchen's overall cost. So you need to opt for the right one among many kitchen countertop ideas during your kitchen remodel.
You can use various materials to reinvent your kitchen countertops, and the cost varies depending on the material. They serve as an essential design element in the kitchen, and some of them may even surprise you! All these materials have their pros and cons, and therefore, you need to research well before picking the right kitchen countertop material.
You need to pick a countertop material that makes your work simpler and is also easier to maintain in the long run. From practical to lavish to traditional, there are many options for you to choose from. And it would be best if you had some knowledge about them all.
And therefore, here are the most popular kitchen countertop ideas for your next kitchen remodeling project.
Laminate Kitchen Countertop Ideas
Laminate is one of the most prevalent materials for your kitchen countertops. It is also popularly known by its trade name, Formica. Laminate is highly durable and is an excellent option for long term purposes. The best thing about laminate is that it comes in innumerable colors, textures, and patterns.
The laminate type that is best suited for kitchen countertops should have a matte or a fine-matte finish. Textured laminate is completely forbidden as a countertop material since the raised ridges in it become noticeable after a while, and wear relatively quickly.
Laminate is of two types, general-purpose and vertical grade. However, only general-purpose laminate is suitable for kitchen countertops. Laminate is readily available at lumberyards and home depots in a ready-to-install shape. They are the most affordable of all countertop materials. Few cons are that they can chip or scratch easily, are not heat resistant, and have a low resale value.
Granite Countertops
Many people opt for natural stone for their kitchen countertops. Unsurprisingly, granite is among the most popular natural kitchen countertop ideas. A solid natural stone, granite slabs are fabricated to suit your specifications and require professionals to install it.
Similarly, granite offers a variety of colors such as midnight black, mottled white, and deep red. You will get them in the form of long, thick slabs that are easily installable. You can also cut and polish it to suit your kitchen's needs.
Most granite countertops have a glossy sheen to them since they are polished to make them stain resistant. This gloss can last up to ten years, depending on how well you maintain the countertop and what cleaning solutions you use. You can even ask the store or showroom for a honed finish that has a matte sheen. You can even opt for leathered granite with a textured surface look. 
Marble Countertops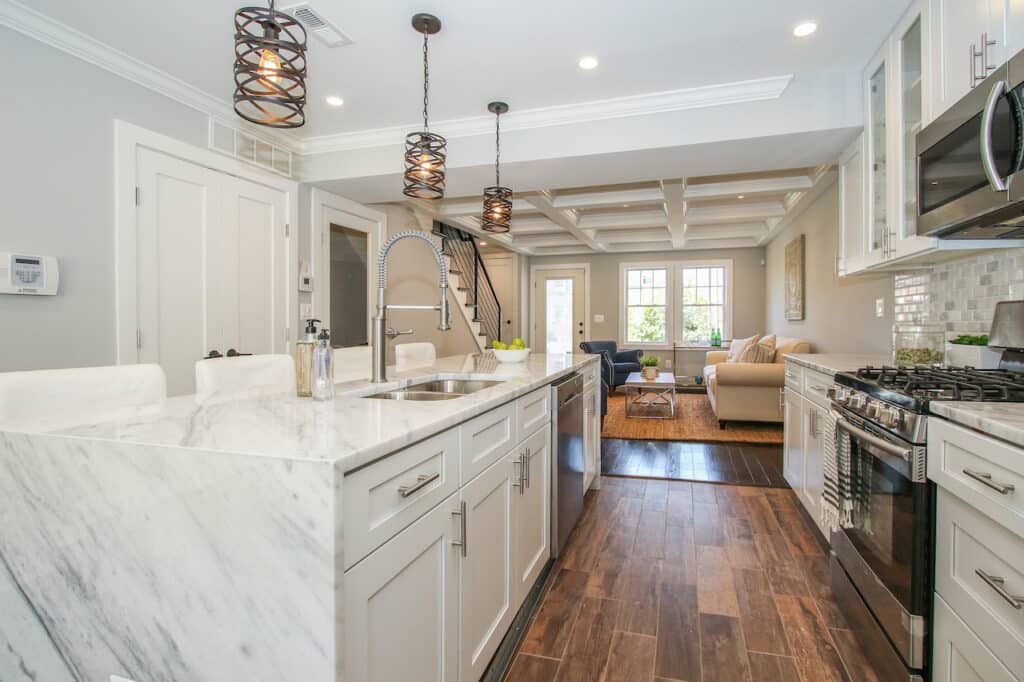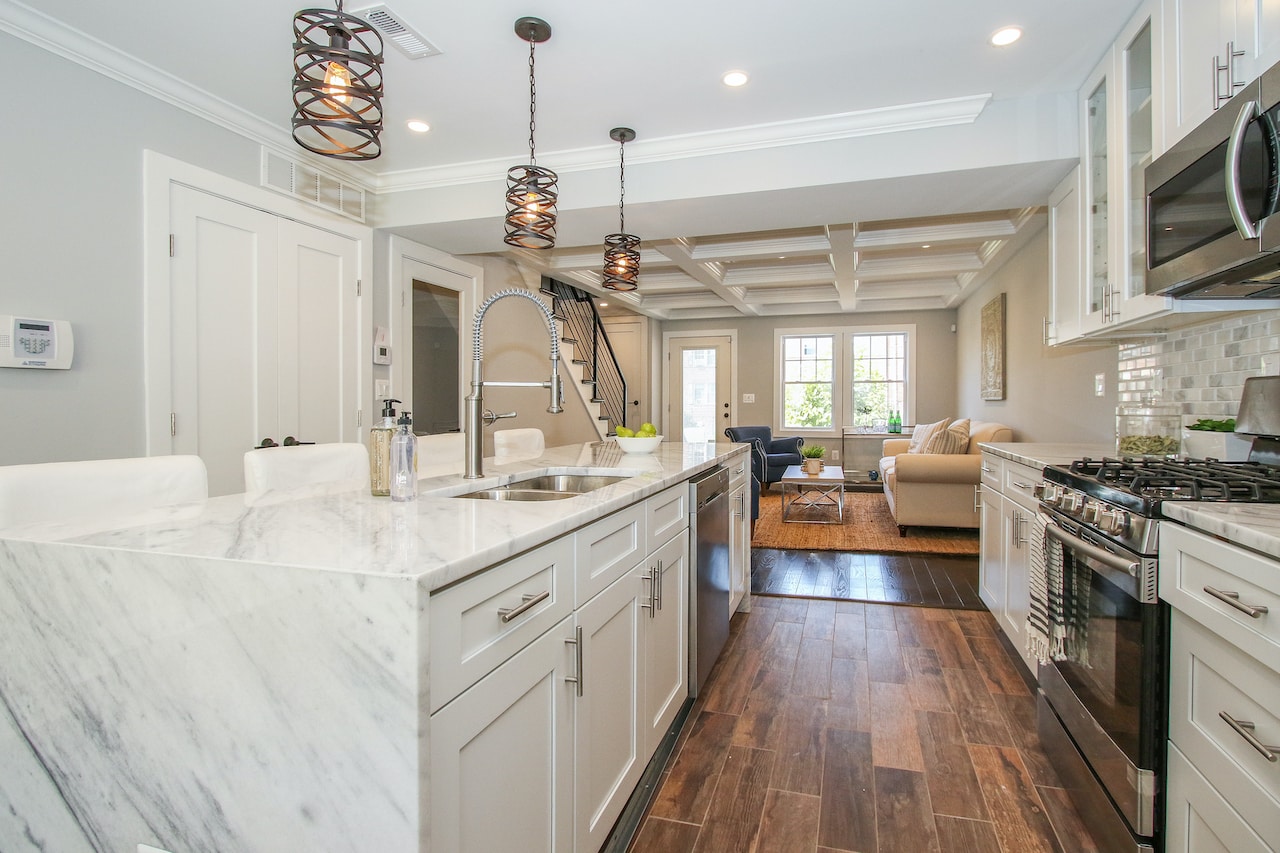 Unsurprisingly, marble is among the more popular kitchen countertop ideas. It is a high-end material that has a classic look and a very striking natural pattern. However, it is available in fewer patterns and colors as compared to granite. It is also quite soft and porous and is therefore not very stain resistant and easily susceptible to knife scars.
Marble has a unique appearance, which makes it a highly demanded material. Since it is one of the most attractive and appealing natural stones, it makes your kitchen look extravagant and grand, and therefore it is sold at a high cost. But marble is a brittle stone and needs high maintenance and regular sealing for protection.
Marble countertops are available in three forms, modular marble, solid slabs, and marble tiles. All of those have natural veining yet different from each other. And that is why each slab of marble is unique. If you wish to go for a marble countertop, you must keep your budget high.
Concrete Countertops
Concrete countertops have gained popularity among many other kitchen countertop ideas since they closely resemble natural stone. It is a favored choice for people who prefer custom countertops. Concrete countertops are no longer made by pouring concrete over cabinets but are premade by the fabricators in their workshops who deliver it as fully cured.
Likewise, concrete countertops are scratch and heat resistant and are available in many colors. Concrete slabs made for kitchen countertops are generally half an inch thick and can be up to 10 feet long. You can get different colors on concrete slabs by pouring in pigments during the concrete mixing process.
The slabs are later honed and sealed to prevent them from staining. Since the concrete material is also prone to cracking, the fabricators strengthen it using wire mesh, fiberglass, metal rebar, or stainless steel fibers. All of this makes the material a bit expensive to purchase.
Stainless Steel Countertops
You'll probably find stainless steel countertops in restaurant kitchens. In their attempt to mimic restaurant kitchens, many people have installed stainless steel countertops in their kitchens. And that is why stainless steel has gained a lot of demand in the past few years.
If you want, you can custom fabricate and install stainless steel countertops at your homes. It is an extremely non-porous material and makes a beautiful kitchen countertop with reflective properties if cleaned thoroughly. It is also high germ-resistant and incredibly sanitary.
Pairing up your stainless steel countertop with stainless steel fixtures and appliances and white walls around the kitchen gives the room a very state of the art look. It is highly suitable for upper-end houses and if you wish for a commercial kitchen look. The drawback of stainless steel countertops is that it is remarkably and unreasonably expensive, and also hard to fabricate.