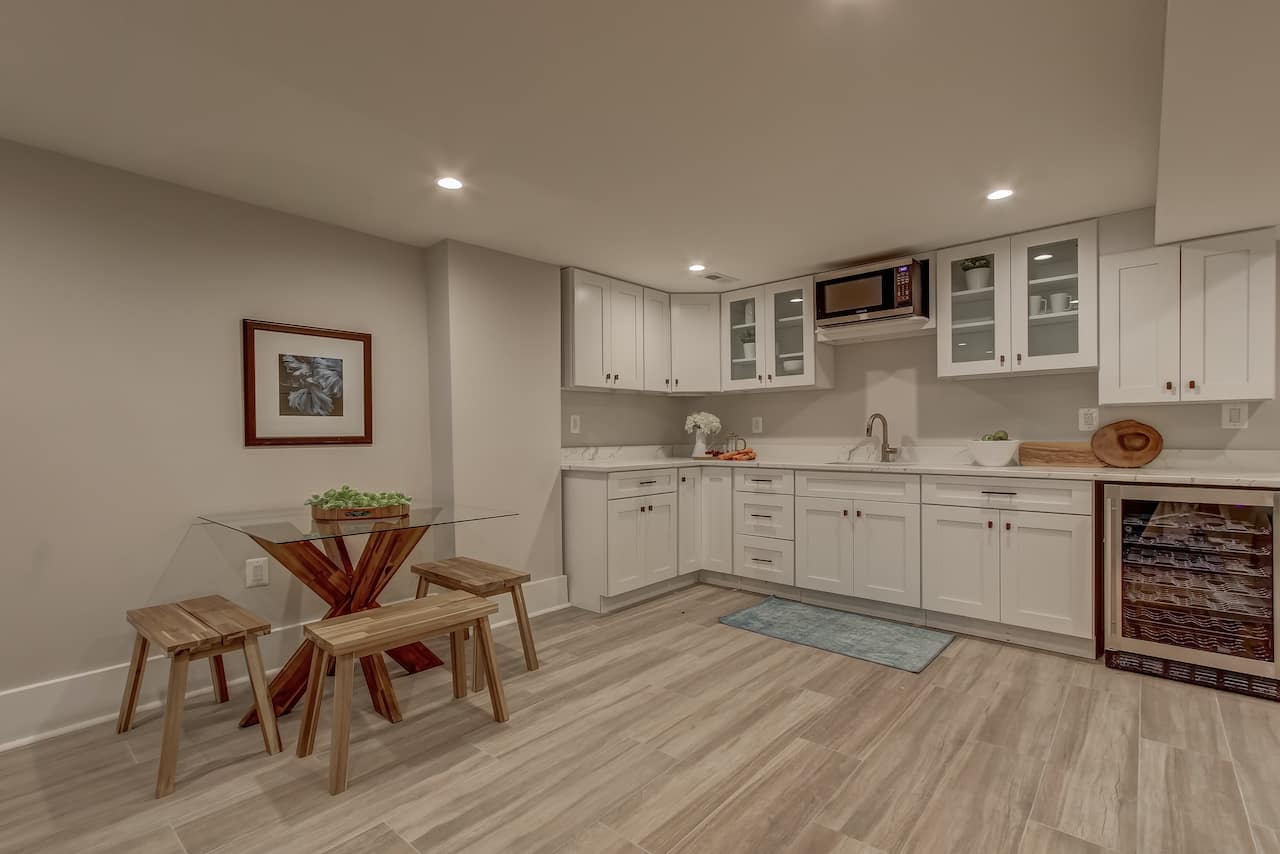 One-Wall Kitchen Layout Ideas That Are Perfect to Save Space
If there's one lesson to take from people living in small places, even the smallest rooms can be stylish and look far from cramped. One-wall kitchen layout ideas are a perfect example of how to make the most of limited space. As their name suggests, one-wall kitchen layout ideas occupy only a single wall. However, in doing so, they open up the space for more innovative kitchen design ideas.
A one-wall kitchen layout can create a spacious open concept floor design or draw energy from the kitchen into a living room or dining area. Further, effective use of kitchen countertops and clever storage solutions are the key to making the most of the one-wall kitchen layout style. 
With proper planning and design, this type of kitchen layout may actually be more practical than if you arrange it on both walls. Consider these one-wall kitchen layout ideas to determine which works best for your home and your lifestyle.
What is a Single Wall Kitchen Layout?
A single-wall kitchen floor plan is excellent for smaller home footprints. For instance, condominiums, lofts, apartments, or time homes usually feature an open-concept kitchen.
The work triangle in a single wall kitchen layout is less like a triangle and more of an assembly work line with all the major appliances, cabinetry, and work zones all arrayed along a single wall. 
Due to all the kitchen components being compacted into one single wall. A single wall kitchen layout offers an uninterrupted countertop surface and efficiency for prepping, cooking, and cleaning after every meal. 
Leave More Space for Open Concepts
If your living room or another open space adjoins the kitchen, using a single wall layout means more room for comfort and furniture. Further, this kind of kitchen layout has a very small footprint that may seem to detract from its usability, particularly when more than one person wants to prepare food or do another task simultaneously.
With the contemporary demands for open plans, more fluid traffic flows throughout different rooms of the house; a single wall kitchen layout makes use more convenient and easy to access.
Smaller Spaces Need Improved Efficiency
If you want to put all of your counters, cabinets, and appliances on one kitchen wall, you need to position yourself for ease of use and efficiency.
Besides, safety and storage must be taken into account. Most of these smaller kitchens have the refrigerator at one end, the sink next to it, a range of counters, and the oven and cooktop at the other end.
Another option is taller kitchen cabinets flanking kitchen ends. You can add extra storage that may be at a premium in a one-wall kitchen layout. 
Consequently, install countertops on both sides of the stove and one directly next to the refrigerator for your ease. This will allow you to remove hot things and set them down quickly. By doing so, you don't burn your hands and you can put groceries conveniently next to the fridge and put them away easily. 
Use Standard Upper Cabinets
Except for the floor-to-ceiling cabinets on either side of the kitchen, stick with standard lower and upper cabinets to increase storage space if you choose to adopt that design choice.
Further, this will provide support and stylize the hood of your stove. Another benefit is the ability to install under cabinet lighting to illuminate your prep surface better. 
Use Mix of Cabinets and Shelving
If your kitchen space is relatively small and you don't need much storage to necessitate full cabinets, consider open shelving on the high part of the wall or a mixture of standard cabinets, bridge cabinets, and shelving. 
Instead of standard 26-inch deep storage spaces, opt for those that are only 12 to 14 inches deep. Bridget cabinets are not as tall as standard options. And they frequently span an open space between full-size ones over the sink or prep area.
Bridget cabinets are stylistically attractive and can provide more light or convenience to those who do a lot of countertop work. However, if they are exceptionally high, store items inside that you do not have to access regularly. 
Consider an Island or Regular Table
While one might argue that an island creates a two-wall kitchen, narrower options would still fit into a small space. The island must run parallel to the counters and cabinets on the other side. Similarly, it must be sufficiently far from them to allow easy access and traffic flow. You must keep this point in mind to avoid kitchen island mistakes during your remodel.
Islands are particularly useful in an open concept space because they delineate the kitchen from the living room. They also provide an eating area if you don't have a separate dining room, and manage traffic flow away from the work zones.
Furthermore, it will always have a convenient bit of countertop to put down hot plates or bags of groceries. Nevertheless, if you don't want fo for an island, a narrow kitchen table can do the same job.
Not only can the family gather there to eat and hang out, but it will also provide extra workspace. In most cases, not having chairs on the work front of the kitchen is more sensible because people sitting down and getting up will not get in the way of the person cooking. 
Pick One Focal Point
You can view a single-wall kitchen layout from other parts of the house. Hence, during the kitchen remodel it should become a focal point itself or blend in with other design options.
Simple cabinets and countertops may not grab the eye, but a colorful tile backsplash can add a touch of color and interest. In contrast, perhaps boldly colored cabinets can do double duty as artwork on the far end of the living room. This especially stands true for contemporary-styled homes.
No matter what you choose, remember that the space is relatively small and can get overpowered quickly if there are too many clashing colors or styles.
If you live in a small house and appreciate an open design, these single-wall kitchen layout ideas are perfect. Work with a qualified designer to determine if it will work for your home and kitchen use habits.