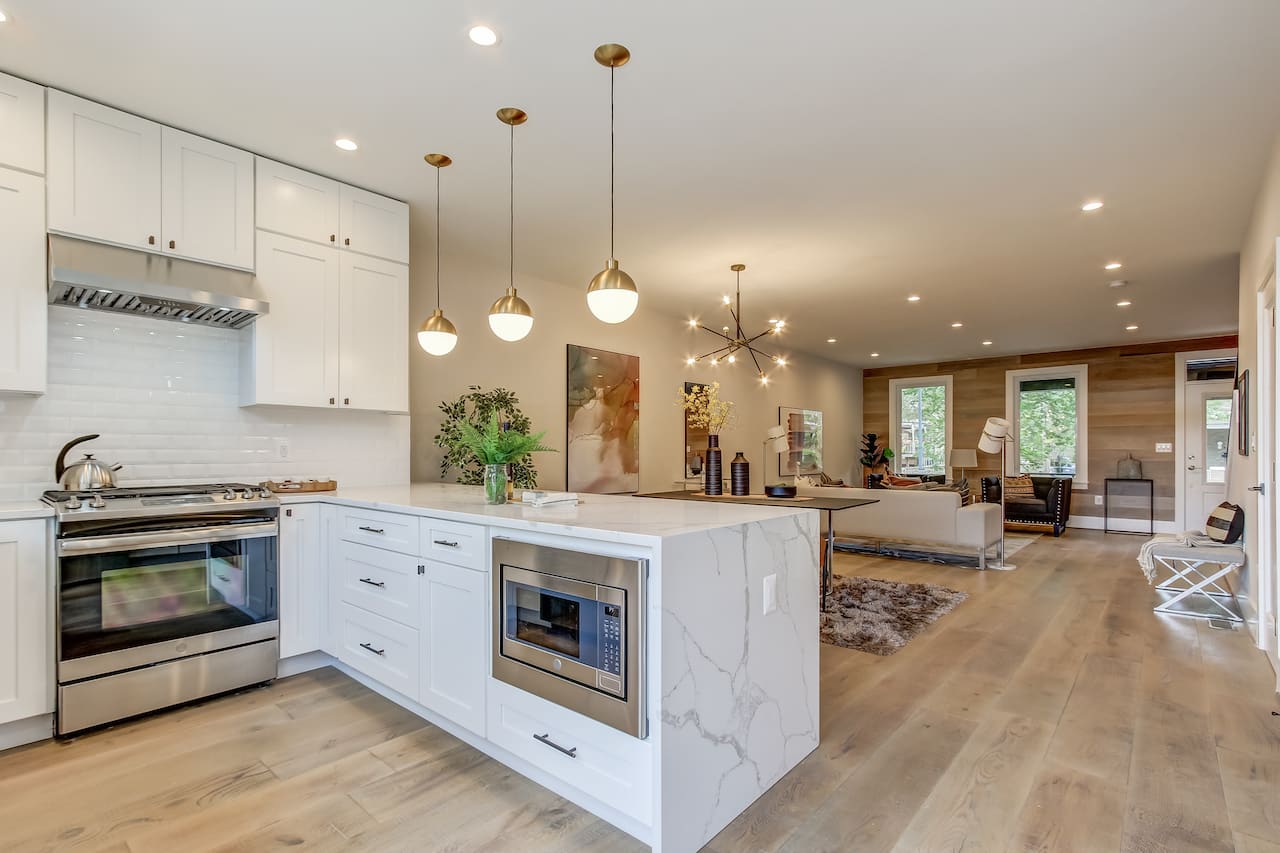 Open Concept Kitchen Ideas: How to Get the Right Design
An open kitchen is a significant trend currently and is popular for many deserving reasons. You can accommodate an open kitchen, not just in a lavish and enormous two-story bungalow. You can also have it in a simple apartment if you plan it well and take inspiration from the many open concept kitchen ideas.
An open concept kitchen helps open up your home by blending in the kitchen and living room. It is the perfect option for you if you want to have some exciting conversations or socialize while you whip up some meals.
This kitchen layout does not just help with entertainment purposes; it also doubles up the kitchen functionality. An open kitchen can accommodate twice the things an everyday closed-up kitchen can. For instance, double door refrigerators, two islands, a double sink vanity, and many other lavish features that can make your work easier and faster!
So if you plan to give your kitchen a fresh new remodel, here are a few open concept kitchen remodel ideas for some inspiration!
One-Wall Kitchen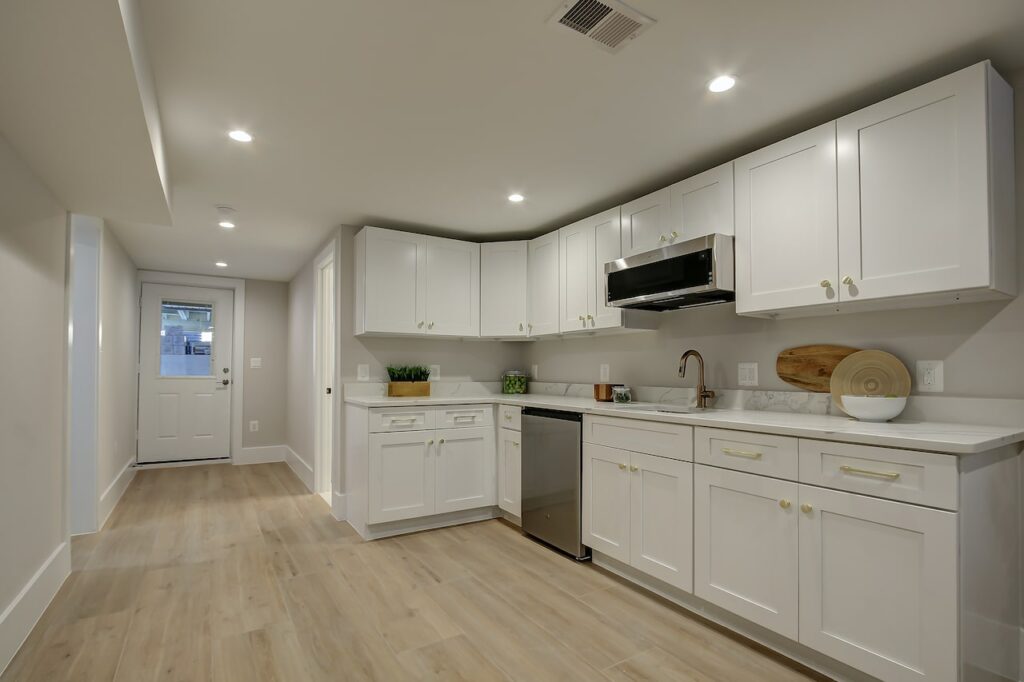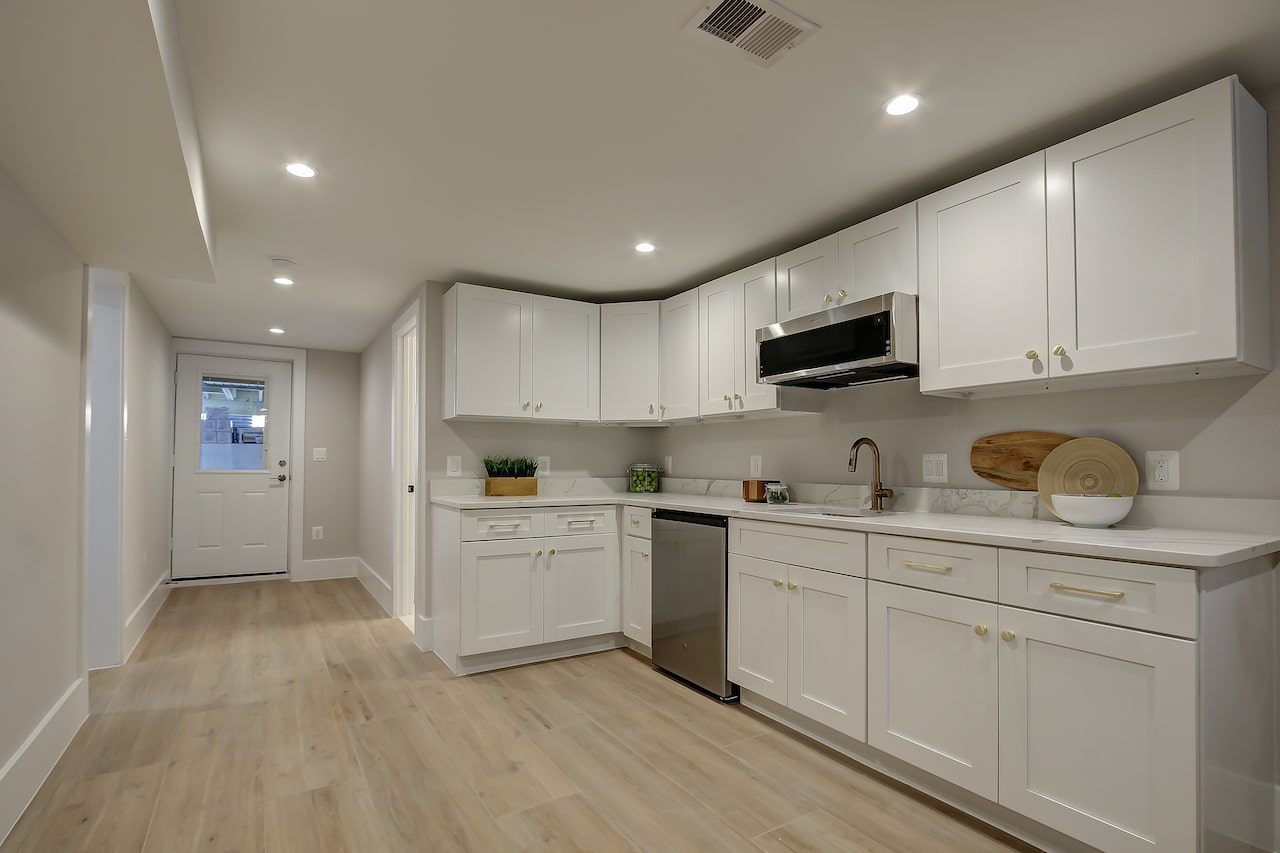 A one-wall kitchen looks incredibly lavish and sophisticated. A single wall full of kitchen appliances and floor to ceiling cabinets is the best kitchen layout for your remodel. A long horizontal wall is the best place to set up your kitchen components since it allows you to accommodate all your cabinetry, a long countertop, a sink vanity, and any extra cupboards too.
Incorporating all kitchen elements on one wall allows you to make space for anything extra that you may want in your kitchen. You can choose to have two islands, attach a sink to them, and hold extra storage too. The additional seating that the island provides helps you easily hold gatherings in the kitchen without any space issues.
Since no walls restrict the kitchen, you can even get yourself a dining table next to the kitchen island and make the room look even more spacious. Because of the free space, you have saved by attaching all elements to one wall. The foot traffic flow becomes easier for the guest and the host too!
Double Not a Trouble!
A modern kitchen remodel design is all about having a double of everything. Two refrigerators, two sinks, and two kitchen islands too! If you try to fit all of this in a general basic kitchen, it is sure not to happen! But an open kitchen plan and easily and beautifully accommodate all of these components without cramping up space.
If you have a large family, then this may be the perfect kitchen remodeling project for you. Having two refrigerators, double the cabinets, a dual sink vanity, and two large islands solve the storage issue in the kitchen. However, it also makes the kitchen doubly functional and useful, and not to forget extra seating space!
And if you feel like the place may look too suffocated, there are tricks to make it feel airy. For instance, you can use white kitchen cabinets and islands, painting your walls in a light and neutral color, and plenty of light through suitable lighting fixtures!
Extra Dining Room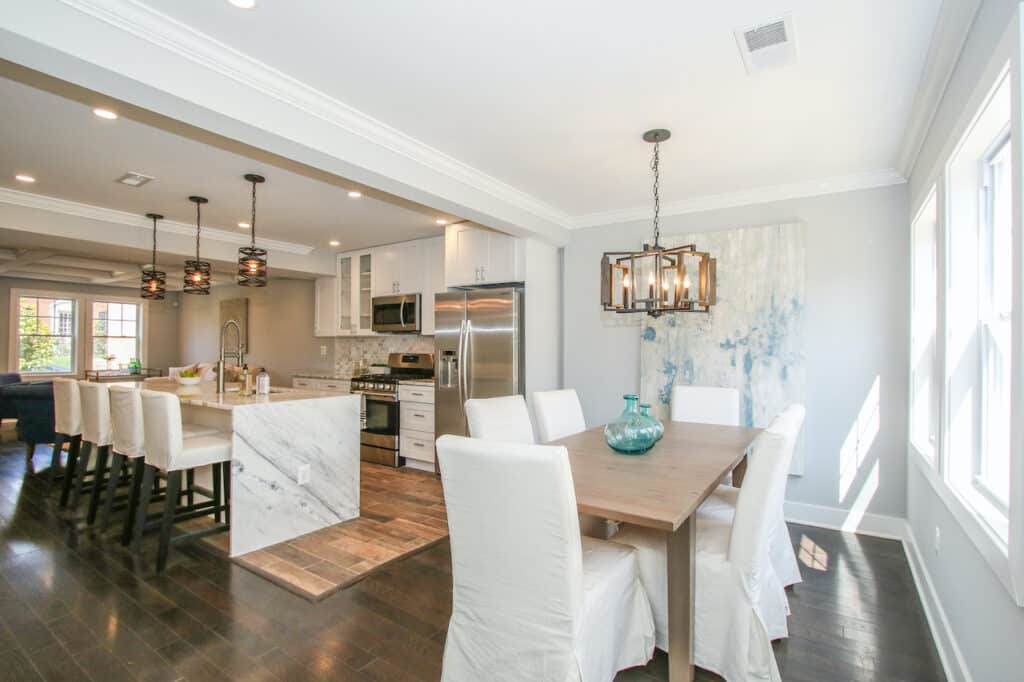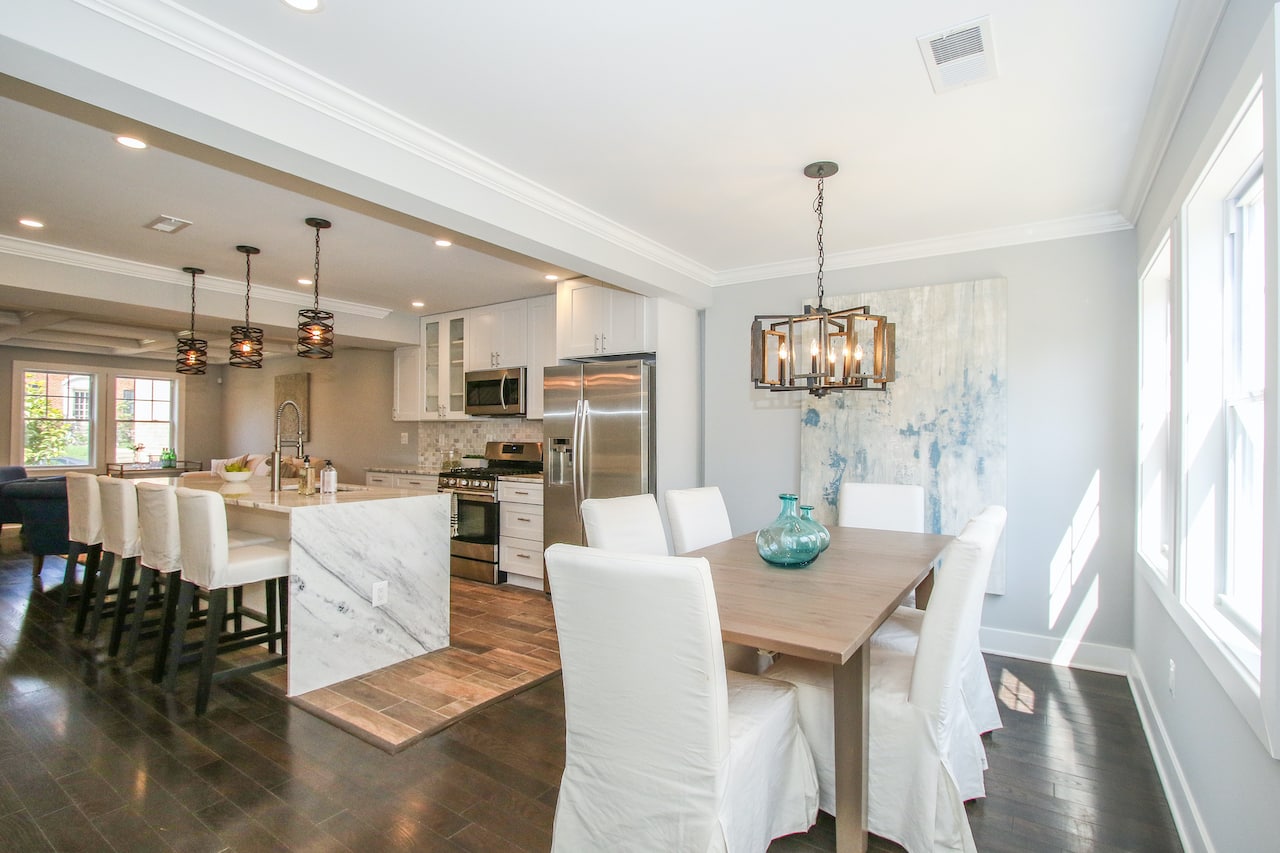 An open kitchen remodel makes your kitchen and dining area well connected, ultimately making serving and entertaining even simpler. An open kitchen helps make the dining or the living room look more prominent, and therefore, you can easily accommodate a large or two small dining tables in there.
Depending on the number of people dining, you can move around the tables and create extra or limited space. This also makes the flow of traffic more manageable. The open floor plan allows you to hold get-togethers and parties where there is sufficient space for many people to move around the tables. You can even create a buffet on one island or the long countertop across the wall.
Or if you do not want to have any dining tables, that is okay too! The kitchen island can act as the dining space if you add high chairs around the circumference. It acts as a multi-functional element in the kitchen remodel used both for the preparation and serving and eating!
Corner Kitchen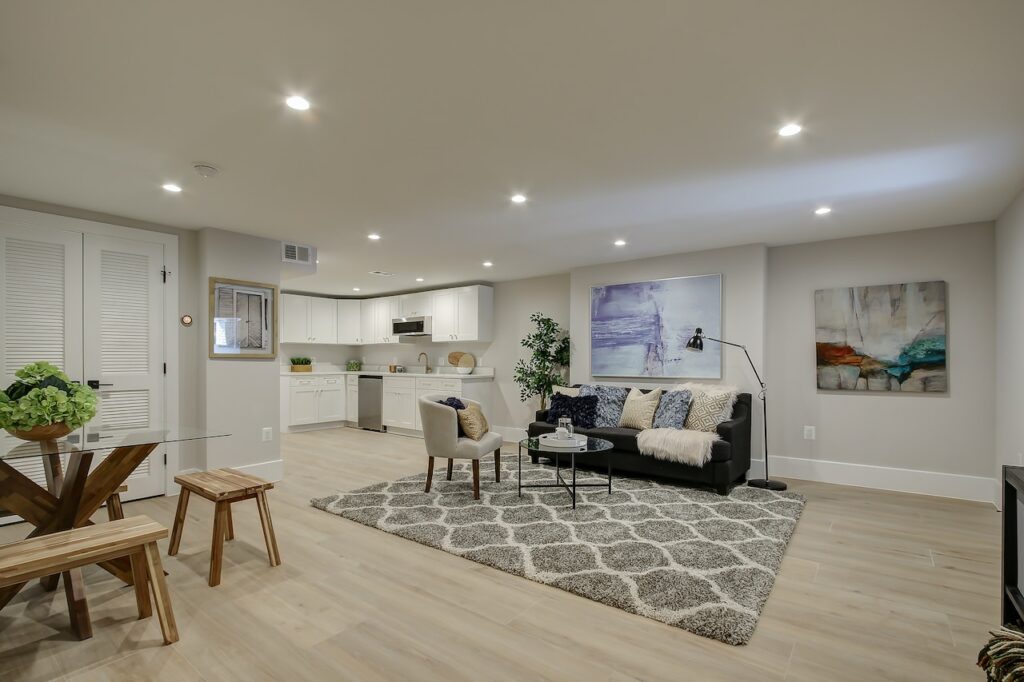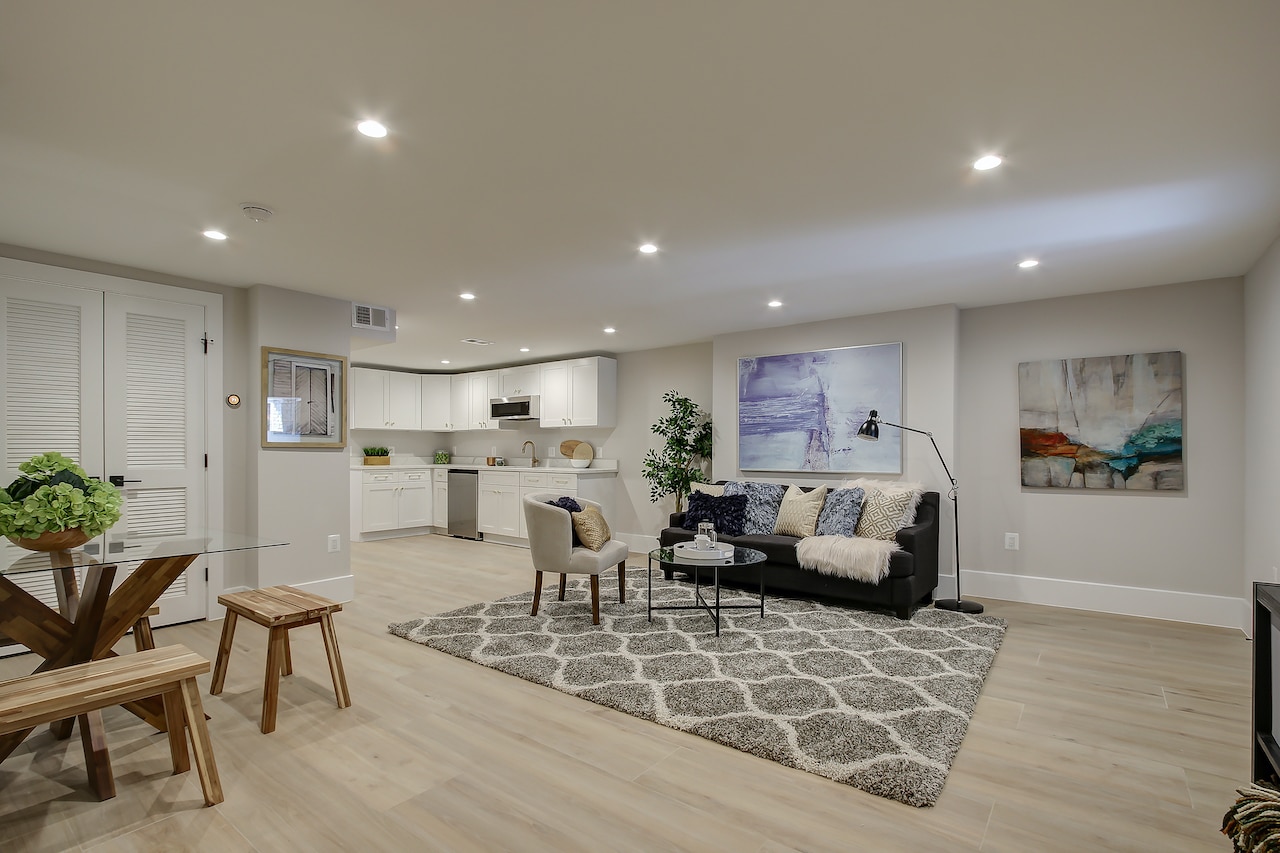 Having an open kitchen remodel plan does not always mean that you have to have a huge kitchen. One of the best open concept kitchen ideas is to have a small and compact corner kitchen too. It is the ultimate space saver for houses that wish to have all that extra space to convert it into something of their liking.
Similarly, a cozy little kitchen in the corner of the room can do the job. You can add a sink, a small countertop, and cabinets and cupboards on either side of the countertops. This smoothly restricts the kitchen area while providing all the necessary components in the kitchen.
To create a more noticeable separation, you can lay different colored rugs to accent the different spaces in the house that are closely connected to the kitchen area. They do a great job without you having to erect a wall or a divider. A corner kitchen creates a quaint and cozy space in the house. Similarly, it also gives it a country style, traditional look if complemented with some wooden accents.
Light it Up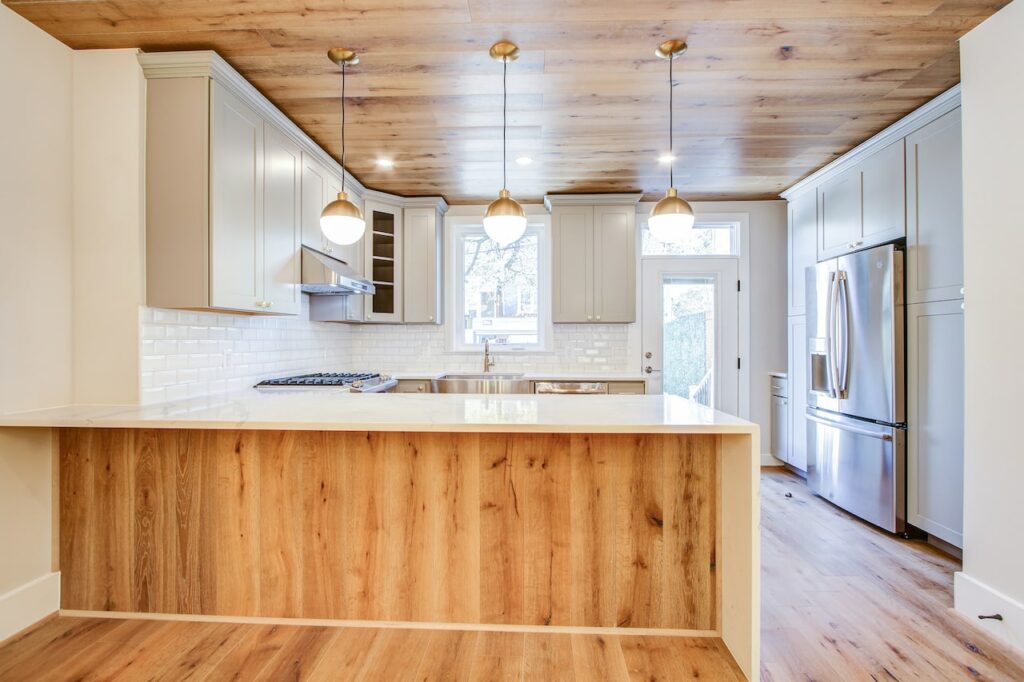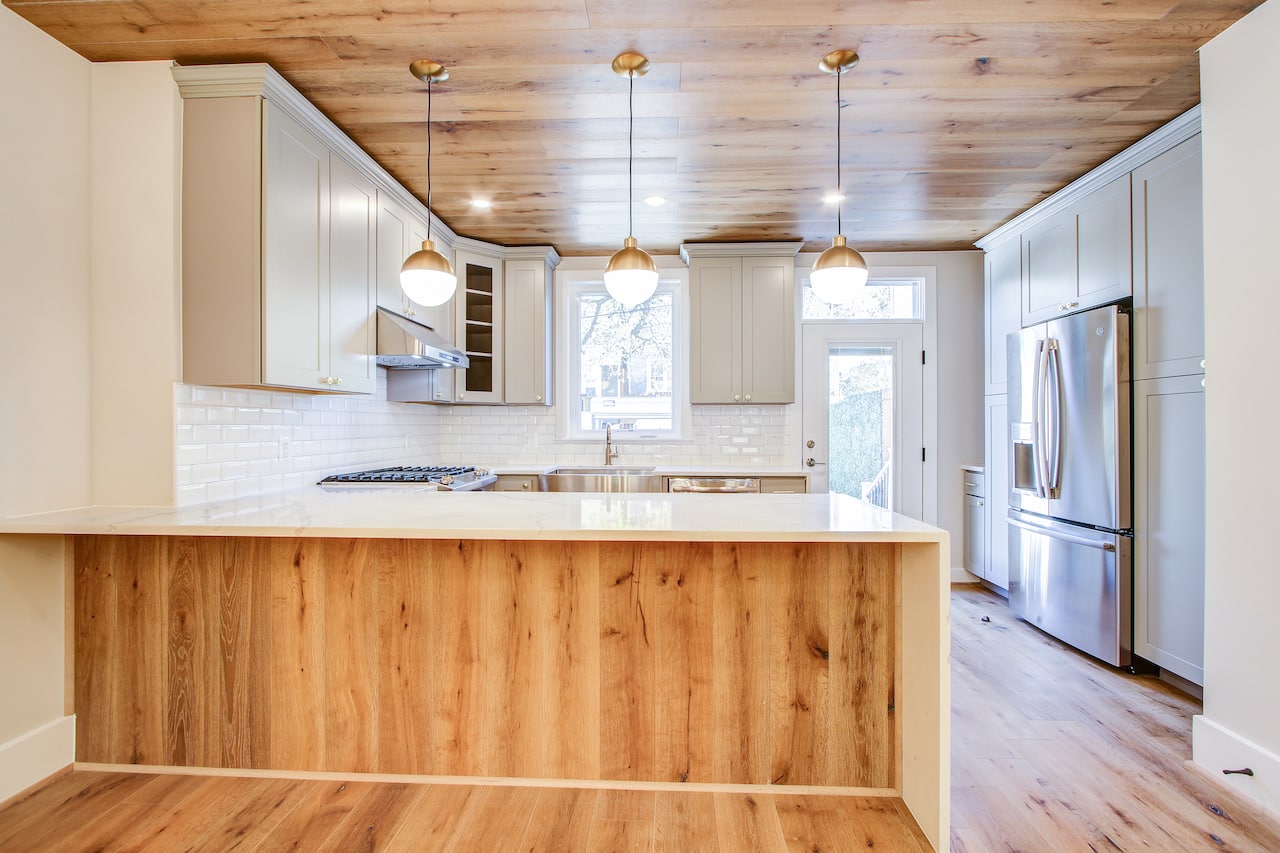 If you have the option to go for an open kitchen remodeling project, give it an ultra-modern look by installing full-sized sliding glass windows that will allow in plenty of natural light, and maximize the whole concept of an open space plan. The cascading light creates a fresh and airy feeling in the room.
The open concept kitchen can look humongous if you paint it entirely white, you can choose the best kitchen flooring, and the walls and cabinets too. White has excellent reflective properties and is known to create the illusion of space in the room. This is advisable for people who have smaller sized homes and want to make them look larger.