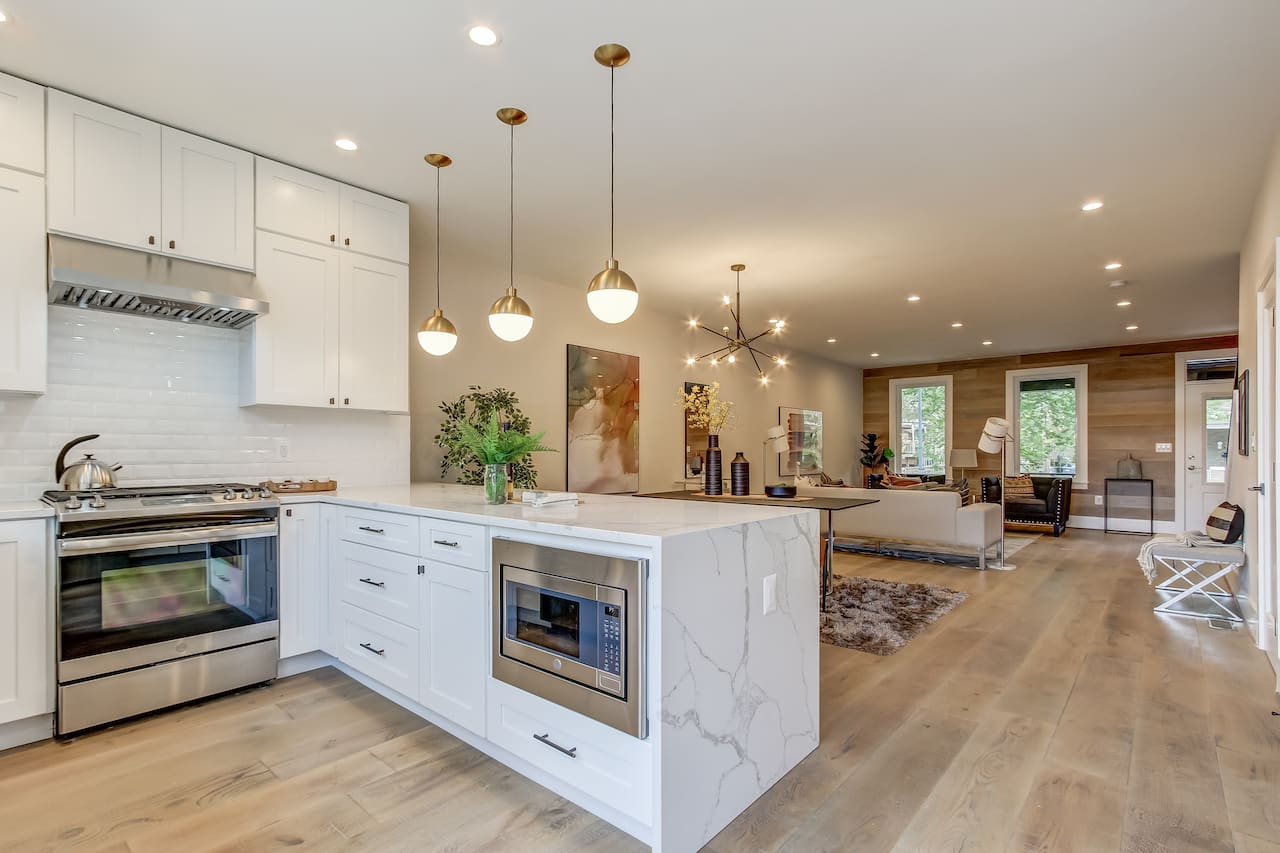 L-Shaped Kitchen Layout Ideas: Everything You Need to Know
A kitchen layout can make or break your kitchen remodeling process. With so many kitchen layouts to choose from, how do you pick the right one? L-shaped kitchen layout ideas work particularly great for homeowners with small to medium-sized kitchen space. Further, L-shaped kitchens require at least one wall, usually featuring cabinets and other permanent fixtures like a stove and sink. 
What is an L-Shaped Kitchen Anyway?
An L-shaped kitchen may incorporate a kitchen island, which can be extremely useful for food preparation and added storage. As the name suggests, L-shaped kitchens often feature one portion of the "L" as open counter space with a pass-through to a dining or living room.
Moreover, L-shaped kitchens can be particularly functional and attractive spaces, as useful for cooking and cleaning as for gathering, eating, and conversing. 
When you are ready for remodeling your kitchen, and your goal is to maximize the space. Still, you want to retain as open design as possible. You will want to give serious considerations to L-shape kitchen layout ideas. 
L-Shape Kitchen Layout Options
The L-shape design consists of two adjoining, perpendicular walls of cabinets that form an impressive L shape. Furthermore, the popularity of the L shape is due to its adaptability.
Generally, one side is dedicated to minor kitchen tasks and acts as a home base for the sink, countertop, and appliances. The other end is oriented for larger, more time-intensive activities such as holding the range and refrigerator and providing additional storage. 
An L-shaped kitchen layout can take another form as well. There can be one wall with a cooktop and another with a sink. However, in this design, the refrigerator may not be in the L. 
Often an island is in the center for this kind of kitchen style. While the kitchen work triangle is efficient, planning for the island is important to ensure that the space is efficient. Determining if an L-shaped kitchen is right for the floor plan and space availability will largely influence a homeowner. 
What Can You Do With an L-Shaped Kitchen?
If you are wondering what you can do with an L-shaped kitchen, it is important to keep practicality and functionality in mind. From an aesthetic point of view, you can make small L-shaped kitchens to appear bigger. You can easily do so by opting for neutral-colored cabinetry, which gives an impression of a bigger space. On the other hand, deep kitchen color schemes do the opposite, seeming to contract the room, but they are also warming, so they work well in bigger kitchens.
Besides banks of cabinets look stunning in a large kitchen and provide an abundance of storage, open shelving prevents a small kitchen from seeming too busy. Whatever the size of your kitchen, the excellence of the L-shaped kitchen layout lies in its simplicity, practicality, flexibility, and ease with which it can easily be adapted to suit specific requirements and different design tastes. 
Utilize an L-Shape in an Open Plan Kitchen
Just as our expectations of the kitchen have changed drastically over the past 20 years. You may hear designers refer to the "classic work triangle," the arrangement of the key work stations of the refrigerator, sink, and cooktop in this kind of pattern. Further, this cuts down on the distance traveled when prepping and cooking. 
The work triangle is still in use but not as dominant as once it was. There is a move towards a more linear approach in modern L-shaped kitchen layout ideas, inspired by the long workbenches of a restaurant kitchen. Again, ergonomics is not the only deciding factor. Room size and shape also play a vital role. Sometimes your only option in small kitchens is to go for a galley kitchen. 
Moreover, lifestyle and ergonomics are important factors. For instance, an open plan kitchen has to look fabulous as it is always on show. Further, if space allows, a built-in banquette in the shape of an L could just be what your open-plan space needs. 
Work a Narrow Space
The L-shaped kitchen layout is best for long, thin rooms where space for an island or kitchen cabinetry on the opposite walls may not be possible.
However, small kitchen layouts don't have to mean a lack of style. Open shelving at the end of the L provides an airy and spacious feel to a narrow kitchen. 
Cook Together as a Family
If you enjoy cooking with a partner, or family, then an L-shaped kitchen is the ideal choice for you. Planning is the key to creating a successful kitchen for cooking and socializing. You should carefully plan the kitchen design in order to maximize convenience without blocking the flow of space. 
An efficient way to do this is to create zones for each area with everything needed for preparation and cooking in one, and table linen and crockery in the other. 
Break Up an Open Space 
You can use an L-shaped kitchen design to break up an open-plan living space. Further, keep the cooking and kitchen chores tightly in an L, and let the remaining large room be given over to family life. 
Even the most practical kitchen island ideas won't accommodate you as much prep and storage space as an L-shaped run of units along the sides of the room would.