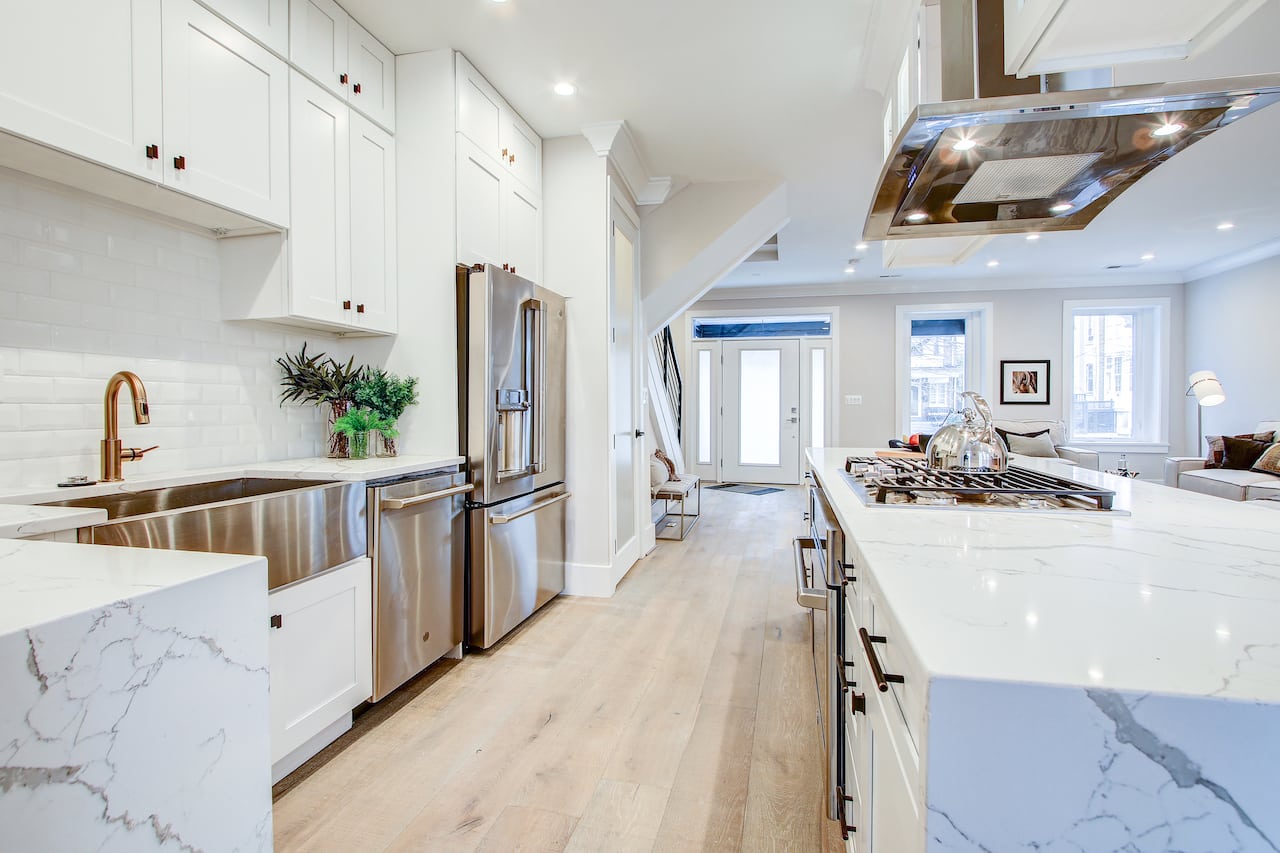 What is The Kitchen Work Triangle? Pros and Cons Explained
The kitchen triangle – also known as the 'kitchen work triangle' or, 'the golden triangle' – is a kitchen design concept that has been around since the 1940s. It was primarily introduced to save on kitchen remodel costs and now has found itself to be a major kitchen design principle.
Even though it was designed to save money, it was quickly adopted by kitchen designers who believed it improved the efficiency of kitchen layouts – and we've stuck with it for generations. However, is it still relevant, and should you include it in your kitchen remodel?
Let's demystify the kitchen work triangle for you. 
What Is a Kitchen Work Triangle? 
The work triangle is a tried-and-true kitchen design principle that aids in the planning of efficient kitchen work areas with defined traffic lanes. Consider the triangle formed by your cooktop, sink, and refrigerator. That's what a kitchen work triangle looks like.
Each triangle leg must be between 4 and 9 feet long, per the National Kitchen and Bath Association's recommendations. This allows a cook to easily access their cooking, cleaning, and meal storage facilities while leaving sufficient space between them to prevent congestion.
How To Create An Effective Kitchen Work Triangle? 
The total length of the triangle's three sides must not surpass 26 feet.

Each leg should be between 4 and 9 feet in length.

A triangle should not cut through an island or peninsula by more than 12 inches on either side.

There should be no significant traffic patterns passing through the triangle.

By adding an extra sink to an island or fourth-wall peninsula, you can form the 2nd triangle. This is also a good idea to make a dedicated baking or food prep area.
Is It Outdated? 
It's vital to realize that the parameters for the work triangle are not codes of conduct. When you reflect on how the work triangle came to be, it was created in the 1940s, when kitchens were smaller and were built as a functional work area for homemakers to prepare meals at home.
Our kitchens are larger nowadays, and many households have multiple cooks. Furthermore, today's kitchens serve a more comprehensive range of purposes than merely cooking. You can eat, entertain, and work there as well. As a result, modern kitchen designers are designing kitchens around the work triangle concept.
Galley kitchens, on the other hand, do not necessarily lend themselves to the functioning kitchen triangle. Regardless of the size or form of your kitchen, it's crucial considering the efficiency of mobility that a kitchen triangle might provide when planning a new layout.
It is critical to balance aesthetics with usefulness; if you simply focus on one of these, your kitchen will not function; as a result, components such as kitchen triangles and zoning will usually happen by accident rather than being a primary priority.
Pros of Kitchen Work Triangle 
Although the kitchen work triangle design has been around for centuries, it continues to be popular. Having the three most essential kitchen items within a few steps of each other is as convenient as it has ever been for a cook. 
This concept's arrangement tends to result in adequate counter space surrounding the sink and key appliances. If you've worked in a kitchen where the fridge is directly next to the sink, you understand how important the kitchen counter space between the two is. 
It's critical not to have kitchen cabinets or islands restricting the chef's path from one location to another for safety reasons. Reducing foot traffic through the cook's workspace also significantly increases productivity and comfort.
Cons Of Kitchen Work Triangle 
In today's world, habits and demands have evolved. Two cooks frequently use the kitchen at the same time, and it is viewed as a more relaxed gathering spot for relatives and friends. 
Furthermore, kitchens have grown significantly in size during the postwar era, and a long list of appliances has become the norm. Today, we want a lot more from our kitchens than when we first introduced the triangle concept. Some experts feel that we should abandon the kitchen work triangle concept entirely.
Kitchen Working Zones
The modern kitchen is more than just a place to prepare food and clean. The kitchen, as the heart of the home, is much more multi-functional than ever before. As a result, you must think more flexibly and plan spaces based on the specific activities that will take place in them and your family's requirements. More importantly, you need to think about the kitchen storage as well.
Your kitchen is divided into four distinct zones. Each zone denotes a specific activity: 
Pantry Storage

Sink Storage 

Prep Storage 

Cooking Storage 
You may practically build an assembly line of meal preparation by putting the zones in the sequence described above. For instance, you can carry food to the kitchen prep area. Pots and pans are within easy reach as well. Similarly, the dishwasher is also conveniently located near the silverware and plate storage.
Creating zones in your kitchen is a good idea, and you can generally place it on top of the kitchen work triangle rules. One disadvantage is that, in larger kitchens, each of these zones becomes so huge that the three basic kitchen components (cooktop, refrigerator, and sink) become too far off to be practical. 
For instance, you want to put your refrigerator and large walk-in pantry next to each other. To do this, you may need to situate them far away from the sink. However, this will result in the inconvenient requirement to go five paces from the fridge to the sink only to grab and wash some vegetables. 
Again, these guidelines are a terrific place to start, but every family is different. Even if it's entirely arbitrary for someone else, your kitchen must make perfect sense to you and your family.
New Layouts To Consider
Many modern homes must now accommodate various design plans that work for the area and the family. Pay particular attention to how a kitchen is utilized and how the space flows. However, you must consider each individual and the home a whole, as not everyone cooks or utilizes a room in the same manner while designing the kitchen layout.
The quantity of space available and the types of appliances you use will be factors to consider. Drawer refrigerators are becoming increasingly popular, particularly when paired with a walk-in pantry or an additional utility kitchen with a larger overflow fridge, dishwasher, and sink. It's not uncommon to have smaller prep sinks on kitchen islands or even two sinks on both sides.