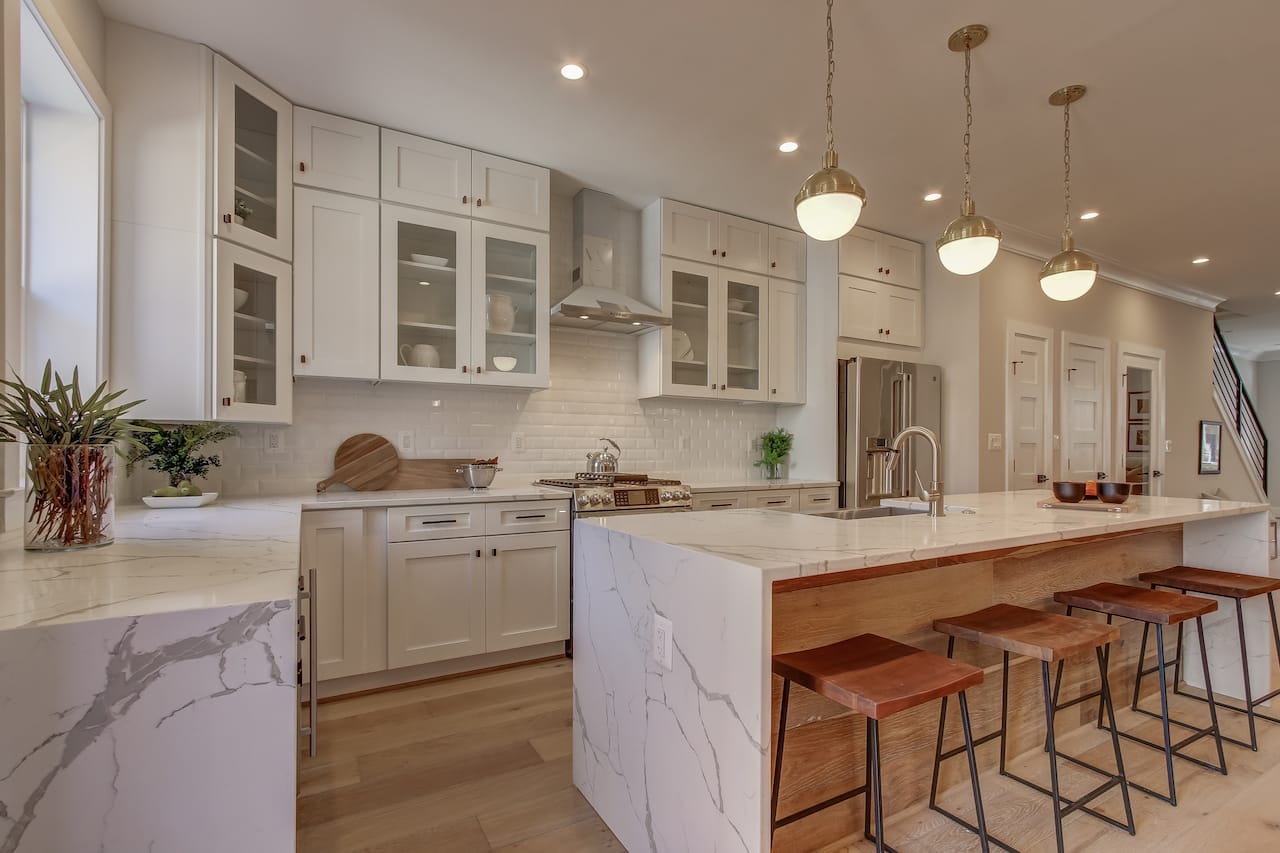 Implement These Kitchen Storage Ideas For a Seamless Remodel
Are you running out of storage space in your kitchen? Try innovative kitchen storage ideas such as pull-out pantries, built-in appliance storages, window shelves, etc., and add more functionality to your space.
Your kitchen can't match the space your living room or master bedroom stretches over. But with some cool and innovative kitchen storage ideas, you can create enough space in your cramped up kitchen.
One of the leading reasons behind insufficient storage space in the kitchen is that you've made some common kitchen storage mistakes.
Some of these unnecessary mistakes include a non-functional kitchen island, ample cabinets, big drawers, and much more. These are ideal for only big-sized kitchens if not thought thoroughly. Hence, the best way to generate enough storage space is by some clever rethinking and remodeling. 
Here are some clever kitchen storage ideas you should implement while remodeling your kitchen.
Install Pull-Out Pantry(s)
Pull-out cabinets or pantries save ample kitchen storage space as well as clear the kitchen clutter. Instead of arranging the day-to-day cooking essentials like dry goods, spices, or packaged snacks inside the cabinet or over the countertop, use a pull-out pantry for your kitchen storage ideas.
To make the most of them, you can align multiple pantries of altering widths side-by-side. This will save you a lot of outside storage space and provide an easy ticket to every item as and when required. 
Span the Cabinets to the Ceiling
You can extend the various kitchen cabinets up to the ceiling's height to add kitchen storage options. This way, you can utilize this mostly unused space and open up more untapped areas. Plus, you can also use the wall space while remodeling your kitchen.
However, these cabinets do not store goods or appliances that you need regularly but rarely. You can also revamp the top section of each cabinet into a transparent display section. 
If you do not want to stretch the cabinets to the ceiling, you can create some cupboards under the canopy and, for example, above the hood or kitchen stove.
Built-In Storages For Appliances 
Built-in kitchen appliances not only make your kitchen appear spacious & clean but also are a great idea for creating storage space. Elements like a built-in coffee maker, refrigerator, microwave oven, water dispenser, etc., are some common examples of appliances you can shift into the walls.
Additionally, such a design will leave you with more space on the kitchen countertop for other appliances and goods. Hence, no more worries about the storage space. 
Add a Shelf Above the Window
Adding a shelf above the window is another way to maximize your kitchen storage space. You should use every inch of your kitchen space for storage, and the small space above the window is not worth ignoring.
You can either go for a full-stretch shelf or a small shelf of a lightweight material to organize your pottery artworks. Plus, this kitchen storage idea will also fill up that odd space to make your kitchen appear more full than before. 
Divide The Storage Shelf
It is unnecessary to have multiple and separate shelves in your kitchen to store a plethora of goods. You can even turn one big stand into multiple spaces or frames with wire shelf risers' help.
This way, your kitchen won't appear seized with shelves, and yet you'll have ample storage space to use. So, no more hiding your favorite coffee mugs, snack plates, and cute bowls due to a shortage of space.
Add Drawers to the Cabinets
While redesigning your kitchen cabinets, you can merge them into one instead of separate drawers and cabinets. However, this will need slightly deeper cabinets. Plus, don't go for an overwhelming number of drawers to fit in.
Doing this will allow you to store many kitchen items inside multiple drawers fitted in a single cabinet. The extra visible space you will get after this will allow you to use your creativity further.
However, the method is only valid for lower cabinets and not higher-placed cabinets. For higher cabinets, go with pull-out sections and not drawers.
Use Your Under-Sink Storage
You should not neglect the valuable space under the kitchen sink, especially if you're looking for small kitchen storage solutions. This small yet practical storage space is usable in a multitude of ways.
For reference, you can store your kitchen's cleaning requisites like cloth, bottles, kitchen wipes, etc., under the sink. Besides, you can also keep tissue rolls underneath the sink, etc.
A sliding organizer or pull-out cabinet is the best kitchen storage idea for space under the sink in terms of design and functionality.
Add Functionality to the Kitchen Island
A kitchen island is a freestanding cabinet positioned in the middle of your kitchen. It modernizes your kitchen and offers extra storage space for accomplishing your day-to-day kitchen chores like chopping, blending, etc. 
Besides using the top surface, you can establish multiple cabinets inside it for the most used kitchen goods and silverware. Furthermore, you can add wheels to the kitchen island to move it aside when not in use.
Store Pans and Platters in Toe-Kick Drawers
A toe-kick drawer is a push-activated drawer usually found in hard-to-reach places for stocking items you won't use regularly.
You can access and open them with a single toe kick and stock items like pans and platters in them. Since they are usually skinny in size, you should keep only delicate items in such drawers.
Utilize Window Sills
You can use your window for more than just natural light. Using the window sills is among the more innovative kitchen storage ideas that you can implement while remodeling your kitchen.
You can also put in some color touches and light sources to reinforce its presence in your kitchen.
Use the Drawers
Spice jars are something you will need all day long. Due to this, many people attempt to organize them on the kitchen countertop as their top kitchen storage ideas.
Instead of doing this, you can label them with name stickers and arrange them in a deep drawer called a spice rack. This will save enough countertop space and make it appear more spacious and orchestrated.