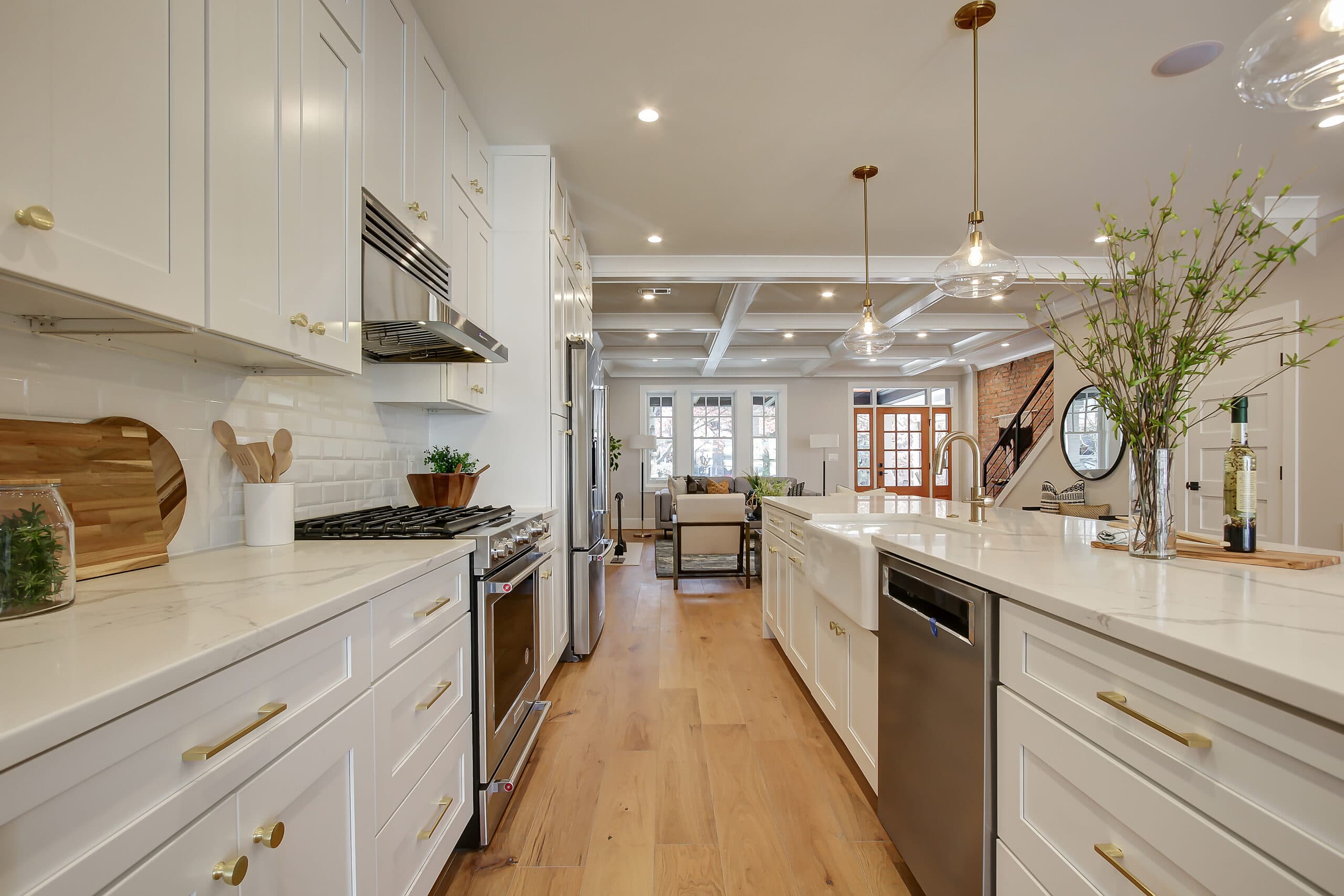 Kitchen Remodeling Length: A Step-By-Step Timeline of Your Project
The process of remodeling a kitchen is far more complicated and time-consuming than remodeling a bedroom or a bathroom. There are many tasks to consider- from cabinets to countertops, paint to plumbing, the process seems never-ending. The most common question after "How much does a kitchen remodeling project cost?" is "What is the average kitchen remodeling length or timeline?"
Kitchen remodeling length can vary, depending on the type of changes you plan to get in your kitchen. The changes can be merely minor such as adding something to the existing footprint, or it can be a complete overhaul, such as significantly changing the entire kitchen layout. Irrespective of your kitchen's size and scope, the remodeling project can take longer than you think. 
It involves the meet and greets of the clients and designers, the design draft, the development phase, the fabrication and delivery of materials, the demo and installation of the materials, and the end decorations. 
Let us break it down and elucidate to you the kitchen remodeling length in detail.
Pre-construction Phase
Before you start hammering down your kitchen, there is a lot that you need to consider and pay attention to. Here are a few such things:
Step 1: Close On Your Property
This step is for those homeowners who have bought or are buying a new home. It is advisable that you must wait until you have the keys in your hand before you start anything if you do not own your property yet. If there is a hurry, at least wait until you sign the contract before you begin the remodeling process of your new home. This could take around 1-3 months.
Step 2: Site Visits and Research
Before you begin to tear down your kitchen, you must research your remodeling project. Every remodel project needs some inspiration, so this is the time for you to gather all the information, innovation, and creativity for your new kitchen. Simultaneously, you must keep going for site visits, which will help you with your research, tell you the true scope of the project, and of course, help you in setting a budget. This could take 1-3 weeks.
Step 3: Choose a Contractor
Choosing a suitable contractor for your kitchen remodeling project is very crucial. You must hire someone who understands your needs and desires and set the right budget that does not upset your pocket. Once you find him, sign a contract and finalize the construction schedule. This could take 2-3 weeks.
Step 4: Obtain Permits and Approvals
If you plan to do any structural changes in your house, you will need a permit for it. If you live in a building, you will need a building board approval, apart from the official permit. Your contractor can help you with all these procedures, and this could take anywhere between 2 weeks to a couple of months.
Step 5: Source the Materials
Once the design plan is ready, you must immediately place all orders for the materials you need to begin with your kitchen remodeling. If you are in a hurry, look for materials that are available and ready to ship. The delivery must coincide with the time of installation, or else it will hold up the process. The time duration ranges widely in this step and depends on the logistics of your location.
Step 6: Let Your Neighbors Know
It is your duty as a virtuous and ethical neighbor to let your other neighbors know what you will be putting them through. Tell them about your project and how long it would take to avoid putting them through shock or agony!
Construction Phase
This phase is the most essential and what increases the kitchen remodeling length. It includes you accompanying your contractor from time to time and answering a myriad of questions during construction. However, most of the steps underneath are the contractor's responsibility, now that the construction work is starting.
Step 7: Tear it Down
Now that all the planning and paperwork is over, it is time to work with the sledgehammer. Once you start tearing down the house, ensure that you protect the things you want intact in your kitchen with plastic or tarp. This should not take more than 1-2 days.
Step 8: Reroute, Electrical, and Plumbing
After stripping the place down, it becomes easier to start the new electrical and plumbing work since you can see behind the walls. So consider any new plans before you start working on your fresh electrical and plumbing in the kitchen to install new appliances. This could take 1-4 days.
Step 9: Inspections and Sign-offs
If you are going for new gas lines, you will need city permits for it. And for that, there will be an inspection and a final sign off before you close the walls. Scheduling an appointment with the inspector may take a few weeks, so be quick with it. It would be best if you remember that you cannot close the walls and start with other work before this inspection is over.
Apart from the gas line work, if there is any plumbing, a master plumber can inspect the place and sign-off the final pipework for the water lines if the inspector is a no-show.
Step 10: Flooring
Once you have closed the walls, you can move to the flooring. Installation of new tiles, may it be ceramic, vinyl, or sheet, could take 1-5 days. Ensure that your flooring is consistent throughout the kitchen so that it does not look odd if you decide to move your furniture sometime.
Step 11: Installation of Cabinets and Appliances
Once the flooring is over, most of your base work is over. You can then move your attention to installing, which takes a good chunk of your kitchen remodeling length. You have to install external appliances such as the cabinets, countertop, backsplash, fixtures, etc. The fixing of these materials varies depending on the arrival of their delivery. However, the overall process could take 1-10 days.
Step 12: Clean Up
Once your kitchen remodeling process is over, the contractor gets the whole place clean to remove all the settled dust and debris. However, you should get cleaning specialists separately after the process is over.
Post Construction Phase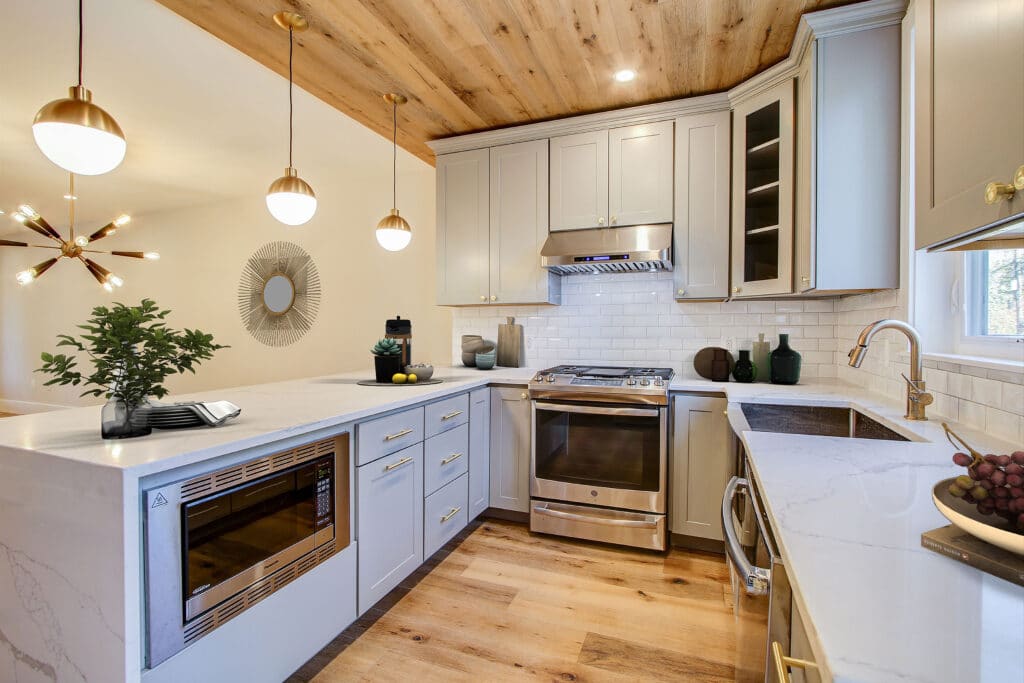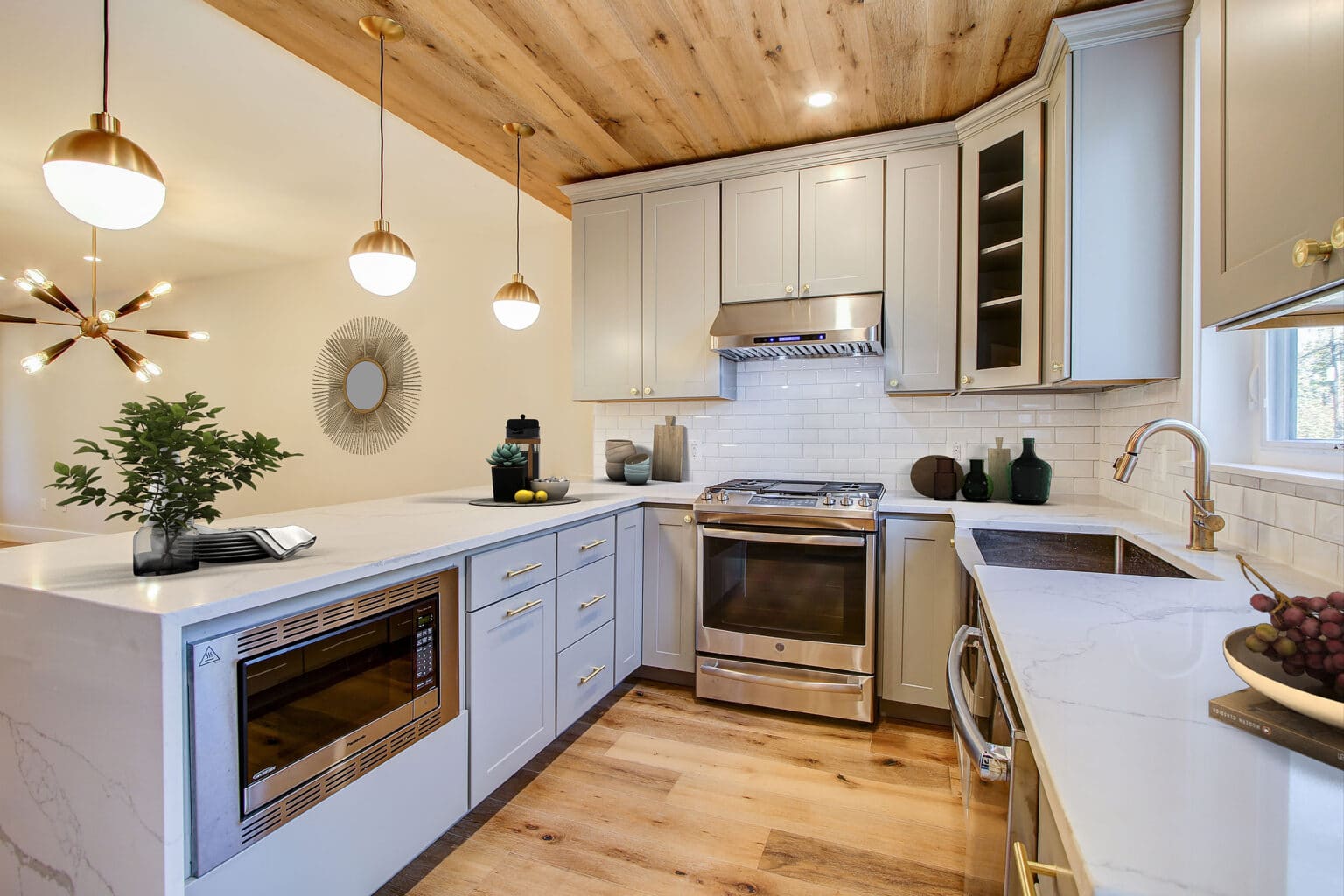 Once the construction work is over and your kitchen looks fully remodeled, it is time for you to inspect your kitchen closely. That is generally advisable so that your kitchen looks exactly like you had imagined it to be without any minor errors.
Step 13: Final Walk-through of the Remodeled Kitchen
Once the remodeling process is over, you must review your kitchen. Try all the locks and drawers, look closely at the edges and finishing, and make sure everything is up to the mark and as planned by you. 
If you see any problem or if you are unsatisfied with something, talk it out with your contractor for the fixings. If there is a problem, it will increase the overall kitchen remodeling length.
You can do this without the contractor there too. Once the cleanup is over, take a notepad and walk around your kitchen. Note down any changes you wish to see and let your contractor know about it once your inspection is over.
Step 14: Punch List Items
This step includes any of the things you need fixing with or straightened out after the remodeling work is over. It also consists of any of the left out items that had a late delivery. The contractor has to return and install or fix these things. 
Similarly, this procedure could take anywhere between a day to several weeks, depending on your appliance's condition. It could take long mostly when the item is delivered late. Otherwise, the contractor can fix the things in a day or two.
Step 15: Final Payment
Even though you have given the advance and paid small installations throughout the kitchen remodeling project, once you have addressed the last thing on your punch list, it is time to provide the contractor's remaining payment and enjoy your newly remodeled kitchen.