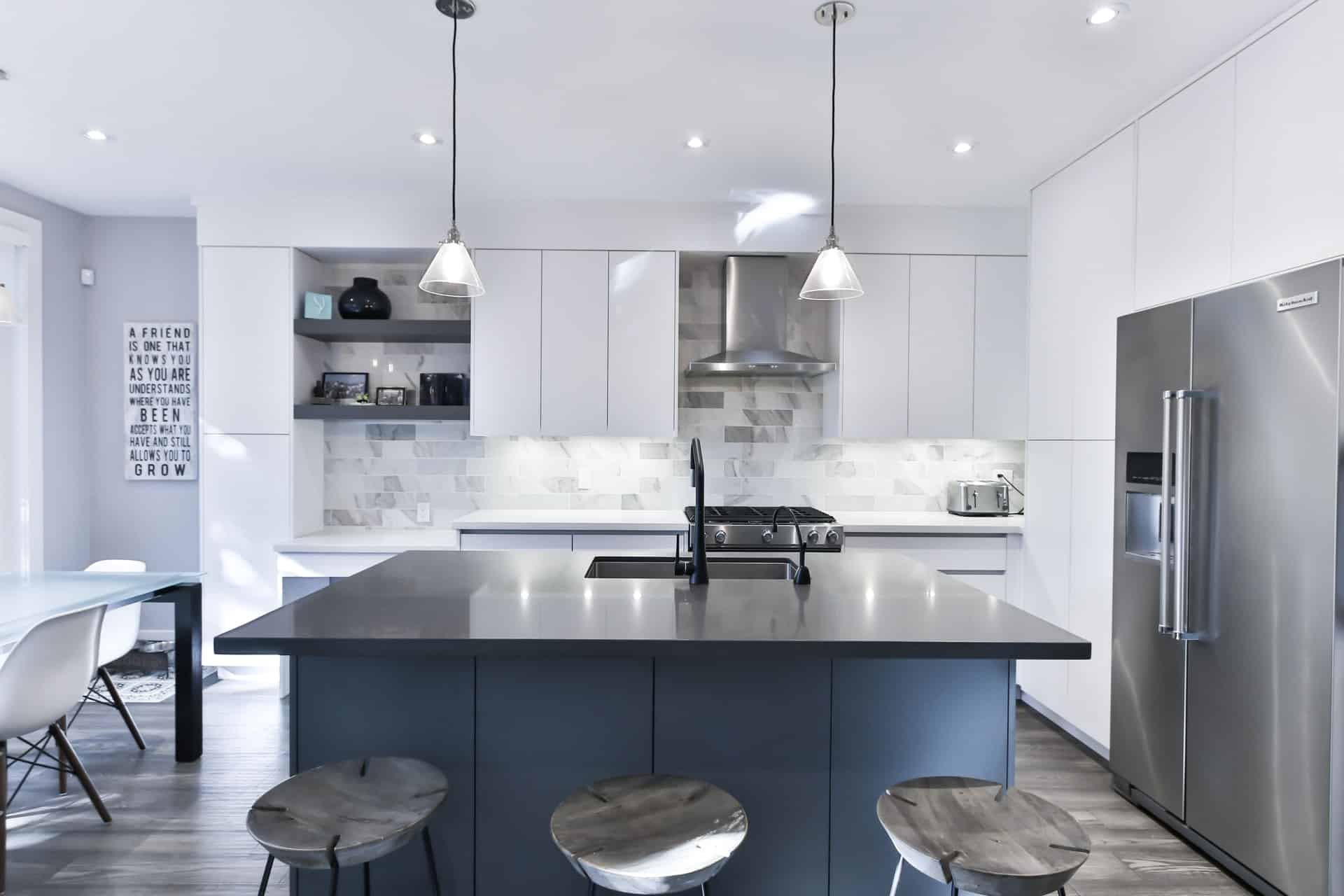 Which Are The Top Kitchen Island Ideas For A Remodel?
A kitchen island is often an excellent idea while remodeling your kitchen. Whether you need more storage, counter space, or a dining area a kitchen island will serve your purpose. However, you need the right kitchen island ideas to make the most of your kitchen remodel.
Kitchen islands are available in many styles and sizes, whether it's for a traditional-style kitchen or a contemporary one. Similarly, a moving kitchen island or tiny kitchen islands may add extra surface and storage capacity without taking more valuable space in a kitchen with a limited floor plan.
For larger spaces, a kitchen island with chairs may serve as a multifunctional space and an additional dining area. Similarly, a kitchen island can also act as a discreet space divider in open-concept kitchens where the kitchen overlooks a living room or dining room.
Regardless of your kitchen layout and design is, have a look at these kitchen island ideas that will help you plan your kitchen remodel ideas efficiently.
Family Size Kitchen Island
You can design your kitchen island while keeping your children in mind. You can also create an additional dining area for your infants so that they can be close to the main island and kitchen activities without you having to worry about them falling off a high chair. 
A family-size kitchen island is also perfect for entertaining—everyone can meet and eat at the island for quick meals, and the kids and their friends also have their unique spot. 
However, you should make sure you have sufficient room; you can implement kitchen island ideas like this by adding a small wooden table and chairs. 
Add Ample Storage Space
Some kitchens don't have enough counter space to prepare and chop food, so homeowners usually keep frequently used items and dishes within reach. A big kitchen island without a built-in sink or stovetop offers plenty of free counter space, allowing you to do your tasks in a more practical manner.
On a double kitchen countertop, you will have plenty of prep space and an under-counter storage area on the front and back of the island.
Even if you don't have a large kitchen island, make sure it's free of clutter so you can do all your chores easily. You can also hang wicker baskets from the ceiling or shelves on the wall to carry kitchen products if you don't have enough counter space.
Traditional/ Farmhouse Islands
If you don't have a built-in island, use a dining table as a substitute. If you bake often, the worktable is the ideal height for baking since it is slightly lower than the counters but higher than a standard table. 
The look of the earthy kitchen island also brings some warmth to the place. A table serves as a portable kitchen island, allowing you to reorganize the room as you please, which is especially useful in a small kitchen remodel.
Complement With Stainless Steel Countertop
Choosing the same kitchen countertop material can feel boring or unwelcoming. Breaking the mundaneness with stainless steel is one of the more unique kitchen island ideas. You can use it in the sink bowl to give a sleek, smooth appearance to an otherwise industrial, rugged design. 
Steel's reflective nature reflects light throughout the space, making it feel brighter and warmer. Not to mention that stainless steel is incredibly kitchen-friendly. 
You can also add a sophisticated wine refrigerator underneath the kitchen island to add a luxurious touch to the industrial kitchen design.
Go For a Wooden Design
A kitchen island with an adjacent breakfast nook and a plateaued gas stove make baking and cooking meals a breeze in a contemporary kitchen design. A wooden L-Shaped kitchen design is ideal for a large family because of the bright white laminates and adequate storage. 
You can also construct a luxurious and opulent kitchen with a high-efficiency suede finish. This kitchen island idea is unique in terms of style and functionality. You can also include intense shades of brown and black and install mosaic tiles for a more streamlined look.
Settle For The Right Amount Of Space 
Who says your kitchen island space must be big enough to accommodate the whole family? Sometimes, it's often enough to allow sufficient room for a couple of people. Primarily for that morning breakfast with a cappuccino and a recipe book in hand. 
While looking for kitchen island ideas, especially for seating, you should look at how you plan to use them. If you're tight on space, you can easily make do with less seating space.
Functional Kitchen Island Ideas
Fully integrated kitchen island ideas offer wiring, sink, ventilation, and adequate countertop space. Although it's not an "additional counter." It's almost as good as a secondary kitchen space. 
However, this might not be the best idea if you want to save on kitchen remodel costs. If you want to, you can select the right kitchen appliances like an island fridge to make the most of your space.
Add A Cooktop To Your Island
Homeowners prefer a cooktop on the kitchen island since it provides more workspace. Furthermore, centralized burners provide a more social environment, particularly when you add bar seats to the island.
If you are willing to move your cooking corner away from the surface, you should consider this kitchen island idea. Many owners who use a compact, cohesive sink-counter-stove classic kitchen work triangle will be frustrated by this across-the-aisle back-and-forth. 
For such cooks, a kitchen island stove can serve as an alternative with the main stove remaining in the primary worktop section.
However, you will need to pull up electrical or gas lines from the floor. You can do this via the crawlspace, for your cooktop or stovetop. If your house is constructed on a concrete block, you must break the slab first and then install the pipes under it. You should also be mindful that doing this will add to your kitchen island costs.