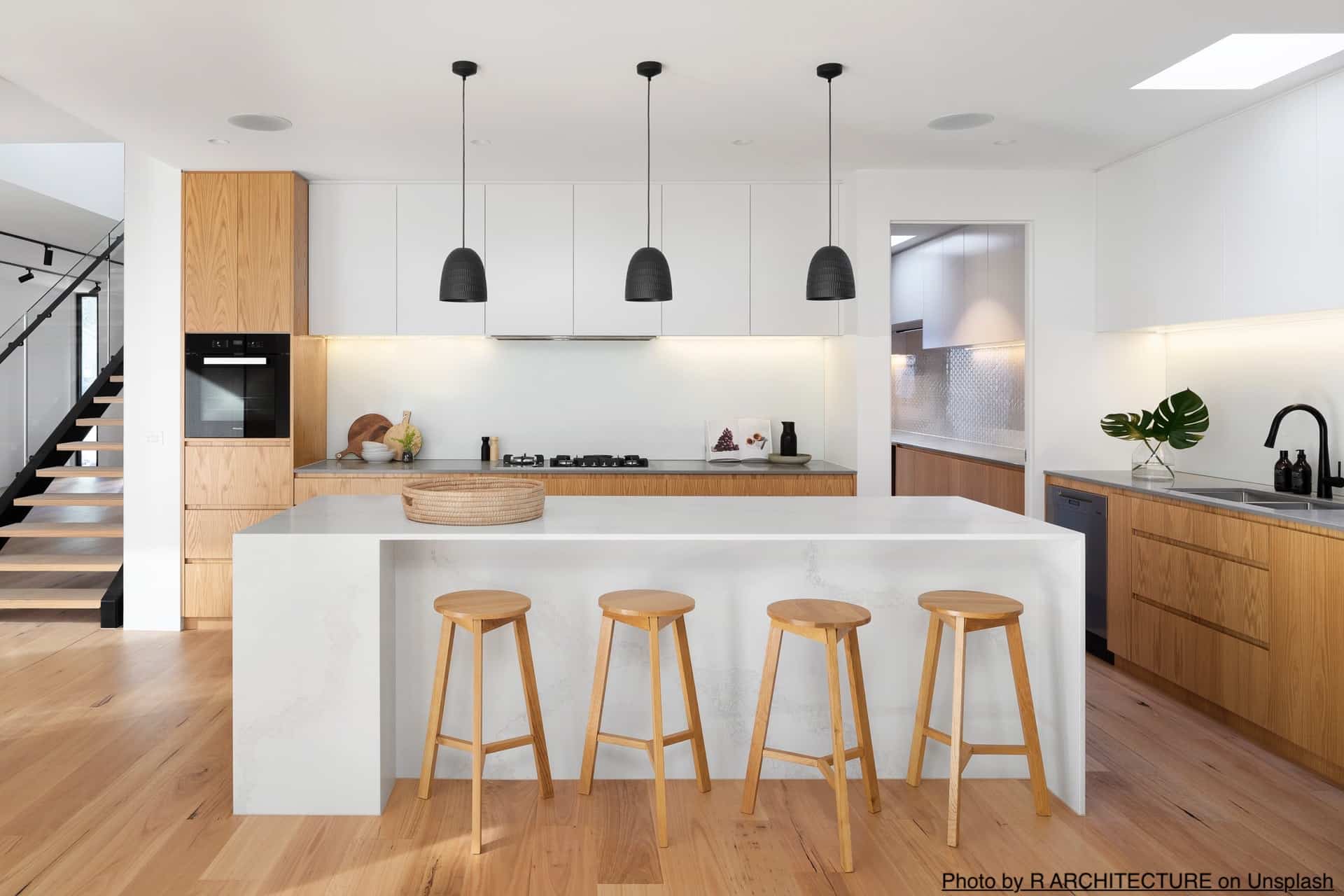 Kitchen Island Costs: Everything You Should Know
A kitchen can become way more versatile, functional, useful, and appealing with a kitchen island in the room's center. While kitchen islands are unarguably a welcome addition for many, you should also look at the kitchen island costs before deciding.
A kitchen is that one room of the house that you can use to prepare food,  have breakfast, and so on. And where do all these gatherings take place? Over a kitchen island! The kitchen's freestanding components provide sufficient additional space to prepare, dine, work, and store.
Kitchen islands come in all sizes and shapes, customized and semi-custom made, and some of them even feature sinks and cooktops! Installing an island during your kitchen remodel largely elevates the value of a house and can be highly profitable if you resell the house in the future. From prefabricated and pocket-friendly models to fully custom-made configurations, there are various island choices for you.
But before you choose one for your kitchen remodel, you need to know the detailed kitchen island costs.
Average Kitchen Island Costs
The cost to install a kitchen island varies depending upon several factors such as the material you want to use, the labor costs, and your customization demands. The cost of installing your kitchen island while remodeling your kitchen will depend on whether it is a rolling island or fixated on the floor.
Installing a kitchen island is quite budget-friendly as compared to going for a complete kitchen remodel. If you wish to add a sink or a cooktop to the island, you need to look out for existing plumbing, gas, and electrical wiring and connections, too, since that will add to the additional cost for installation.
Kitchen islands provide extra storage in the kitchen, and some have built-in seating too. The average cost to install a kitchen island is $3000 to $7000. A 24 square feet semi-custom island that people generally go for can cost you about $5500. The minimum cost of a readymade rolling island with a wooden countertop is around $500. In comparison, a fully custom-made high-end model with an exotic glazed wooden body and a marble countertop that has a sink, a cooktop, built-in shelving, and seating can cost you about $12,000.
If you want to go for something in between, a 4-foot kitchen island with customized cabinets and a granite countertop, but without a sink or appliances, will cost you around $3500. On the contrary, an 8-foot island with similar features and an additional sink will cost you about $9500.
Other Miscellaneous Costs
Suppose you wish to get this lavish element in your kitchen. In that case, there are other miscellaneous expenses that you need to consider. For instance, the plumbing fixtures on the island can increase the total kitchen island costs considerably. New plumbing or electrical fixtures will require you to hire a plumber or an electrician and give them labor costs for the installation, apart from buying the new wiring and fixtures.
There also may be taxes and kitchen remodel permits that you may have to pay for. So before you buy an island, you must get it clarified from your local municipality whether you need to get a permit for such an island installation.
If you are going for a simple, pre-built island, they are readily available at any home improvement store. However, they may or may not contain the countertop. Sometimes, you have to buy the countertop separately and install it yourself or with a carpenter's help. This can be considered as an additional cost but is cheaper than installing a custom island.
Kitchen Island Styles
It may not look as important, but a kitchen island's cost largely depends upon its style and configuration. The main job of a kitchen island is to increase the kitchen's functionality and meet your daily needs. Here are a few island options for your kitchen remodel.
Rolling Cart Island
 If you are not looking for something perpetual and concrete but still need workspace and extra storage, a rolling island is the best option for you. This readymade island with wheels will add between $100 and $1000 to your kitchen remodeling costs, depending on the style and the cart's size. These islands may have cabinets or open shelving and a butcher block top for storage.
Rectangular Island
A rectangular island is a widespread option in most kitchens. Whether your kitchen is L-shaped, U-shaped, or a galley, a rectangular island fits perfectly in all kitchen layouts. A rectangular kitchen remodel also complements an open floor plan since it divides up the space between the kitchen and the adjoining area without erecting any wall. These islands can cost between $500 and $5000, depending on their features, such as seating, sinks, and cooktops.
L-Shaped Island
An L-shaped kitchen is suitable for bigger and open concept kitchens as it provides more kitchen storage solutions. The L-shaped island is constructed in such a way that it provides the dining option on the shorter end with seating, and a sink and preparation area of the longer end. It can also be customized to provide counter space on one end and the cooktop on the other. Since this island provides extra storage options, it may cost you between $1000 and $7000 while remodeling your kitchen.
U-Shaped Island
A U-shaped island is uncommon in most households but found in houses that have a considerably big layout and a large and open floor plan in the kitchen. Similarly, a U-shaped island is generally used for double or triple-duty kitchen remodels. It usually includes two to three sinks, cooktops, extra seating around the circumference, and sufficient storage. A U-shaped kitchen island costs between $2000 and $9000 on average.
Galley Island
A galley island is thin, long, and rectangular in shape. A galley island is made for galley kitchens to add some extra cabinet and counter space for your kitchen remodeling project. These islands are neither too big, nor too small, and are proportionate for a galley kitchen remodel. The cost of a galley island is similar to a rectangular island, between $500 and $5000.