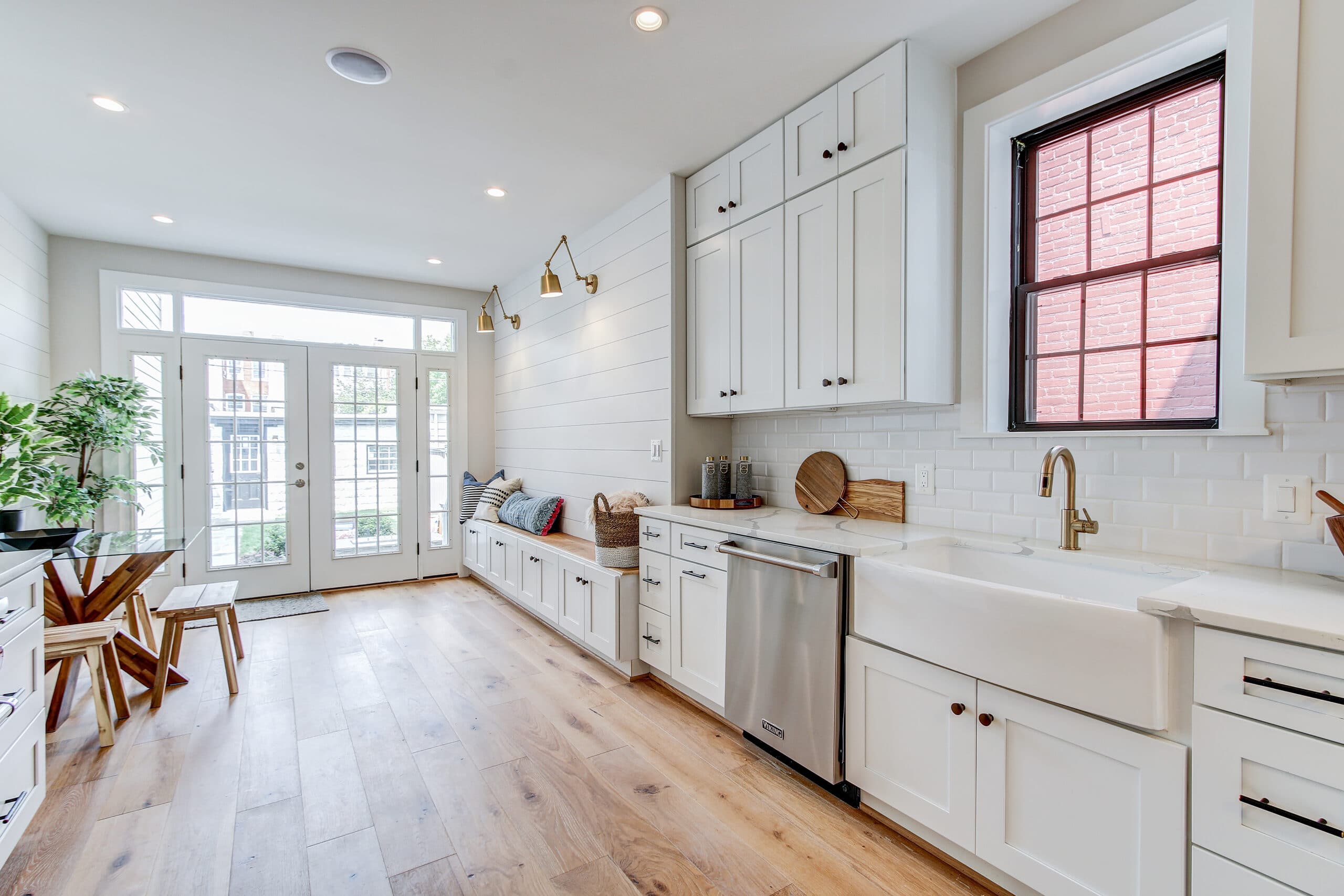 Kitchen Flooring Options: Which One Should You Choose?
Renovating a kitchen is very time-consuming and also costs a lot of money. So you must make the right decisions before investing either of the two in the project. And one of the most significant and essential to-dos is the kitchen floor. A lot of hard work goes into it, and you deserve the best of the kitchen flooring options.
Your kitchen floor goes through a lot, spills, stains, heat, and hazards. It also stands as a design statement for your kitchen. There are several kitchen flooring options with qualities of their own.
With a variety of materials, colors, and textures, the choices are endless. But you need to pick out the material that suits the other elements in your kitchen well. It must also reflect your lifestyle, your sense of style, comfort, cost-friendly, and must be easy for you to clean.
Balancing all of these is the key to making the right choice. Here are some kitchen flooring options for you to consider for your next kitchen remodeling project.
Hardwood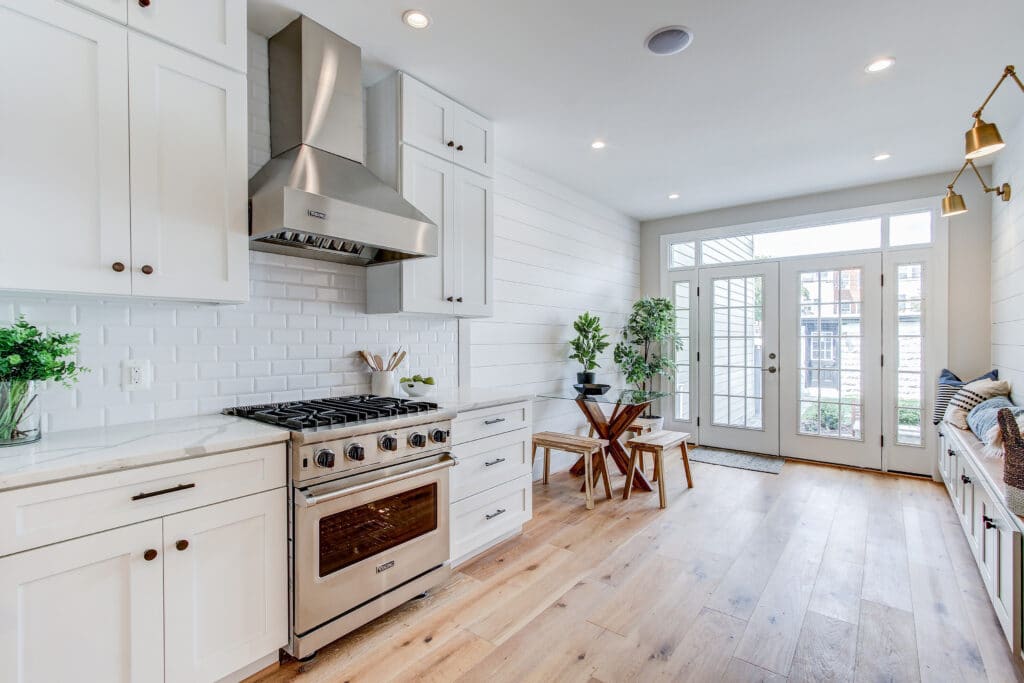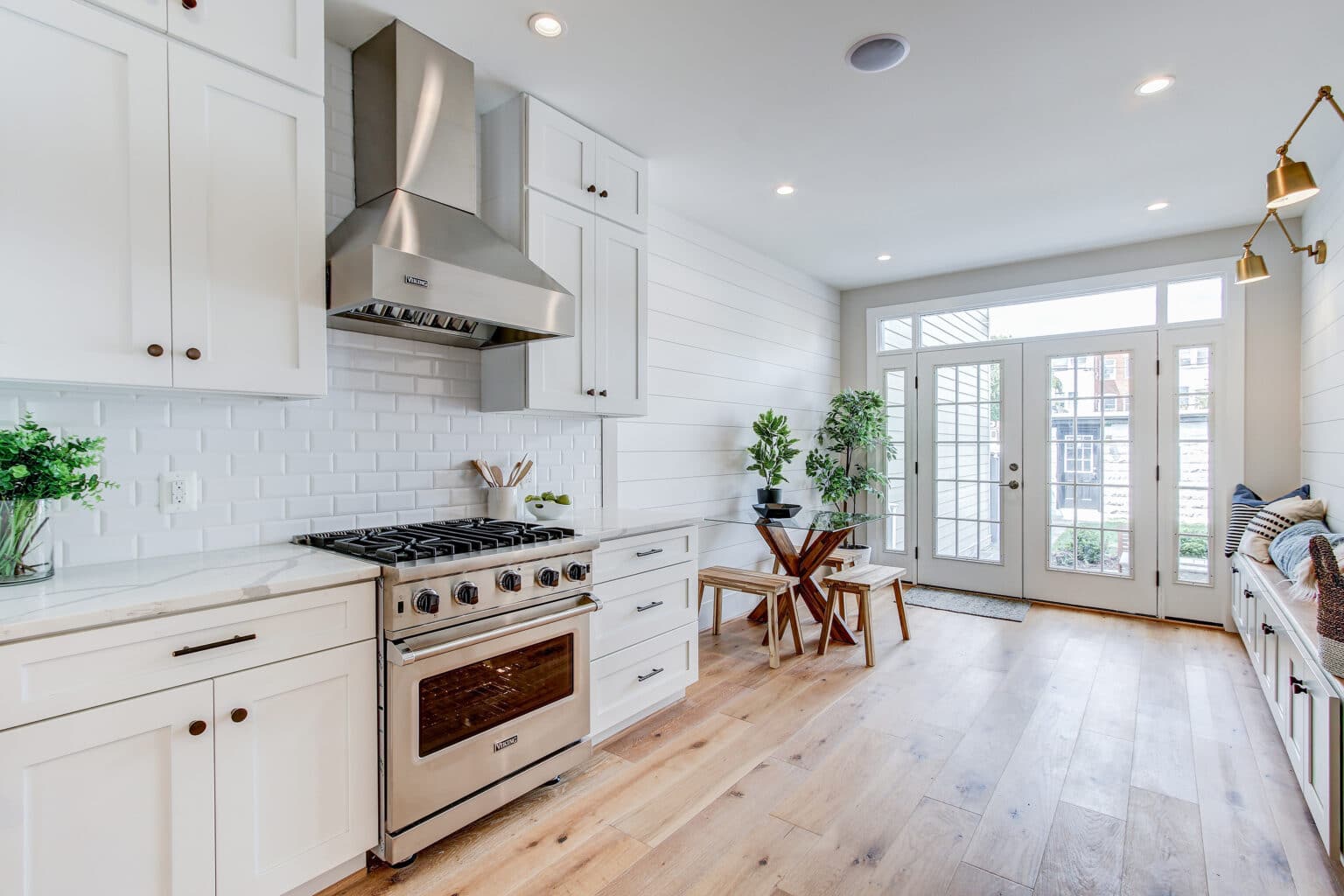 Hardwood is a trendy material among kitchen flooring options. It is incredibly durable and a bit softer than tile work. Hardwood comes in a range of colors, and you can refinish it if it starts to wear and tear. It is comfortable underfoot and is known for its low-maintenance. Hardwood comes as solid wood or engineered wood planks. Engineered wood is a better choice for your kitchen flooring as it is less susceptible to high temperature and humidity.
If you maintain your hardwood correctly, it can resist moisture that develops in the kitchen. With the help of modern sealers and polyurethane finishes, hardwood floors last long. However, it is still more susceptible to stains and moisture than any other material. 
Spills and splatters, if not cleaned immediately, can leave permanent stains. Hardwood will eventually change and degrade over time, but you always have the option of sanding and refurbishing it to make it look as good as new. However, hardwood can be a little expensive.
Concrete
If you are going for an industrial-style look for your kitchen, concrete is the right kitchen flooring option. It is one of the most economical and long-lasting materials for your kitchen floor. In some houses, you will find a concrete slab as a subfloor beneath the primary flooring. You can polish and stain it to give your kitchen a completely new and stylish look.
Concrete floors are the main focal points of modern-style kitchens. If you do not have an already existing subfloor, you can create one with a contractor's help by pouring a layer above various subfloor surfaces. Concrete floors are hard and cold and do not have the risk of absorbing the moisture that will ruin your kitchen flooring.
Bamboo
Bamboo flooring looks very similar to hardwood but is much stronger and durable. The manufacturing process of bamboo makes it much more resistant to moisture and water damage. It makes it an increasingly popular choice for kitchen flooring since it is considerably more durable than any other wood.  
Bamboo is an eco-friendly choice for your kitchen surface since it is a renewable resource. However, that is what makes it expensive, even more than hardwood. Bamboo is susceptible to scratches, but you can refinish it. But keep in mind it is tough to refinish a worn-out bamboo flooring since there is no natural grain direction. It requires the assistance of a professional for you to redo bamboo flooring.
Vinyl
Vinyl is artificially manufactured and highly resilient to stains, moisture, damage, and other issues. Cleaning this material is exceptionally easy and does not require anything more than sweeping, vacuuming, and mopping regularly.
Vinyl is extraordinarily budget-friendly and DIY friendly and can last up to ten years after installation. Vinyl offers various styles and colors in both sheets and tiles and is perfect for those who have a tight budget. The standard vinyl flooring version is sheet vinyl, which is downright inexpensive and feels soft underfoot, making your food preparation hours bearable. The more modern version of vinyl flooring is Luxury Vinyl Flooring (LVF).
It is a high-quality flooring material that effortlessly looks the same as wood or stone flooring. Many upper-end homes go for LVF as it is no low-quality product and is available in both snap-together tiles and planks.
Linoleum
Linoleum is another natural material that is making a comeback after 50 years as kitchen floors. It is a natural, renewable, biodegradable material made from cork powder and linseed oil and does not contain any harmful VOCs. It is entirely environment-friendly, easy to maintain, and clean.
Linoleum flooring was trendy during your grandma's time and could be seen popularly in the retro kitchens. If you take care of it, linoleum can last up to 40 years from its installation time. It stands quite well to foot traffic and comes in a variety of colors and patterns.
The only thing you need to think well about is that the linoleum floor is susceptible to staining and damage if you immerse it in water. You have to keep it away from pipe-bursting incidents and avoid buying low-quality linoleum options as they can easily curl if exposed to humidity. To prevent staining, you must apply a protective coating on it to guard it against scratches and spills.
Ceramic Tile
The last one of the kitchen flooring options is ceramic tile. Ceramic tile is another natural flooring material made from clay, which is very durable, hard, and impervious to stains and water.
Ceramic tile, including porcelain, is heat and breakage resistant and can last for a long period of time. It comes in various colors, faux natural patterns, shapes, sizes, and even mosaics. It is a great material to give your kitchen an expensive and stylish look.