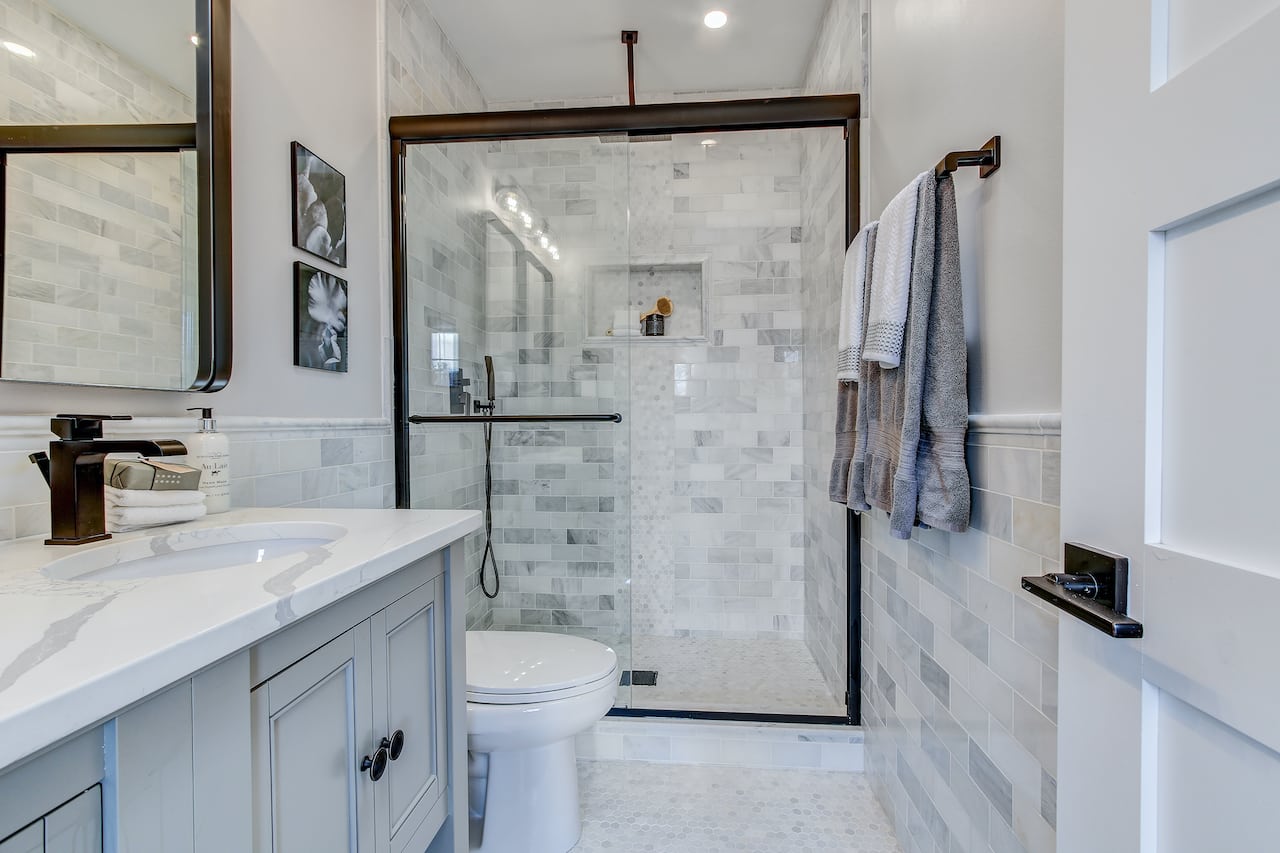 Bathroom Remodel Ideas That Pay Off In The Long Run
Bathroom remodels that are effective need some preparation and planning. It's exciting and nerve-wracking to embark on a bathroom remodel. While they are indeed exciting, bathroom remodels are also a significant investment. Hence, you're probably looking for bathroom remodel ideas that pay off.
A bathroom is considered to be an important room in any home due to its functional and aesthetic value. Since it's a significant investment, one that could make most people think twice before jumping in blindly, you need to be careful about the decisions that you make. If you can remodel your bathroom but need some assistance finding out how to do it accurately, here's everything you need to do it right. Let's bring your vision to life by using our bathroom remodel ideas that pay off. 
Choose High-End Lighting
Choosing the right bathroom lighting options can make a huge difference. Since your bathroom usually lacks natural light, you need solutions like LED lighting to brighten up your space. LED lighting is the most energy-efficient addition you can add to your bathroom. According to the US Department of Energy, LED lights use at least 75% less energy and last 25 times longer than incandescent lighting. 
LED lighting not only saves energy but also provides a beautiful design feature. You can configure them to change colors and use them near water without causing injuries.
They're also ideal for DIY projects because they're simple to set up in any bathroom. Aside from task lighting, there are several creative ways to use LEDs – as a color wash effect on a surface, backlit wall mirrors, to light cabinets or shelves. 
Consider Your Budget 
Feel free to mix and match elements from various styles before you find one you like—however, t's important to be realistic about your budget once you've settled on your inspiration. Consider how much money you have available, as well as the bathroom remodel costs before you begin.
You should also examine your finances; though it might not be the most enjoyable task, it will help you determine bathroom remodel ideas that pay off. However, there are some things you can do to keep the project within your budget. 
Before evaluating who to hire, get quotes from several bathroom remodeling contractors near you; consider doing some of the work yourself to save money on labor, and search for wholesale outlets in your area that sell the products at a discount. A good tip to save on the costs is to keep the most expensive aspects in a neutral color scheme.
Keeping It Neutral
Since bathroom remodels are such a massive investment, we recommend keeping your high-end expenses as neutral as possible. We're talking about things like bathroom flooring ideas and shower design, for example. 
Enabling these elements to be more of a blank slate will come in handy to refresh your design as trends change. It will also ensure that it will appeal to a broader audience if you ever sell your house.
You should also keep in mind that featuring these neutral elements in your bathroom does not imply that it will be dull. Accessories, which are easier to update over time, will help you inject your personality into the room. 
Consider using the best bathroom color schemes, mirrors, hand towels, and floor coverings to create a visually stunning room. Be sure to incorporate some creative and clever storage options while remodeling your bathroom.
Add Enough Storage 
Storage is one element of a bathroom remodel that receives less consideration but is nevertheless valued. Getting extra toiletries or a few sets of guest towels on hand is a huge plus, right? 
To avoid some common bathroom storage mistakes, consider bumping out a wall to add an extra storage room and built-in shelving if you have the room. Even if shifting walls is out of the question, find an organization unit that complements your style. 
It will give your room a polished look that will be well worth the extra effort and cost. On the contrary, make the shower the star of the show. 
Splurge On The Shower
Like any other room in the house, the bathroom requires a focal point or a design element that catches the eye. According to MarketWatch research, luxury showers are one of the most common features among home buyers, so it can be a great feature to highlight.
See it this way: you'll be able to enjoy several showerheads and heated floors right away while also realizing that your investment will likely pay off in the future. Surprisingly, soaking tubs have fallen off the radar, according to the same report. Many people believe they aren't used frequently and that maintaining them is time-consuming.
If your primary aim is to sell, you may want to skip this cost. However, it's also necessary to consider personal preferences. If at all appropriate, include a breathtaking vanity.
Add a Floating Vanity
Speaking of vanities, forgo the wall-to-wall cabinets and open up the space to make a bath look bigger. Building a floating bathroom counter or vanity is a smart way to accomplish this. 
Another choice is to use a sofa table with open shelving underneath instead of the conventional vanity. To suit your sink, make sure the table is at least 16" long.
Undertaking a bathroom remodel can be both thrilling and terrifying. On the one side, there are few things more rewarding than realizing you've made your home uniquely yours. 
On the other side, these initiatives can get super expensive that even taking the first step can be daunting. These bathroom remodel ideas that pay off will help you make the most of your bathroom remodeling project and help you increase the resale value of your home.