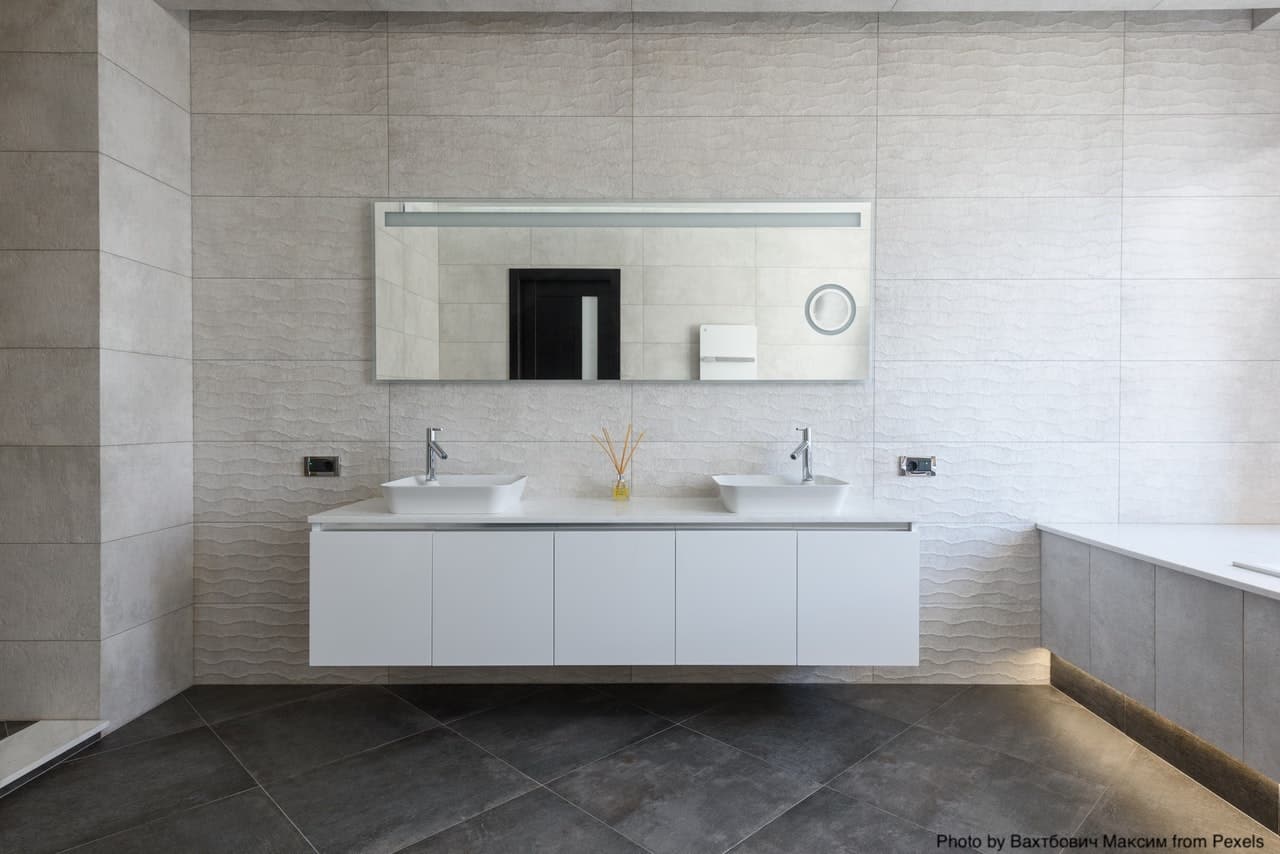 Best Bathroom Colors: Top Choices For Your Remodel
You found the perfect house with the perfect bathroom, but there's a small snag; your bathroom is old and rusty. Fret not, the best bathroom colors on the right walls can make it more spacious and luxurious. 
Your bathroom is a functional space for everyday use, and the color scheme you choose can transform the room into a spa-like retreat or an energizing space to start your day. Furthermore, it's challenging to choose a paint color, and that small swatch doesn't do justice.
Moreover, your bathroom is the wettest room in your home, so there's going to be a lot of water hitting the walls. Make sure you choose a semi-gloss, water-resistant paint color to maintain it. You can also clean it easily. Moving on, here are the best bathroom color choices that will help you create a certain mood for your space. 
How to Choose the Best Bathroom Colors

 
Sometimes in the face of endless color options, it helps set some rules to create your masterpiece. One way to do this is to limit yourself to three colors. 
A good rule of thumb is to use one neutral color for the majority of the bathroom. Then use a richer color more sparingly to create some contrast. Lastly, add a smidgen of an accent color to create some personality for your space. 
However, rather than choosing just one bathroom color, why not pick colors based on the mood you want to create. If you're looking for a calm and tranquil mood, you can look at cool blues and neutral grays. Defining your bathroom's mood helps you tell a story with your color choices. 
Bright Colors
Experts suggest using light and bright bathroom color schemes. They reflect light to create the appearance of a much larger space. This is why many homeowners choose white as their primary bathroom color. 
There are more than a hundred shades of white paint colors for you to choose from. Let's breakdown the whites into three groups — pure white, warm white, and cool whites. 
Cool whites are great for rooms with cool hues and undertones like blue. 
2. Warm whites have a base of yellow or red. It works well to give your room a warm and welcoming feel. 
3. You can use pure whites in rooms that are modern, eclectic, or even rustic in decor. 
Alternatively, it's better to think ahead about your decor and accessories before selecting your perfect shade of white. White paint offers a crisp, fresh, and clean feel. 
If you want something more energetic and cheery, you can achieve it with white walls, ceilings, and bright accent walls. Finally, add a pop of colors such as sunshine yellow, navy blue, or emerald green for your space to truly stand-out. 
Neutral Colors
Neutral colors are also an ongoing trend for bathroom remodel. If you want a spa-like atmosphere, you can opt for a pale blue or pastel green color palette. 
No matter the size, light gray or soft tan can also serve as the perfect color for a powder room as well as a master bathroom. Similarly, neutral tones work perfectly well with bathrooms that see a ton of traffic. Neutrals possess calming and relaxing vibes while putting yourself together for the day. 
Another way to create interest is by painting cabinets, molding, and trims to bring visual appeal into a neutral bathroom. Also, you can add framing around your mirror that complements the wall color. 
Pro Tip: Choose a shade that's either a few shades lighter or darker than your wall color to highlight these architectural features. You can also bring in beauty with a few character pieces. 
Darker Shades

 
If you're not thrilled with the bathroom color choices we've mentioned above, don't be discouraged. White and neutral colors aren't your only options when it comes to choosing the best bathroom colors. 
Lots of designers and homeowners go the complete opposite route. They choose very dark, bold colors as the perfect color for their space.
Bold paint color in your bathroom will infuse the room with energy. Moreover, bathrooms are a great place to try something adventurous without worrying about the final result.
Similarly, the powder room is the one place where the sky is the limit. If you're painting the walls of your guest bathroom a deep color, it's probably best to leave your ceiling a lighter color or white. Otherwise, your bathroom will start to feel too compact. 
Bold colors are quite in for adding contrast to moldings, cabinets, and accessories. Lastly, bathrooms are a great place to use more daring colors that you love but might hesitate to use in other rooms. Since they're behind closed doors, you can feel free to choose a color that reflects your style. 
Black
Often, a black bathroom remodel with low natural light is a big no-no. However, painting your bathroom with a darker shade like black gives depth and creates an illusion of a larger space.
In fact, black is an easy way to add drama to your bathroom. Black reflects and bounces the little light that is present in the room. In this case, you'll have to select your light fixtures carefully. 
Ensure you love their shapes since they will be center stage. Also, be sure to use sconces or bulbs that will emit a lot of light.
Large mirrors also help to create depth and bounce light around in a small space like your bathroom. You can even add a touch of black to your all-white bathroom to make a statement. 
Toned-Down Hues
For a look that's in between neutral and bold, you can bring in toned-down hues of your favorite colors while remodeling your bathroom. If you want to bring in some color on the walls, charcoal and gray creates the perfect balance between a dark bathroom and a lighter bathroom. 
Besides, marble countertops fit in perfectly with the color scheme. You can even add pale gray to pick up the accent color of your marble in your bathroom. Adding a brighter accessory to just one spot can create a focal point, too.
The bathroom is your sanctuary of cleanliness that you use daily. Therefore, it's wise to choose the best bathroom colors that you can appreciate for long.