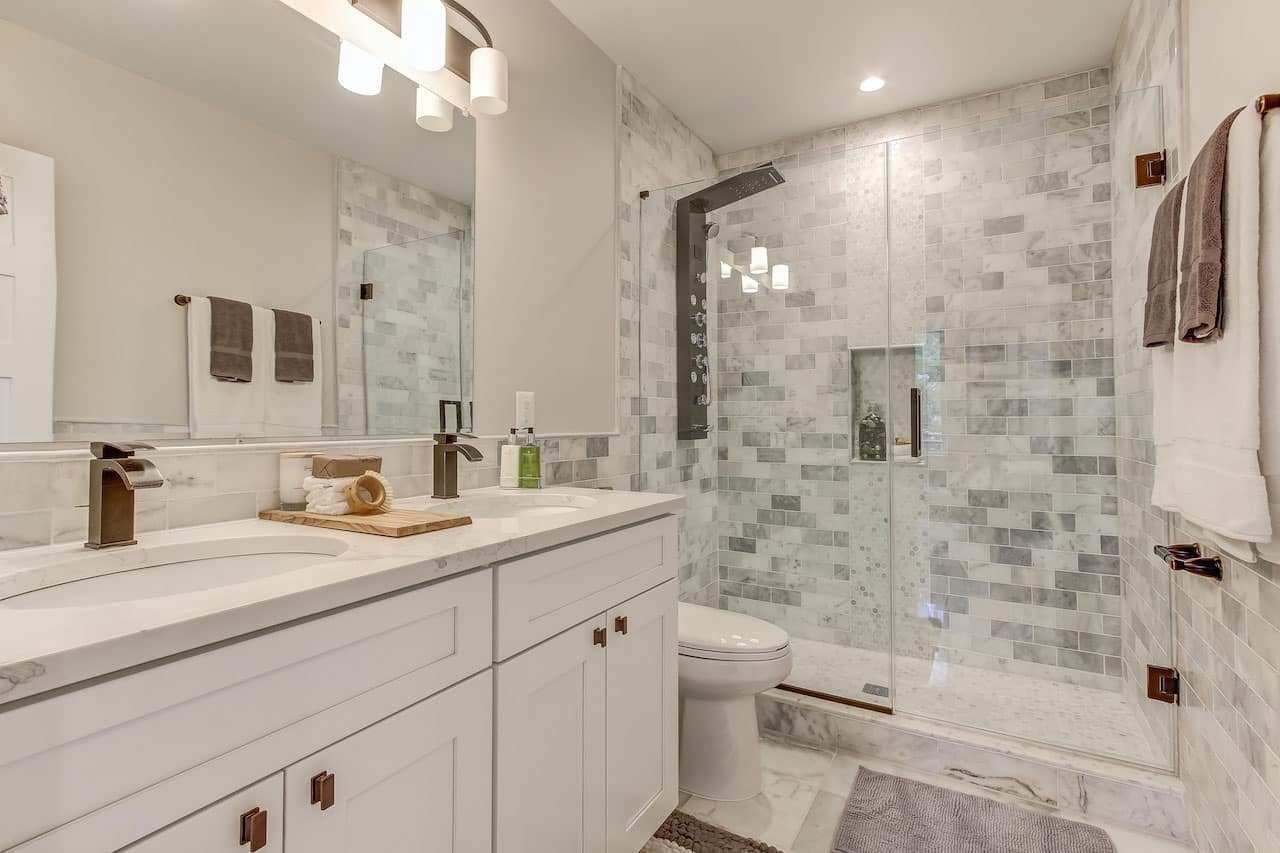 Can I Remodel My Bathroom for $5000? Experts Reveal!
If you're planning on remodeling your bathroom, you will need to begin the process by thinking about the bathroom remodel costs. While people often believe that remodeling a bathroom will cost a fortune, it isn't true. A hassle free bathroom remodel doesn't necessarily have to be an expensive affair, with the right choices, you can revamp the entire space even if you're on a budget
Do you want to remodel your bathroom? Are you wondering if you can achieve it within $5,000? Keep reading to find out about the bathroom remodel costs.
How Much Will It Cost To Remodel a Bathroom?
When it comes to remodeling a bathroom, it doesn't have to cost you an arm and a leg. You can easily do the bathroom remodeling process without spending too much and burning a massive hole in your pocket.
On average, you can start remodeling a bathroom with only $2,500 and go up to $23,000. If your budget is $5,000, you can easily carry out the remodel. But, you may have to settle for necessary materials and even put in some effort yourself to complete the work. 
While it is a maximum budget to spend, you might not even have to pay $5,000 for the remodeling. If you plan things well in advance, it will help you save up a few bucks in the end.
How Can You Remodel a Bathroom for $5,000?
If you're wondering if you can remodel your bathroom for $5,000, you are right. There might be plenty of things you want to change. You need to focus on getting them at the correct prices to ensure you stay well within the stipulated budget. It will help you get all the essentials within $5,000.
To cut down the cost of remodeling your bathroom, you can make a list of the things you wish to change. After that, you can start looking for affordable options in the market. Here are a few changes you can make to revamp your bathroom:
Tub or Shower
Whether you want to go for a stand-up shower or a bathtub, it will undoubtedly be the most expensive thing on your remodeling list. In case your bathroom features only one water hookup, you can choose one of either option.
If you want a tub with a jet, you might need extra permissions, which will lead to more expenses. You can skip on it altogether if you think you will hardly use it, and the jet will only collect mold and mildew. When you plan to complete the task on a budget, go for a realistic and moderately priced tub or shower.  
Budget: $300 – $1,000
Toilet
The next most important thing that goes into a bathroom is the toilet. The basic toilet is highly affordable, on the other hand, it will be expensive to go for fancy options with a bidet. It is easy to choose both and install a toilet when you're remodeling your bathroom on a budget.  
Budget: $150 – $300
Flooring
The first thing that people notice on entering your bathroom is the floor. It is the key focal point, so you can pick beautiful tiles for your bathroom remodel. If you have a predetermined budget, you might want to pick the cheapest tiles available, but it can impact the quality.
Find the tiles that are somewhere in the middle of the price range and are also long-lasting. Ensure they will not pop out around the shower or tub. They must be durable enough to withstand the pressure of a damp environment and hot showers.
Budget: $250 – $500 (100 square feet)
Sink or Vanity
When it comes to the bathroom vanity, you get the option to choose from with or without a top. In case you opt for a vanity with the top, you don't need to worry about installing countertops later on. You'll end up saving money with this option.
A bathroom is usually a small space, and you can only fit in a 35-45 inch vanity. It usually comes with a built-in sink, but you can also add a new sink for your bathroom upgrade. You can either swap it or get a new sink from a bathroom remodeling company near you.  
Budget: $300 – $600
Countertops
When you opt for a vanity without the top, or maybe you don't like the countertop you got with it, you will have to get a budget countertop to remodel your bathroom for $5000. If you have space, you can go for a double sink easily.
In the case of a small bathroom, installing a huge vanity might not be a wise decision. But, you can get only one sink and keep more countertop space.   
Budget: $200-$800
Cabinets
A bathroom vanity comes with in-built storage space that you can use for your toiletries or even cosmetics. You can utilize this allotted budget to get cabinets for medicines, extra products or other necessary items. Cabinets are usually not expensive, and you can easily add them to increase storage space in your bathroom while remodeling.
Budget: $100 – $300
Lights
When you want to remodel your bathroom for $5000, you need to think about the lighting as well. You need to invest in good light fixtures to make the bathroom bright and ensure you get sufficient light to get ready.
Head to a home improvement store near you and look for light fixtures. There are plenty of affordable bathroom upgrades available today that you can choose from.
You can get two lights and add one overhead and the other one over the mirror. It will add an aesthetic look to the entire space.  
Budget: $200 – $500