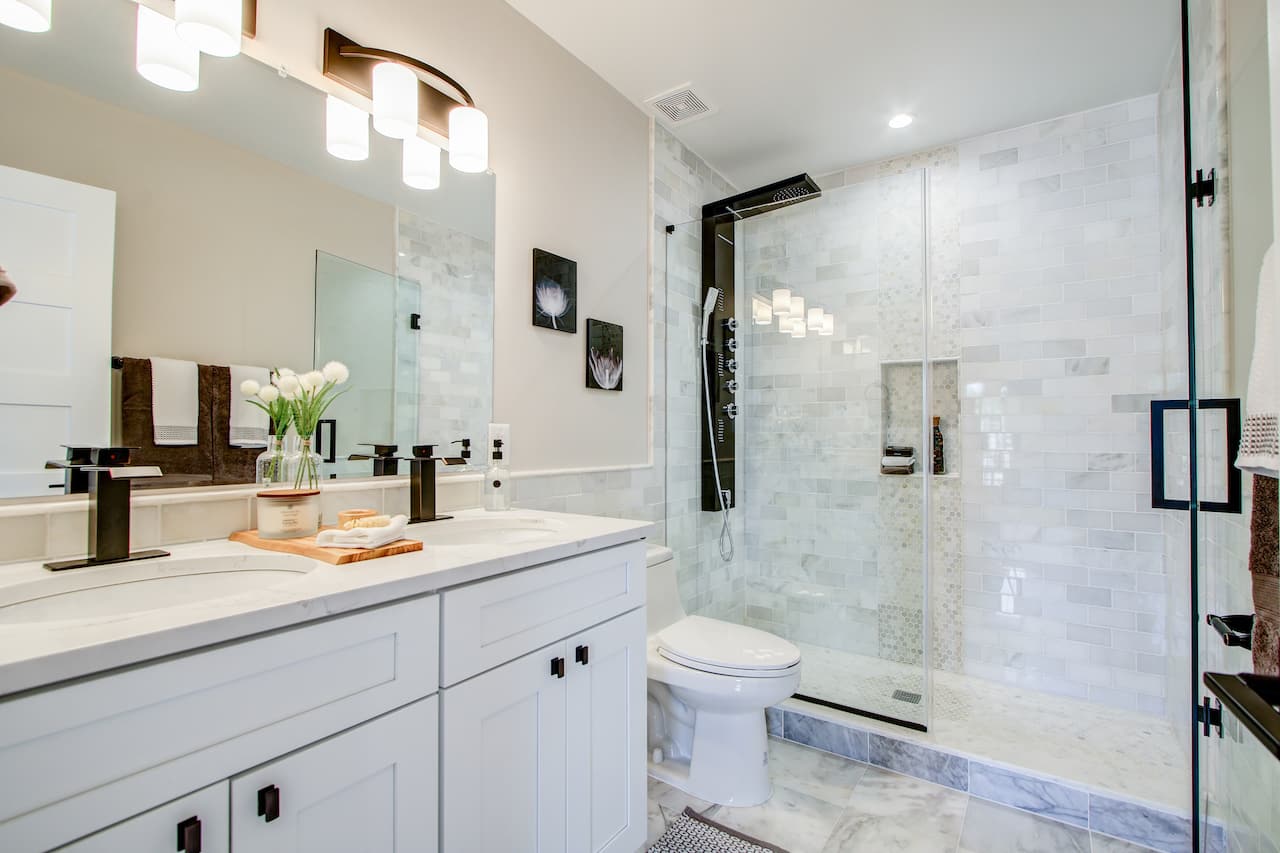 Bathroom Lighting Ideas and Tips for a Beautiful Remodel
Bathroom lighting is quite an underrated element of the bathroom. The truth is that it is such an essential component that it can either make or break the bathroom design. Your bathroom is one of the most requisite spaces in your household, and therefore, you should keep your bathroom well lit with the help of some flattering bathroom lighting ideas.
Bathroom lighting not only helps to make the room look better and more appealing but also more functional. There are many options when it comes to choosing the right lighting for your bathroom. And with the help of a little inspiration and guidance, you can make your bathroom remodel look extravagant and stylish, irrespective of the size of the space.
There are several lighting options to suit every bathroom décor at a minimal and pocket-friendly price, from track and recessed lights to pendants and sconces. Proper lighting can enhance the space beautifully, and add grandeur and create a spa-like vibe in your bathroom remodeling project.
So here are a few stunning bathroom lighting ideas to give you some inspiration for your next bathroom remodel.
Use Sconces
Installing printed lamp shades is the simplest way to jazz up any bathroom. If you are going for a conventional look for your bathroom, you can opt for a floral lampshade and pair it up with marble vanity and gold border around the mirror for a vintage bathroom look.
You might want to adjust your sconces in such a way that it plays a functional role in the bathroom and not just throw light around. Placing the sconces directly above the specific task zone ensures that the working area is well lit.
If you are going for an artsy bathroom, you can even replace the mirror on top of the sink with a creative sconce that makes a statement piece in the bathroom. A creative sconce acts as a bathroom décor too, along with being a lighting fixture and adds to the functionality of the bathroom. You can even put your sconces in any offset areas, as long as it is doing the job of lighting up the bathroom wall. You can put them on any surrounding walls near the shower on the tub.
Natural Lighting
What is better lighting than natural lighting for the bathroom? You cannot always keep a check on the amount of natural light you get in your bathroom, but if you have it, why not flaunt it? It is a blessing you have large windows in your bathroom or can afford to make a glass bathroom by installing sliding glass doors.
Positioning the tub near the windows or doors or placing your shower cubicle around the window is the best way to get sufficient natural lighting in the bathroom. Natural light is the most peaceful and flattering light one can receive in the bathroom. It makes the vibe very relaxing and rejuvenating, making your bath time nothing but worth it.
Large windows on all walls or an overall glass bathroom with sliding doors or ceiling to floor glass walls on three sides of the bathroom make a great bathroom and give an au natural vibe. If you are planning to go for natural lighting in your bathroom, you might want to add curtains or blinds to get some privacy if and when you need it.
Add Hanging Lights
Hanging lights are a great affordable bathroom update. However, it would be best if you avoided your lights pointing directly down on one's head since it makes the aura of the room very harsh and uncomplimentary.
Therefore, you must position your lights in such a way so that it faces the walkway area and does not shine directly, reflecting from different bathroom vanities. People are preferably going for track lighting nowadays since it looks super cool, especially when it is hung vertically on the walls.
When you are going for hanging lights, avoid asymmetry since it is a complete mood killer. Placing hanging lights on just one side of the wall unevenly illuminates the room and makes your grooming session quite tricky.  Another one of the things to avoid while getting hanging lights is to avoid clear lights. Designers recommend going for frosted or opaque coverings for your lights instead while remodeling your bathroom.
Install Recessed Lighting
If you are going for a modern bathroom design with crisp, clean, and modern interiors, recessed lighting is the best option for you. These lighting fixtures are soft and subtle, and one of the safest lighting options for a bathroom since they are protected by the ceiling and cannot be splashed by water.
Recessed lighting is one of the popular and in-demand bathroom lighting ideas by all designers and homeowners looking to remodel their bathrooms. Such kind of lighting can make your bathroom layout look very chic and sophisticated, especially if the interiors are all white or a classic blue and white combo.
Recessed lighting is the best way to keep the lights in the bathroom in moderation. An excess of anything is not preferable and can make the bathroom look gaudy and unfriendly. However, do not make your bathroom under-lit either; otherwise, it will simply look dull. The best way to steer clear of that is to get dimmer switches. It is also a preferable option if you want a DIY budget bathroom remodel due to its cost-effectiveness.
Add Pendant Lighting
Pendant lighting in the bathroom makes an excellent statement piece. Placing a dramatic pendant light on top of the bathtub makes the best spotlight. A luxurious and freestanding tub is lit spectacularly well by a cage chandelier hanging above it. It's one of the safest bathroom lighting ideas you can choose while remodeling your bathroom.
Designers are particularly fond of pendant lights in the bathroom since it creates a sense of grandeur and richness in the bathroom. Painting your ceiling in black, the entire room in white, and adding a gold cage pendant light or chandelier on top makes the airy white environment feel formal yet cozy.