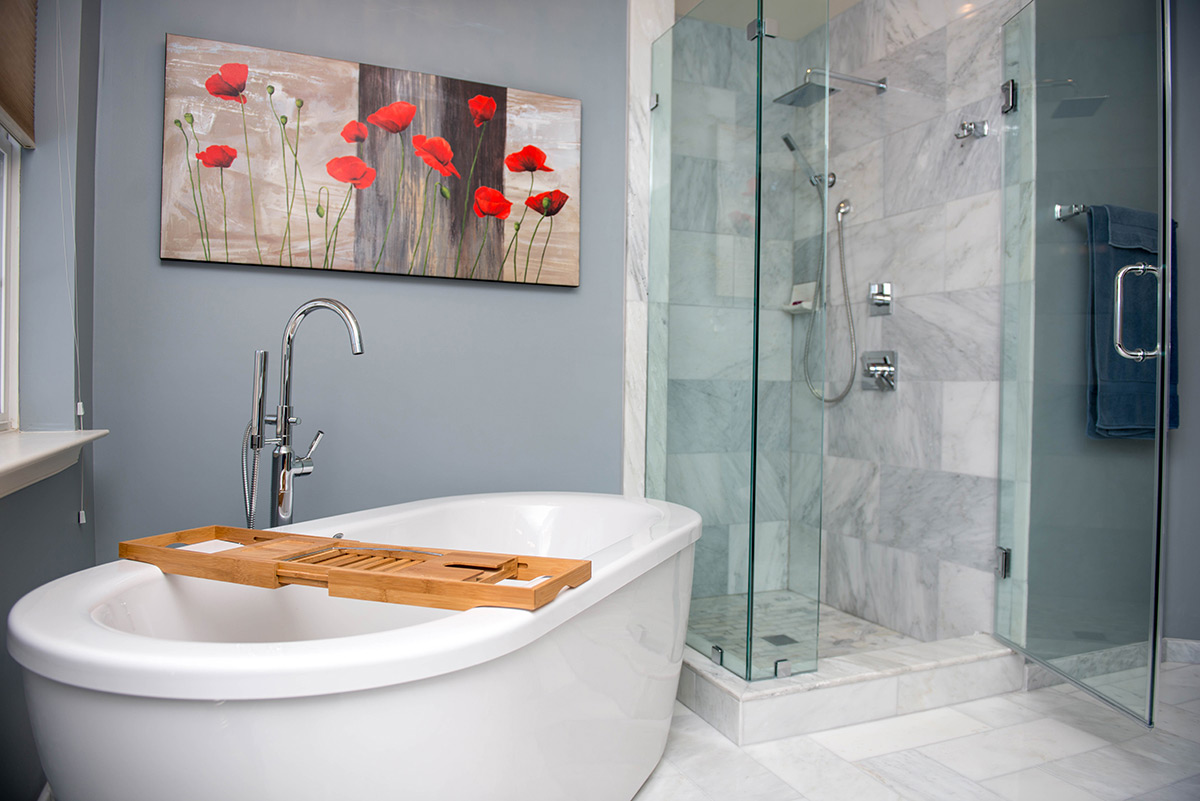 Bathroom Color Do's and Don'ts That You Should Remember
You can simply give your bathroom a new look with just a gallon or two of paint and a few days. In fact, selecting a color scheme is the most challenging element of the bathroom remodel. There's no exact science to picking the right bathroom color, and with so many options, it can be difficult to make a selection. 
To assist you, we've compiled the greatest bathroom color do's and don'ts, including how to choose tones for your ceiling or tile and where to utilize them. These suggestions can help you choose the ideal bathroom colors for a space you'll love. The best part is that you can use these rules whether you want to create a spa-like master bath or a statement powder room.
Follow the Color Wheel
Look to the color wheel for guidance if you're having trouble deciding which colors work together. Color theory ideas can guide you toward shades that complement one another. 
Purple and yellow, for example, balance each other on the color wheel since they are opposite each other. On the other hand, green and blue merge well because they're near each other and are equivalent. When in doubt, consult the color wheel for quick and simple answers to your bathroom color dilemmas.
Always Pick Three Colors
When designing a bathroom color scheme, keep the rule of three in mind: Choose a neutral, rich color, and accent color. Consider proportion and use a 70/20/10 distribution to achieve success. Use the lightest color for approximately 70% of the room's decor, the next lightest color for 20%, and the boldest shade for 10%.
Remember, you can blend neutrals in a variety of ways. For example, you can achieve a clean, traditional aesthetic with a white, cocoa brown, and light green palette. Following the right color scheme will give you a top bathroom update and make it look as good as new.
Especially when you use those same neutrals with green, the result is lively and uplifting. With this brilliant guideline in place, your bathroom paint colors will appear to have been re-done by a professional.
Mix Two Neutrals 
A predominantly neutral bathroom color design helps to create a calm and relaxing ambiance. Again, proportional rules apply: Concentrate on a 70/30 color distribution when employing two bathroom colors. 
Gray and white, for example, create a peaceful color combination that is subtle but not dull. Incorporate patterned components, such as herringbone tiling on the floor or veined marble on worktops or wainscoting, to appeal visually.
Go Organic 
Colors influenced by nature, such as seafoam green and robin's-egg blue, usually work well together and contribute to a bathroom's organic feel. These colors also assist to soften the hard edges and geometric designs that are common in restrooms. 
For a fresh, clean aesthetic, choose hues inspired by nature in your bathroom wall colors or vanity top.
Draw Inspiration From Your Home Interior 
To help you choose a color palette for your bathroom, find inspiration from your home interior. Choose a color that you like in your living room and make it the dominating color in your bathroom. The seamless flow of color will enhance the overall look of your home, even though the rooms will retain their individual identities. 
Don't Use The Same Color More Than Thrice
Another rule of three can assist you in successfully executing your bathroom color plan. Use a color not more than three times in a room once you've decided on it. This can be in the form of towels, sink-side decorations, or a feature of bathroom furniture. 
The vanity, sconces, and wallpaper in this bathroom, for example, are all crimson. Each color in the bathroom is evenly distributed, making it appear deliberate and not out of place.
Don't Be Afraid of Dark Colors
In small bathroom remodels, many individuals prefer lighter and brighter colors over dark, deep tones. Dark colors like charcoal or cocoa, on the other hand, can provide a striking contrast in powder rooms, especially when paired with white trim and bathroom fixtures. 
People are afraid to put dark colors in tiny spaces. But with a dose of another tint, such as bright green, the overall impact is interactive and contemporary at the same time. 
However, they do not make the rooms appear smaller; rather, they darken them. To make the area feel less cavelike, use mercury glass and mirrored lamps.
Don't Overlook Bright Tones
Choose a collection of bright, vibrant tones for a bathroom color plan that is more lively than soothing. Orange and blue, for example, are a complementing and energizing color combination. Use plenty of white in the trim, sink, tub, or another key element in the room to bring some serenity to this energetic color scheme. Add a splash of color with low-cost accents like linens that you can replace. 
A healthy amount of tension is beneficial. In your color schemes, you want to surprise people. If you don't have an eye for it, look for a cloth or piece of art with an interesting color combination and use it as a guide.
Don't Forget To Include Some Selections
If your color scheme includes more vibrant hues (apple green or hot pink), go for it, but keep one neutral as a balance and foundation. Think of paint as a complementary background rather than something that knocks you down as soon as you walk into a room. 
You can use a creamy light brown or pristine white, for example, as a balanced wall color or bathroom tile hue. Vanity hardware or patterned wallpaper with black accents creates punctuation to divide the boldness.
Choosing a hue will feel less intimidating if you consider these bathroom color do's and don'ts. Furthermore, you can pick as many colors as you want, with no restrictions. Then reduce your choices down to two or three. Examine them in various types of bathroom lighting and at various times of the day.
Finally, after you're confident that you've picked the perfect bathroom color, go for it. It's only paint after all. You may easily modify it if you are dissatisfied with it.