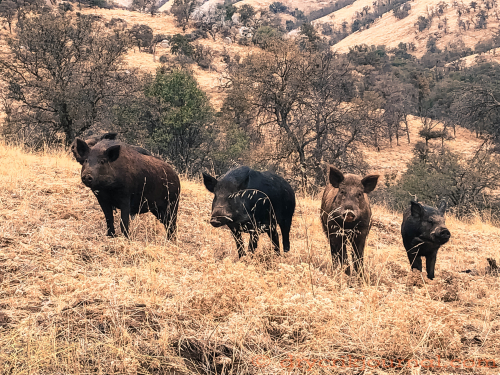 The Woodlands Seeks Professional Help Against Feral Hogs
The Woodlands community has long grown weary of "exploding" feral hog activity near their homes. Now, the southeastern Texan town's Board of Directors has agreed to hire a consultant to help them keep its neighborhoods safe in response.
The seven-member legislative body unanimously approved the payment of $25,000 to an "expert of feral hogs and invasive species control methods" at the January 15th community meeting.
Before the vote, several residents in the meeting gave voice to their concerns once again. And those concerns didn't take form only as property damage but also as threat to people's lives. Many said the animals running wild in search of food near where they live create a safety threat. Residents were especially concerned for children waiting for school buses at pre-dawn hours as well as for walkers, joggers and elderly residents.
The consultant will help the township develop a collaborative game plan to both reduce the feral hog population in The Woodlands and stem their future flow into the community from surrounding areas.
Statewide Nuisance
Late last year, feral hogs attacked Christine Rollins (59) as she arrived for work at an early hour when it was still dark outside in Chambers County's tiny city of Anahuac, about 80 miles southeast of The Woodlands. She was found dead lying in the front yard of the house where she offered care to an elderly couple.
"In my 35 years, I will tell you it's one of the worst things I've ever seen," County Sheriff Brian Hawthorne said speaking of the incident at the time.
The growing feral hog population is a nuisance across Texas but such attacks are extremely rare.
According to Texas Parks & Wildlife, estimates put the size of the total swine population in Texas at over 1.5 million. Those animals inhabit almost all parts of the state, except for West Texas where they are very low in number or simply non-existent. The highest densities occur in central, eastern and southern regions including The Woodlands and Greater Houston.
The wild animals, whose numbers are believed to have skyrocketed across Texas ahead of the 2011 drought can grow to a height of 36 inches (91 centimeters) and a weight of 400 pounds (181 kilograms). Their diet includes both plant and animal products since they are omnivorous.
'Hog Highways'
Texas law allows people who own 10 acres of land or more to shoot feral hogs on their own property with a firearm or a bow and arrow. However, that is not an option inside the boundaries of The Woodlands, where discharging a firearm is illegal.
In The Woodlands, the anti-hog battle will rely on maintaining a solid grip or what John Powers, assistant general manager for the Township, calls "hog highways" the hogs use to cross into town. Setting traps will be a key method.
"We've identified these major corridors of hog activity," Powers said at the January 15th meeting, referring to the Spring Creek watershed as well as other creek beds. "Regionally, it seems to make sense to catch them as they come out of these creek beds.
Currently, there are four feral hog traps still in use in the Spring Creek area and they caught a total of 171 feral hogs last year.
To build a more comprehensive strategy and help educate the residents on the issue, the township has also been working on organizing public seminars.
The soonest such seminar will feature Dr. John Tomecek, a Texas A&M University expert on wildlife in the state. From 7:00 p.m. on February 5th at the Rob Fleming Recreation Center, he will focus on best practices homeowners can take to manage possible damages on their own as well. Participants need to complete an online registration to take part in the free event.