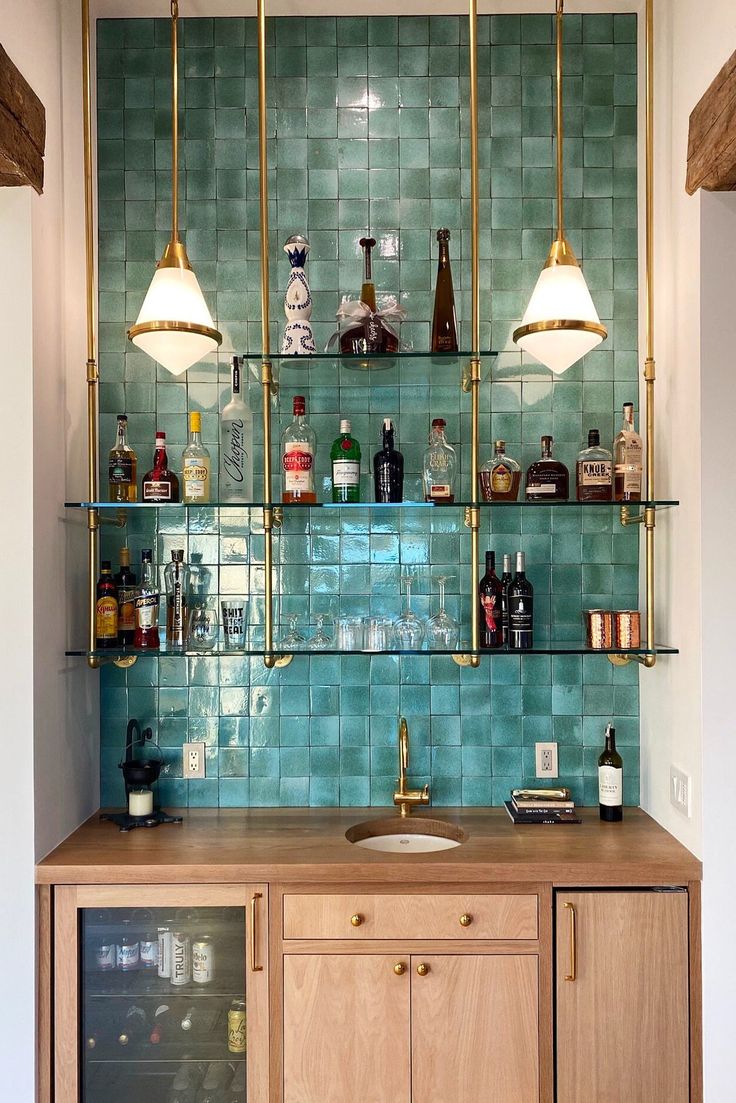 Wet Bar Ideas to Elevate Your Space Before 2024 Comes
A wet bar is a space for keeping and mixing drinks but has a sink. Today's wet bar ideas merge practicality with aesthetics, transforming ordinary areas into vibrant social spaces. Let's dive into wet bar ideas.
Small but Mighty: Smart Wet Bar Ideas for Limited Spaces
Size should never be an issue when it comes to creating spaces that you will love. For small spaces, the key is to think creatively. There might be unused spaces in your home that you could turn into a wet bar, like under the stairs.
Basement Wet Bar Ideas: Your Entertainment Haven
The basement is an often-underutilized space, ripe for transformation. Imagine a basement wet bar as your private pub or a cozy speakeasy. Here, you can play with themes, from rustic charm to modern chic, making your basement the heart of home entertainment.
Functionality Meets Style: Practical Design Tips
A great wet bar needs to be both functional and pretty. A well-thought-out layout, efficient storage, and the right appliances make a seamless integration of form and function. Make sure that your wet bar is not just a showpiece but a genuinely useful part of your home.
Efficient Layout and Storage
Let's talk about setting up your home wet bar. It's all about using your space smartly. You gotta think about the whole flow – like where you'll wash glasses, mix up those drinks, and then serve them. Make sure you've got enough room on the counter for all that magic, and don't forget a sink to make cleaning up a breeze. For storage, get creative with cabinets that fit all your bottles, glasses, and tools. Think about adding some cool pull-out drawers, wine racks, and those nifty hanging racks for your glasses. It'll keep things tidy and right where you need them.
Appropriate Lighting
Lighting's a big deal. It sets the vibe and helps you see what you're doing. Do you want that cozy, inviting feel? Go for some ambient lighting, like those trendy pendant lights or maybe some recessed lights. And for the area where you're mixing drinks, you'll need good task lighting – think under-cabinet lights. Oh, and for a bit of pizzazz, throw in some accent lights, like LED strips or backlit shelves. They'll make your bottles and glasses look super cool.
Quality Appliances and Materials
Alright, let's talk about gear and materials. You need the right stuff. A mini-fridge is a must for keeping your mixers and garnishes cool. Into wine? Then you probably want a wine cooler. And hey, an ice maker is super handy. Now, for materials, you want stuff that's gonna last and is easy to clean. Quartz or granite countertops are a win, and pick materials for your cabinets that can handle a splash, especially if you're putting in a sink. This isn't just about looking good – it's about making your wet bar last and cutting down on your cleaning time.
Integrating a Wet Bar in Basement Remodeling
When planning a basement remodel, incorporating a wet bar can be a game-changer. It's an investment that adds both aesthetic and monetary value to your home. Work closely with a designer like Kitchen and Bath Shop to ensure that your wet bar fits seamlessly into the overall basement design, enhancing its appeal and utility.
Conclusion: A Toast to Your New Wet Bar
Whether it's a cozy corner setup or a full-blown basement bar, these wet bar ideas are about creating a space that's as inviting as it is impressive. It's time to bring your vision to life and raise a glass in your newly elevated space. Cheers to your wet bar remodel!