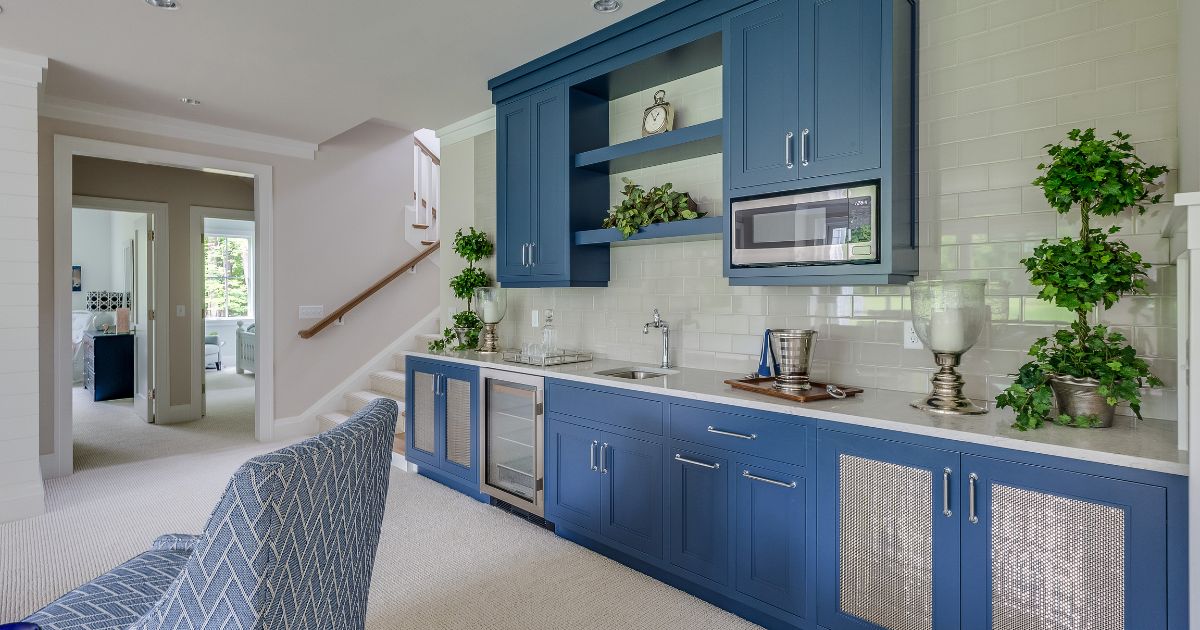 The Benefits of Having a Basement Kitchen
For those faced with the option of having a basement kitchen or not, it's generally a good idea! A basement kitchen can serve as the perfect convenience to add to any home. The best part is you can design its functionality to match your basement. In this article, we'll cover what a basement kitchen is, what should be included, and some frequently asked questions about this type of renovation.
What is a Basement Kitchen?
As the name suggests, a basement kitchen is a fully functioning kitchen within a basement. These kitchens can be stripped down to the bare basics or fully equipped. The purpose of a basement kitchen is to provide additional space for cooking and entertaining. It can also act as an independent kitchen that serves anybody residing in the basement. 
It usually consists of a simple setup; think countertop with a sink and a refrigerator. However, it can be used as a full-blown kitchen with appliances, cabinets, and countertops. 
A basement kitchen typically coincides with the purpose of the basement itself. For instance, if the basement has been converted to a guest suite, it could be more elaborate. If it's used as a family den, it may have more stripped-back amenities and act as a secondary kitchen to a main one. 
Can a Kitchen be Made in a Basement?
Yes, absolutely! A basement can be transformed into a beautiful and functional kitchen with the right design and planning. However, it's important to work with a professional contractor or designer who has experience in basement renovations to ensure that the space is properly ventilated, wired, and plumbed for a kitchen.
What Should Be in a Kitchenette Basement?
A kitchenette basement should contain all the appliances and fixtures needed in accordance with the basement. Typically, it should have at least the bare minimum – a sink, a countertop for appliances like a microwave, and space for a mini refrigerator. 
Of course, there are no hard rules or a checklist to follow for what should be in a kitchen basement. A more elaborate setup, such as larger countertops, a coffee machine, a small stovetop, cabinets, etc. fits perfectly well into a basement kitchen. 
To know what should be in your kitchen, take time to plan out what the purpose of a secondary kitchen would be. Ask yourself:
Who is this kitchen for?

How often will this kitchen be used?

What conveniences do I want in this kitchen without being redundant to my main kitchen?

What exactly do I want to do in this kitchen?
Knowing how the kitchen will be used is a great point of reference as to what needs to be put into it. For example, if you need a basement kitchen to compliment a basement TV room, some minimal fixtures could include:
Sink

Small countertop

Sink

Microwave

Mini fridge
On the other hand, if you need a kitchen to function as a kitchen for guests, you may need to add more such as:
Stovetop

Exhaust fan

Cabinets

Small dining area

Appliances like a coffee machine, toaster, and air fryer. 
As mentioned previously, the main idea is to set up a kitchen that works in tandem with your overall setup. 
Cost Breakdown
When considering adding a kitchen to your basement, one of the most pressing questions you'll likely have is how much it will cost. The price can vary significantly depending on a number of factors, including the size of the kitchen, the materials used, the appliances included, and the extent of the necessary construction work. As of 2023, here's a general breakdown of the potential costs associated with adding a kitchen to your basement:
Design and Planning
The design and planning stage typically ranges from $500 to $1,500. You'll be working with a professional contractor and/or designer to create the most efficient layout for a basement kitchen. 
Permits
Depending on your locality, you may need permits to remodel your basement, typically costing between $200 and $500.
Demolition and Construction
Prepare to shell out anywhere between $5,000 to $10,000 to clear away any existing fixtures and prime your space for construction. Of course, factors like the size of your kitchen, the fixtures, plumbing, and electrical work will greatly influence the price 
Plumbing
If your basement doesn't already have the necessary plumbing, this can be a significant expense. Plumbing costs can range from $1,000 to $4,000 depending on the complexity of the installation.
Electrical Work
Adding a kitchen means adding appliances, which often require upgrading your electrical system. This can cost between $1,000 to $3,000.
Flooring
Depending on the material used, flooring for your kitchen could cost anywhere from $1,000 to $5,000.
Cabinets and Countertops
These are often a major portion of a kitchen's cost. Expect to pay between $3,000 to $10,000 for basic to mid-range options.
Appliances
The cost of appliances will vary greatly depending on what you choose. A basic refrigerator, stove, and dishwasher could cost as little as $1,500, while high-end appliances could run upwards of $5,000.
Finishing Touches
Things like paint, lighting, and backsplash can add up as well. Budget around $1,000 to $3,000 for these items.
So, the total cost for a basic basement kitchen can start as low as $14,200, while a high-end remodel could cost as much as $43,000 or more. Remember that these are average costs and your project could end up costing more or less depending on a variety of factors. Always consult with a professional and get a detailed quote before starting any renovation project.
Frequently Asked Questions
Q: Do I need a permit to install a basement kitchen?
A: Yes, you need a permit to build it. There are some exceptions to this, but generally, you need a permit. This ensures that you follow local building codes specific to your area.
Q: Can a basement kitchen increase the value of my home?
Yes, a basement kitchen will more often than not, increase the resale value of your home. The trick to getting this right is to build it well and to build in an area where people are interested in having a basement kitchen. Invest in a good backsplash and sturdy cabinets to maximize your ROI. 
Wrap Up
A basement kitchen can be a valuable addition to any home, providing a functional space for cooking, entertaining, and even generating some extra income. Whether you opt for a simple kitchenette or a full-scale kitchen, be sure to work with a professional to ensure that the space is properly designed and constructed. With the right planning and execution, it can add both function and value to your home.