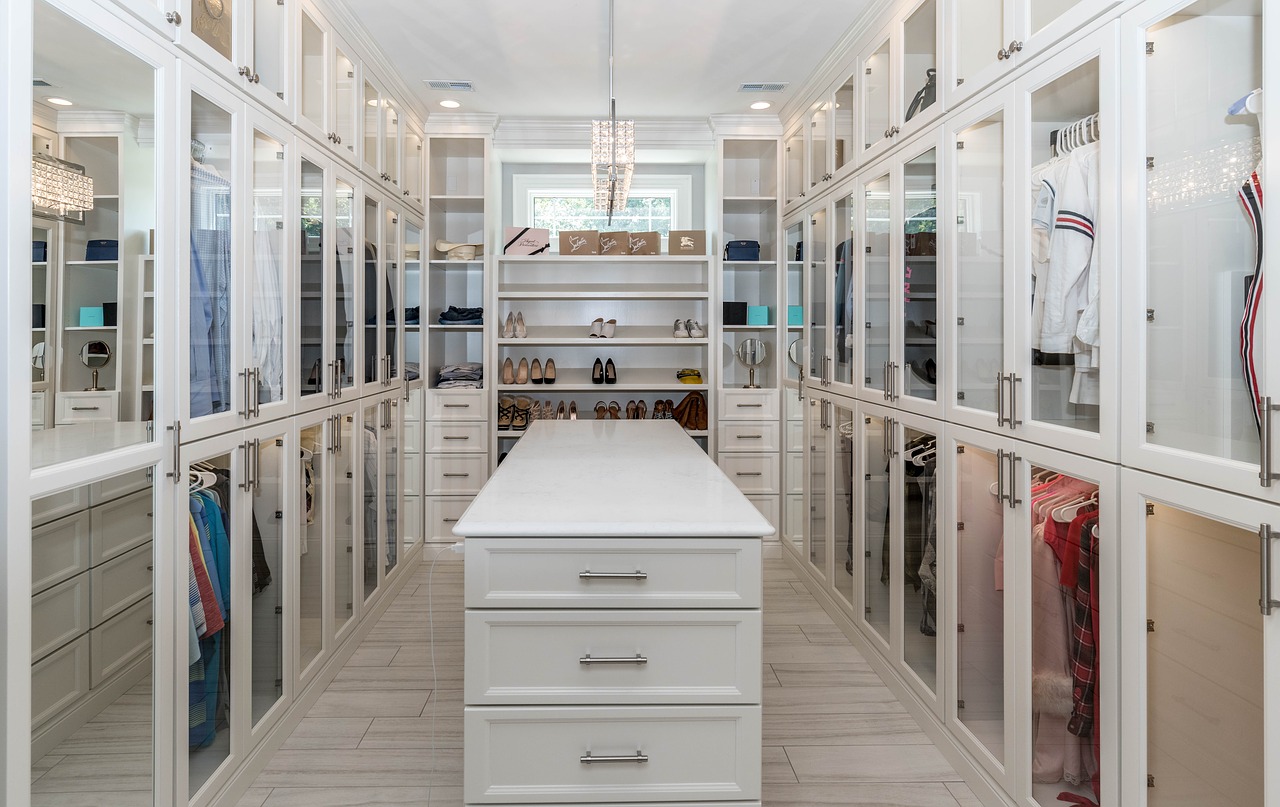 Walk-in Closets: A Complete Guide
Should we call them walk-in closets or a room within a room? Either way, they are a delight to have in the house, especially for all the storage needs.
There is hardly any other type of closet or storage solution that can give you as much storage. This explains why more and more homeowners opt for it every year and the general fascination people have towards it.
Why Do People Gravitate Towards Walk-in Closets?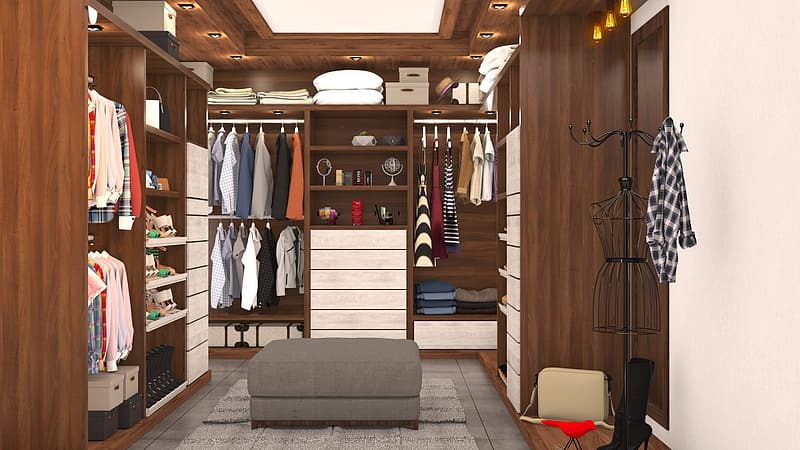 Although walk-in closets are a form of luxury, they cater to the changing preferences of the contemporary world and stand to define the design equation in modern living spaces. These closets are the basketball players of the closet world – and all the ladies want them!
To understand why there's such a craze surrounding these, you have to consider the customizability. You can decorate in literally any color theme or design palette you prefer. Not to mention, you can add tons of unique personal touches to make it your space too. They generally form an integral part of a master bedroom where they make a distinct feature too.
Walk-in closets are also associated with a private retreat concept — replete with elegant details, display pedestals and classy sitting areas where one can relax and unwind.
Factors to Consider Before Opting for a Walk-in Closet
Your budget is the primary factor, followed by the available space. Last but not least, your storage requirements also matter.
As it is in any project, you've to understand what you are getting into and why. Identify your needs first. This will guide you well towards shaping the end product. If your storage needs do not run high, there is no point in going for a walk-in project. Similarly, if you don't have enough space, getting a walk-in closet will be counterproductive.
Measurements for a Standard Walk-in Closet
When it comes to sizes, walk-in closets are available in three common dimension ratios. These ratios are small and square, long and narrow with double hanging space, and large with a plethora of free walking space.
The standard width of a walk-in closet can range anywhere between 5 to 12 feet or more. This allows space for a 3-foot hallway into the closet, even after storing or hanging items along the closet walls. A walk-in closet's standard depth can range anywhere between 5 feet (for a square room) to 17 feet (or more for a room style closet).
Layouts to Consider for a Walk-in Closet
Walk-in closets are available in a variety of designs. However, the following layouts are the most popular ones:
     1. Double-Sided Walk-in Closets
These closets are mid-size closets with contents placed along two walls, split by an interior clearance space. Double-sided closets' widths also vary between 6'-6.5' | 183-198 cm for mixed storage or 7' | 213 cm for two sets of comfortable hanger rods (24" | 61 cm each).
Double-sided walk-in closets are available in a diversity of design and depth, catering to individual needs.
       2. Single-Sided Walk-in Closets
These closets are the smallest type of walk-in closets. They are a blend of a single storage wall and an internal clearance space for access.
A single-sided walk-in closet's overall depth can be variegated as per need, but it is a practice to maintain overall closet depths between 4'-5' | 122-152 cm to save space. Accessories like mirrors or wall-mounted hooks are used on the unused walls of a single-sided walk-in closet for additional vertical storage and optimize storage option.
     3. Peninsula Walk-in Closets
These are essentially shared open-plan closets. Here, the closet space is split into two zones by a central peninsula element.
This design is often spotted in master bedrooms and integrates a shared lower seat or half-height storage element that separates both the users. Yet, it somehow maintains the visual spaciousness.
The closet has a minimum width of 13' | 4 m with adjustable depth to fit diverse floor plans. Clearance aisles of 36" | You must maintain a .91 m  around the central peninsula. Further maybe with the choice of integrating additional doors that connect to a master bathroom etc.
     4. Island Walk-in Closets
You can structure these closets to inculcate a central island that may be in the form of a bench, seat, work surface, or dresser with sufficient movement space.
A circulation zone of 3' | 91 cm needs to be around the center island for the user to walk around, access, and dress.
Island walk-in closets are luxury closets that can carry sophisticated pull-out drawers and trays, raised panel cabinets, pull out shirt racks, tie racks, led lighting system, and sundry.
      5. Wrap Around Walk-in Closets
These closets use the back wall of the closet along with the side walls to maximize storage space and are specifically designed to enhance the storage space. You can shape these as L shaped or U shaped layouts. Here, two or three consecutive sides of a central clearance space take up the storage.
Taking the standard depth of 24" | 61 cm, L-Shape wrap around walk-ins have a minimum width of 5' | 152 cm, while U-Shape wrap-around closets have a minimum width of 7' | 213 cm. Closet depths can vary based on the individual requirement but are usually around 5'-6' | 152-183 cm for functional effectiveness.
Things to Remember While Designing Walk-in Closets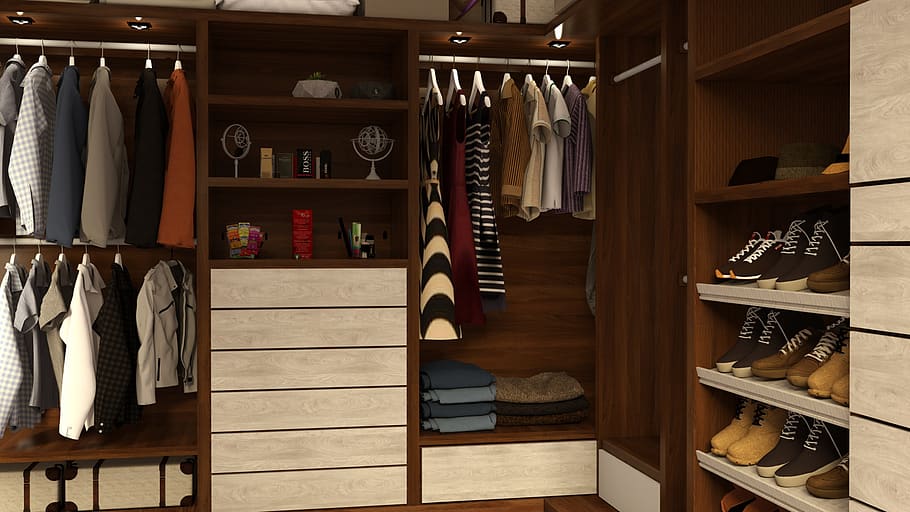 It may be a good decision to include a built-in dresser when designing a walk-in closet. Because they are quite different than bathroom vanities, add ons like customized shelves, cabinets, and shoe storage transform your closet into an excellent functional space. Another important aspect is to inculcate an open feel upon entrance through the strategic placement of storage units.
After deciding your storage needs and the space available, you can go on a creative spree by combining different design elements. Be creative and versatile.
Seating areas, counters with coffee machines, wine bars, charging stations, etc. can be incorporated into your closets, depending upon your lifestyle. The idea is that you can make the closet need-savvy. You do not have to restrict it to the role of showcasing a wardrobe.
How to Create a Small But Functional Walk-in Storage
Focus on storage elements that organize everything in the best ways, like drawers and baskets. These elements are also apt at making the most of the limited space in the walk-in closet. You should opt for a design with a narrow floor plan.
Similarly, drawer and shelving units work in tandem in smaller walk-in closets when placed on top of each other.
A lighter color scheme in a smaller walk-in closet will open up the closet space.
Final Tips for Designing the Walk-in Closet
In case you plan to add double hanging rods to the closet, align them at around 40 and 80" on a vertical wall. Similarly, you should consider a 3' walking space as the ideal standard. If you are looking for additional dressing space in the closet, 4' is perfect.
You need a minimum of 26" of floor space to give space to the hangers. Therefore, they will not interfere with your walking area. Consider placing rods at 72" on a vertical wall for hanging long garments. You can also add more shelves above the 72" to create more vertical space.