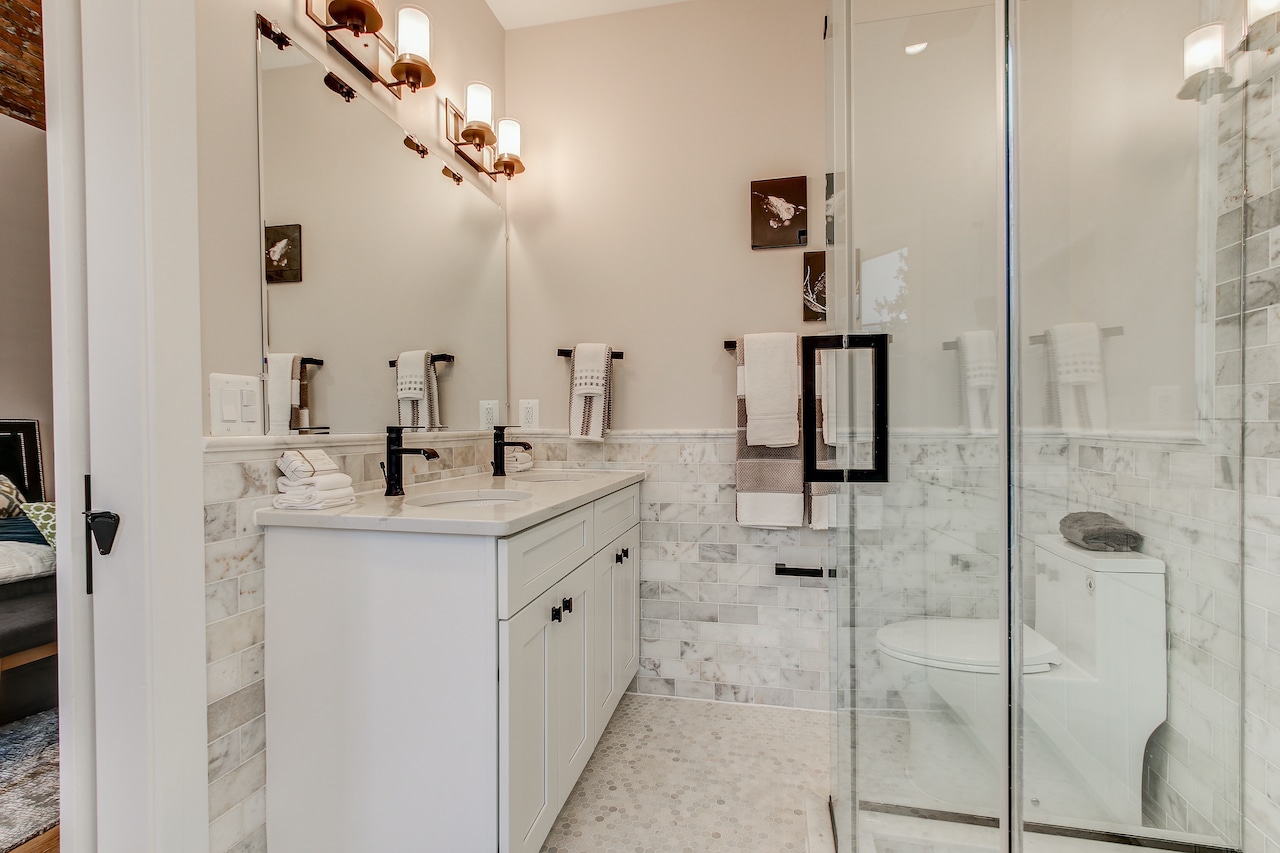 Vinyl Bathroom Flooring: Everything You Need to Know
If you are planning to remodel your bathroom, probably one of the best places to start is the flooring. It can be a small area of your home, but it is high on functionality. However, if your bathroom has had the same flooring for years or is no longer your style, it may be time to consider vinyl bathroom flooring.
Admittedly, vinyl is one of the best bathroom flooring options. Further, manufacturers provide this waterproof, durable, and budget-friendly flooring to fit your home's needs.
How to Choose Your Bathroom Flooring
When you are choosing new bathroom flooring, you want to make sure you are getting the best materials for your home. Water is prevalent in the bathroom, and spills are unavoidable, particularly if you have children. Consequently, if you choose the wrong type of flooring, this moisture can significantly damage your home.
First, it is essential to choose waterproof bathroom flooring. Your bathroom will often fall victim to splashes and spills from the sink, tub, and, accidentally, the toilet.
Second, consider the functionality you need in your bathroom flooring. For example, if a lot of family members use the same bathroom, you'll need a floor that can withstand heavy foot traffic. Otherwise, if you have kids, you may need more heavily waterproof and durable materials.
The Composition of Vinyl Flooring
Vinyl flooring became an absolutely viable flooring material with the introduction of PVC [Poly-vinyl Chloride]. It is a synthetic plastic containing hydrogen, carbon, and coloring.
In regular vinyl tile flooring or sheet vinyl, the flooring material is generally a composite product. You bond a layer of PVC to a fibrous core and cover with a printed design layer and a tough, clear wear layer.
The difference between high quality and low quality lies in the thickness of the products and the toughness of the wear layer.
Today, vinyl bathroom flooring can take several forms. The common ones include sheet flooring, vinyl composite tiles, and luxury vinyl tiles or planks. Whatever type of vinyl bathroom flooring you choose, vinyl has numerous advantages. So of them are:
Durable:

Vinyl flooring is a surprisingly durable material, even though it is slightly soft underfoot.

Water Resistant:

The primary reason why vinyl flooring is so popular in bathrooms is that it is resistant to steam, moisture, and humidity. Although vinyl can be slightly vulnerable at the seams, water is largely unable to penetrate the surface of this material to damage the subfloor.

Easy to Maintain:

Vinyl flooring is pretty easy to clean. Further, it resists stains, dirt, and punctures, although you can pierce it if you don't outfit heavy furniture legs with protective pads.
Vinyl Composite Tile
Vinyl composite tile is a mixture of natural pulverized limestone, thermoplastic binders, filler materials, and color pigments. It is made by mixing these materials into solid sheets and then cut them into tiles.
Vinyl bathroom tile usually needs surface polishing to protect its porous surface, and as a result, it is not as low maintenance as sheet vinyl, which only requires routine sweeping and mopping. While this was the first widely popular form of vinyl flooring, but it is now much less popular than sheet or luxury vinyl. 
Due to its high maintenance, the lifetime cost of a VCT installation can exceed other forms of vinyl flooring. Although VCT comes in various patterns and colors, it doesn't meet the corresponding level of texture and design versatility available in other varieties of vinyl flooring. 
The prevalence of several seams between tiles means that this floor will not be as moisture-resistant as sheet vinyl, and thus water seeming through the seams can cause the base layer to loosen. 
You generally glue Vinyl tile to an underlayment with either a towel-on adhesive or a peel-and-stick adhesive. Besides being the most economical type of vinyl flooring, vinyl tile is relatively easy for a DIYer to install because the individual pieces are very manageable. 
Sheet Vinyl
Sheet vinyl bathroom flooring consists of a continuous sheet of polymer materials made in widths of around 6 to 16 feet. Further, it is manufactured with a digital graphics film of PVC that gives the flooring its color and pattern, which is then bonded to a base layer of felt or fibrous material. Besides, there is a protective outerwear layer to protect the PVC layer over the top.
Since it comes in large rolls, sheet vinyl has few seams and is great at repelling water. Smaller rooms may require absolutely no seams at all to cover the space with this completely impermeable flooring material. 
Furthermore, you can install sheet vinyl in a number of ways, including full glue-down application, bonding it at the perimeter, or even floating it over the underlayment.
However, vinyl sheet bathroom flooring costs slightly more than tile. Although it is quite popular, luxury vinyl flooring has replaced it over time.
Luxury Vinyl Flooring
Luxury Vinyl Flooring is sometimes also known as luxury vinyl tile or luxury vinyl planks. It is when you choose flooring in the form of tiles or long planks. It is a limestone-based material combined with PVC composites. Further, there is no felt or fiber layer, making this a solid material throughout its thickness. 
Although luxury vinyl flooring is somewhat flexible, it is considerably more rigid than vinyl tiles or sheet vinyl. This factor allows you to install it with a modified tongue and groove system. You can do so when you click together the individual planks or tiles. Besides, a digital film layer over the composite material can create just about any desired look, covered with a tough wear layer. 
Being the most expensive of the three types of vinyl flooring, luxury vinyl is durable, easy to maintain. This also makes it a more cost-effective choice over the long term.
Moreover, the graphic process is much superior to that used for sheet vinyl, which means that this flooring can be remarkably effective in mimicking stone, wood, ceramics, or even metal.