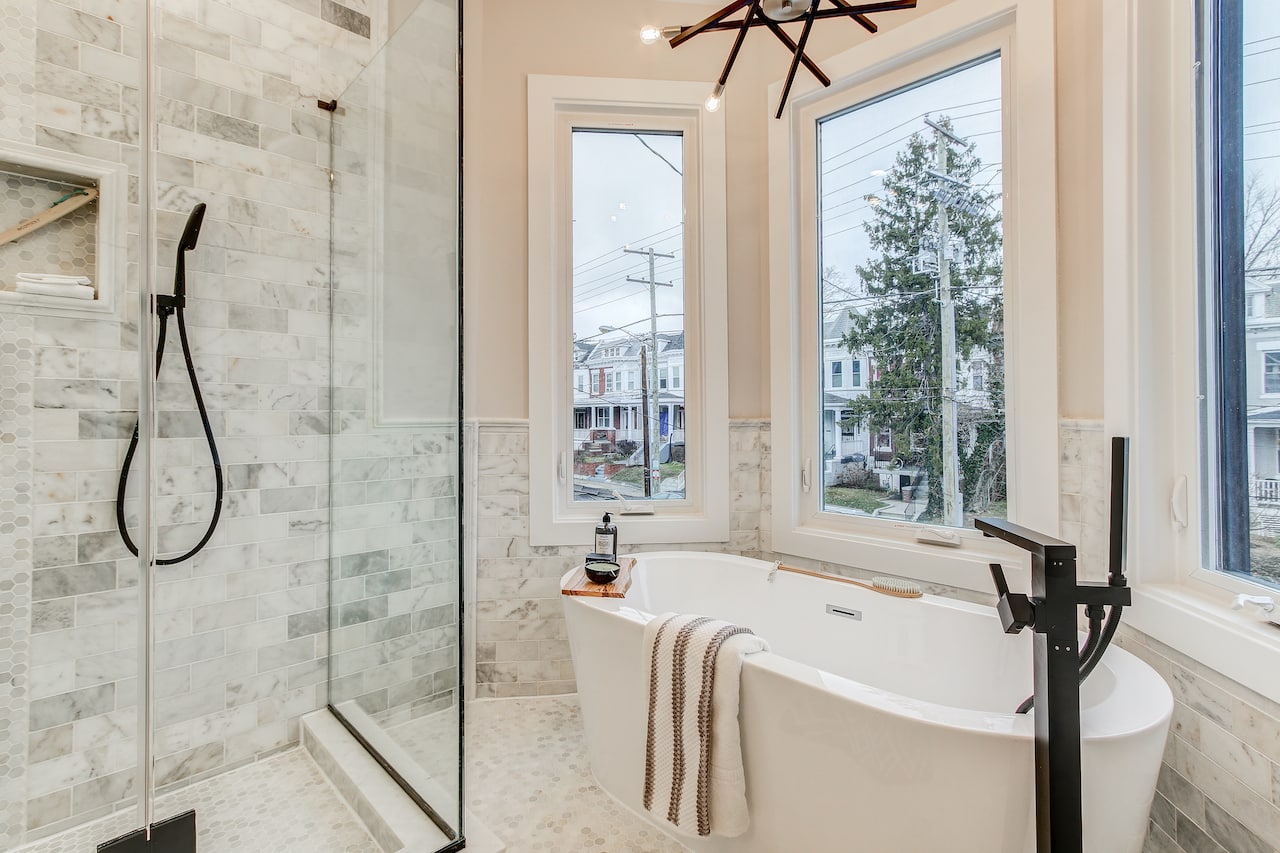 Follow These Top Trends For a Bathroom Remodel in DC
There are many design ideas that come and go every year. It's important to keep yourself updated with the latest ideas if you're planning on a bathroom remodel. Here are some of the top trends in bathroom remodeling in DC.
Use Marble Where You Can
Richly veined or contemporary straight-line design, light-colored or dark-colored, marble oozes luxury, commitment to quality, and timelessness.
The best part about buying marble is that you get to choose from many varieties. It also depends on the designer's vision and interpretation to create either stunning artistic statements or perfectly balanced spaces for your bathroom remodel.
Classic and elegant Carrara or Calacatta marble is always a great choice for bathroom remodeling in DC. It's timeless, adds value to your home, and is visually stunning. 
Round Mirrors
Big, circular, modern bathroom mirrors are among the top bathroom remodeling trends. They lend a dramatic impact in a subtle, minimalist way without all the fuss of an intricate design. You can easily incorporate round mirrors while designing your bathroom vanity.
A circular mirror makes for a great contrast to the usual hard lines of a bathroom. They go a long way to soften your design. 
Style your bathroom remodel in DC with a stunning round mirror to admire beyond your reflection. Try treating your mirror as wall art to strike a balance between fashion and function. 
Brass Finishes
Brass is the biggest home design material to re-emerge in recent years in DC. It's been steadily popping up everywhere, including in kitchens and bathroom remodeling, where it works amazingly well. 
If you're ready to be bold with little brass, style your faucets, shower, and cabinets with brass finishes. It is also highly durable and has a shine that will give any bathroom a stately look. 
Especially when you combine it with the darkest hues, it will make the finish pop. This finish will stand-out in both modern and traditional spaces. 
Spa-Like Design
You can achieve the bathroom of your dreams in DC by taking cues from the sophistication and timeless appeal of the luxury spas and saunas. Creating a spa at home is the perfect way to provide a serene hideout that will promote well-being and vigor while reducing anxiety. 
You can include natural elements such as wood, stone, and water. Add little things that will make such a difference, such as — a few rose scented candles, androgynous decor, and the sound of music playing in the background. You can also fill wicker baskets and recessed shelves with luxurious items meant to pamper. 
We know, not every home has a large master bathroom, but luxury is perfect for a small bathroom too. A solid foundation of beautiful materials will set the tone when you combine it with a soothing color scheme. 
The attention to detail is what pulls it all together. So be sure to engage all your senses by adding scented soaps, scrubs, bath salts, bath bombs, sponges, masks, and pretty baskets. You can create a relaxing space by balancing between various materials. 
Integrated Lighting
Integrated lighting is among the top trends in bathroom remodeling in DC and gives off a fancy, exclusive feel that is hard to resist when working on your bathroom remodel. You can use task lighting (under-cabinet lighting) not only for their practical use but also as a visual reminder. Moreover, it gives more depth to the bathroom too. 
Once you consider the practical requirements, it's time to think about the style you prefer. Similarly, how will the light you choose fit into your design scheme aesthetically? One way to do so is by gathering inspiration from magazines or online to help you achieve your ideal look.