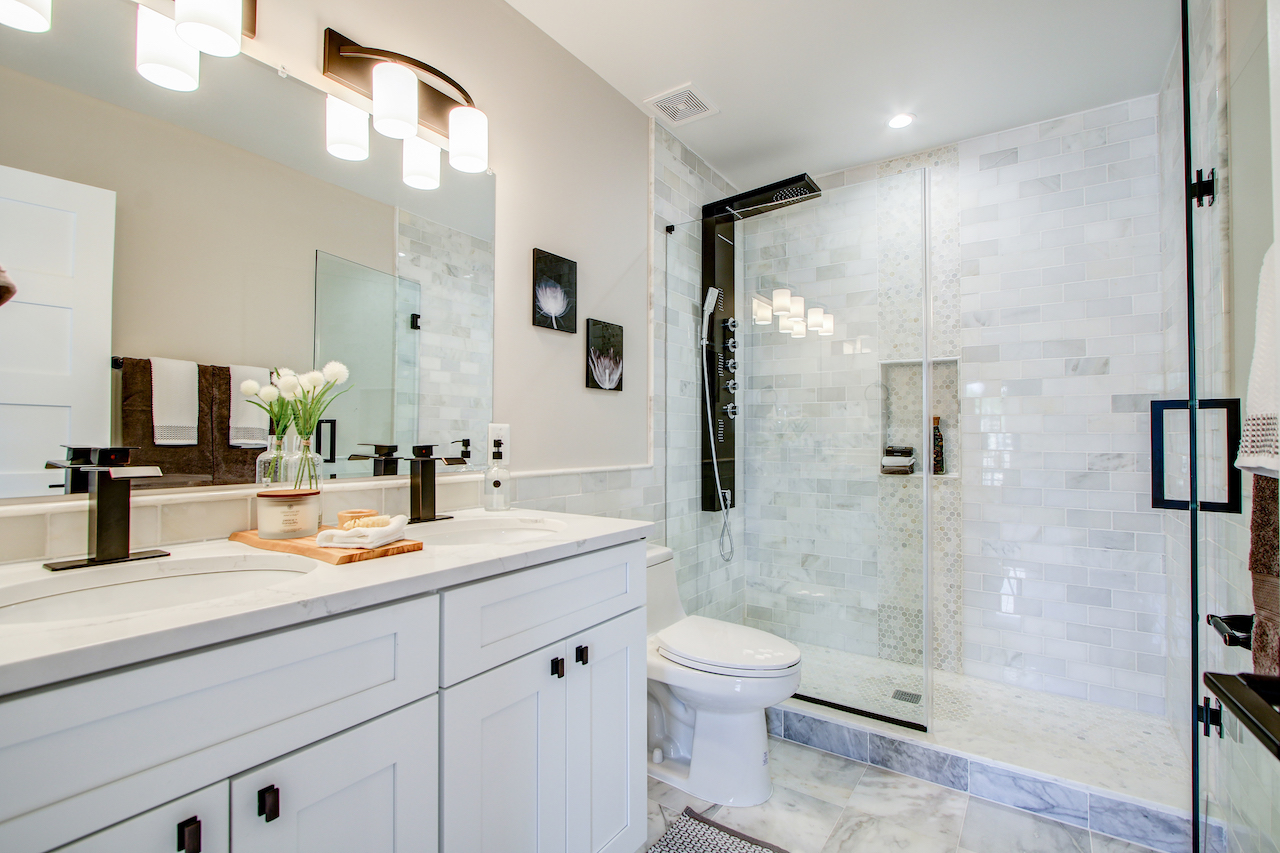 Small Bathroom Remodel Ideas: How to Make the Most of Your Space
A bathroom is a place in the entire house that elicits entirely different aura in the house. However, with less square footage, limited light sources, and minimal features to count on, there arises the need for remodeling a small bathroom. Though it's a tad challenging to think of great small bathroom remodel ideas, feel assured that you can still get the bathroom of your dreams. If done right, the bathroom will appear more bright and spacious like never before.
One point to consider here is that the following small bathroom remodel ideas go beyond making the most of the available bathroom layout and rearranging the present elements. 
Hence, check out these cool bathroom remodeling ideas to transform your cramped bathroom into your next favorite room of the house. 
Choose the Right Colors
Remodeling a small bathroom is more than just some rearrangements and making most of the otherwise wasted space. In a small bathroom, the first thing you'd focus on is the color palette. Adding light and bright colors can give the small place a more relaxing look and are a crucial aspect of the bathroom remodeling process.
According to most of the owners, the soft mint-green wall will brighten up a bathroom that lacks natural light.  For the freestanding bathtub, the marble's color should match that of the walls or keep that thing white or off-white. Hence, keep a note of the color composition of your small bathroom while revamping it.
Mirrors are Your Friends
You must have seen a single mirror hanging above the vanity in most of the small bathrooms. But do you know there is a small twist you can bestow to this? Mirroring the entire wall of your small bathroom will do the same work as done by the window. 
Plus, this will enhance the bathroom's lighting, automatically giving you an illusion of a bigger bathroom. If mirroring the entire wall isn't possible or the idea doesn't seem perfect to you, there is no harm in hanging multiple mirrors in that case. 
What About a Glass Shower Door?
You must have seen curtain-based shower closings in the majority of the bathroom designs. But have you ever imagined what scraping it off and replacing it with an entire glass shower door will do? 
By doing so, you get to open up more space in the small bathroom and enjoy your mornings and evenings to the fullest. 
If needed and worked upon carefully, you can decide upon discarding the shower door completely. However, you got to work on the drain to keep your bathroom dry and clean.
Tiles on the Walls Too?
Yes, you heard that right. When it comes to the small bathroom remodel ideas, tiling is a vital concept that's versatile too. For example, you can add small ceramic tiles you generally line up on the floor on the walls too. 
This will add impact and a continuation between the floor and the walls. Preferably, choose one-by-four and two-by-six floor tiles that are the hit sizes among the customers. The reason being their low cost and longer running life. 
Keep Everything Floating in the Bathroom
In a small bathroom, you already get a minimal walking space. If you have a habit of keeping all your commodities like towels, soap bars, grooming accessories, or anything around the floor, you further cut down the walking space. 
Therefore, as a part of your small bathroom remodel ideas go for a floating vanity and storage cabinets to keep the floor clear from its usual mess. Furthermore, such remodeling will keep everything at your arm's length. 
Focus on the Lighting
For small bathroom remodel ideas, before everything else, you should work on revamping the bathroom lighting. It's a no-brainer that the moment you enter the bathroom, its tiles and color composition will grab your attention but here's how you can maximize this. 
Add a decently sized pendant light right at the center to flood the small bathroom space with lights. Not to forget about some extra lights around the mirror(s) and choose the right bathroom vanity lighting to further accentuate the brightness and design.
Curve the Edges
Try to curve the edges of the vanity and other elements of your small bathroom, like the storage cabinets, bathtub, etc. By doing so, you will earn back some lost space and prevent yourself from running into them if you're in a hurry.
Plus, curved edges also play a vital role in giving the entire space a more elegant and smooth look. 
Create an Illusion of Height
With some simple refinements in your small bathroom remodel ideas, you can make yourself feel comfortable in a vaster bathroom. Sounds strange? By visually raising the bathroom ceilings, you can enlarge the bathroom to a good extent. 
First, replace the dark and large crown molding with light and narrow crown molding. Second, use recessed lightings to make the small bathroom appear bigger. This is because overhead hanging lights lend everyone the feeling of a cramped room and you can avoid this by adding recessed lights.
Pocket Doors to Your Rescue
The standard bathroom doors swing inwards and thus trims down the space behind them. This is because placing anything next to the door will hamper its movement, and it will then hit the object kept next to it. Hence, replacing such doors with pocket/sliding doors is the best you can do. 
A few inches of sliding space in the wall is enough for pocket doors to slide into it and increase the floor space. As a modification, you can opt for frosted glass pocket doors to add up even more space to your small bathroom. 
Say Goodbye to the Bathtub
Everyone loves a long soak in a bathtub following a hectic day in the office. However, because your small bathroom is too small to give your bathtub enough space, letting it go is a better option. 
As its replacement, get a cool and sturdy tile shower. It not only looks good in while usage but also modernizes the small space. So, replace the bathtub with a wall shower, and that's another small bathroom remodel idea that helps you make the most of your space.
Give Textures a Try
An all-white or monochrome color scheme doesn't give much to your eyes to focus on. Hence, some textures and patterns on the walls, cabinetry, and bathroom flooring are an excellent addition to your small bathroom.