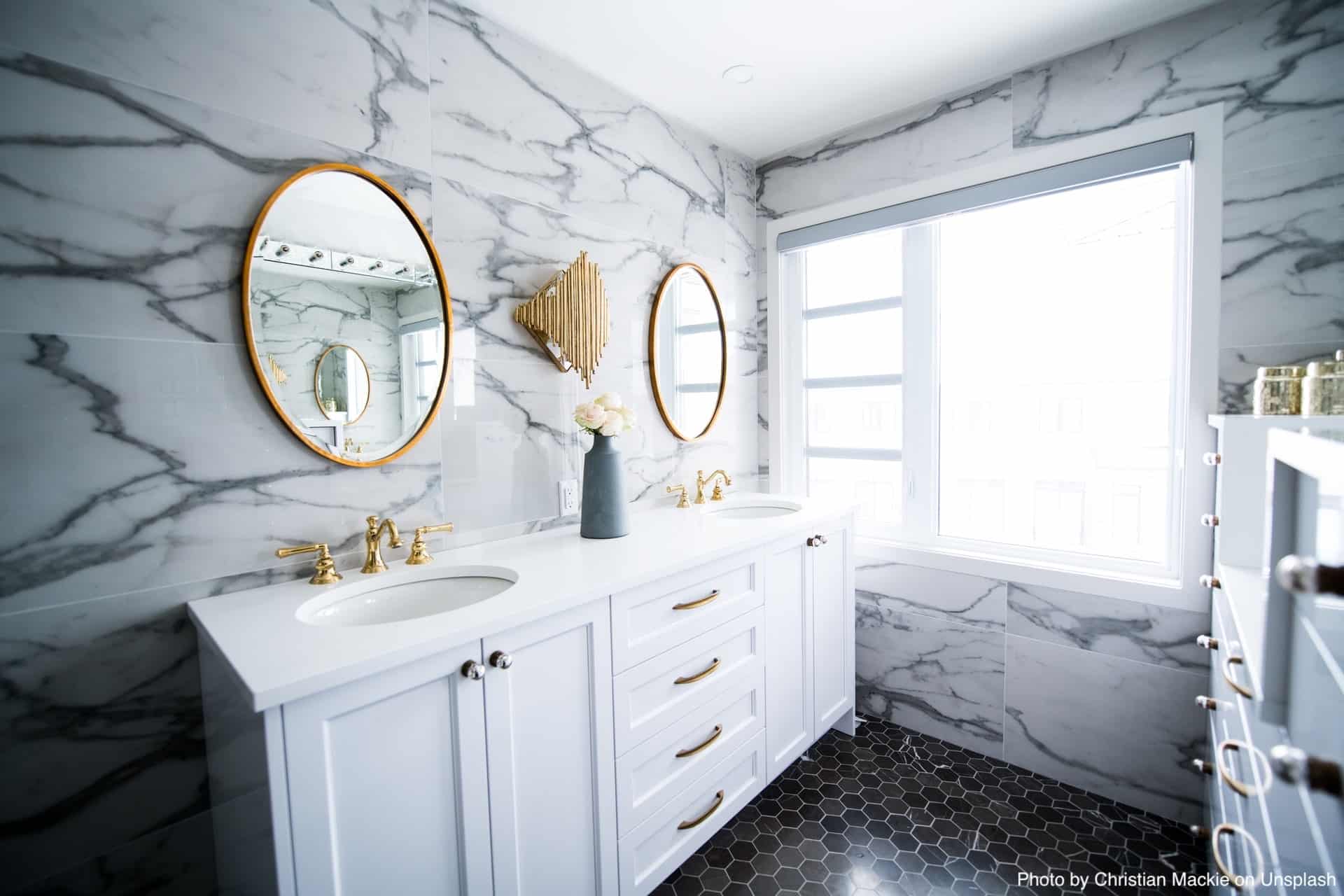 Small Bathroom Flooring Ideas That Will Transform Your Space
Bathrooms vary in size, and most people struggle with remodeling a small bathroom. However, it is not a bad thing to have a small bathroom. In our opinion, small is often better. If done right, small bathrooms can have a big impact. If you focus on the right elements, you can make the most of your space. For instance, the right small bathroom flooring ideas can transform your bathroom in no time.
While it can be challenging, if you understand the different types of flooring options, the process becomes much easier. Let's have a look at some common flooring options and ideas that you can use for your bathroom remodel.
Ceramic and Porcelain Tiles
The classic and trustworthy ceramic tile is the best option for your small bathroom. It is easy to install and impervious to water. Going for bigger tiles can make your bathroom feel less cramped and create an illusion of a bigger bathroom.
However, if you still wish to go for smaller tiles, you can opt for the spiral mosaic tile that is quite common yet always trendy for a bathroom tile. These tiles are porcelain mosaic, which is unglazed and makes an excellent choice for the bathroom floors and walls. 
This mosaic is simply four white tiles spiraling around one black tile, which is simple yet chic. You must also choose a neutral grout that does not overwhelm your small bathroom and blends in naturally.
Natural Stone
Natural stone tiles give your bathroom an incredibly luxurious and high-end look, but it may fall heavy on your pockets. It is not the easiest or the cheapest job in the world, but it is worth it. 
These stones are a little expensive, but installing marble, granite, slate, or travertine can make your small bathroom look very lavish and also increase the resale value of your house.
The sleek slate floors give an ultra-modern look to your bathroom. Since your bathroom is small in size, the installation and the amount of material you buy for the installation may not cost you a lot. 
However, if you plan to install this material, you should be aware that it is quite porous and may need sealing every year.
Luxury Vinyl Plank
If you want the rustic vintage design for your bathroom but are smart enough to know that you must not install solid hardwood in a wet place like that, your best option is to go for high-end vinyl planks. Luxury vinyl planks are the ultimate waterproof solution and one of the best small bathroom flooring ideas!
Installation of vinyl planks is straightforward since you simply need to stick it on without any nails or glue. It highly resembles wood and can easily create an illusion without you having to spend a lot on it. Luxury vinyl planks are incredibly cheap, easy to install, and may give your visitors an unexpected view of  'wood' on a bathroom floor.
Waterproof Laminate
Waterproof laminate has a thermoplastic core, which looks similar to luxury vinyl planks but lacks the fireboard base, which swells up upon contact with water. Waterproof laminate is different from vinyl flooring since vinyl is dense and has an integrated layer structure. 
However, waterproof laminate has a honeycombed plastic base that does not swell up when it comes in contact with water. It is up to 8 mm thick and is, therefore, a suitable material to install as bathroom flooring.
Now that we just spoke about several small bathroom flooring ideas, let us talk about some ways to jazz up the bathroom floor. You can try by playing with the tile shape and layout in the bathroom. 
If you want your bathroom to look fabulous, the trick is not to overwhelm it with colors. And therefore, you must focus on other things such as shapes, sizes, and textures, apart from the colors.
Use Unconventional Tile Shapes
There are many shapes of tiles available for your bathroom flooring, the most common ones being squares and rectangles. Playing with your tile shapes is the best way to make your bathroom look quirky and different from the others. 
The best way to add some funk to your bathroom flooring is to use unconventional tile shapes that give your bathroom an intriguing look by becoming the major focal point. Penny glass, arabesque tiles, or simple rectangular mosaic tiles give your bathroom floor a unique and luxurious makeover and provide a dramatic look to your bathroom floors.
Go for Rich Textures
When your bathroom is small, you need to find ways to make it look eccentric and distinctive. Since it lacks size, it should have some nice features to make it stand out.
Another one of the best small bathroom flooring ideas is to go for rich textures. You can always give your bathroom a quaint and quirky look with the help of high-textured tiles. 
Marble tiles have bold lines and colors that pop, which make the bathroom look splashy and vibrant. If you go for porcelain tiles, some of them have a rusted iron look that gives the bathroom a vintage, rustic and chic design.