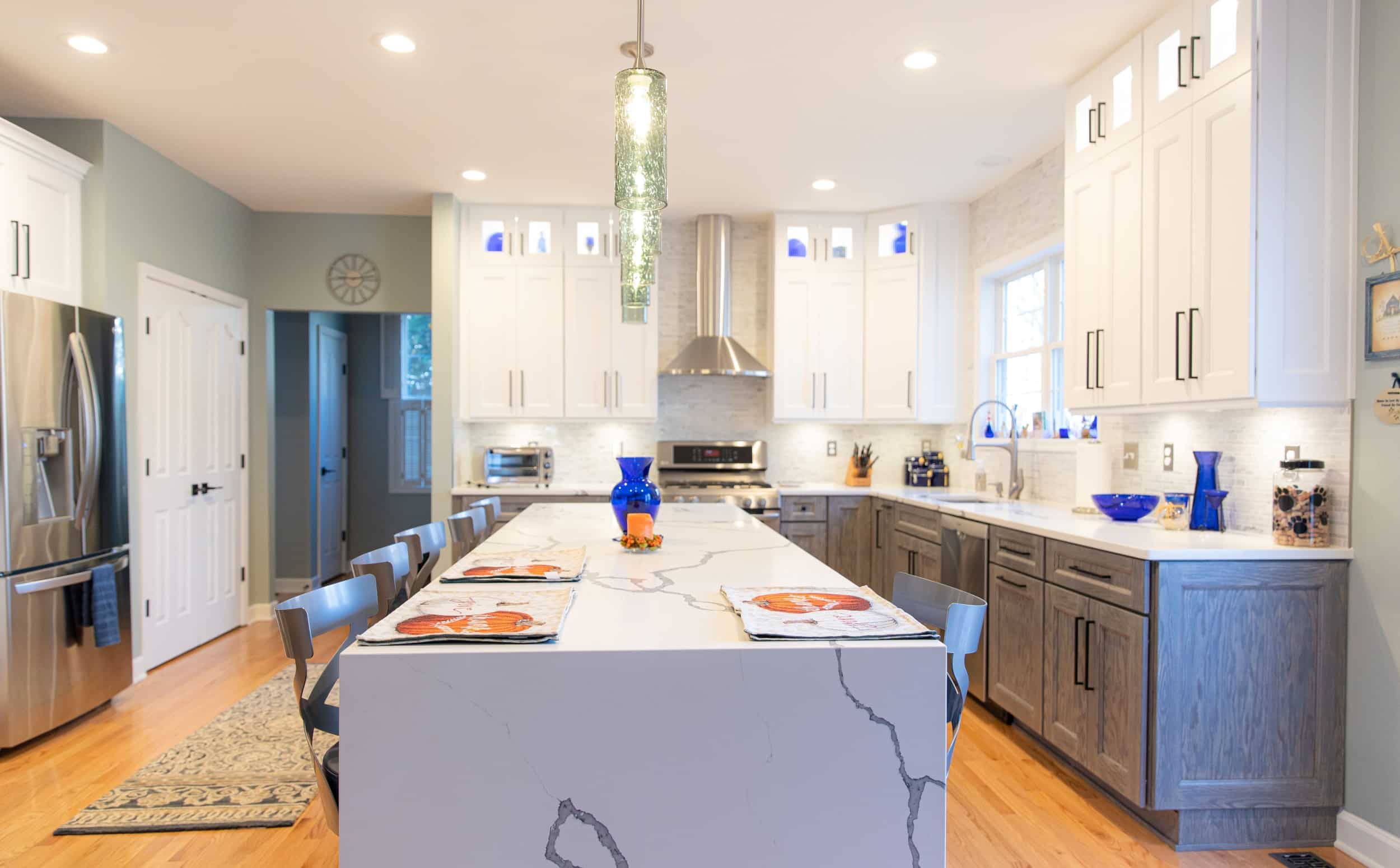 Wondering How to Save on a Kitchen Remodel? Here are Some Nifty Tips
A kitchen remodel can prove to be an expensive affair. However, if you learn how to save on a kitchen remodel, you can make the most of your budget. Kitchen remodel costs can quickly mount to the point where your budget can seem like peanuts in a jar.
Here are a few favorites on how to save on a kitchen remodel and still get the kitchen of your dreams.
Choose Open Shelving
Open shelving adds interest to a kitchen remodel while also saving money. Using salvaged wood or painted planks from your local hardware shop for shelves to showcase everyday dinnerware (things that don't spend sufficient time on the shelf to gather dust) is a cost-effective and functional solution.
While it may be appealing to forego fitted cabinets altogether in order to save money, they are still valuable and effective for storage, especially if you have a tiny kitchen with a lot to put into it.
Consider Alternative Countertop Materials
Solid surfaces, recyclable items, concrete, tile, stone, and other materials are all available as countertops. Granite is still a popular kitchen countertop material, but it can easily exceed any budget at $50 to $100 per square foot.
So how to save on a kitchen remodel? You can use two different surfaces, such as butcher block on the outside edge and granite on the island. This has the potential to cut your cost in half.
If granite is out of your price range, but you want the look of stone, laminate is a good option. The price per square foot ranges from $8 to $20, including installation. With its high-definition options and new cut-edge profiles, laminate has come a long way.
Don't Move Your Appliances
If you're thinking about getting new cabinets, consider leaving existing appliances in place. Relocating the mechanics and electrical for appliances can be expensive, not to forget the requirement to break into the ceiling on the floor below and the walls to access the mechanicals. These are expenses that many homeowners overlook when considering a kitchen renovation.
Leaving the appliances in their current location will save you hundreds of dollars in the long run. Relocating an appliance 1 foot can cost as much as moving it 6 feet, based on where the mechanicals are situated.
Shop Local For Kitchen Cabinets
Analyze all of your choices if you need to replace your kitchen cabinets. Although pre-assembled box cabinets appear to be the cheapest alternative, at first sight, remember that they may not be long-lasting.
Remember that your kitchen cabinets set the tone for your kitchen design. It's best to reach out to a remodeling company near you and try to get the best deal for your new kitchen cabinetry.
Look for Kitchen Island Alternatives
Examine the many island alternatives. A 6-foot island with new cabinetry might cost upwards of $800. You should consider reusing a piece of furniture instead of using cabinetry for your kitchen island. An old table or dresser is a terrific way to add character to a room.
Keep your eyes out for bargains on Craigslist, salvage shops, estate sales, and garage sales. You could save hundreds of dollars depending on your resourcefulness.
Add A Peel & Stick Backsplash
A kitchen backsplash is a simple project with a significant visual impact. There are several options for various DIY levels. They vary from "lick-and-stick" backsplashes that don't require much cutting to the most custom appearance with real tile. These do require a trowel and tile cutter, as well as finishing with a pre-mixed grout.
You can also go for a beadboard backsplash, which is one of the quickest, easiest, and most cost-effective kitchen solutions.
Try Track Lighting Instead of Recessed Lighting
Installing recessed lighting may turn into a larger effort for your kitchen remodel than anticipated. Ceiling holes must be drilled, electrical wiring must be installed, and other costs may be associated with ceiling restoration.
The total cost of a single recessed light, including materials and an electrician, is between $100 and $150. While figuring out how to save on a kitchen remodel, even the insignificant costs can soon pile up.
Instead, consider using track lighting to save money. There are numerous styles, shapes, and finishes to choose from. They provide ample light for culinary operations and, when dimmed, provide a pleasant ambient light.
Buy Refurbished
When it comes to accessories, lighting, and even hardware, don't forget the value of buying refurbished items. Even thrift stores and flea markets can feature high-quality, unusual, and fully functional items that save you money and are also more environmentally responsible. That's what we call a win-win situation.
With a little innovation and hard work, you can still save money on a kitchen makeover that adds beauty and elegance to your house. By reviewing your present kitchen layout, purchasing locally, and looking into ways to do the job yourself, you can figure out how to save money on a kitchen remodel budget. For example, refinishing the cabinet and new hardware will make the biggest difference.
Try Remodeling In Stages
If you're on a tight budget, postpone a few projects. This will smooth out the costs of the remodel, allowing you to put money aside for the next task.
You can add backsplashes to your wall and cabinets at any time after you install them. If you can't bear staring at Sheetrock, consider wallpaper, which is a quick and inexpensive project. Fitting glass to your cabinet doors is an easy and inexpensive project that you can complete in no time.
Moreover, a hardware replacement is one project that might cost hundreds of dollars. You can put off replacing the new hardware if it fits with the existing hole placement on your cabinet doors and drawers.