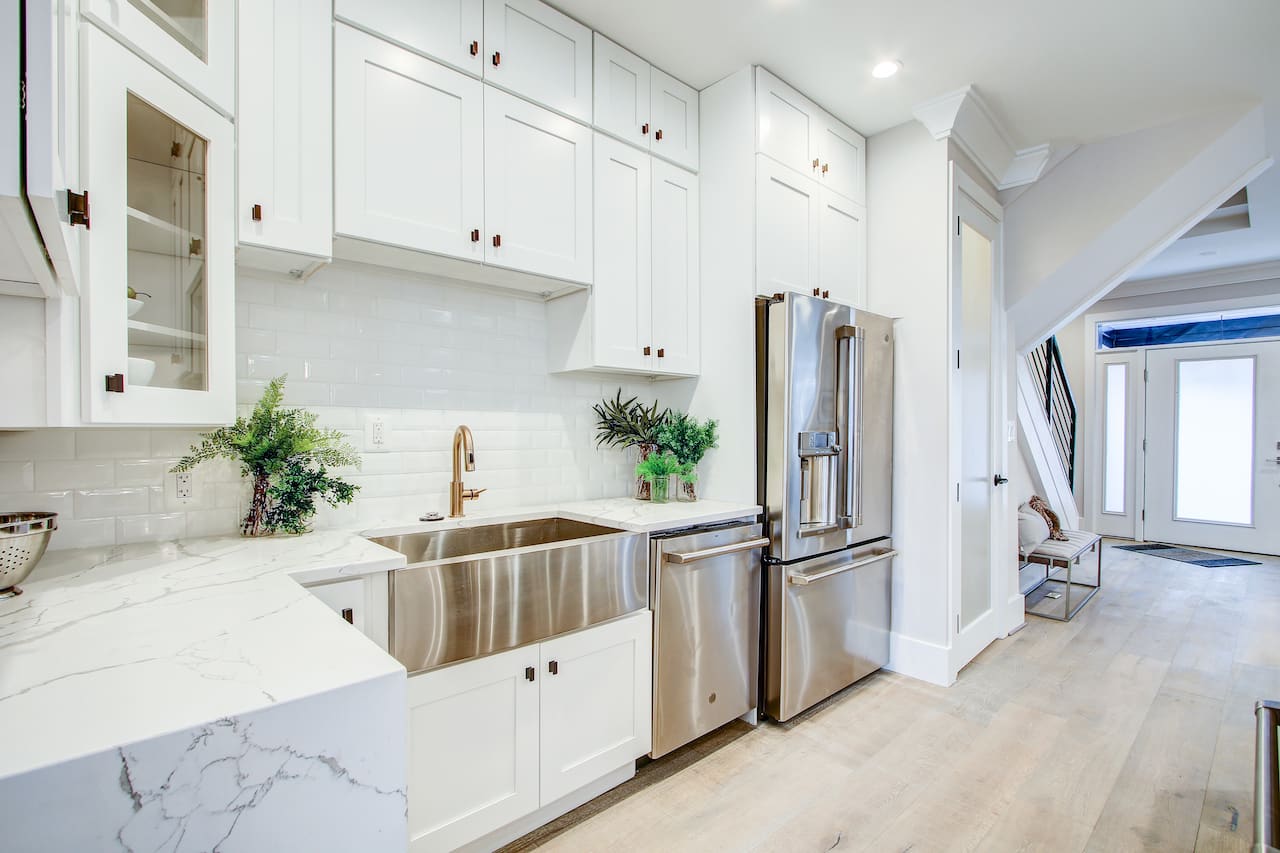 How to Remodel a White Kitchen Design For a Sleek Upgrade
One of the biggest kitchen design trends is to remodel a white kitchen design. It is bright, welcoming and gives depth to the space. In short, a white dressing or decor is perfect for all living contexts and more so in the kitchen. 
The glossy white surfaces are preferred in most modern home decor. In fact, the shades of white or cream look marvelous in a classic or shabby chic kitchen. White, in fact, always remain in fashion if you want to create a neutral color scheme. 
Should You Remodel in a White Kitchen Design?
A white kitchen does not create aesthetic conflict and helps counterbalance other darker or neutral shades. So, how can you remodel a white kitchen design and create a luminous and shining environment par excellence? It's easy, just follow the advice given here and create a timeless kitchen remodel.
There are several interesting and unique ways to remodel a white kitchen. You can combine white with light natural wood elements to create a Nordic look. Additionally, do not overlook the combination of the white kitchen with the floor while remodeling the space. It's because it will have a profound impact on the decorative characteristics of the room. 
For instance, the terracotta will be perfect for a rustic kitchen, while the wooden floor will suit a modern white kitchen more. Similarly, for a more traditional kitchen, tiles will be the best option.
Match a Countertop for a White Kitchen
A kitchen countertop holds both aesthetic as well as practical value in all types of kitchen surroundings. However, it could have a more significant impact as a decor enhancing element in a pure white kitchen apart from its practicality. 
The choice of worktop for a white kitchen remodel should be done depending upon whether you prefer uniformity or want to create a contrast. However, do not divulge from the overall decor of the room and the final style of the entire environment.
A wooden countertop will be the best choice for a traditional, more romantic environment as it favors familiarity and hospitality. On the other hand, for a modern kitchen environment, where you want to create a contrast, a black countertop in a white kitchen creates a very classy chic effect.
Focus on the Decor in a White Kitchen
To enhance the whites of your kitchen further, you have to combine some interesting and fanciful decor ideas. You can choose colorful decorative elements – kitchen suspensions or crockery. One good choice to counterbalance extra white is to adopt some bright colors – not too dominating but a strategic retouch of colors. 
For something more radical, you can also opt for colorful furniture or a backsplash. When it comes to choosing the shades, there are numerous possibilities. Perhaps mustard yellow for a gourmet touch or a beautiful pink for an artistic touch. When it comes to dressing your fanciful white kitchen, it all depends on your creativity. Just make sure that it resonates with the overall atmosphere of the room.
Experiment with Materials in a White Kitchen
The unique characteristic of a white kitchen is that it blends perfectly with everything. It gives a whole range of options to experiment with the decor and materials in your white kitchen. 
Of course, depending on the intended design you want to give to your white kitchen, you can go all bold. A wooden worktop for a warm rustic feel, red checkered tiles for a traditional country house feel, or a copper splashback to introduce industrial spirit combined with elegance and authenticity. 
White can afford anything, so let your imagination and creativity run wild to create a unique combination of design, decor, and practicality for your white kitchen.
Bring a Touch Of Style In Your White Kitchen
When you remodel a white kitchen design, you want it to be as elegant as it can be. However, you can give character to the space by coloring the back walls or installing designer tables and chairs.
If you want to create a truly amazing environment, break from a total white. A solid wooden table and designer chairs will be perfect. Similarly, for wall and floor decorations, cement tiles or precious wood could be a better choice. The result will be much more unique and personalized.
Lamps And Lights In The White Kitchen
You should keep in mind that there are several ways to remodel a white kitchen. Besides the decor, lighting can also be an excellent way to spruce up the already bright environment of a white kitchen. 
It is quite appropriate to install more kitchen lighting and enrich the space. Focused light centered around different elements of the kitchen. For instance, you can add countertops, the floor, or other elements that could create different shades and produce a certain contrast. This way, you can remodel a white kitchen design with a visual discourse – a perfect visual treat for a bright white environment. 
Similarly, pendant lamps over the countertop or kitchen island could create a varying decorative focus. It could be an aesthetic addition that will stand apart and create an eye-catchy decorative characteristic.
White Kitchen And Wood
White kitchen and wood can be a perfect combination. It's the perfect material to counterbalance the coldness of the white environment. 
Indeed the presence of this natural and timeless material has the gift of toning down the coldness of a white kitchen. If you want to include wood in a larger section of the white kitchen, the countertop is the perfect starting point. However, you can also include small decorative elements made of wood. 
Additionally, you can put wooden tables accompanied by chairs or stools in case of an open kitchen. Wood guarantees warmth and elegance. Its warm and slightly rustic character balances the chic characteristic of the white kitchen.
Green Always Brings a Natural Charm
The truth is, too much white could be overwhelming for some. It's often necessary to create a contrast. A fairly simple way to add contrast with natural charm is to bring plants to the kitchen. For instance, green instantly imbues the space with lively freshness. Furthermore, green is in stark contrast with white and instantly turns the kitchen into a lovely space full of energy. 
Further, you have the option of hanging plants or placing something more subtle on the countertop. If you find taking care of plants too daunting, there are also artificial options available that have incredible realism.