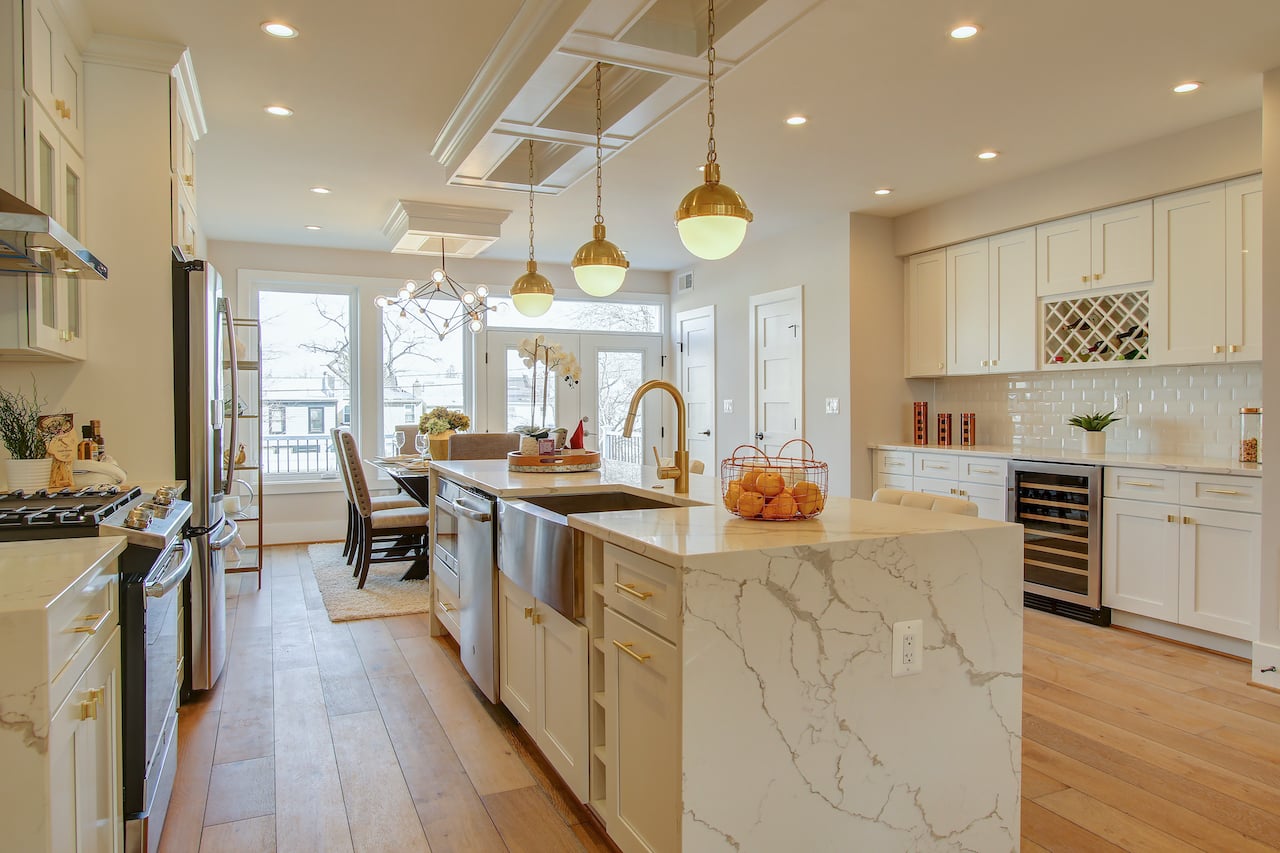 Can I Remodel My Kitchen for $10000? Remodel Budget Guide
Remodeling your kitchen is one of the most expensive dreams you can have for your home. But you sure expect it to come true someday. Regardless of what your kitchen remodeling plans are, you might have a fixed budget. While a kitchen remodel can be an expensive affair, you can also do it with a limited budget. This is where you have to ask, 'can I remodel my kitchen for $10000?'
Depending on the place you live in, most kitchen remodels' costs start at $10000 and go way higher upto $100,000. So it seems like a far off dream for most of us to get ourselves a top-notch new kitchen in such a small amount. But with a few tips and tricks, there is a lot you can do in such a small kitchen remodeling budget.
If you cannot afford to get yourself an upscale, state of the art kitchen, that is alright! Sensible and computed design decisions will quickly help you get a stylish and fully functional kitchen. What can I get at such a price? That is entirely dependent on your priorities and your wish list.
Here are a few recommendations for your next kitchen remodeling project. If you find yourself wondering, can I remodel my kitchen for $10000, the answer is yes, and here's how!
Try Things the DIY Way
When you have a higher budget for your kitchen remodel, you have the liberty to hire professionals. They will do every single thing for you and guide you through the entire process. However, when your budget is lower, you need to remember that there are things that you will have to cut back on and things that you will need to work on all by yourself.
Labor cost is one of the highest costs that you may have to pay in any kitchen remodeling project. If you are on a budget, it would be best to cut back on it. There are plenty of things in a remodeling project that you can do yourself, such as tiling a backsplash, painting the walls, etc.
These things are effortless and will not require you to spend more than a day. These are the same things you are required to do in a $1000 remodel. Instead of hiring professionals and paying their labor costs, you can buy the right materials for your flooring or countertops.
Don't Move Around Major Appliances
Another significant factor in kitchen remodeling costs is the wiring and plumbing costs you will have to give to the plumber and the electrician. It also takes a considerable amount of time to finish and may require other things to come to a halt at that moment.
An excellent way to save up on some budget in your already budgeted kitchen makeover is to avoid changing your kitchen layout. Even if you are going for major renovations such as new flooring, new countertop, etc., it would be best if you kept your sink, stove, dishwasher, oven, or hood in their original places.
Shifting these appliances from one place to another within the kitchen will require you to pay the labor costs for moving them. And secondly, you will have to pay for the rewiring, replumbing, and new gas line fixation in the new places that they have been shifted to. You can invest this time and money to use on something more worthwhile.
Replacing Cabinets- Is It Necessary?
Getting yourself new cabinets can cost you quite an amount from your budget. It leaves you with very little to spend on the other components of the kitchen. So it is not always necessary to get new cabinets while remodeling your kitchen, especially when you are on a low budget.
Unless your cabinets have entirely worn out past the point of repair, you can consider updating them instead of replacing them altogether.
Updating the cabinets simply means repainting, restaining, refinishing, or resurfacing your old cabinets to make them look as good as new. Updating your cabinets will cost you only a fraction of the cost of replacement, and they will still look as good as new. Most of the DIYers who want an affordable kitchen remodel choose this option with their cabinets.
Invest in Your Appliances Smartly
If you wish to replace your appliances and get new ones, you need to think this through. Choosing the right kitchen appliances is necessary as the real cost will reflect you in the long run. Most people go for new stainless steel appliances when they plan on replacing old appliances with new ones.
When doing so, you need to ask yourself, do you need stainless steel? The material can be stained and scratched easily. So think twice before investing in stainless steel or any other delicate and unsuitable appliance for your kitchen.
If, in any case, you want to invest in new appliances, you must go for energy-efficient ones. These appliances save up on a lot of your electricity bill and help pay back the amount you have invested in it over time.
If the question 'can I remodel my kitchen for $10000?' is still lingering in your mind, here is a gist of all the changes that people make in their kitchen remodeling projects to help you make an informed decision.
Kitchen Remodel Projects Under $10000
As we've seen above, it's easy to plan a budget kitchen remodel if you plan your steps right. Here are some quick tips to help you remodel your kitchen under $10,000.
1. Painting the walls to make them look fresh and new.
2. Painting, refinishing, or refacing the old cabinets to give them an updated look.
3. Spend money or hiring contractors to install new kitchen flooring.
4. Spend money on hiring a contractor to install a new countertop.
5. Replacing one or more appliances and going for new energy-efficient ones.
6. Install new LED lighting in the kitchen.