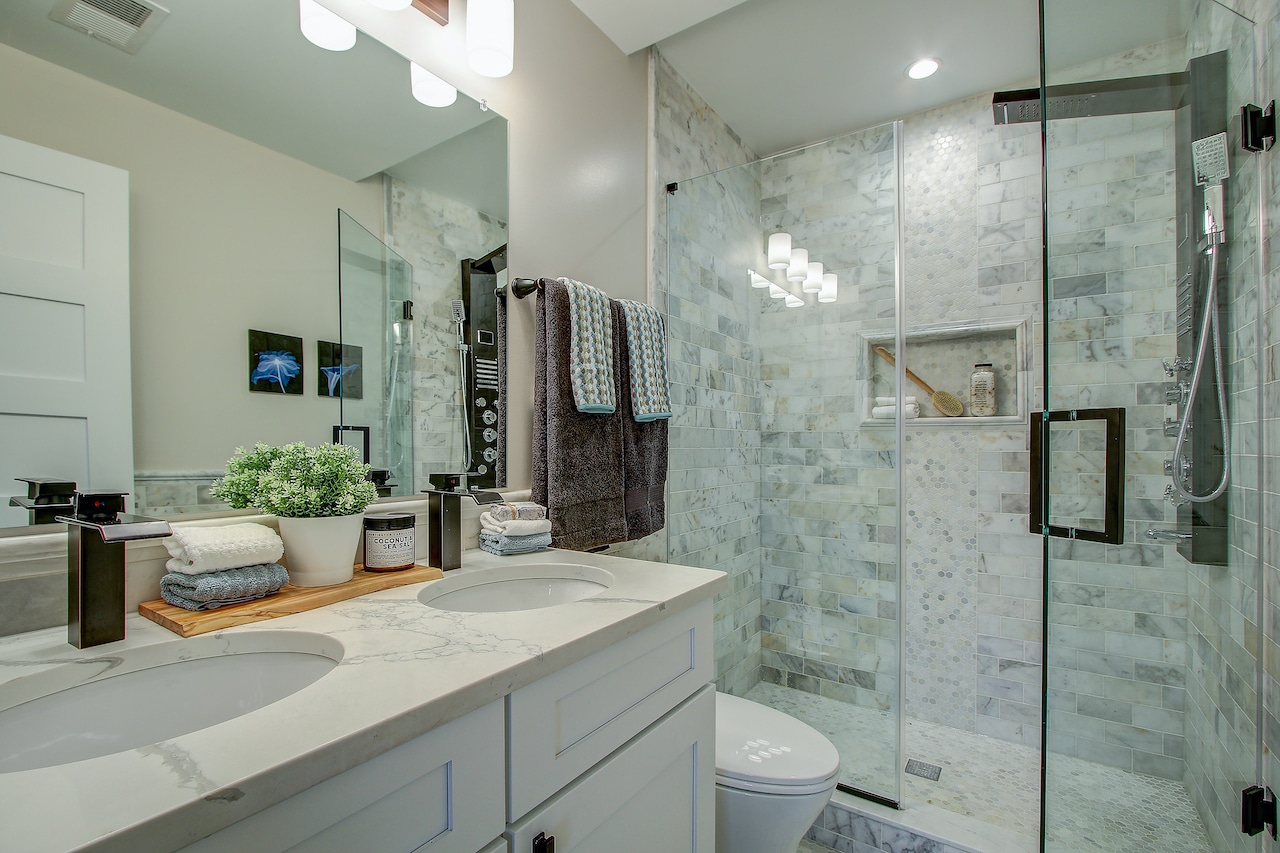 Pros and Cons Of Popular Bathroom Countertops 2023
Are you considering upgrading your bathroom countertops but aren't sure which one to choose? If so, It's time to check out all the pros and cons of the popular bathroom countertops so that you can make an informed decision.
Remodeling your bathroom can be quite beneficial in increasing the value of your home. According to HGTV, even a small bathroom remodel will give you a 102 percent average return on investment by increasing the resale value of your home.Now that you've decided to begin your bathroom remodeling process, the question is – where do you start? Other than repainting the walls, begin with the bathroom countertop of your vanity. 
However, choosing the right countertop material isn't as easy as it sounds. What is the right countertop material for a bathroom? It all depends on what you're after. What about long-term viability? Is it affordable? Is there a high-end appeal? You need to look at the pros and cons of popular bathroom countertop options before making a decision.
Tile: A DIY-er's Top Choice
Ceramic, porcelain, and glass tiles are standard bathroom countertop materials that you often see in traditional design. However, due to rapid advances, you can also use them in modern, contemporary designs. 
Ceramic tile or porcelain tile, particularly in a European colonial or coastal cottage–style bath, is a refreshing and informal material choice for your bathroom countertop. Your bathroom wall and bath surroundings may also benefit from these distinctly patterned tiles.
Moreover, porcelain is a denser, tougher material that works well for floors and worktops. You can even design porcelain to look like some other materials like wood or even leather, offering you several bathroom tile ideas that align with your bathroom design. 
Pros
1. It's easy to assemble 
2. Tile is an affordable countertop material.
3. It is a customizable installation pattern. 
4. Tile is also available in a range of design and color options. 
5. It is heat, stain, scratch, and moisture resistant. 
6. You will have to replace Individual tiles, if necessary. 
7. It costs around $2 – $70 per square foot. 
Cons
1. It isn't always "in trend."
2. It has a lower resale value than other options. 
3. You need to clean and maintain it regularly (especially the grout lines). 
4. It can crack or chip easily. 
Laminate: The Affordable Choice
Laminate has made great strides since the tacky pastels and noticeable seams of the 1960s and 1970s, as many of us may recall. Formica is a low-maintenance product comprising a thin plastic film that you bond with pressure to a particleboard or plywood frame. 
Modern laminates use cutting-edge printing technology to create incredibly realistic stone and wood-like finishes, including a variety of solid and graphic designs.
Pros
1. It's a cost-effective option. 
2. It's extremely durable. 
3. Laminate is easy to clean. 
4. It is relatively simple to install. 
5. It comes in a variety of colors and finishes. 
6. Laminate is water-resistant.
7. It might not stain easily. 
Cons
1. It is not considered to be "high-end". 
2. It can burn, rust, and crack. 
3. The damages are irreversible; replace the entire counter. 
4. The price range is between $40 to $150 per linear foot. 
Solid Surface: Adds Value To Your Home
Manufacturers use acrylic resin and crushed rock to create solid-surface counters. Corian, Gibraltar, Formica Solid Surfacing, and Staron are some of the most common brands. 
There's a wide variety of solid colors and subtle designs to choose from, all of which go well with modern interiors.
Pros
1. It's an excellent option for resale value. 
2. Solid surface is extremely long-lasting. 
3. It is easy to maintain. 
4. You can also mold it to meet any design requirement.
5. It is resistant to mold, mildew, and stains. 
6. Cleaning is not a cumbersome task. 
7. It can match the appearance of natural stone. 
8. The price ranges between $40 to $150 per square foot. 
Cons
1. It can quickly scorch.
2. Solid surface can also damage easily. 
3. It will require professional assistance during installation. 
4. Scratching and etching are more noticeable in darker colors.
Natural Stone: The Popular Options
Natural stone countertops add timeless charm to any bathroom, which is why they remain one of the most common bathroom remodel choices season after season. Is granite/marble, however, the perfect option for bathroom countertops? You need to have a look at the pros and cons of granite countertops and marble countertops to make the right choice.
Pros
1. It provides a one-of-a-kind appearance. 
2. It's appealing to potential buyers. 
3. Natural stone is long-lasting. 
4. It is available in a range of colors and designs. 
5. Granite is also scratch-proof.
6. It is heat and moisture resistant.
Cons
1. It is expensive. 
2. It requires regular maintenance (i.e., sealing). 
3. Marble can discolor, scuff, and etch easily, because of its porosity. 
4. Price Bracket: $50 to $200 per square foot.
5. They are both reusable, but transporting and extracting them needs a lot of logistical infrastructure.
Quartz- Trendiest of The Lot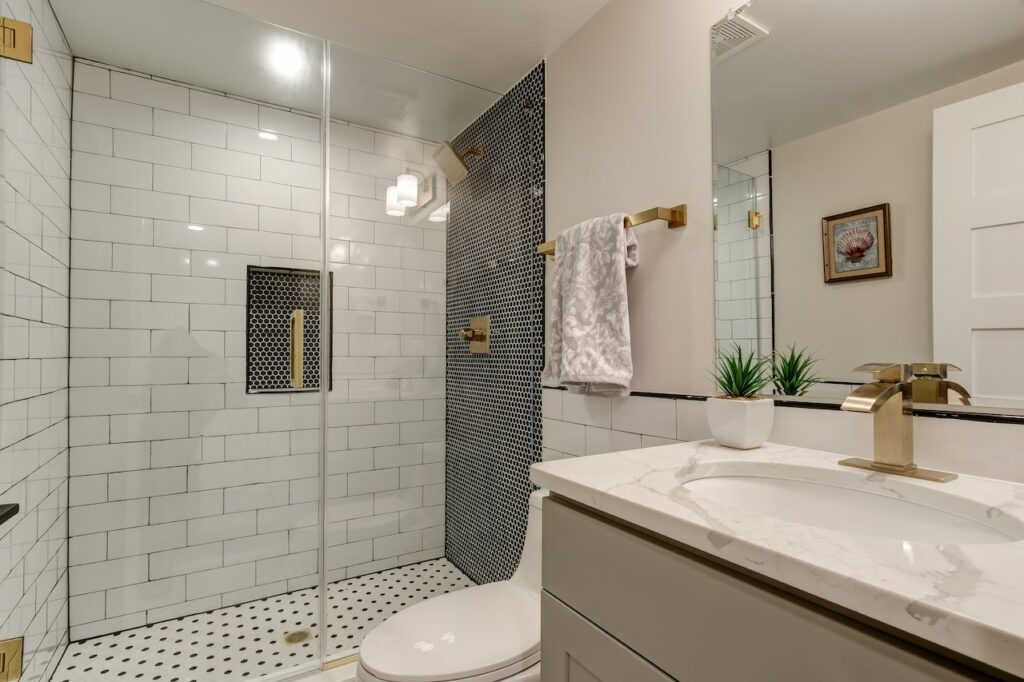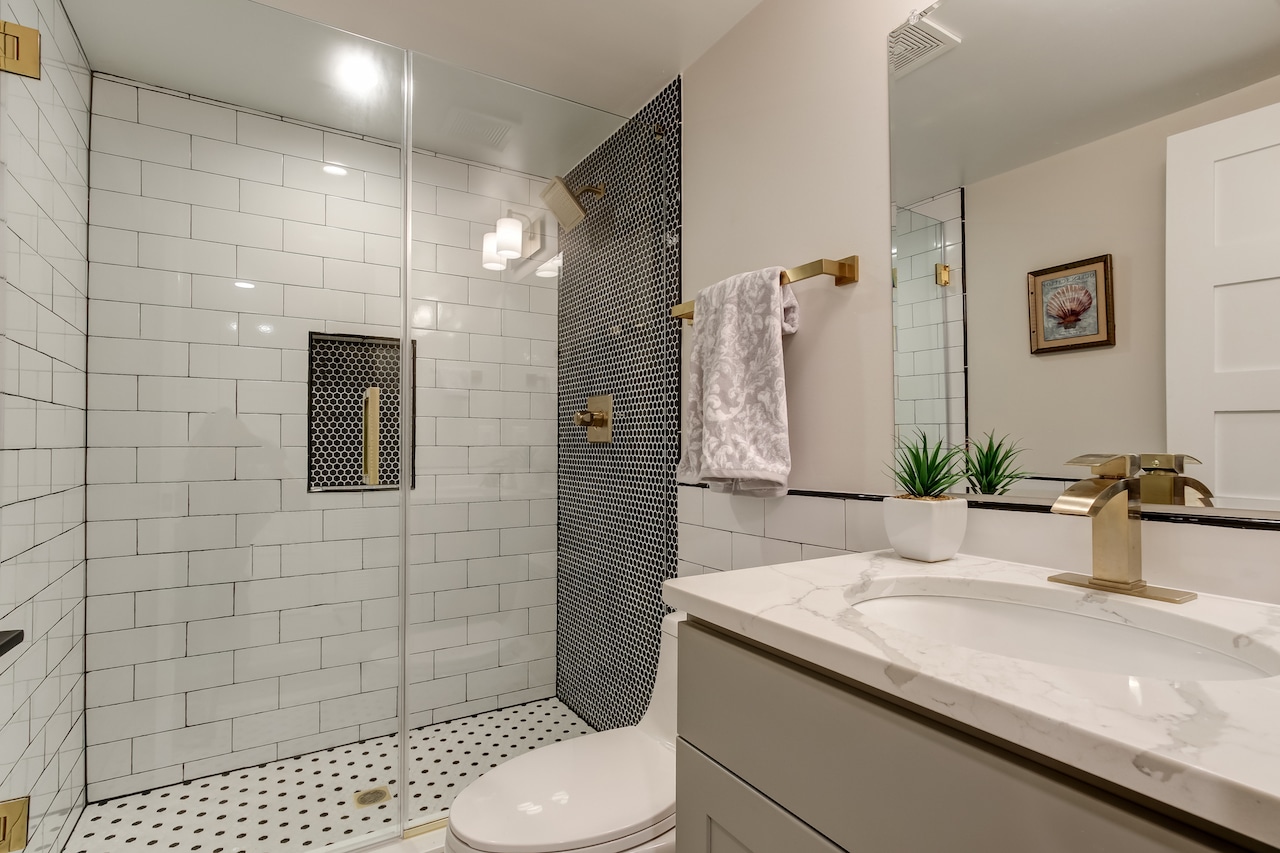 Quartz is one of the toughest and most widespread materials found naturally. In fact, you can find this bathroom countertop material in nearly every form of stone. 
Quartz countertop manufacturers (top brand names include Caesarstone, Silestone, and Cambria) mix resins, polymers, and recycled material into a 95 percent natural stone base to create this beautiful material. Let's look at a few pros and cons of popular bathroom countertops, especially when it comes to quartz bathroom countertops.
Pros
1. You can get the iconic appearance of granite but without the same level of maintenance.
2. It is also scratch-resistant, moisture-resistant, bacteria-resistant, and stain-resistant. 
3. It is easily accessible in a range of colors and sizes. 
4. You can specifically design it for countertop edging. 
Cons
1. It is also expensive. In terms of price, quartz can compete with high-end granite and marble.
2. Traces and stains will also show up on honed and textured finishes, which will require daily wipe-downs. 
3. Budget Range: $60 to $250 per square foot.
Selecting the right material for your bathroom countertops is also often a bit of a crossword puzzle because of the ample and very enticing options available at practically every price range. Since bathroom surfaces aren't prone to the same level of use as kitchen counters, most buyer's concerns are more about design and price. 
However, it's also important to thoroughly consider the pros and cons of popular bathroom countertop materials as it is a significant investment during the bathroom remodeling process.