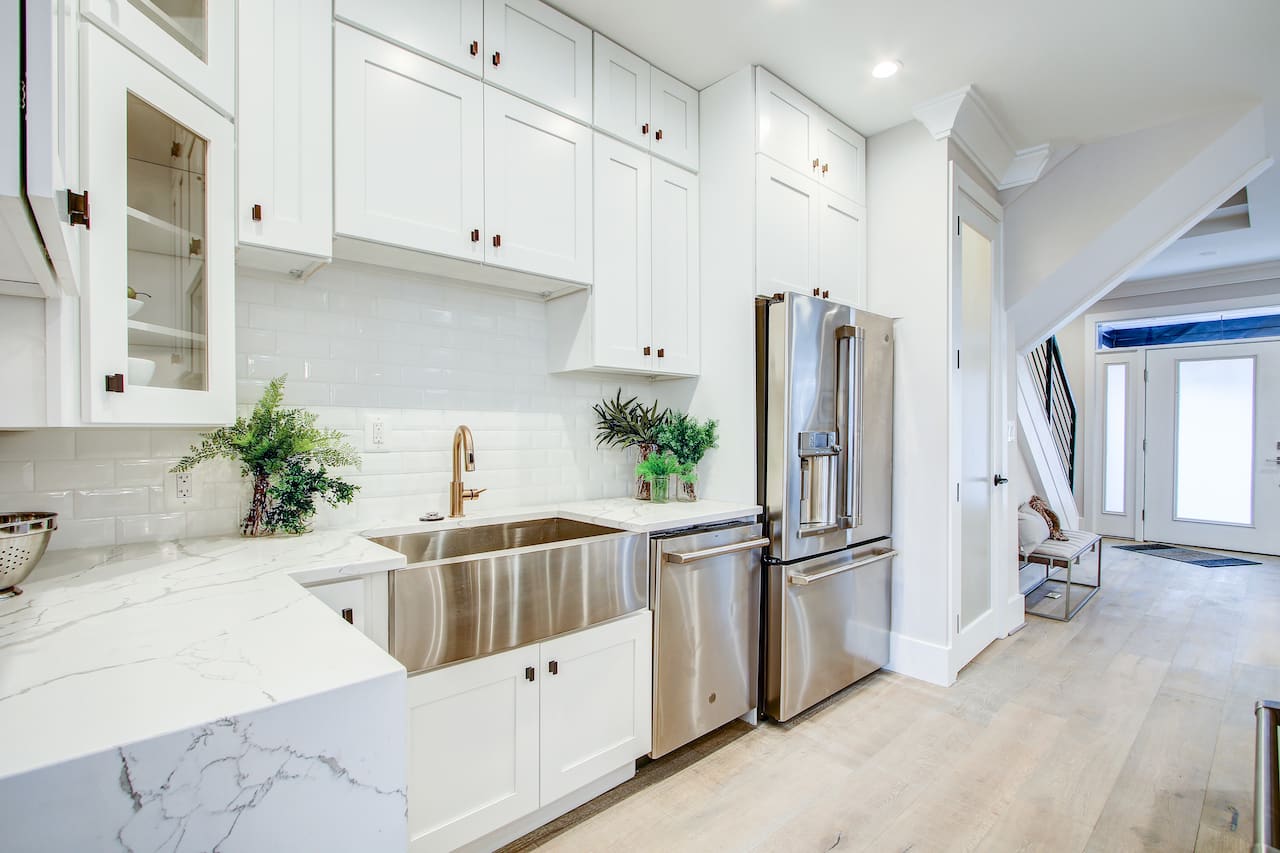 Minimalist Kitchen Remodel Ideas 2023
Synonymous with linearity and focused only on essentials, a minimalist kitchen has several advantages to highlight. In particular, it facilitates the integration of a linear, simplistic layout free from unnecessary clutter. 
Its facade, devoid of decorations, makes it possible to soften the tone of kitchen design and offers a serene environment. Often attributed with scarceness, minimalist design is, however, much more luxurious than it seems. 
There is a whole range of possibilities available to design a minimalist kitchen. Let's explore some simple minimalist kitchen remodel ideas to transform your kitchen environment.
What Is a Minimalist Kitchen Design?
Very fashionable a few years ago, the minimalist style is making a comeback this year, as more and more homeowners are aligning themselves with the idea of minimalism. Less is more is the phrase to keep in mind when it comes to refining your minimalist kitchen design. We recommend focusing on the basics with functional and effortless furniture to modernize your traditional home. 
Their main vocation? You should remember being practical and functional while at the same time avoiding kitchen remodel dos and don'ts.
The minimalist kitchen should be a real breath of fresh air with a spaced-out environment that encourages smooth movements, is filled with soft colors, and is basked in high luminosity.
How Can You Adopt it in the Kitchen?
Minimalist design tends to be sober and neutral. Light colors and clean lines are synonymous with lightness; therefore, base your kitchen design on these principles. 
As you are going to spend a lot of time in a kitchen, it should offer comfort as well as practicality. Well-thought-out furniture, perfectly integrated appliances, and a layout that allows easy movement around the kitchen space are essential for a minimalist kitchen.
Simple Ideas to Remodel a Minimalist Kitchen
When simplicity rhymes with efficiency, it is the winning combo for a successful kitchen remodel. Want to refine your kitchen design and opt for an environment as efficient as it is soothing? 
Adopt these minimalist kitchen remodel ideas to get started on your kitchen remodel.
Go with Light Colors
Calm, sober, light colors are the perfect choice for a minimalist kitchen, although there is no hard and fast rule only to choose light colors. Surprisingly, you can go for dark colors in a minimalist kitchen too. 
Light colors, however, have the advantage of opening up the space. For instance, you can choose light kitchen cabinet colors to brighten up the kitchen. Moreover, do not hesitate to fill in some extra shades with more colorful materials, such as wood.
Ensure Ample Lighting
For a restful minimalist kitchen full of freshness, focus on light. If there is a window, avoid blackout curtains to let in natural light in your kitchen.
However, if your kitchen doesn't have an inlet for natural light, choose your artificial lighting carefully. Further, it should be strong enough to light up the whole place but not too strong that it tires the eyes.
Ensure Free Movements
We cannot emphasize it enough, but the minimalist kitchen is all about free flow movements. Avoid accumulating unnecessary objects on the worktop, such as household items which often take up too much space. 
Free up space without hesitation to enhance the environment and de-clutter the space.
Choose Solid Furniture Material
The minimalist decor advocates a return to basics, to solid materials that last over time. This is more valid than ever in a minimalist kitchen, which aims to be more sustainable. 
Therefore, choose highly durable and exotic materials such as wood, marble, or concrete.
Focus on Functional Furniture
Another essential aspect of a minimalist kitchen is its functionality. Furniture covers a significant portion of a kitchen, so in addition to being resistant, the furniture of a minimalist kitchen must be well thought out and functional.
Go with Minimalist Door Handles
Every element in a kitchen combines perfectly to give it a minimalist look. On the same line of thought, choose minimalist door handles. They are terribly trendy this year and adapt perfectly to a minimalist environment. 
Minimalist door handles introduce a decor element to your kitchen while remaining discreet and practical – essential qualities of a minimalist kitchen.
Ditch Handles Altogether
If you want a linear environment with nothing protruding out, you can even opt out of installing handles on doors or cabinets. It's a great way to lighten up the space. 
Resolutely practical, the automatic opening units are perfect for a minimalist kitchen. Without a handle, kitchen furniture creates a sense of uniformity across the kitchen.
Fill in Some Darker Shades
Not limited to lighter colors, a minimalist kitchen can also infuse darker themes. There is no restriction for opting for black shades for a minimalist kitchen. 
Chic and elegant, this color also goes wonderfully with a minimalist decor style. However, be sure to keep some elements of your room in light shades to attract light and avoid creating a restrictive environment.
Enhance the Details
Minimalist decor and aesthetics go hand in hand. De-cluttering the space which is at the heart of minimalist design does not mean giving up on personalizing your kitchen. 
You should choose decor elements that go perfectly with a minimalist kitchen. Simple objects that could dress up the space can include flowers, a table with clean lines, a minimalist faucet, and so on. 
Your kitchen, although minimalist, should reflect your taste so that you feel good there.
Splash Some Colors in the Kitchen
Minimalism often tends to be compared to an idea of ​​sanitized decoration, devoid of any color. However, that is not true. In fact, it is quite possible to opt for colored walls or furniture. 
However, you should keep in mind the harmony and lightness that are the soul of a minimalist design. Therefore, avoid too flashy shades, instead focus on soft colors, soothing and sober.
Focus on the Details
Fine details play a huge role in defining a minimalist kitchen environment. Nothing prevents you from going for a pretty painting or a green plant; these decors may introduce a warm glow in your kitchen remodel. 
Nevertheless, choose them conscientiously, focussing on the minimalist theme of your kitchen. Similarly, you should go with a minimalist design for the taps and door handles. 
You can opt for a matt black or gold finish. It will enhance the decor of the kitchen and bring refined originality to the space.