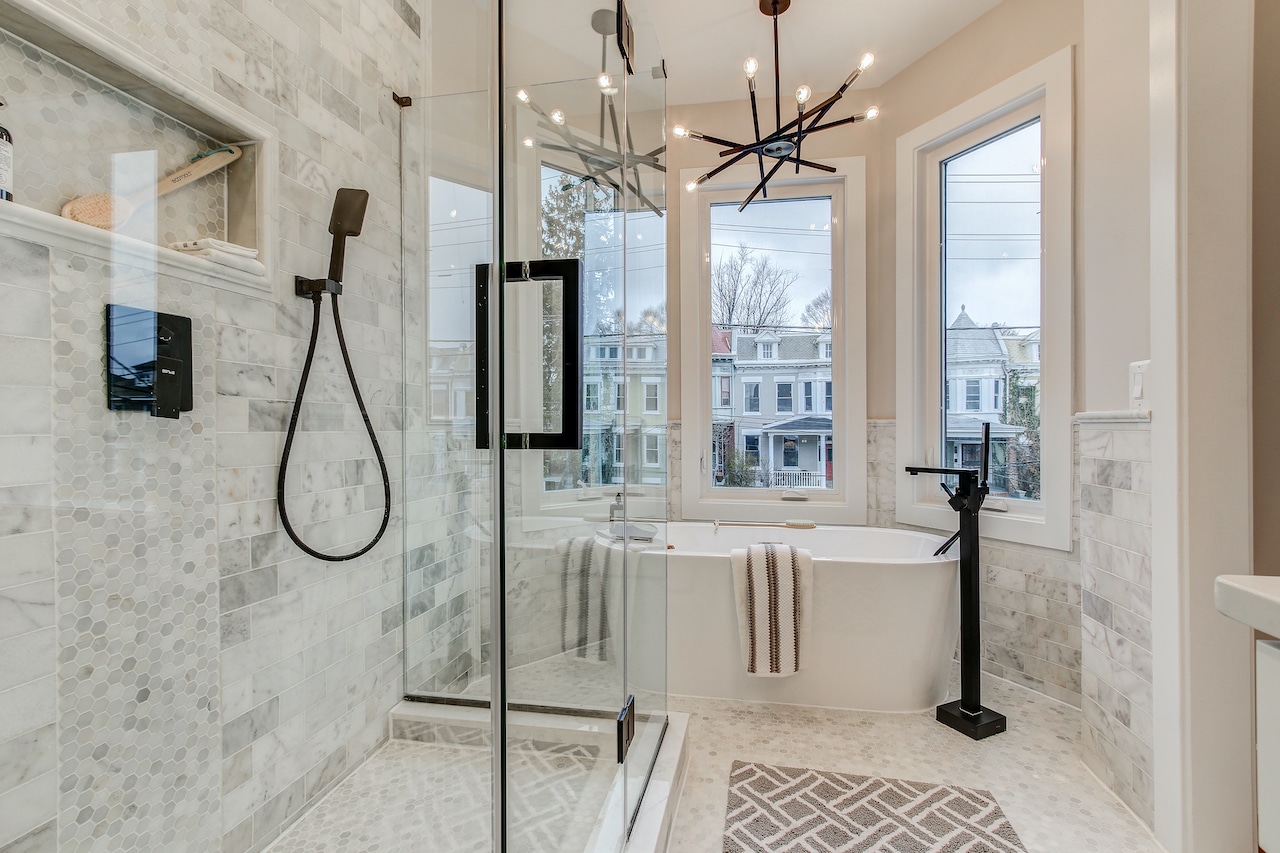 What Are The Top Master Bathroom Remodel Ideas?
Renovations of any kind are a complex undertaking. But the stakes seem to be higher when it comes to the master bathroom—a space that must be both overly functional and peaceful, efficient, and hopefully, a little luxurious. Hence, you need the right bathroom remodel ideas to make the most of your space.
From the mirror to the grout, there is a slew of choices to be made—and the costs will add up fast. What should you know before you start? Take our master bathroom remodel ideas into account before you begin.
Average Master Bathroom Remodel Costs 
Do you think you can spruce up your master bathroom from top to bottom for under a grand? We hate to break it to you, but a master bathroom remodel costs an average of $11,364. A low-cost renovation with less costly materials or more minor changes will cost between $1,500 and $5,000, whereas a top-of-the-line, top-to-toe renovation will cost upwards of $23,000.
Most of this expense comes from appliances and plumbing (about 29%), followed by bathroom countertop and tiles (21%), labor (20%), and cabinets and hardware (16%). While deciding on the bathroom remodel costs, keep in mind, your master bathroom remodel must cost only 5 to 10% of your home's value.
Avoid Changing The Layout 
Ultimately, the space and budget of your bathroom remodel will rely heavily on the layout of your bathroom. Remodeling prices tend to rise when you decide to shift the plumbing lines. 
Just changing a toilet and an adjacent sink might cost $1,500. The main big-ticket item is adding a necessary bathroom vent upgrade. If this is necessary, changing the bathroom layout might cost you $5,000 to $10,000.
Who will Be Using The Space? 
When planning a master bathroom, the first step is to figure out how and who will use the room. Usually, two individuals share a master bathroom and the process you follow will decide how long it takes to remodel a master bathroom.
It means you'll need to plan the bathroom for both co-use (both individuals use it at the same time) and co-storage. So both individual's towels, grooming products, and other bathroom accessories will need sufficient (and possibly separate) bathroom storage space.
Add an Element of Sophistication 
Once you settle on who will use the space, a master bathroom should, above all, look like a grown-up area. Whether it's a bath in the hall with other members of your family or a private room for the two of you. The master bath is not one for vivid toys, polished neon nails, or smelly soccer socks. 
Play with bright colors or eclectic trends, but keep the Disney characters wrapped beneath. If you share the room with your kids, use a closet or wardrobe to keep teen items and toy cars out of view. Besides, you own the space, so you can declare the area to be kid-free if you so wish.
Personalize The Space
Make the most of your master bathroom trends by incorporating your personalities and passions into the remodel. Here's an example; Do you cherish your spa visits? Recreate your favorite spa's colors and decor while remodeling your bathroom.
Are you fashion-savvy? You can install a full-length mirror on the door to try several outfits. Are you an avid traveler or wanderer? You can frame portraits of your travel or look for unique wall art. 
Are you unable to choose just one? Use walls like gallery rooms and turn items like family photographs into black-and-white photo collages or museum displays. 
Remember, it's best to hang an item for a short time to reduce the moisture impact on any artwork. However, it's a good practice to keep the exhaust fan/vent running for 30 minutes straight to keep your bathroom clean.
Create A Luxury Suite
One of the most powerful ways to enhance the sophistication of a master bath is to connect it to the elegant appeal of your master bedroom. Regardless of what master bathroom remodel ideas you choose, you can repeat those elements through tiles, colors, pattern choices, or artwork. 
However fun that looks, you can also link both the rooms in a less obvious manner. Let's say you can use the accent color of the bedroom for the shower curtains or that shower panel. 
Similarly, you can take inspiration from the design on your comforter and stencil it out on the walls of your master bathroom. This way, you can bring different elements and tie them together to create a one-of-a-kind master bathroom for you and your loved one to cherish. 
Do You Need A Second Sink?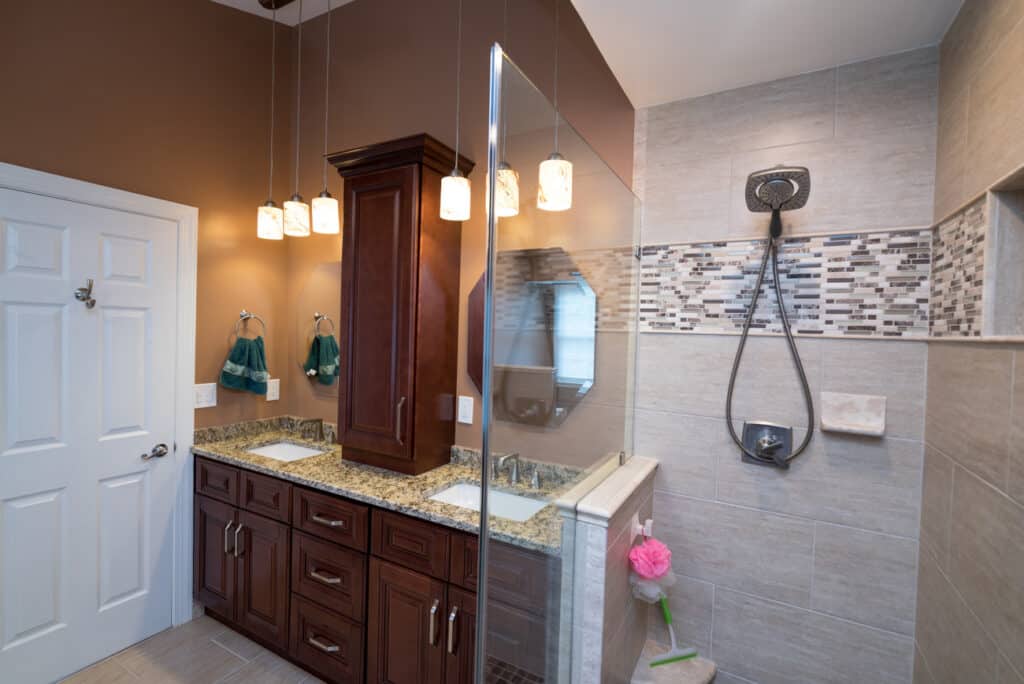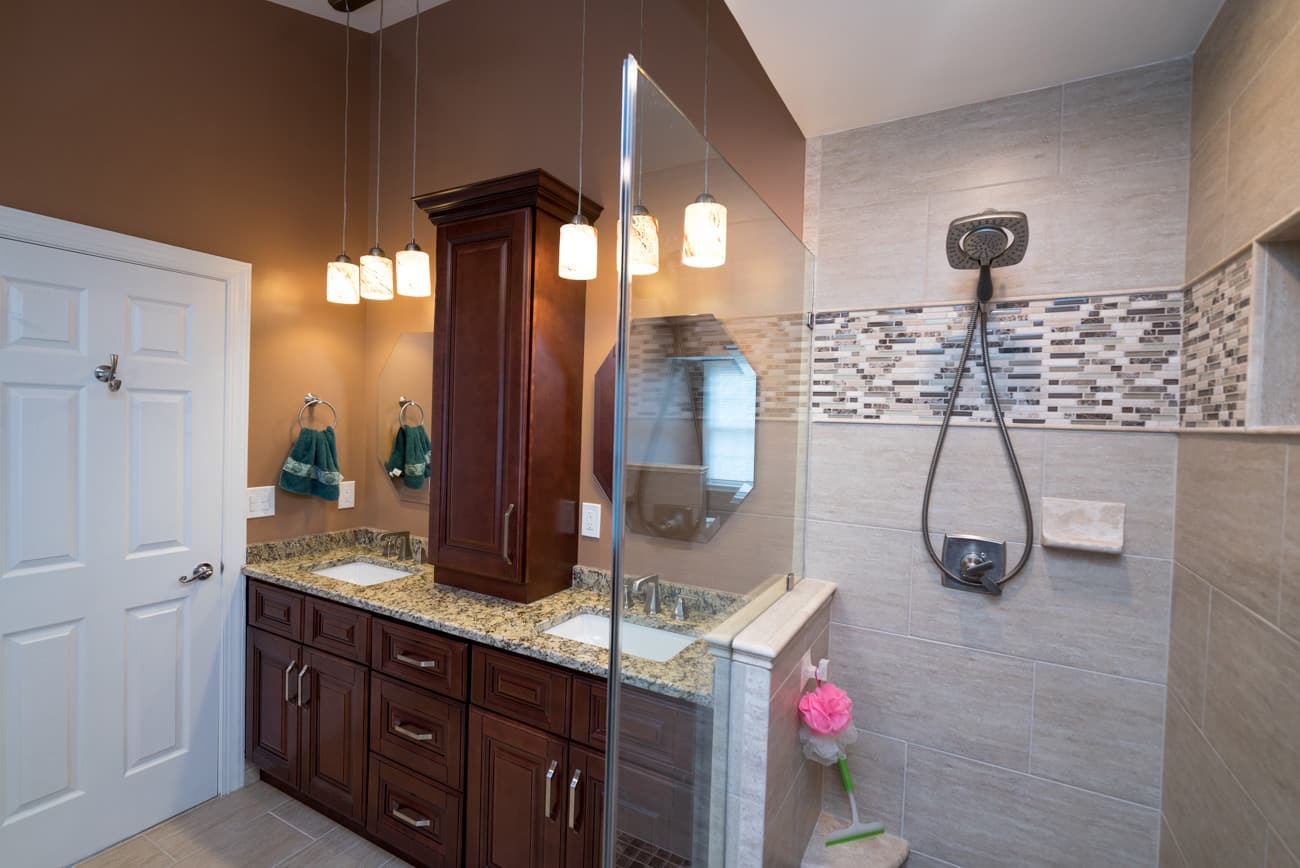 Each bathroom needs a sink; be it one or two, the options are worth exploring. To begin with, think about how you use the space. If two individuals get ready simultaneously and both need the sink, it's logical to have two sinks. If this is not the case, consider two more spacious vanities (e.g., an entirely separate vanity) and a single sink for brushing teeth and washing hands. 
You can also customize the storage as per your needs and maximize the storage space by altogether ditching the second sink. Furthermore, you will only have to clean one sink and not have to worry about the extra cleaning.
While you're choosing a bathroom vanity, ensure that you include good lighting for your vanity. For instance, you can add lighting at either end of the mirror to make the most of your space.
Eliminate The Tub 
Gone are the days when having a whirlpool bathtub was a status symbol. Currently, walk-in showers for master bathrooms are a more practical and appealing alternative. If you prefer a shower alone in your master, opt to eliminate the bathtub and fill the area with an enormous walk-in shower. 
While you have at least one tub in the house, you can eliminate the second bathtub. You can create a magnificent walk-in shower by installing beautiful tile, lighting, layout, storage, and more. 
No matter how small or large your space is — these master bathroom remodel ideas will add a touch of luxe to your daily life.