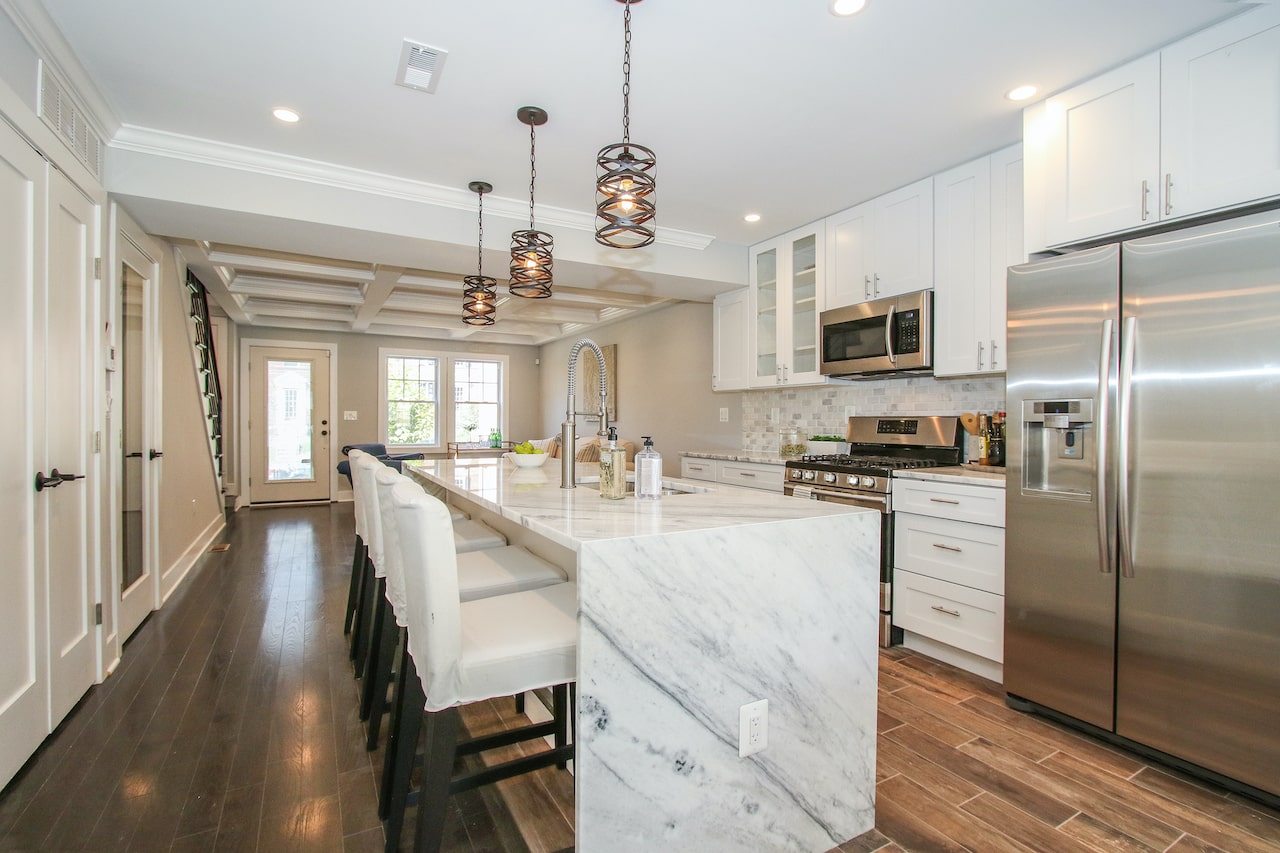 Kitchen Island Mistakes You Should Avoid During a Remodel
Many people often wonder what a kitchen island is, its prominence in a kitchen, and some kitchen island mistakes they should avoid while remodeling a kitchen.
To put it simply, a kitchen island is a freestanding countertop usually positioned right at the center of the kitchen. It's generally a common addition to modern and spacious kitchens due to its size. You can opt for both stock kitchen islands to complement your existing kitchen decor or customize your own. 
In the case of customization, there are tons of options possible. For example, the capacity of internal storage space, cabinets, stools around the island, etc. Also, a kitchen island is a place that houses your kitchen appliances to save some space on the kitchen shelf. 
Hence, all in all, a kitchen island is an essential element of your kitchen in many aspects. However, many people unknowingly commit the following kitchen island mistakes which end up increasing the kitchen island costs in the long run.
Going Way Too Big
Since the kitchen island is a freestanding central unit, most people often feel inclined to go as big as they can. It may seem like a good idea, considering a kitchen island the primary attraction of your kitchen, but it's actually among the most common kitchen remodel mistakes you can make.
In reality, an extra-large kitchen island will hamper your kitchen layout. To avoid this, you should always have a clearance of at least 1-1.20 meters from all four sides of the island for standard shape kitchens. 
If you have a U-shaped kitchen, have a clearance of around 3 meters to avoid crampedness inside the kitchen. Further, a kitchen island isn't a good idea for more narrow and small kitchens.
Going Way Too Small
Another critical kitchen island mistake many owners commit is choosing a way too small size of their kitchen island. This mistake is as prominent as having an oversized kitchen island. 
Since such a place is for doing day-to-day kitchen chores like chopping, grinding, mixing, etc., besides storing, it can not afford a too small size. Otherwise, it won't serve its purpose and act as a liability. 
This size issue arises when people opt for a kitchen island for their small kitchen space. Hence, consult kitchen island designers regarding the best size to fit in your kitchen. If nothing is possible, go ahead with a prep table instead of a full-fledged kitchen island.
Lack of Basic Features and Functions
As a kitchen island can serve multiple functions in your kitchen, you should ensure sufficient power and plumbing to it to do so. Some people unknowingly omit such features as they don't realize that they are vital for their island. 
As kitchens are getting more modular and advanced, you should look forward to transforming your kitchen island into a more productive place. Essential and time-saving additions to an island include power source, plumbing (if there's a built-in dishwasher), etc. 
Besides, look around your kitchen and needs while adding more functions to your kitchen island to make it worth adding to the kitchen. 
Adding Extra Seating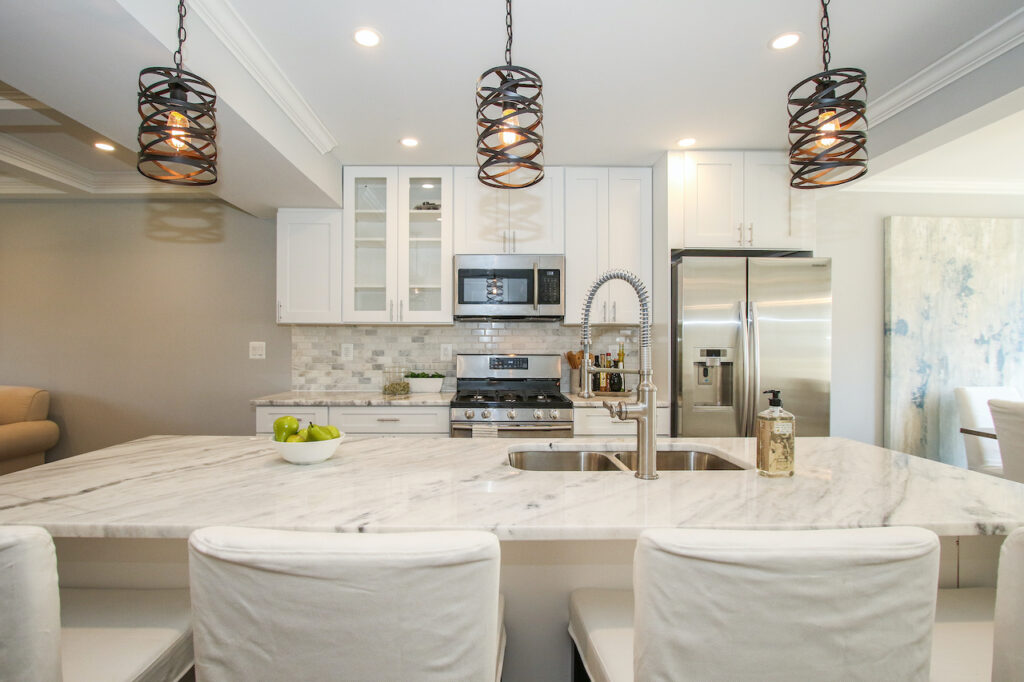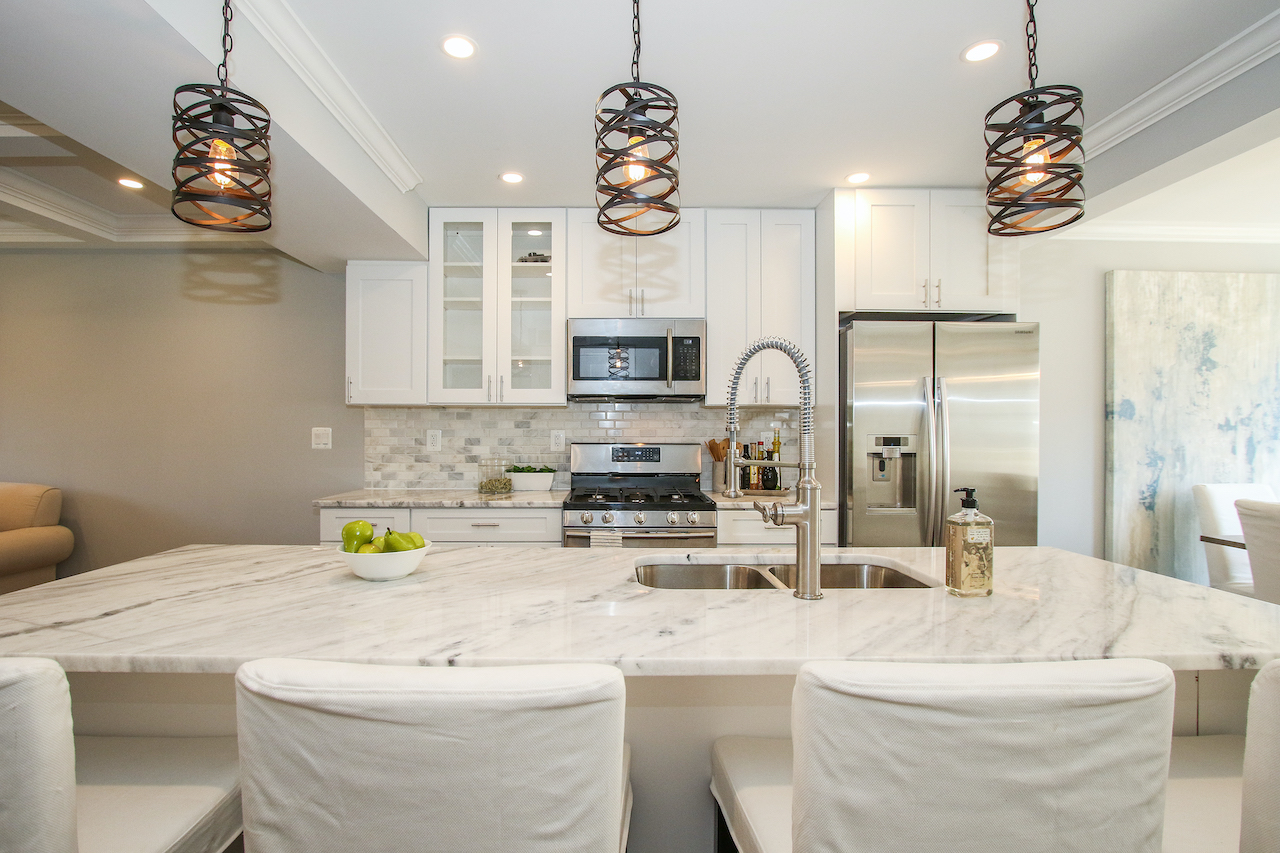 Adding extra seating is another common kitchen island mistake you can make during a kitchen remodel. Since a kitchen island is a freestanding and separate kitchen corner, it may/may not have bar stools around it. Now, the main question, how many bar stools are enough? 
While designing a kitchen island, many people overdo the seating part thinking of it as a table. But, a kitchen island isn't a kitchen table. It's not mandatory to sit seats around the kitchen island as it's first a working area and then anything else.
In general usage, a kitchen island is a seating place for only those working inside the kitchen and not for every other family member to surround it. Additionally, it can be used as a quick place to eat, unlike adequately sitting down and having food in a dining room. 
Improper Lighting
To amplify your kitchen island's design, you should invest in a good light source for the island. For instance, you can go with the overhead pendant lights, bottom lights, or light from the sides. 
Since a kitchen island is a focal point of any kitchen, not having ample lighting is among the more common kitchen island mistakes. Plus, the right kitchen lighting will make a difference to the decor of the entire kitchen space. For example, you can go with light intensity adjustable lights to adjust the light according to the purpose, like dining or cooking. 
Ignoring the Purpose of the Kitchen Island
What is the purpose of my kitchen island? Will I use it for cooking, washing utensils, prepping, or for something unique? These are the two questions you'd ask yourself while communicating your kitchen island design to a kitchen remodeling company near you. 
Usually, a kitchen island fulfills these five purposes – storage, prep, cooking, serving, and washing up. Each of these requires separate add-ons. For example, if it's for washing, you can't forget the dishwasher. If it's storage, cabinets or drawers are a must. And so on. 
Obstructing the Kitchen Triangle
A kitchen work triangle is a common term for the sink, stove, and fridge layout. Now, the kitchen island mustn't obstruct this kitchen triangle to allow you to work efficiently. 
This can also make out a difference in the open-kitchen space concepts. Hence, if your kitchen island is coming in the path of the kitchen triangle, either rearrange it or quit it. 
Ignoring the Appliances and Fan
If your kitchen island doesn't house the cooktop, you can afford to have a fan over it. Yes, since a kitchen island is the main attraction of any kitchen, you should have it packed with all amenities. 
One such luxury is a fan! While you're waiting for your meal to get ready, sit down around the island, turn on the fan, and enjoy!
As much as the kitchen island's size is important, the same holds for the size of the appliances it will house. If you're installing small-sized appliances over a big island during a kitchen remodel, it'll make it appear incomplete and odd.
In contrast, if you choose over-sized appliances for your kitchen island, they might obstruct you in your chores. For such cases, you'd go with a wide island. Hence, always measure the size of the equipment you'll decor your kitchen island with.
Poor Color Composition
Since a kitchen island is the main attraction of your kitchen, it ought to have a unique color composition to make it stand out. Not having a separate color palette can make it blend with the rest of the kitchen and add to the list of kitchen island mistakes.
So, while designing your kitchen island, choose a different and standalone color composition. Else, just opt for a separate tabletop crafted from a different material and color shade.