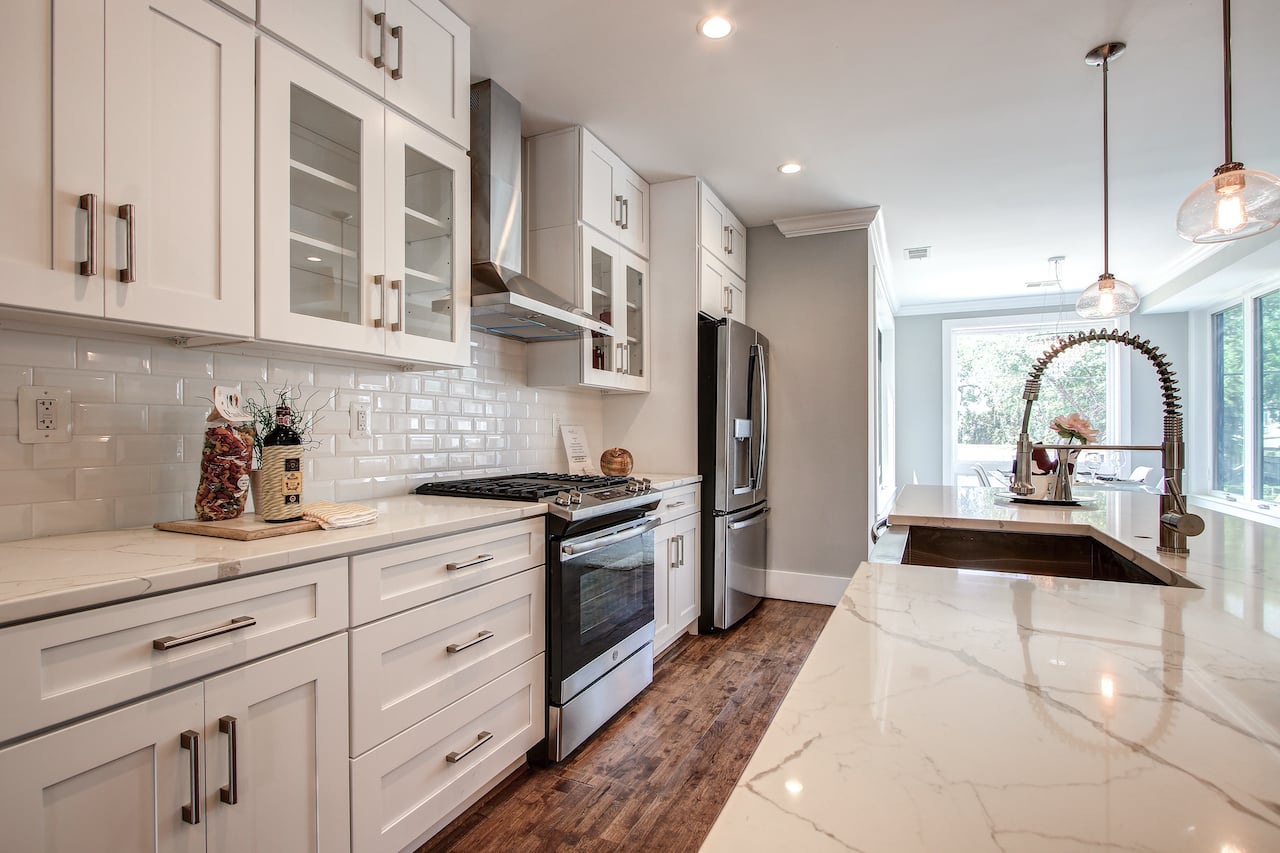 What is the Cost of a Kitchen Backsplash?
A kitchen remodel does not have to cost a lot. A few simple changes here and there, such as a new backsplash, can make your kitchen look incredibly fresh and appealing. The cost of a kitchen backsplash can differ, depending on many factors. But it can easily provide an excellent finish to any kitchen project and even change the entire look. However, it can also contribute quite a bit to your overall kitchen remodel costs if you don't plan it right.
When you're planning your kitchen layout, you should know that a kitchen backsplash is an area behind the kitchen countertop. It prevents water or food from splashing on the kitchen walls and makes it look decorative and colorful. Kitchen backsplashes are also water-resistant and will help you prevent damage to the walls.
When you're creating a kitchen backsplash, you have to choose from a variety of colors, materials, and designs. Popular materials include ceramic, granite, quartz, marble, tile, waterproof wood, and metal. Designs such as cast epoxy, wallpaper, and recycled wood are highly prevalent and found in most homes. The material you choose will determine your kitchen remodel costs as well. Here is a guide stating the different costs of kitchen backsplash and other things you may need to know for your kitchen remodeling project. 
Factors Affecting the Cost of Kitchen Backsplash
Installing a kitchen backsplash can cost you around $1000 on average. There are several factors that this cost depends on, and considering them all, the installation can cost you anywhere between $450 and $1500.
The factors that affect the cost of installing a kitchen backsplash are:
1. Amount of tile you use- Some countertops have the backsplash included in the cost, and some do not. So this can majorly affect the cost of installation.
2. Material and finishing of the tile- The material you wish to install for your kitchen remodel and the finishing touches you want primarily affect the cost of a kitchen backsplash.
3. The complexity of the patterns on the material- The angles, cuts required, and the spaces it needs to be fit in can increase or withhold the cost.
4. Installation costs- You can hire a contractor to help you install the backsplash, or you can save money by installing it yourself.
5. Material Transport Cost- Some materials require delivery from the vendors directly to your house, and that may increase the total cost.
Labor Costs
The average installation cost of a kitchen backsplash is between $40 and $60. Peel and stick installations are simple, and therefore, will fall at the lower end of the spectrum. However, most intricate designs will cost you a higher amount, depending on what your contractor quotes for your kitchen remodeling project.
For instance, elaborate patterns such as mosaic or herringbone can cost you a higher price. They require extra time and effort, and you have to cut them carefully to maintain the design. The contractor can charge you as high as $100 per hour for this project, and it can take up to 5 days for installation.
Per Square Foot Cost of Different Materials
The per square foot installation cost of kitchen backsplash for your kitchen remodel can vary between $10 and $40. However, the material you opt for will affect the overall cost substantially. Here are a few popular kitchen backsplash materials that people choose to install in their kitchens, with their average quoted prices for your information.
Ceramic
Ceramic is a very budget-friendly kitchen backsplash material. It is an ideal material if you do not wish to spend a fortune on kitchen backsplashes and yet have a sleek and luxurious kitchen design. Ceramic will cost you around $2 per square foot, and the installation will cost you about $25 per square foot, which makes it the most inexpensive material out of all.
Ceramic is also very easy to cut, making it a suitable option to add functionality to your kitchen backsplash with uneven layout, corners, and numerous wall fixtures. The material is also highly durable and requires little to no maintenance.
Porcelain
Porcelain costs slightly higher than ceramic, and the cost of this material per square foot is between $3 and $5. It is also a very delicate material and requires professionals to install it during your kitchen remodel. Therefore, you will have to pay the installation cost separately. The installation cost is similar to ceramic, around $25 per square foot.
While porcelain is an elegant and reliable material for the backsplash and is highly recommended for contemporary and traditional kitchens. Porcelain is also water, damage, and stain-resistant, making it an excellent choice for kitchen backsplashes.
Stone
Stone backsplashes, such as marble or granite, are high-end materials that can cost you between $7 and $10 per square foot. The installation cost for these materials is around $30 per square foot, which can get a little expensive.
These tiles are more reliable than ceramic and are highly heat and water-resistant. They do not get easily damaged or worn out either. All these qualities make the cost of these tiles higher than porcelain or ceramic. They are also highly durable and can last for years in different environments.
Glass
Glass is one of the most expensive kitchen backsplash materials out there. The cost of glass is between $7 and $30 per square foot, and the installation cost of a glass backsplash is around $32 per square foot. Installing a glass backsplash needs a high budget as it can get quite expensive.
Glass is a good option as a backsplash since it gives your kitchen an exceptionally sleek and modern look. This material also has many patterns that are pre-assembled and come in a lot of varieties. The plethora of design options offers a suitable match for many kitchen remodeling designs.
Stainless Steel
Stainless steel backsplashes are one of the most expensive backsplashes and are quite similar to the range of glass backsplashes. They cost you about $20 per square foot, and the installation cost is around $36. Stainless steel is effortless to clean and goes well with many different kitchen styles. 
However, the only drawback that stainless steel has, apart from its high rate, is that it tends to lose its sheen and sleek appearance after the kitchen remodel is over so you need to ensure that you take good care of it in the long run.