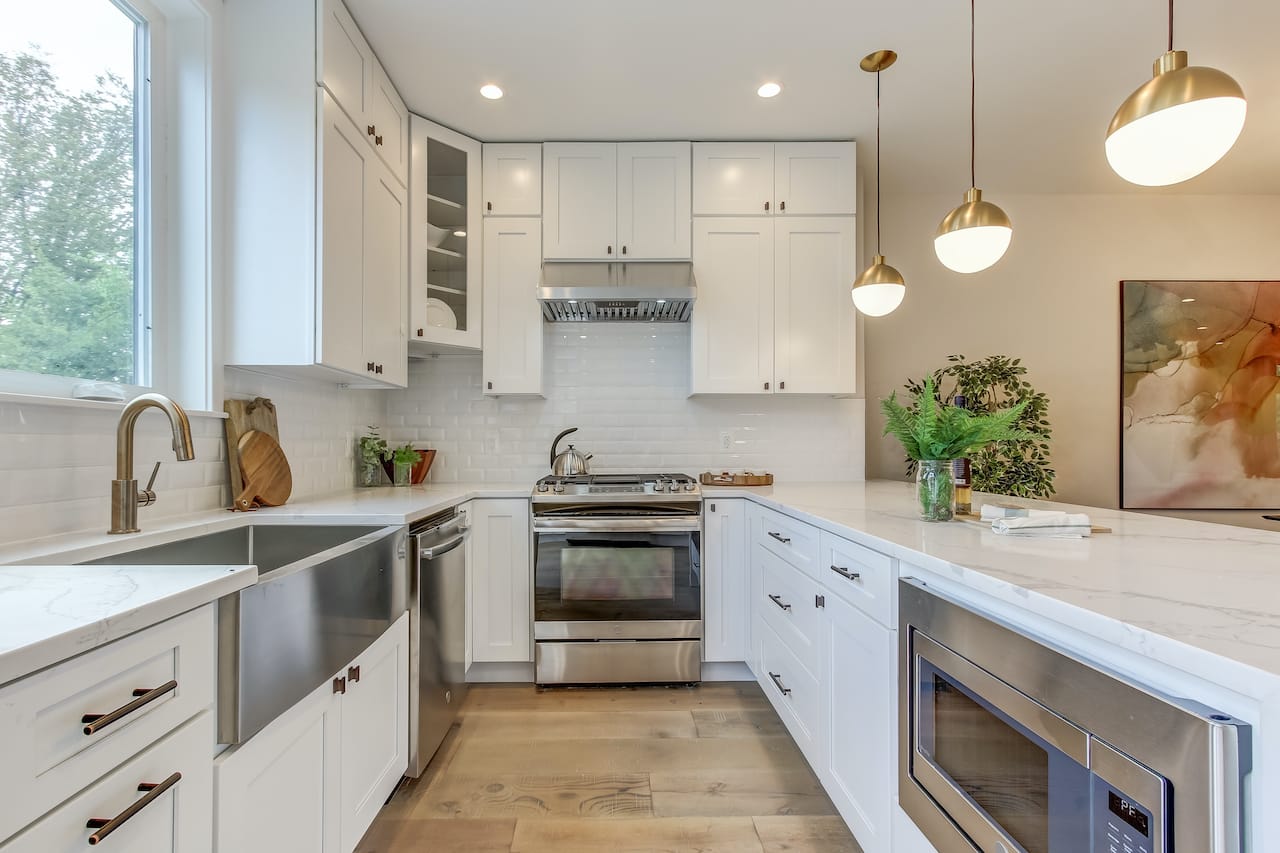 Inexpensive Options for Kitchen Flooring to Choose For a Budget Remodel
Sleek and stylish kitchen flooring can cost anywhere from $20 to $30 per square foot, but if you shop around and do the installation yourself, inexpensive options for kitchen flooring can be as low as $1 per square foot. 
It's important to note, however, that cost isn't the only factor to consider. The kitchen flooring options must also be suitable for a rough environment. Any viable alternative must satisfy two requirements:
The only way to save money on flooring is to install it yourself. Even if the materials are affordable, if you have to lease out the installation, it won't be an inexpensive floor. Secondly, t's not a steal if you have to repair the flooring in a few years because it's dingy or breaking apart.
Ceramic tile, vinyl, laminate, and cork are the four best options for inexpensive kitchen flooring that fall under these parameters. That's a surprisingly extensive list, given that these flooring products are available in several styles. And in the kitchen, they're all fairly competent.
Vinyl Flooring 
Vinyl is one of the best kitchen flooring you can install. It comes in sheets, tiles, and luxury vinyl planks. If your subfloor is in good condition, vinyl is also the most cost-effective choice because you can mount directly over it (or other suitable existing floorings) with no new underlayment. You can shop for vinyl-based on its price, appearance, and installation process.
Peel-and-stick tile is the most affordable type of vinyl, followed by peel-and-stick planks and sheet vinyl. The luxury plank is usually thicker than regular vinyl tile. You can install it as a click-together floating floor, which is the safest all-around DIY choice.
Vinyl flooring is one of the best-performing kitchen flooring options, with many significant benefits:
1. It is one of the most cost-effective flooring options.
2. It's a sturdy surface that is convenient to walk on.
3. Quick damp mopping is all that is necessary for cleaning.
Price
The cost of kitchen flooring for vinyl ranges from $0.75 per square foot for cheap vinyl sheets to $2.75 to $3.33 per square foot for regular tiles; there are probably dozens of choices available. 
Luxury vinyl planks start at about $4 per square foot for good quality. You can also find appealing choices available in the $4 to $6 range.
Installation 
To create a layout, dry-lay a row across the length and width of the floor. Then draw parallel design lines to direct the installation. 
Laminate Kitchen Flooring
Laminate is one of the most common low-cost kitchen flooring options because of its ability to imitate a wide range of higher-priced materials convincingly at a lower cost of kitchen flooring. It is available in a variety of looks, including hardwood, natural stone, and even metal.
Laminate flooring is also among the most durable choice for a kitchen. The planks' hard resin surfaces are scratch and stain-resistant enough to withstand kitchen activity and abuse, but the creases between planks are susceptible to water damage.
Consider water-resistant laminate if you're willing to pay a little more. It's guaranteed to prevent standing water for a certain period (such as 24 hours). 
You can also use it to produce authentic replicas of ceramic tile, marble, wood, and other high-end floorings. Installation is relatively straightforward for DIYers. However, if you want to ensure that you do it right, we recommend working with a kitchen remodeling contracting near you.
Price
Standard laminate flooring costs around $0.70 per square foot, while water-resistant laminate costs around $2.30 per square foot. And top-of-the-line labels rarely go for more than $3.50 per square foot.
Installation

 
Installing a floating laminate floor in the kitchen can be done in a single day. During installation, be very cautious with the plank edges; they damage quickly. 
Make sure you don't end up with a short piece at the end of a row or a narrow strip on either side of the room when laying out the planks.
Ceramic Tiles
Ceramic tile offers the best value for money because it provides a nearly indestructible, easy-to-clean surface—though grout lines can be difficult to maintain unless you seal them. 
Furthermore, a low-cost tile will last as long as a high-cost tile if you mount it correctly. Cheap tiles might be out of style, but no one will notice if you choose a clean, simple style while planning your kitchen renoavation.
The amount you save from DIY installation will be your highest cost savings with ceramic tile. Professional tile installation will cost up to $14 per square foot.
Ceramic tile is a traditional kitchen flooring choice that offers many benefits, including:
1. A very stylish floor covering.
2. Very long-lasting—it can last for generations.
3. The surfaces are easy to clean and maintain.
Price
Ceramic tile prices start at about $1.00 per square foot for basic solid-color tile, with extra costs for underlayment, thin-set glue, and grout to consider. Porcelain tiles with the appearance of wood or natural stone start at less than $1.96 per square foot.
Installation

 
Install the tile on top of a sheet of cement board, which helps strengthen the floor (and prevents cracking) and is not impacted by moisture that passes through the tile. To ensure that the result is pleasing to the eye, plan the layout carefully.
Cork Flooring
Cork is on the more pricey side of inexpensive options for kitchen flooring, but it's a supportive and attractive material that's simple to install. It provides more cushioning underfoot than the others and lasts a long time. Although you'll have to look around to find cork for as little as $2.75 per square foot while choosing your kitchen flooring.
The benefits of cork flooring in the kitchen are limited but significant:
1. Quite gentle on the feet.
2. Installation is simple.
Price
Click-lock planks of cork flooring start from $2.75 per square foot. The more luxurious cork flooring sold at the home center costs about $4.96 per square foot.
Installation 
Plan the plank placement to avoid getting a rather short piece at either end of a row or a narrow section on either end of the room.
To lock the joints, use a tapping block to hammer the parts together. Remember, hammering the planks directly will cause them to crack.