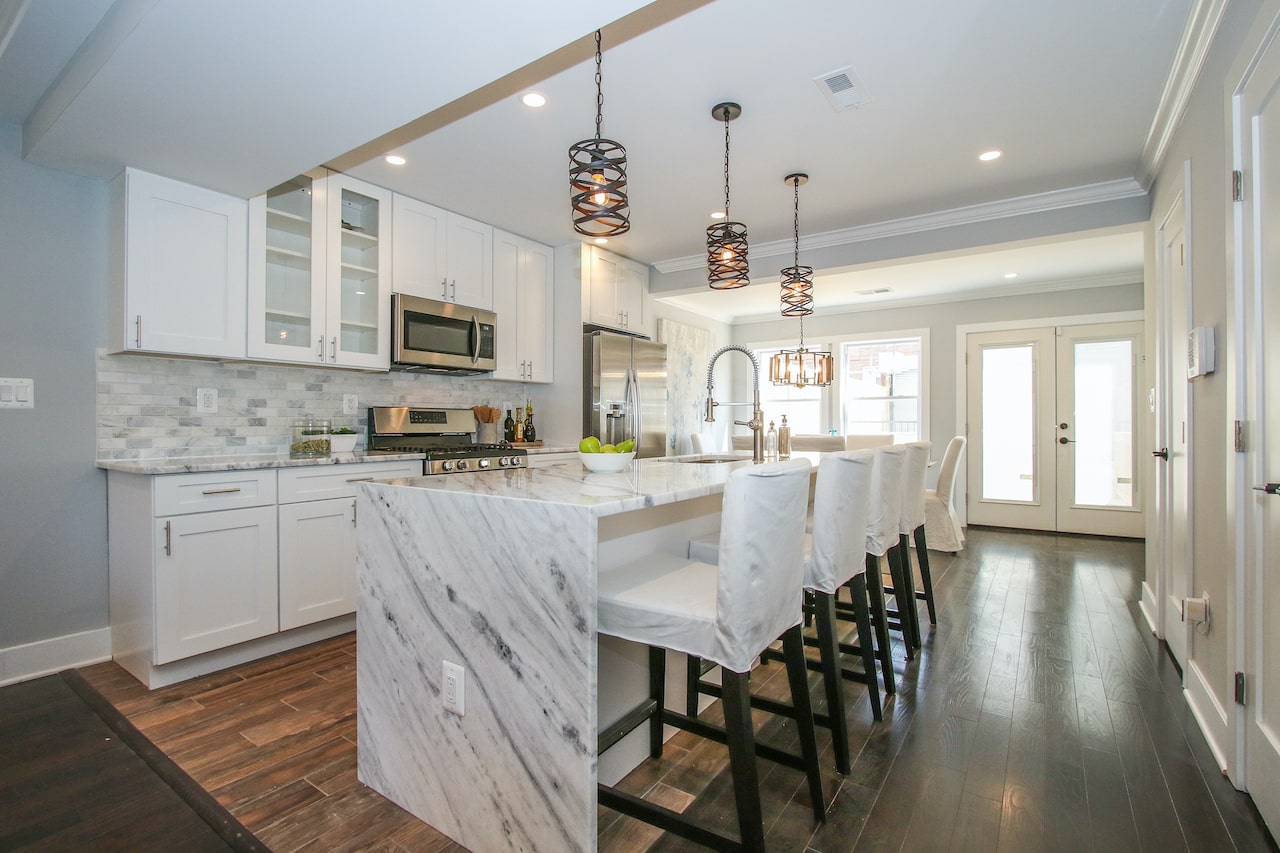 How to Hire the Right Contractor For Your Kitchen Remodel
If you're ready for a kitchen remodel but don't know the first thing about hiring the right professional for the job, well, you're not the only one. A kitchen renovation is all about proper planning, sourcing the right materials, and hiring the right people for the job. 
Sometimes you need a knowledgeable contractor to oversee the entire project as a part of the kitchen remodeling process, whether it's a whole house remodel or simply a kitchen remodel. Here are the top things you need to figure out how to hire the right contractor for the job. 
What Does a General Contractor Do?

 
A general contractor is responsible for providing all the material, labor, services, and equipment for a job. A general contractor then hires all the specialized, independent contractors to perform portions of the work. 
The independent remodeling contractor, in this case, could refer to the plumber, electrician, the landscaper, your flooring installer, the carpenter, or any other specialized task needed to complete the renovation of your home. Let's look at the top tips for working with a contractor for your kitchen renovation. 
Ask For Personal Recommendations 
Online referrals are not always the most reliable source, especially when you're blindly looking for kitchen remodeling contractors near you. One way to go by is to look for the highest-rated ones near you. 
You can ask your family, friends, and even neighbors that you know who are undergoing renovations for their referrals. Chances are you'll find tremendous success with the contractor when you've seen their work, know they're reliable, or they've done a fantastic job renovating for someone you already know. 
Know your Contractor's Credentials
Are they licensed, bonded, and insured? You want to run a license check before you begin the process. Go online and make sure that the contractor has a physical address you can look up. Every state has its regulations, so check online for your state's license boards. 
Is it OK to go to an unlicensed contractor for your kitchen remodel? Never. Since you're the one to hire, it'll be best to look for a licensed professional for the job, or else any mishaps that arise during the kitchen remodel will end up costing you in the long run.
Build a Connection With The Contractor 
Make sure you vibe well and get along with your contractor. The contractor is easy to talk to; they explain things in detail, and of course, answers all of your questions warmly and professionally. 
Similar to the designer, you want to make sure that your contractor understands your vision and your needs for the space. They also need to be experienced in the type of job that you're looking for.
For example, if you're looking to laser-cut a detailed edge on the countertop and the contractor doesn't have that kind of machine, it's better to look for another person who's better suited for the job. 
Communicate and Delegate
It's not uncommon that the worst outcomes come with unrealistic expectations. Communication is key for every single project, down to the smallest detail. You want to insist on regular communication and contact either by phone, email, or text message. 
Follow a schedule that you both set up and agree to and ensure that there are no delays. You don't want to be micromanaging the project; that is what the contractor is for. At least, when you have a schedule, you both are aligned with your vision and ready for success. For instance, they could take care of the kitchen remodel permits and smoothen out the remodel for you.
Furthermore, you must meet weekly with the project manager to ensure all the details are taken care of. You can check on the progress with a project manager week by week. It will help curb any surprises that might come your way. All in all, staying in communication keeps the kitchen remodeling length on track.
You Get What You Pay For
You must understand that price reflects the quality when you hire the right contractor. The lowest bid might suggest that they're using cheap materials or are not keen on their craftsmanship, and they do shoddy work while redesigning your kitchen.
However, sometimes the lowest bid means they're desperate to win the project. If you go with the cheapest bid, be prepared to pay more for kitchen remodel mistakes that will occur. 
You won't know what the lowest bid is until you get multiple bids and estimates. But the winner is somewhere right in the middle. 
You must request an online item description of all the materials necessary for the remodel. If you're on a budget, see if you can work with the contractor to figure out where you can skimp on some projects and splurge on others. 
For budget remodels, it's advised to skimp on the materials but splurge on installation. A good contractor can make even the cheapest material look like a million bucks with skilled installation techniques. If you think hiring a contractor is expensive, try hiring an amateur. 
Get Everything In Writing 
When you want to hire the right contractor for your kitchen remodel, you should ensure that you get everything in writing. Your home improvement contract should include- 
Detailed time frames, 

Line itemization for specialty materials,

Total costs, 

Payment arrangements, 

Contractor's license number, 

The project description, names, contacts of parties involved, and

How to handle additional costs, if necessary. 
Be cautious! If you're not given a specific timeline, it might mean that the contractor is working on several jobs simultaneously. It will also show that they will not complete your project on time. It's essential to have a schedule that you both agree on. 
Keep Everything In One Place
You can keep everything in an email folder where you save all incoming and outgoing emails, or it could be a physical folder where you save all pertinent information. 
You must also keep track of all project-related documents when you're figuring out how to hire the right contractor like a contract, invoices, receipts, and payments. Remember, payments are made in increments. 
Never pay everything upfront or even 50% upfront. Typically, the retainer fee for a home improvement project shouldn't exceed about 15-20% of the overall kitchen remodel cost.